Nokia running Lumia Windows Phone Buy Back program in India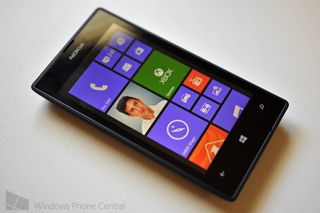 Nokia is running the Lumia Buy Back program at supporting retailers across India. The manufacturer will provided a minimum of Rs. 4,000 ($65) on the purchase of a new Nokia Lumia 520, or Rs.6,000 ($100) for the Nokia Lumia 620 smartphone. This offer is available at 1500 retail stores across the country, enabling new options for consumers to trade in older hardware and upgrade to Windows Phone 8.
The Lumia 520 is Nokia's most affordable Windows Phone, while the Lumia 620 is at the rear of the mid-range group of Windows Phones. Here's a list of eligible devices:
Be sure to check out your local retailers for more details and join in the conversation over on our forum.
Source: Nokia; thanks, venu238, for the tip!
Rich Edmonds is Senior Editor of PC hardware at Windows Central, covering everything related to PC components and NAS. He's been involved in technology for more than a decade and knows a thing or two about the magic inside a PC chassis. You can follow him over on Twitter at @RichEdmonds.
This is impressive to say the least. Smartphone lower end will be captured rapidly!

Hey! Where's my Trade In for my Aging L920? Daddy needs a new 1020!!!

Do you realise the only real difference between the 1020 and you "aging" 920 is the camera, right?

Either Madsci2 was joking, if not he is very impatient lol then again I don't blame him. I hope Telefonica don't drag the legs with the L1020 release. I want to take the L1020 on my first ever holiday!.... (ah I guess I'll just keep day dreaming about that round the world cruise...)

You do realize you said 'only'.

Not true. Differences are camera, 2gb ram, no built in wireless charging, weighs less, better buttons, and AMOLED screen

You're right. What I mean was the only "real improvement". The 2GB of RAM is also good but is only there because of the camera needs, not the OS.
The wireless is missing, the buttons aren't better, AMOLED isn't better to me, the weigh is virtually the same (the diference is minimal) and it has that tumour in the back which makes it unconfortable in the hand and unstable in the table.

Oh please its a camera phone deal with it !!

Go read my first comment. It would have spared you the trouble of repeating what I already had said...

Better buttons as in aluminium instead of ceramic? That's a step backwards. The 920 improved on the 900's aluminium buttons (and rear plate with "NOKIA | Carl Zeiss" on it) with ceramic ones that are scratch-proof.

They should have added Samsung focus as well to eligible device list :(

Focus was never launched in India officially though i still wanted it on that list since that was my father's first WP (he currently sports my 810) and could have exchanged for a 520.

Focus is called omnia W in India .... And i wish it was added to the buyback list.

Focus is not omnia w. Focus is the first Samsung windows phone which never released in india. Focus flash is omnia w.

Wait someone deleted the comment before the +917, yes focus is the i917 and was never launched in India, Focus Flash was launched as Omnia W in India

My mom was thinking of upgrading her Lumia 800 .. But sad no buyback offer for high end phones .. :(

Isn't the 800 on that list??

I mean upgrading Lumia 800 for Lumia 920 .. 520/620 will be kinda downgrade lol

Why is the 620 a downgrade? It's better than the 800 in almost every way.

No its not. Besides the OS, there isnt a single thing the Lumia 620 has thats better than the 800

I think its better off to keep that device instead as a backup since (Rs.6K) is not worth the exchange for a 800

When i bought my lumia 720 in may 2013, the nokia store guys paid me 8000 inr for my Jan 2012 lumia 800. It was, ofcourse, in a very good condition, not a single scratch and all.

I sold my Lumia 710 for 5.5k and upgraded to Lumia 920 .. Both phones were bought at their launch

Most multi brand retailers have been doing so for years... Buying old phones back. They're trying to pull buyers to official partner retailers and increase footfalls there

Since no one mentioned it yet :)
*NOKIA LUMIA BUY BACK ELIGIBLE DEIVES

Realised it after you mentioned:D

Nokia, where's Amber update for ATT?

Your best asking ATT directly or the Nokia Press office or something lol. Don't you love it when people read the article and they comment about something else? /Sarcasm.

Its best to ask here. Someone bound to know something. Do you think ATT, Nokia, MS reps know anything? Do you think they'll come forward with a straight answer? No one on ATT, Verizon, and tmo got GDR2 and Amber and here they teasing GDR3 and other Nokia updates coming. What kind of BS they pulling?

You didn't hear?
AT&T, Verizon and T-Mobile decided to wait and release GDR2/Amber bundled with GDR3. It's just easier and more cost efficient for them.
So, you'll have to wait 3 or 4 more months.

Lol..good one. As per some threads its releasing this month so may be next week

Maybe next week? I swear they say that last week.

People who said "maybe next week" never said for AT&T devices, they meant GDR2 release in general. And they are actually correct because GDR2 is now slowly being released to some devices!

You know Josh, I thought of that too. My guess is they'll release GDR2 and Amber after GDR3, that is if you're lucky to get GDR3 on time. News has it, only new devices coming preinstalled with GDR3 and older devices get later, just like what they're doing now. That would mean lumia 920 and older devices update probably pushed to 2014. And WP blue show up second quarter 2014. The latest um beating the real update to show up June or July.

If AT&T combines the release of GDR2 and GDR3 into one package and pushes the release to 2014, then they just might throw in WP8.1 with the two updates and combine all three in one release. That saves them a lot more money.

This is similar to a scheme initiated by Apple for iPhone 4 and 4s and now Sony and Nokia are following suit, as Apple has sold tons of iPhones under this offer

Great to see MS being aggressive in India, as it's a huge market. Over there everybody buys unlocked phones and pays as they go, so having lower-priced devices with lots of features (like the 520 & 620) is key. That's why Apple is doing relatively poorly in the market, as well; they only have high-end, expensive phones.

Yup, I hope they spread the effort across other markets too like Indonesia for example.

Samsung is having exchange offer on S4. Nokia have included only 520 and 620 in offer. They should have included atleast 720.

Checked the local newspaper: those price slash is on the printed MRP of 15999 and 11289. So ineffect the discount boils down to around 3000 and 2500 respectively compared to street price. If the local dealers follow this, then it's not worth giving away your old devices.
Plain old marketing gimmick :|

That would suck. They should maintain their current market price as specified on their website nokia.indiatimes.com

Whatever they do, the Lumia 920 and the Lumia 720 will be my last set of Nokia Phones. I am gonna switch vendors on my next purchase.

Who cares ;-) Its Yours problem, when I change cellphone I don't Write about it on the web :-)

Well, I care, it's not about their phones that I have a problem with, it's the amount of time they take to release those phone accessories that I need the most which hasn't been released yet. For me, I only see full value for my money when my phone is fully supported with good accessories to buy ON TIME. Not just announce the product and make us drool over it for months without availability. They don't even have the bloody courtesy to respond back to my queries on Twitter and Facebook. I've had enough really.

Care to share your reasons, bro?

I just did, read my previous comment.

You can leave now - stop posting.

Good job by Nokia - the 520 (available for as low as rs 9,000 or us d 149) mops the floor with all those low-end crappy droids. Good way to capture the base rung of the smartphone market.

So what's new costs of both devices??

Nokia ad in local dailies reporting 9999 for 620 and 7289 for 520.... Just deducting 6000 and 4000 from printed MRP

It's minimum discount .. If u r selling higher end devices the discount would be more ..

I actually have a l610 & thinking of jumping ships,should this be profitable for me??

Check in at the retailer to get the price and then decide .. WP8 is much better

The article headline kinda sounds like they are buying back the Lumias. I had to read it to clarify.

will v ever get the amber update?

What will they do with old phones?

Daniel in any way can you enquire for India users, when are we going to get gdr2 n amber. We don't have any official reporter in India, you would be a great source to report this.... Edit - pardon me, rich is the author, so rich can you enquire about this stuff.

It hasn't started rolling out globally on any Nokia phones, unlocked Samsung and HTCs have received it so if you are asking about a non-Lumia then you should have received it by now if not soon. If Lumia then in a couple of weeks (mostly next week)

I wish they would do this for people stuck with WP7.

Well they listed multiple Nokia WP7 devices there: 510, 610, 710 and 800.

Looks like they are targeting to increase the market share of WP. If someone is on WP7, they are already onboard and is not the audience they are looking at now.

But by offering to people with WP7 they will be building brand/platform loyalty.
Windows Central Newsletter
Thank you for signing up to Windows Central. You will receive a verification email shortly.
There was a problem. Please refresh the page and try again.