Fully Exposed: Unreleased Nokia 'McLaren' Windows phone with 3D Touch [Exclusive]
By Daniel Rubino , Zac Bowden last updated
The Nokia McLaren has never had a full analysis by anyone in the press. That all changes today as three veteran tech reporters fully detail the 3D Touch-enabled Nokia McLaren from 2014.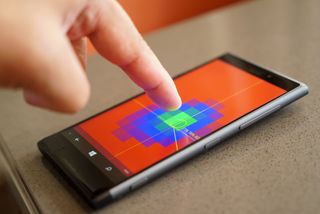 Back in 2013, rumors began circulating that Nokia was working on a very top secret project called 'Goldfinger.' The flagship phone was supposed to feature revolutionary 3D Touch-like navigation using projected capacitive display technology.
The phone, later referred to as 'McLaren' during development, was abruptly canceled in July 2014 just months before its release.
Exactly two years later, we managed to get our hands on the phone. We have been pouring over it, testing it, and prodding it for weeks trying to figure out this phone. This is its story.
Join Zac Bowden, Michael Fisher (MrMobile), and me as we each share our thoughts on the tale of the ill-fated Nokia McLaren. Never before has this phone been as detailed and exposed as what you will read here. From my post-mortem review to a full 13-minute walk-through of McLaren, you'll see this phone like you never have before.
We also have a full gallery of high-quality photos, screen captures of the various 3D tools, and even samples from that PureView camera.
Finally, watch Michael Fisher (MrMobile) as he gives his engaging and thoughtful take on what could have been with this now legendary phone.
This is the Nokia McLaren fully exposed.
Daniel Rubino, Editor in Chief, Windows Central
Specifications
Category
Nokia McLaren
OS
Windows Phone 8.1 Update 1 (8.10.14128.140)
Body
Metal (Grey) with plastic bottom (antenna)
Processor
Qualcomm Snapdragon 800 (MSM8974) Quad Core Processor
2.3Ghz
Memory
RAM: 2GB
Mass memory
32GB storage
microSD memory slot up to 128GB (SDXC compatible)
Display
5.5" LCD Full HD (1920 x 1080)
Projected-Capacitive Touch Technology (unconfirmed)
Battery
Unknown size
Non-replaceable
Camera
Rear camera: 20MP PureView ZEISS, OIS, Dual LED flash
Front-facing camera: 2MP, fixed focus
Dedicated camera button
HAAC microphones
SIM
Single nanoSIM tray
Charging
micro USB
Wireless charging
No
Sensors
Light sensor
G sensor
E-Compass
Proximity sensor
Gyro Sensor
GPS/AGPS
The Review
Daniel Rubino finally catches his White Whale with the mysterious Nokia McLaren and 3D Touch.
Rumors of a Nokia phone featuring 3D Touch navigation and gesture support go back to November 2013. Back then, the secret phone project went by the name Goldfinger, but at some point, it was changed to McLaren during development.
McLaren supposedly utilized hardware sensors to enable you to manipulate things on-screen through gestures, and we saw early signs of this with Nokia Glance using proximity sensors. We also documented internal reports [of exploding Live Tiles dubbed MixView that had a striking resemblance to earlier UI designs in the Zune music software.
Unfortunately, the McLaren project was nixed in July 2014 a mere four months before its launch. The decision sealed the fate of Windows Phone as there would not be another flagship device from the Nokia/Microsoft portfolio until November 2015.
We'll take a look at all of those rumors, but first, let's break down the hardware.
Hardware
The McLaren prototype in our possession is considered the final build and we have been told it was one of the few versions reserved for Microsoft employees during its development. Although we cannot show you the security markings, it does say 'Microsoft Mobile' across the device, which demonstrates how closely Nokia and Microsoft were working on this technology.
The overall design of the phone is very familiar, and it looks like a cross between the Lumia 1020 and Lumia 925. The body of the phone is a gray metal although the bottom is polycarbonate likely for the radio antennas. The feel in the hand is fantastic, and while it is not light, it is not too heavy, either.
The buttons on the side include volume up and down rockers, power, and a dedicated camera button. On the opposite side is a port door for a microSD card and nano SIM tray. The bottom features a micro-USB port, and the 3.5mm headphone jack is placed at the top. And due to the massive camera hump and being metal, there is no Qi wireless charging.
The phone features a 5.5-inch Full HD LCD, which is one of the first times we have seen that display size from Nokia.
For storage, the phone features 32GB of internal memory and supports microSD for expansion.
Regarding the processor, we can confirm the McLaren has a Snapdragon 800 CPU clocked at 2.3Ghz, along with 2GB of RAM.
Let's talk about that massive camera hump: It's immense and roughly the same size and design as the one found on the Lumia 1020. However, the camera is only in the 20MP range, and not 41MP or higher. Most of that hump is for the proprietary optical image stabilization, which was later improved and shrunk down for the Lumia 950 and 950 XL.
Unfortunately, much of the camera software was never finalized for this prototype, so it only shoots at 8MP with no auxiliary options. However, I did confirm with people familiar with this project that the camera was supposed to be 20 megapixels. Zac Bowden was able to confirm this later when he had a chance to use the phone.
Despite the unfinished state of this prototype and our tape hiding sensitive information, the phone feels fantastic. The curved edges and metal body represent the flagship quality that Lumia fans expect. While much of the technology in McLaren was dated – even for 2014 – there is little doubt Microsoft should have borrowed from this design for the Lumia 950 and Lumia 950 XL, which are underwhelming, to say the least.
3D Touch
Let's get to the good stuff: 3D Touch. It exists, it's here, and it works. Everything we reported on back in 2014 was spot on. There are Live Tiles that 'explode', and you can interact with the phone merely by hovering your hand over it.
3D Touch works with various sensors in the display and even on the sides of the McLaren. As your finger approaches the screen all the Tiles begin to move in a wave-like fashion as visual feedback. Hovering above the Internet Explorer and Phone reveal the 'exploding' Live Tile MixView feature. The concept here was to give developers freedom to show more information on the Live Tile. Instead of just two sides, you could have up to eight smaller tiles. When you hover, the Tile explodes and moves to the center of the display where you can act on the smaller tiles. It is a little awkward, but it works.
Under Settings, we can see the Hover + Gestures options. Using the phone's 3D sensors users can enable:
Hover on Start screen
Keep the screen on when holding the phone
Lock the screen orientation when holding the phone
Silence the phone by gripping it when a call comes or by hovering your hand over the display
Answer incoming calls by waving your hand
Mute the speaker phone by hovering your hand over the lower half of the display
And it all works! I have to admit, many of these features, while not revolutionary, are an excellent evolution of the touch interaction model for modern smartphones. Things like keeping the display on while holding the phone were later replicated by Samsung and others using the front-facing camera, but the tech here is used for much more. Being able to lock the phone's orientation while gripping the device is a much better solution than toggling the feature on or off.
To get a real idea of the technology here, you can see it in action using one of the 3D Touch testing apps. The display can track multiple fingers hovering over the screen, and you can even see it react to me gripping the phone. Needless to say, it is all very impressive looking technology, and it looks like something from the future, not two years ago.
Later, in 2016, Microsoft filed an application to patent Mix View with the USPTO.
So what went wrong in July 2014?
Good, but not good enough
I have been researching this topic since we reported on the phone's demise in July 2014. Back then, I cited Microsoft being unable to move beyond the proposal stage for interactive usages with the technology. Some developers under NDA were building apps with MixView, and there were some big plans. For instance, the camera would have no UI visible until your finger approached the display or being able to zoom in by sliding your finger on the edge of the phone.
In 2016, I am still hearing from people familiar with the project that users simply did not get the concepts of 3D Touch. This criticism counts for beta testers as well as developers. It may seem crazy, but perhaps this technology was just too new and too different for users. I can see the argument for the exploding Live Tiles, which is a very different interaction model. However, things like hovering or keeping the phone's display on while holding the phone seem like extensions of user features, not a redefinition.
Nonetheless, McLaren suffered from many of the problems that other Lumias had at the time. The Snapdragon 800 was already a year old; the camera hump looks more impressive than it was, and besides 3D touch, the McLaren was just a small evolution. I also heard that the 3D Touch technology used was problematic. Indeed, I attest that this prototype is very buggy, and you would not want to use it for daily use. Is that because it was still in development or underlying problems? We may never know.
I will say that by canceling McLaren, Microsoft and Nokia sealed the fate of Windows Phone. When you write off a flagship, you don't have a Plan B phone ready to go. That's it. This reason may be why just a month later HTC – seemingly out of nowhere – announced the One M8 with Windows Phone 8.1. At the very least, McLaren would have done one thing: generate hype. Like the Lumia 1020, McLaren did something new and ground-breaking. I don't think it would have saved Windows Phone 8.1 from declining sales, but it may have kept market share from nosediving. Without McLaren, Nokia had to rely on the Lumia 930, itself based on the 2013-era Lumia Icon, through November 2015. That is a lot of time in the desert.
At least we can now finally close the door on McLaren and what could have been. Then again, Microsoft Research is still actively working on 3D touch, so who knows. Maybe someday.
The Video Review
If the Nokia McLaren were to come out, this would be our video review. See the unique phone in action as Daniel Rubino tells the history of the Nokia McLaren.
'It could have changed the game'
Zac Bowden tries out the Lumia McLaren and wonders how Microsoft lost its way after its cancellation.
For my coverage, I thought it would be cool to give the McLaren a mini-review as if the device had actually launched to the public. Ignoring all the usability bugs that come with using the pre-release software on prototype hardware, I decided to try to use the phone as my daily driver for a few days, just to get a feel for what it would have been like to own and use a McLaren day-to-day.
Hardware
Let's start by talking about the hardware; in short, it's fantastic. It's thin, it's got a little bit of weight behind it which I love, it's metal, and it's sexy. I'm a sucker for metal phones, so using the McLaren, even without all the cool 3D touch features, is a pleasure in itself. It is a device from 2014 however, so the specs inside aren't all that jazzy for 2016, but since it's running Windows Phone 8.1, that's absolutely fine.
The handset is about as heavy as a Lumia 930, except with the McLaren, the whole body is metal rather than just the sides. The volume, power and camera buttons on the right-hand side of the device feel fantastic, they click-in really well and are overall very robust and premium feeling. In fact, the entire device is just one big premium handset, and I absolutely love it.
It makes using my Lumia 950 rather upsetting to use, actually. Comparing both the 950 and McLaren, the 950 feels flimsy, light and just cheap, which is heavier, metal, and overall audacious. It is using the whole wrap-around design style the Lumia 920 and 1020 used, which I think is great. It's an old call-back to when Lumia was bold, except with the McLaren there are only two known colors; white and black. Our model is the black one, which looks pretty ace if I do say so myself.
The McLaren is rocking a 5.5-inch 1080p LCD panel, which is pretty great. It's bright, and colors seems to pop well even on an LCD panel. So much so, I had to double check to make sure this really was an LCD, as blacks are really deep on this screen. It's a super high-quality display and one that I've had a blast using. It does sport on-screen buttons however, which isn't so bad now I've gotten used to them on the 950 over the last several months. For a long time now I've always preferred physical capacitive buttons over on-screen navigation, but I do like the convenience of swiping the keys away when not needed.
Usage
Let's talk about actually using the device, which in itself is a unique experience. With 3D touch, things like MixView are kind of cool, but as the software was never finished only two apps actually utilize the MixView functionality. Phone and Internet Explorer, providing shortcuts to recent contacts and open tabs. To me, however, that's not the wow factor of this device; it's the subtle things the 3D sensors can do surrounding the handset that blow me away.
For example, the McLaren knows when to turn on/off Rotation Lock depending on how I'm holding the device. Yes, the McLaren knows how I'm holding it, and will make a (usually accurate) judgment whether I want the orientation locked. So when I go to lay down, my screen won't fumble and try to rotate even though I want to continue using the phone in portrait mode on my side.
Another great subtle feature is the phone's screen won't timeout when I'm holding it. I can be reading a long document and not have to keep tapping on the screen every minute to keep it from going to sleep automatically, as the sensors around the handset can tell I'm actively holding it. There are also some cool gestures you can do with phone calls, such as covering the lower half of the screen when on a call to mute the microphone, much like you did in the old days on a landline phone.
You can also do things like automatically answer a call in speaker mode by waving your hand over the screen, which is perfect for moments in which you just can't be bothered to pick the device up from the table. Yeah, we've all been there.
The device is smart enough to know how you're holding it, too. There's a test app that spits out logs that you can read, and it gives you an accurate description of what hand you're holding the phone with, what orientation, whether you're holding it at the top, bottom or middle, and a whole lot more. Just imagine what developers could have done with this technology.
All these gestures can be turned off if you wish too, so if some of them get in the way or are just annoying to you, you don't have to use them at all.
I noticed that the gestures work regardless of whether you're using your finger, a pen, or anything really. That could be one of the reasons why this phone is so buggy. Holding the handset is always activating the sensors around the device, sometimes causing the Start Screen to think you're hovering your finger over it and creating a multitude of touch issues.
Since this is a prototype, however, that's to be expected. In fact, I encountered many problems using this handset, so much so I couldn't use it as a daily driver for too long without it impacting my productivity. Of course, since this is a mini-review of a product that's never coming out, that's absolutely fine. The handset reboots several times a day, which is probably for the best considering the touch sensors often stop taking input from my fingers. Other than the touch/scroll issues and rebooting, the handset works pretty well.
Camera
Again, jumping back to the fact that this is prototype hardware, the camera software was never finished for this shooter. Therefore we were unable to utilize fully the raw 20 megapixels this device is supposed to rock. I was, however, able to get it to shoot some high-res, 19MP shots at 4:3, which in my book is good enough.
I've taken a few sample shots for you to view below, again since this is prototype stuff you can't exactly take these shots for what the final product would've been capable of, but at least it's something:
Image 1 of 6
Image 2 of 6
Image 3 of 6
Image 4 of 6
Image 5 of 6
Image 6 of 6
I was also able to get the camera to record at 1080p/30fps. However, there were some problems with audio being choppy, jumpy and cutting out.
Conclusion
The Lumia McLaren is a bold Nokia/Microsoft attempt at trying to change how we interact with our smartphones. With 3D touch and surrounding sensors, I think the McLaren was ahead of the game when it was being developed. Before using the McLaren myself, I had always wondered whether the 3D touch and sensors would have been useful in day-to-day life, but now that I've had the chance to use one, I can't help but think Microsoft missed out on something big here.
The reason why this device was canceled was reportedly due to many issues regarding the 3D touch and sensors (as well as testers simply not getting it), which I can understand as after using the handset for a few days, the sensors are a little finicky. Perhaps they were just never able to perfect it, or maybe developers didn't want to develop for it? For this hardware to truly shine, developers would have had to have been on board with MixView, which on a platform that had 4% market share at the time, wasn't going to happen.
The McLaren would've been the only kind of Windows Phone on the market to sport this functionality too, meaning developers would simply be developing 3D touch capabilities for one device that not very many people would buy. But besides all that, in a world in which the McLaren did get released, and developers did code for it, I think it could have changed the smartphone game. With Apples take on 3D Touch, the McLaren does it the opposite way, instead of pushing harder on the screen like on an iPhone, you hover your finger above the display for additional context menus on the McLaren.
And then there is the sensors that surround the handset, which in my eyes would've been the thing people appreciated far more. Even with the basic functionality Microsoft had already built into the operating system, these sensors could do so many things, even without you noticing. One can only wonder what developers could've done with them.
That's one of the biggest things I think I like about the McLaren, the fact that it knows when you're holding it and knows when to keep the screen orientation locked and screen on, just stuff like that that in 2016 should already be automated but aren't.
In the end, McLaren is a handset that tried to change things, and it just never came to be. I've had a blast using this device, and even after using it for over a week, I'm still amazed by how well built the handset is. After you get used to the 3D touch, sensors, and all that jazz, you're still left looking at that body and wondering "damn, how did Microsoft get it so wrong with the Lumia 950?"
Photo Gallery
Want to just see the Nokia McLaren? Here is our full gallery of photos of the device from every angle. Check out that huge Lumia 1020-like camera, or the metal body of this wild phone.
Image 1 of 24
Image 2 of 24
Image 3 of 24
Image 4 of 24
Image 5 of 24
Image 6 of 24
Image 7 of 24
Image 8 of 24
Image 9 of 24
Image 10 of 24
Image 11 of 24
Image 12 of 24
Image 13 of 24
Image 14 of 24
Image 15 of 24
Image 16 of 24
Image 17 of 24
Image 18 of 24
Image 19 of 24
Image 20 of 24
Image 21 of 24
Image 22 of 24
Image 23 of 24
Image 24 of 24
MrMobile's take
The McLaren is a landmark to a once great phone manufacturer and an echo of a Microsoft that once embraced doing things differently.
MrMobile aka Michael Fisher tells the tale of the Nokia McLaren like no other. Sit back and watch as his video skills and narration gives this phone the respect — and awe — it deserves.
Follow MrMobile for the rest of his thoughts on all aspects of technology.
13 minutes of McLaren
Forget edits, let's show you what using McLaren is really like
Often in reviews, you get to see the polished b-roll filled videos and prepped voice narration. While it presents the material in a professional fashion, sometimes you just want to see a more real-world demonstration.
Watch as Daniel Rubino gives a 13-minute walkthrough of the Nokia McLaren from booting it up to showing off those 3D sensors all in one take.
Podcast
A very special, rare, prototype version of the Windows Central Podcast: All About McLaren Edition
Join host Daniel Bader as he talks to Daniel, Michael and Zac all about the Lumia 1030 "McLaren" that never was.
Subscribe to the podcast
Hosts
Find the rest of our pocasts on the main Windows Central Podcast page.
The Future?
Is there a future for 3D Touch Navigation? A lot has changed since 2014. Nokia Mobile as it once was is no more. Microsoft has essentially pulled the plug on Windows Phone hardware – but not the OS. Leadership and philosophy have also shifted with a new truly universal approach to Windows 10.
Microsoft Research, itself a separate division within the company, is still working on alternative computational interaction models. Just a few months ago, 3D 'pre-touch' was demoed on what looks like the McLaren prototype.
Could we see this technology still come to consumer devices? Will the rumored "Surface Phone" under Panos Panay's leadership borrow anything from McLaren? Or maybe the technology is just too ahead of its time.
But if there is one lesson we can take from the McLaren project is that there are still new and bold technologies for smartphones that can transform how we use them. Microsoft has the capability – we know that – so let's hope we see some of it soon.
On behalf of the Windows Central team, we hope you enjoyed this deep dive into this one-of-a-kind device.
Special thanks to Zac Bowden, Michael Fisher, and Mark Guim, for putting this project together.
Zac Bowden is a Senior Editor at Windows Central. Bringing you exclusive coverage into the world of Windows 10 on PCs, tablets, phones, and more. Also an avid collector of rare Microsoft prototype devices! Keep in touch on Twitter: @zacbowden.
Oh, what could have been...5.5" screen would have been perfect to me.

Nice article. Congrats. Disagree with Zac on 950 feeling cheap though ; )

I meant it more in the sense of once you use the McLaren, the 950 doesn't feel nearly as premium. I get the same feeling using most heavy, metal phones over the 950.

Mass is seductive but not necessarily an indicator of quality. Once you have worked with carbon fiber racing components for a while your perspective changes a bit - heavy is bad, featherweight is good, avoid metal whenever possible.

Oh definitely, I guess it's a personal preference really. I really like the 930 because of how heavy it is.

I mean, you have to agree how easy the Lumia 650 is on the hand using it for a long time. 120g is really nice actually.

It doesn't feel cr*p, but it certainly doesn't feel like it's price tag. Don't get me wrong - loved the device, capability and performance, but it's look and feel certainly don't match the asking price.

I don't like speculating what could have caused this, but maybe the strong points are 950's specs rather than its design. Maybe Microsoft had fewer options. Fewer available resources, money, to put into design, material. It is always terrible to speculate... Even so, I'm loving my 950. And I like its design a lot (my opinion). The screen ("elevated"), now with double tap to wake, feels much more premium than former iterations. My typing speed has increased very much. Slim body. I mean, triple flash? So good looking with those natural light like colored diodes. The Microsoft logo on top front? Chrome look behind the gorilla glass. The metal ring around the back lens actually feels premium. A lot. The list goes on... ; ) That's why I disagree with the cheap feeling (part). No big deal. Even for the price. Happy user here. I recommend it.

hmm... the 3D touch looked OK if they had tweeked it than why not?
IRIS scanner is available in the 950/XL and its a big piece of.... crap compared to fingerprint scanner. So.. shame on them for canceling this

Not exactly. New phones with Nokia logos really soon. And there stops any tie to the old nokia phones. Dont get me wrong, those could still be good phones, but there is no because it is nokia left.

There is Nokia left just not the phones or maps. Nokia still exists Posted via the Windows Central App for Android

Nokia designs the devices. Meaning: from hardware to software, to looks, battery and assambly. So, it does not matter if Nokia factory builds them, as long as they respect Nokia's design. At least this is what i've heard.

Android crap with the Nokia logo, literally any cheap rubbish Chinese sweatshop can bang out a phone and put android on it, its a messy shame.

Nope. Phones made by other companies with the Nokia logo. Such a shame. Nokia had such a great design team Posted via the Windows Central App for Android

I am just curious to see what happens. I kind of have a feeling that the new phones will be, in fact, awesome, but these are just my guts talking.

It wouldn't have been enough for me to have given up my 1020, unless there was some other tech that would have bested the 1020's zoom capabilities.

I would have loved a 1020 with 1in sensor with 25mp, and two (or one) dedicated image processors and even its own dedicated eram like on the Xbox for stupid fast transfer speeds for cam use. Using a snap 800 or equivalent. I have a similar prototype done in 3d of my wishes but no funds to go further perhaps another day

I was wondering at that time why Nokia had 5" screen (L930) and 6" screen (L1520), but nothing in between. Now we know why. The 5.5" McLaren...

What if the Surface Phone secretly includes this ??! You never know ! Its Microsoft. They can do anything. :D

It will include 'cancelled' feature for sure.

dude... the product got cancelled - the phone... not the feature...

The Surface phone isn't canceled... vhyr said that the features (maybe) included on the upcoming, surfacing Surface phone. (no signature)

surface phone itself is a big RUMOUR and wont help the platform (WP10)

If they make a folding phone akin to Samsung's design for the Galaxy X and implement these 3D touch controls and a Lumia 1020 tier camera they would at least make a splash in the tech news sphere and redeem themselves for cancelling this phone and releasing the 950 series. If they worked with intel or AMD to run it all on an x86 processor it would be huge. These are all things I think are possible but we'll have to wait and see...

If you want a L1020 camera(around 40mpx) you will also get that camera bump on the device. Right now around 20 mpx is enough for a slim smartphone

The platform IMHO doesnt need any help, its evolving FAST enough! at the moment its perfect for me. the surface phone maybe a rumor, but there is certainly sopmething cooking at MSFT Surface Lab, you'd know if you seen the tour given by Panos and Ben last week. i personally would love to see the features like " keep the screen on while holding the device, rotation lock etc".

you must be a heavy snapchat user wait nope

Well, it's suspicious the prototype was given to them now, so we might get something in the new device since MS also announced the exploding live tiles. Also with phone focused development on RS2 and RS3, it is the perfect time to prepare the OS for this kind of features. They can go to all touch devices

My thoughts exactly. Weird that after a couple of years keeping it secret even after cancelling McLaren they suddenly give it out for a test run. Hoping some of those features would make it to new phones

Can I please borrow your crystal ball?

"the product got cancelled - The phone" he's talking about the McLaren phone being cancelled, however the 3D touch feature wasn't cancelled (still being researched).

Yeah, I misinterpreted his words, I thought what he said 'the product was canceled' was Surface Phone. But anyways, if Surface Phone has this feature (of course the feature has been developed well) when it's released, then it will be 'the next big thing' that will happen. (no signature)

It is only a matter of time before the Surface Phone is canceled. This feature isn't revolutionary and will not drive sales. Especially when you take its barren app store, rigid UI, Windows branding and lack of carrier support into acocunt. Microsoft will kill it as well as development of Windows 10 Mobile. It just doesn't make sense to go waste resources developing it if they can only capture 0.1% of the market. The other platforms are mature and there just isn't any reason for someone to buy a Windows phone. Unless Microsoft has something truly revolutionary, they will just end up killing it. Posted via the Windows Central App for Android

"However Microsoft are still actively researching 3D touch" they canceled the phone itself. No one said anything about the feature

Wondering the same thing. Are they even considering this?

If it really did, then it'd have been a unique marketing point and they wouldn't have given reporters access to this prototype

Except they didn't. Windows Central got it through other means (read: "stole" it). MSFT never gave it to them.

The prototype is a big enough thing that would require permission from superiors to give it to the tech journalists. Especially since MS patented MixView. If they do it right, it'll be another good point for the Surface phone

and what microsoft will do since they can do anything..........is.........NOTHING! they will squander away another missed opportunity....actually they already have...over and over. I would own this phone right now, if they actually released it. But Nutella wanted to axe the nokia division so he could buy linkedin of all things...way to go.

Thanks, Because he has the sense of a jar of hazelnut spread. He is clueless.

Do you even think before you just randomly type out stuff? I'm sure he's infinitely smarter than you while also having a lot more business sense.

Hey, don't pretend like there isn't a slue of people saying that he is clueless.

I highly doubt it, but he was lucky.

You could almost say he's... nuts! Eh?
Anyways, I actually like Nadella. I don't like everything he does but I like him more than Ballmer. Posted via the Windows Central App for Android

What people seem to forget is that Nadella actually worked at Microsoft for many years before becoming the CEO. It's just utterly stupid to say that he's a bad CEO. The guy was the head of Microsoft cloud services for christ sake. Smh Posted via the Windows Central App for Android

Exactly man. Totally agree. People say bad things about him for no reason. Yes, the phone business didn't work till now but what about the rest of Microsoft that's absolutely successful ?!!

That's what I've been thinking haha

if MS would have the brains and foresight to include the 3D touch and keep the oriantation lock while holding with the surface phone then MS would blow Samsung and IOS out of the water! these things are so revolutionary and techno advanced (new) that people WANT change fromm the boring smart devices we have now... the phone tech is stagnant now and these advanced techs would get people fired up and excited about the new Surface phone! its time to come out with something new and exciting... so come on MS and bring it on!

Microsoft can do anything........ except sell phones with their own mobile os.

They sell more keyboards than phones.

Surface Phone might never exist.

Damn. Why Microsoft, why?

Because people cant adopt to this technology that easily they say

You got that right. Think of the crying we heard when they slightly modified the start menu with Windows 8. Those same.peoples' heads would have exploded if they had to figure this one out. One of the most ridiculous tech issues ever.

except this was an additive feature, removing the start menu was not (especially hiding the button was simply stupid)

Kids can adopt quickly, they just need a reason to. That reason is usually a celebrity endorsement or other "cool" factor. Once a few celebs jump on board the masses will follow.

Katy Perry featured lumias prominently in some of her videos. Kids really flocked to windows phone because of that.

Hovering at certain height is hard - at least without visual hints. That is where they went wrong. Exploding tiles with press-and-hold (time is more accurate than pressure) would be predictable and much easier and could be done using current touch screens. Except that child tiles should be visible and not be hidden under the pointing finger - or exploded view should not auto-close fast... Edit would be long press-and-hold. Side sensors and gestures feel like usefull features. Maybe some Chinese Android phone manufacturer implements what they can ;)

I already see Apple (or Google) releasing phone with those features and they call it revolutionary, and make themselves like they invented it.

dude... iphone has 3D touch... google it

No sir, iphone has force touch - very different. No hovering gestures there.
Edit: I take it you did not follow your own advice and Google it?

Thanks for correcting him :)

I wonder which is better.
https://www.youtube.com/watch?v=cSTEB8cdQwo

Its not the same....only in name.

Samsung has very similar functions with the S-Pen on their Galaxy Note. Posted via the Windows Central App for Android

Why?
It's the MS WP mantra. "If in doubt, kick it in the guts and do nothing"

But why did it go into the dark? Now that I see it, I want it so much...

Ok... I should have read the entire article first

If only this was a real device back in 2014 *_*

In b4 the "what should have been/best phone ever/ don't know why Microsoft cancelled / better than my 950 comments. Edit. Darn it catfish!

I am always here...I am whoever you want me to be....I am who you do not want me to be...CATFISH!

That's what prototypes are: Test options of technology that may, or may not be used in future items. It definitely is a cool concept, but until Windows 10 Mobile takes off more than it has, it wasn't worth the investment at that time. That said, I'd be very interested to see this come out in future versions of Windows Mobile devices, or as Abhi put it, the Surface Phone. I did Android, iPhone, BlackBerry...Windows devices are just my favorite all-around, even if they aren't the most-popular device :)

Actually, this was their 2014 flagship (read: not an proof-of-concept). They cancelled this 4 months before release, and didn't have enough time to come up with a new flagship that year. That's the reason for the lack of Microsoft flagships between 2013 and 2015.

Yup. It wouldn't have been that bad had they not messed up the 830. It suffered, like the McLaren would have, from WP's lack of SoC support. Pricing was also an issue. Actually those 2 things have been one of the biggest issues with WP since the beginning.

Spot on. Not that I use iPhones but it's clear that plenty of people aren't yet convinced that force touch as resulted in a better phone and while this is definitely an interesting concept I doubt it would have made a big difference in terms of where Windows Mobile is right now in the market, especially on a single device model that wouldn't have been a significant number of Windows Phones on the market (high end never seems to take a big percentage of the adduplex stats). It's the reason I take issue with this part of the review: "The decision sealed the fate of Windows Phone as there would not be another flagship device from the Nokia/Microsoft portfolio until November 2015" It's still too early to definitely say that the fate of Windows Phone has already been decided (and don't counter by saying "it's not windows phone anymore, it's windows mobile" - to many people a name change is nothing more than that). It's always been the entry level and mid range that have driven sales numbers and a single feature, even one as interesting as this, is unlikely to have made much of a difference. If the aps people want aren't available a feature as good as this appears to be is still irrelevant if the likes of snapchat are not available.

So much for the 50MP rumors...

50mp would have done alot of damage to camera quality. Learn about micropixels and you know what I mean. If they did 20MP but with a sensor the size of 1/1.5" it would have great micropixels. Posted via the Windows Central App for Android

Actually, their anti-aliasing techniques would have gone a long way in making super sharp pics (check out 5MP shots from L1020). The damage wouldn't be in quality, but in low-light performance due to the pixel pitch. In good lighting conditions, a downsized 50MP shot would easily brush asside a smaller MP shot from a sensor of the same size.

you answered the same thing that I said, why do you thing the 5MP has so much clarity? 5MP on a sensor of 2/3" would have 2.2micropixels compared to S7 1.4micropixel (12MP - 1/2.3"), the only reason they made 41MP not for clarity but for cropping since mobile can't have optical zoom and cropping an image that had 1.1 or less micropixels results in poorer performance in light, day or night

Maybe there was a 50mp camera coming in it, hence the MASSIVE hump in the back so they could fit a bigger sensor plus ois in there. and then throttled it back to 20mp becuase they are microsoft and drop every differentiating feature they come up with. Hell, they could have dropped the 41mp from the 1020 and made it fast with better software and hardware in the phone.

My favorite car is the McLaren F1... Like the car, this is a favorite that I'll likely never own

You mustn't be so pessimistic. You never know. Maybe one day you'll own an F1.

True, true... Anything is possible

Nokia did not cancel McLaren, it was not their product anymore. Btw you have been repeating over and over again that McLaren was cancelled due defective hardware, that was not the case then right?

McLaren was cancelled because Nutella is a nimrod that only worries about enterprise.

I tend to agree that it was the first shot by Nadella to kill Windows phones.

Meh... it's still very gimmicky and wouldn't have been ready for primetime. The '3d touch' technology was not consumer-friendly enough even as shown in the video. It would have gone crazy in people's pockets. Also by the time the device would come out, it would be way too thick and bulky for a modern phone. I'm guessing we'll be seeing some of this technology used in the Surface Phone though!

Someone always calls new things "gimmicky".

Well alot of the Galaxy S4 features are hardly used in my country. And we're talking about Samsung here. It's like a honeymoon feeling. The interest in those features usually go away in short time. Posted via the Windows Central App for Android

The hovering looks annoying. It's hard to teach users new things and this would have been no different. Many of my friends don't even see the point of force touch on their iphones. And man the MCLaren was ugly as sin(opinion).

I have an iPhone 6s plus for work. I use force touch when I remember it, which is rare because I'm always on my 950.

Die hard Nokia fan or Fins will kill you for saying that! I love Nokia, but the only thin phone they've really made was the 1520 which i carry, othewise, they made some tanks compared to modern cell phones.

The 925 was a very nice phone. Had several of them

I'm all for a thicker and heavier phone, along the lines of 920 & 1020 (I actually like the camera bump!). Not a fan of Apple's obsession with making the phones thinner and lighter. Everytime I use an iPhone 6/6s, I feel like a light wind will make the phone fly out of my hands.

Me too. That's the reason why I refused to buy the 640xl. It looks too light. Posted via the Windows Central App for Android

No the 640 Xl is not too Light at all.

I would say a gimmick is a feature that looks cool in marketing but in practise doesn't provide any solid benefit. The tech shown here provides a lot of real world benefit, the subtle uses such as the auto lock on rotation make a lot of difference and things like Mix View and the hover gestures provide great material for marketing. Again I think this is a case of Microsoft pushing forward too early and giving up too soon, the tech and even the concepts shown need a lot of refinement, and I have a feeling we will be seeing some of these features in a few years time, the key is for Microsoft to ship it before Apple and Samsung do it first.

Microsoft has essentially pulled the plug on Windows Phone hardware – but not the OS

So you're saying no Surface Phone?

It's long time since I've jumped this fast from my phone to PC to read something. Now, to read.

Just initial comment as I haven't finished article yet but all I can say so far is Tha F*** Ms, this ish better show up in so called Surface Phone.

It 'seemed faster' at the time

Wow, this is one of the things you look at and say "if only".

I already did. First comment up top.

https://www.youtube.com/watch?v=uEE3ycDH9_8

I know this is majorly off topic, but does WindowsCentral.com run like absolute garbage for anyone else on W10 Edge for PC? I couldn't even get through this article it was bugging out so much on me. It's been this way for awhile, but it's just killing me now. I had to log in on chrome just to get this comment on here. Anybody else? Anybody know some trick to fix this? It ONLY happens on WindowsCentral.com, otherwise Edge is great! :'(

Get adblock plus if you're oon insider. Or get the app from windows store for both mobile and desktop.

Not an insider on my main PC, but getting the app I guess is a good solution for now... August 2nd can't come soon enough! Thanks for the reply.

alternatively, you can do what I did, and change the hosts file. Now this site feels amazing, though some links (especially app links) are broken.

Cool, I'll have to link into doing that! Thanks for the reply.

Windows Central runs like garbage on edge, I too switch to chrome to use the site.

it also takes to long to load on ie, about 2-3 sec

I love the concepts presented here. 3D touch looks phenomenal. I hope MS can improve it to the point that it can be used by regular folks. It would be incredible on a phone or tablet.

In the end, imo, any device released by Nokia at the time would not succeed because of the App issue. Yes there is an app issue with Windows Phone.

If the app gap is build no one can stop wp sales going high..

i agree if no app gap the market wouild be alot biger, unfortunatly it is and for the near future thats not gona change. We just lost paypal.

At the time the app gap was improving at an accelerating rate. When Nokia (and MS) could no longer afford to pumb money into WP, and with the lack of a flagship, and later W10, no one had any faith left on the ecosystem.

As I channel A Streetcar Names Desire... "I could have been somebody..... I coulda been a contender."

Honestly I am glad this phone was cancelled. Developers would never have done anything for a phone that wa destined for a niche audience so the 3d interface would have been completely under utilized. I still would have bough it bit this would not save windows phone in any way

Reading this excellent series of reviews, I think the OS-level stuff, like orientation, would have had way more impact on day to day use than what amounts to a long press.

If this was released, with advertising, I think things would be different for windows mobile right now. 1. release the Mclaren with some actual media and advertising coverage, 2. your CEO and his cronies actually use and carry said phone instead of a competitors phone, 3. get a couple of famous endorsers. Windows 8 had a bit of traction. This could have boosted sales, and market share. No you are not going to take out google or apple, but I would say you would take 10% from both.....so that would be a much better market share than the state of things now. Oh well, hindsight. Well not really. I have been saying this about windows mobile/windows phone since before Mclaren was even mentioned...but what do I know.

You use a windows phone? Posted via the Windows Central App for Android

Do you use a windows phone? Posted via the Windows Central App for Android

Well, we can only say. What could have been. Posted via the Windows Central App for Android

Hope to see this in surface.. Would be a evolution..

So they had force touch made in a much cooler way before Apple did and didn't release it. ZZZZZZZZZZZZZZZZZ

Didn't read the article huh? What else is new...

Its the Nutella led microsoft way. Devleop amazing technology, announce it, and then axe it because they are so short sighted and caught up in enterprise.

I know you're making fun of his last name but it does appear very racist when you use that term. Also, he's just doing what the shareholders wanted him to do. They never wanted MS as a mobile hardware maker. Windows Phone was not exactly booming anyway and this phone wouldn't have changed much. Also if you read the article the 3D touch technology seems a bit buggy. It probably would have caused all sort of negative feedback, you know the type from tech reporters that WP fans continuously complain about. Lastly enterprise is their biggest customr still and that's not likely to change. What I really don't understand is why you believe constantly complaining is going to change anything. I guess you need a place to whine?

Look where doing NOTHING has gotten the loyal users. NO WHERE. Its not racist. NOT one bit. its because he has the mentality of a jar of nutella, and his last name is damn close to NUTELLA.

Oh man, that brought a tear to my eye. Especially Michael's "goodbye". Lumia's looked so elegant back then. Really hoping to see more devices like that in the future. And the sensors set-up looks very interesting as well. Really makes things pop, but I can see how this is too difficult to grasp for a lot of users. Still, I would love to see this tech in the future!

Some times it's best not to look back at what could have been but I think EX microsoft devices VP Mr. Elop was retired because he got no Windows flagship smart phones to offer the public for over a year. 3 more things that hurt Windows smart phones BAD was the switch to Windows 10 mobile OS and the fact a lot of people could not upgrade their smart phones to it. Some windows smart phone Owners people went to Apple and Android smart phones. The third thing is where are the TV, Radio and Newspaper and magazine adds asking People to consider buying a 950, 950XL 0r the new cute 650. folks if you have products for sale and donot advertise them RIGHT you screw yourself out of sales. The third thing is the long wait for the "Surface smart phones. Microsoft should at least by now let People know there will even be a Surface smart phone even if they tell us nothing about it's specs. frankly with these low sales of Windows smart phones Microsoft has to put out a good press release saying they will continue to make them.

Greg, Using your logic, don't you think Nutella should be canned LONG ago? he's released nothing exciting since being in power.

Windows 10 has been pretty exciting, and the new Surface Pro 4 and Book look pretty nice. The phones they release are terrible because Windows Mobile is terrible.

Agree the book is nice, but plauged with software issues. w10 was awesome until they stripped all the cool features they announced that made it cool, not its just a data miner for it users. boring.

Nadella has made billions on non-phone product (both hw and sw), he is not going anywhere soon. Elop's only job was phones.

Think again. surface products were made at a loss for a long time just to get some traction for the 3 in 1 concept. which btw, was nothing to do with Nutella. Balmer had these developed.

Satya Nadella is doing a good job but to get windows smart phones up and running agian some serious advertising has to be done to convince people that Windows smart phones are still being produced and have some great features like Continuum and Universal apps that are compatable with the Universal apps used on Computers of various types that run the full windows 10 operating system that's on over 350 million active computers of various types

Sorry but I fail to see logic behind cancelling phone like this and releasing phone like L950. This phone would rock in 2014.

I would image MS not wanting to support the 3D touch features going forward. The WP user base was (and still is) small and ppl that would have the 3D touch compatible flagship would be a subset of that. Also remember, MS is the company that dropped things like radio on W10m and Skype for WP8.
Apple is kind of in the same boat with their 3D touch as I don't notice much cool features about it in the news. However, since Apple controls both hardware and software, innovations like these can get executed much faster and supported longer. If I remember correctly, Nokia was frustrated with speed of WP's development before the buy out. Some ppl say that MS should leave hardware, but I think that should keep at least the high end lines to push new tech and stay competitive with Apple and Android.

Am I the only one who likes the 950 hardware? The design is a little bland, but the thing has everything.

I looked at it first and went meh. but after MOZO got their mitts on the 950/xl they are beautiful. However they are hampered with the most useless software, so they never sold. They actually had to give them away. buy one get one free direct from Microsoft. I have yet to see ANY other company have a buy one get one free on their tech devices. Carriers do it, but NOT directly for unlocked devices.

Big downside of Mozo cases for me is the leather and lack of MS logo.

This phone would rock 2016. Nokia designed phones were the best.

I think it would be amazing for Microsoft to release a true successor to the Lumia 920, along with a Surface Phone. Will that happen? No, but one can dream, right?

Agreed! I'm still dreaming about a true successor to the Lumia 920. And no the Lumia 830, 930, and 950 series were not it.

It wont happen as you saiad because they should and have killed lumia. If they are going back into hardware, it needs to be their own inhouse vs an adopted nokia device.

Arrgghhh, another news item with the persistent loading dots....

I have never forgiven Microsoft for this cancellation on top of releasing all the best phones exclusively(US issue). I had the Lumia 1020 at the time the news broke. All my hopes and dreams with it and that's when I decided to get out and move forward with Android. The Surface Phone may make amends for this if it is released on my carrier and is as awesome as expectations are for it. One picture at a time -- LG V10

I honestly would have been fine with just an updated 1020, no need for 3D touch, although it seems cool.

Woha!! Path breaking I would say. Hope this gets incorporated into Surface Phone. If this gets perfected it's going to break sales record by sheer hype.

Surface phone...Funniest Joke I heard all day.

I could do without the 3D Touch and the hiddeous looking camera hump but this might have been a worthy successor to my Lumia 920. If only it had built in wireless charging. The display size would've been nice!

Is this article the reason that there's no podcast?

Nokia will probably release this 3D touch along with a 41MP camera successor in their upcoming lagdroid flagship release later this year and call it the next big thing is here! #MSFAIL

If they do, I will probably buy one.

actually they can't. MSFT holds the patents to it.

Correction, they don't. They are licencing the patents. Nokia still owns all their patents. So a new Nokia phone with their camera technology is more likely than not.

Looks way better than the trashy phones 950/950XL

I love it when I see actual journalism happen on tech websites! It is far too rare. Congratulations. Very interesting story, well told.

Fantastic article and insight, thanks guys! Interesting look into what could have been and maybe what shouldn't have. No doubt you've got to keep it secret to a degree, but how were you lucky enough to get your hands on a prototype?

just like the surface phone and all the cool features of windows 10 that were announced.

maybe for thr old tech OIS or that it got a bigger sensor like 1/1.5 compared to 1/2.3 which required bigger lenses aswell

Nonetheless, McLaren suffered from many of the problems that other Lumias had at the time. The Snapdragon 800 was already a year old; the camera hump looks more impressive than it was, and besides 3D touch, the McLaren was just a small evolution. I also heard that the 3D Touch technology used was problematic. Indeed, I attest that this prototype is very buggy, and you would not want to use it for daily use. Is that because it was still in development or underlying problems? We may never know.

Funny because Windows 10 on the 950/XL and older devices is buggy, too!

It may seem crazy, but perhaps this technology was just too new and too different for users.

Looks like Apple will nail this type of iteractions much like their 3D Touch. At least Apple launch their product and keep INVESTING on it. 3D is on the Watch, Mac and iPhone !!!

Don't worry a year from now we will be complaining about the cancelled surface phone prototypes running W10M BETA! #MSFAIL

That's probably more likely than a Surface phone being released, sadly.

Designs like this were what drew me further into Windows on Nokia devices.
So sad that these efforts are the days of yore.
Time crushes everything...glad I got to enjoy the fruits of Nokia for a short while :(

Designs like this were what drew me further into Windows on Nokia devices.
So sad that these efforts are the days of yore.
Time crushes everything...glad I got to enjoy the fruits of Nokia for a short while :(

Don't worry. You'll soon be able to enjoy these designs on Nokia phones again, but this time you'll have the advantage of it not coming with a dead OS.

Keep dreaming Posted via the Windows Central App for Android (V10 or Nexus 5X)

It's official, mate.
Sorry to burst your bubble but it's time for you to face reality.
WP is dead and Nokia prevailed. Suck it up ;) Posted via the Windows Central App for Android

yeah, it has been dead for bout 5 - 6 years if I go by comments such as yours. It is truly a case of Dead Man Walking

Doubtful...
I don't need anymore phones on any OS as of now.

Every OS are distinct and every user isn't completely satisfied with their chosen OS whether it is from client/developer side. Everyone should have remember it!

Nokia will probably play it safe with their first phones though. I'd expect something between a Nexus 5/6 and iPhone 6. Too bad they were so late, since I already got myself a phone (and I'm not in the habit of buying more than 1 phone / 2 years, unless something really interesting pops out).

Nokia won't play it safe. They'll put emphasis on Nokia's core strenghts and play to those. That means build quality, design, durability and imaging. And the software will likely not be stock Android at all. Nokia had a lot of cool stuff planned for Windows Phone that they were NOT able to achieve due to the poor development of the OS by Microsoft. With Android, Nokia doesn't need Google to update Android to put things in. Nokia can do it herself. Now...will the Nokia Android phones entice you to buy a new phone if you already have a relatively new one? That'll depend on you and what you look for in a phone. But that's true for Nokia or any other OEM anyway.

I'm sure Nokia will release great phones, relying on their strengths, as you said, but I am not expecting bold designs like the 1020. IF Nokia comes out with a phone that completely changes the way we use or look at smartphones (or just one with SailfishOS), then I'll bite. Otherwise, they will have to wait 2-3 years to get my money, but I'm sure there are many people still who trust the Nokia brand and with Android on-board most will have little reason not to consider a Nokia phone. I'm sure you will be getting one quite quickly :).

Nope, Post acquistion all these designs and patents have passed onto MS. MS is the one developing the technology now, and holds the patent to implement it in its phones if it wants, not Nokia

Nope, only the development of new phones with MS name on it think 550, 950, 950 xl, anything that was carried over from Nokia, including the McLaren, is nokia's property and licenced to MS. sooooo, all is not dead yet.....it could come out with android, where it will sell like hot cakes.

You're completely INCORRECT. I'm kind of tired of repeating myself. But here I go: - Nokia kept ALL the patents. ALL. OF. THEM. The ones Microsoft uses are Nokia's and are used under a cross-licensing agreement (which was part of the deal) - The EXISTING design portfolio was sold to Microsoft. HOWEVER, that means that only the designs that Nokia had in stock were sold. Nokia kept designers in house, namely the people from the N9 era (and 1st gen Lumias). The designer of the 920 left Nokia when the deal was announced. - Nokia has ITS OWN development of 3D display technology (Daniel mentioned it in the podcast, go listen to it). Both companies were developing similar tech. The Goldfinger has a merging of both. Microsoft Research keeps developing the tech they were developing, Nokia what they had too. And again, due to the patent cross-licensing agreement between Nokia and Microsoft, both companies can keep developing the tech both have.

Nah, it's not dead. It is resting :D

It's NOT resting! It's passed on! This OS is no more! It has ceased to be! It's expired and gone to meet Blackberry! It's a stiff! Bereft of life, it rests in peace! If Microsoft hadn't connected it to a machine it'd be pushing up the daisies! It's electronic processes are now history! It's off the twig! It's kicked the bucket, it's shuffled off its mortal coil, run down the curtain and joined the bloody choir invisibile!! THIS IS AN EX-OS!! :D

Hey Zac what about the Sensor size, what size is the sensor? Did they keep it the same as the 1020 = 1/1.5" aka 2/3"????? The hump may have been (apart fron the OIS before being shrunk) for the huge sensor and lenses. Posted via the Windows Central App for Android

Awesome video Daniel. Makes me even madder at the current leads in MS. If they had focus, they could have gotten the bugs out, and had a game changer with the McLaren. Instead, they just went status quo, boring, unimaginative releases from MS we have now. And so is the state of windows mobile now. Non existant, never to be revived. To many users burnt time after time to put trust into them to jump back in. Same goes for dev's. No market share, no backup with MS just failure.

Exactly! if the team were given confidence and pushed to polish the feature, they would have surely done it.

good to see daniel after a long time.. the 3d touch concept was great though.

Nokia is future!!!
IPhone is past. &
MS is present....

MS is the past, they were great when they released windows first...however now they are just stagnant and old. boring. IPHONE and APPLE is the future. Hell, the iphone 4 is better than what MS has to offer right now,

Apple? Haha same company MSFT gave money to stay alive because without it MSFT would've been a monopoly. Posted via the Windows Central App for Android (V10 or Nexus 5X)

Yes they did, during the NON Steve Jobs ERA. Now, Its apple who is keeping MS going. why do you think Nutella went rouge and was on stage with apple during the past few years. He knew if he didn't bow to them, MS would be LOSING MILLIONS. and be in an even worse situation they are now. Who is selling more phones, tablets and computers? Microsoft direct, or Apple. If you answer MS your wrong. The surface line only scratches the surface of what apple sells in macs and ipads. and phones...we all know what happend there.

Hey hey hey, keep your adams apple and walk away.

I think you are Apple Fan. Now what about Nokia???

I am an apple fan now, I am also a NOKIA fan. I am NOT an microsoft fan anymore. They have nothing exciting, new, and usefull. Only enterprise. No consumer products, etc. I loved my 1020 and bought it thinking MS was gaining traction with windows 8, OH well. waste of hard earned dollars there. about 2 months after I bought it, they announced w10. I was super excited. then it came out, and never arrived on my 1020, so I thought ok, if I like it I will buy the xl. Then they destroyed windows 10 mobile. and I jumped from the titanic called Microsoft. I have been so happy with my computing products ever since. You know the old saying, the grass is greener? well in this case....it truely is greener. MS is so stagnant, and bland. the ONLY thing keeping them a float now is enterprise. Its the only thing they have left to try to make a go of it. Xbox is in a downward slide, WinMo is finished, Consumer side of software is done. A monthy fee for word processing software etc? No thanks. they are ripping off consumers left right and center. I refuse to be taken advantage of like that. My MS services are up in one month and I am not renewing them. I will go with other product where they are either buy once and own, or dare I say it free. I have to remember to copy my one drive to my hard drive before it expires tho. Then done with MS and it's services. All is left then is to try to sell the surfaces. At a huge loss none the less. You can't give them away in the used market.

You're getting emotional. Every brand have their own space among their users.
Its upon users who choose their OS AND MOBILE BRANDS.

Great article. I'm thinking that the McLaren with the 3D touch disabled would've been a better flagship than the 2013 hardware 930.

Very interesting article, wish it didn't get cancelled. I hope to see 3D touch in the future though

I assume that one of the drawbacks of the technology, which probably relies on having a camera or sensor to be always on, was battery life.


How does this technology work, actually? It's not a camera, is it something to do with screen sensitivity?

It's a bunch of sensors. Battery life issues can be negated by relegating the sensors to the companion core. The sensors themselves don't remain as active when the phone is sleeping. None of its 'features' require it to be active during sleep. The drawback wasn't battery life. It was the unintuitiveness of the tech. Even internal beta testers had trouble guessing the gestures.

it was touched upon in one of the videos. The screen senses the tiny change in electrical charge when the finger goes near it. It also senses the tiny changes in pressure, when the phone is held in hand. These form the inputs for everything else.

So this is why we don't have a podcast last week

Lol, they timed the leak to divert attention away from the Skype fiasco.

They announced Skype won't be supported for WP8.1 and earlier phones in a few months.

hmm. Shame. Maybe update to WX if skype is so important? I doubt the people holding on to those L520s without FFCs care about skype or the platform

Many people use Skype as IM client. They go way back to WLM. L520 and L920 are very old and I have no problem with ditching them. Problem is with L640 (still sold with WP8.1) and a few other more recent devices. If they can upgrade all those to W10M before October, great, no problem. If they can't, it's a terrible thing to do because it basically makes your phone unusable if you rely on Skype to communicate with your friends and family. It's quite different than most other apps you can do without.

I think you did not get the gist of that skype annoucement. What was said was the Skype will not be 'developed' for 'older' operating systems. that included Android 4.02, iOS 7 and windows 8 (and earlier versions of these) This is not the same as saying that skype will no longer be avaible on these versions. It simply means that whateer version of skype the users have on these old devices will be the final version and won't receive any upgdates in the form of new features or performance upgrades. It is quite a normal practice for most apps, if not all. Older OS's do not allow for a number of features which are designed keeping in mind the capability of the latest OS

Skype website says clearly that to use Skype on WP8(1) only option is to use web browser.

But in the lumia 640's case, it's the carrier who is holding the upgrade back. I agree that lumia 520 owners, and other older phones should upgrade now. Stop holding on to such old devices and blaming Microsoft. Those phones had such old processors. Posted via the Windows Central App for Android

Well, I guess people on 640 and various other recent models can also go the Insider route. I believe they are all eligible for W10M RS update path. So it won't be such a dire situation for them after all. OK, I've changed my stance on this.

Yup. Article is already well hidden. But at least there was one, still waiting news about Broxton.

It's about Microsoft dude....... First thing some delay and then cancel the feature or...... kill the features itself.

Omg so many videos! Can't wait until I finally get home to watch them. Sounds like this was a really interesting device,

Nutella approves this message!

Why would you ever choose this over some form of pressure sensitivity. You have to actively hover your finger, often while trying to hold the phone steady in that plane with your other hand. All for what? To see some options to open an IE webpage? Seems like a solution that went searching for a problem... Was this a patent thing?

granted, something like force touch would have done the job the same. But then what about the hidden camera UI when the hand is away? don't judge a feature based on one usage.

ummm one thing is the screen would have less finger prints! also i think it would be more intuitive to have the exploded view when hovering over the icons.. I for one and I'm sure many others would agree that it would've been more "fun" to use the 3D touch! MS was idiotic to cancel this!!! and this is the EXACT reason why MS is behind all the others... Nutella is a bumbling FOOL! the guys' an idiot actually

why are you ignoring things like gesture support to recognize the way you hold it, the way you answer/mute the calls, the way you take pictures etc.? This was so much more than just exploding tiles

Yeah indeed, the MixView implementation is rather bit needs more tweak in terms of interaction but the technology itself is really promising. It gives tons of nice and new way of interaction while being so subtle like that auto-rotation lock when holding the phone which looks minor but in terms of interaction its what I even consider "revolutionary". Secret here is usually the execution of technology and how its being useful while being subtle and natural. Multi-touch technology isn't completely invented from scratch by Apple, they're not the first, but what they did nail is the interaction aspect of that technology that makes it revolutionary. This 3D-hover touch technology in McLaren is a tip of an iceberg of the potential it can bring, it's all left how they will figure it out to design a new but natural ways to use the device. I'm even thinking that it would be even better to combine that Force Touch with this 3D Touch to give a new natural interaction inteface beyond touchscreens. There is no need to utilize it in every single way, it just have to be utilize on right action and task. I think its really time that we have to something beyond multi-touch screens and give it more flexibility.

Length of touch is even simpler and works with all existing touch screens. Tap = open. Hold = explode. Long hold = edit.

I'm on this one with MS. 3D touch would've been a wow~effect and nothing more. Just as my friends think face recognition is cool on my L950, but I use it in about 1% of total times unlocking the phone. 3D touch would be the same, as people are accustomed to typing, not hovering. Difference between face recognition and 3D features is that latter is a much more power consuming and probably another hassle for developers of 3rd party apps. Good move MS here (then). Today - They need to concentrate for Surface phone to be flawless - smooth OS, ported apps (app gap), slick design, and affordable competititve handset. It's mobile phone market, not a novelty show.

They make the mistake of thinking that the surface phone will revive the OS. The surface phone can sell a million devices, but it'll be the only phone selling. that still leaves the OS with 0.5% marketshare. There's no revival in that. They should have kept the OS ALIVE until the surface phone so that there would actually be users eager to upgrade to it. Now they're actively pushing users away to other platforms, blaming the struggling mobile division for Windows' failings (despite it only struggling cuz of their own actions), and only releasing 2 flagships over 4 freaking YEARS. That's a recipe for disaster, right there. It's like the leadership at MSFT wants the Surface Phone to fail.

Having 4-5 phones to offer is not a bad thing. You don't need to have a dozen of low end phones, nor mid range nor high end ones. One each is quite enough. In the current line (550, 650, 950/xl) they are only missing an 850 with full hd, 2gigs of ram and a 6xx cpu, 5.1" screen. So, a company such as MS only needs 5 phones to cover the whole market requirements.

if you use facial recognition 1% of total times than you woudl have used 3D touch at least 10% times as it was not mean to unlock just the phone, but look at and work with so many different tiles. And at 10%, it would have been one of the most used/admired feature, competing probably with continum on windows 10.

The surface phone will be affordable alright. its free in your dreams because thats where it's staying. surface phone = vaporware and unicorns.

looks awkward to use. why not just touch the tile as we do and have it explode if you want. not for me

Absolutely. it could have been the 3D for some and simple touch for others. In windows 10 it could have been a mouse click. It was always better the persevere with it, look to just eradicate the bugs, and continue to develop the good bits. Cancelling it in one go was major let down, something that MS has not overcome in past two years and ONLY IF the surface phone is truly revolutionary will it overcome ever.

thanks for the look! I really wanted this phone regardless of the gimmicky-ness of it!

Believe it or not!
Whenever MS will make their OS completely flawless(or error free as compared to WIN 8.1 MOBILE OS) then NOKIA Android Phones are in everyone's hands and leave MS Lumia (Most of users will do this thing).

3d touch developed by Microsoft not nokia...so how can android users enjoy it?

3D touch was developed by Nokia before the buy out sorry!

No.its already available in kinect....remember

Totally different. It is fact that nokia had this in devleopement before the microsoft buyout. check your facts.

I did...you should try. And I'm talking about 3d touch not about McLaren.

You derail my comment. I'm not talking about 3D touch.

Please give me example of one OS: mobile, PC or tab, which is flawless

My current phone (Android, 3 gigs of RAM) is still buggy, there is no such a flawless OS, so how on earth you can say such a thing? (no signature)

Ifs and buts! It could have been some phone.

you have to start somewhere, not-doing things doesnt help anyone, how can this thing work like they want if they dont give it a chance to get refined? elon musk knows this, thats why hes landing space rockets upright on a floating barge, nadella could learn a think or two about risks with huge potential, as just the little niceties mentioned here alone would be good enough reason for this tech to exist, im tired of manually locking orientation and such things, everyone is

Isn't the term 3D Touch an Apple marketing term not some generic technology term like "multi-touch"? One would assume Apple has or will have this term trademarked?

Imagine if this was lanuched before Apple came out with their 3d touch (which is hardly exciting, even for apple fans), it would have been real scoop. MS wasted an opportunity to showcase their innovation skills to Apple

I think Nokia/Microsoft cut this phone from releasing since the 3D holo touch is a little too ahead of time, and the tech itself not stable or polished enough.
One might wonder though, what if this did released, and what the smartphone landscape would be like.

Nokia has nothing to do with it. The Goldfinger was started by Nokia but Microsoft took charge of the development before the prototyping phase even begun. So it was entire Microsoft's decision to cancel it.

Well if all the features did not work, they could have still launched it with 2 - 3 things that did work initially. for e.g. calls, SMS, E-mails, explorer and the camera. Then could have added more or waited for some developers to build apps. It would have been some thing additional rather than something unwated. That was one of the blunders MS made back then. Unfortunately they have made a bit too many by now.

If I recall correctly, the 930 came out in the summer of 2014. The icon was released in Feb of 2014, and the 1520 was in 2013 sometime. Why would they be looking to release two flagships (930 and McLaren) mere months apart?

The 930 is just a 1520 in smaller package. Nothing more!

The 930 was just a rebranded Icon, which itself was a shrunken down 1520 (but without the useful SD card). It wouldn't have been a flagship, more a tech showcase just like the 1020 didn't replace the flagship 920/5; it complimented it.

the 930 is also just a great phone, im still using mine today its great. Shame the 950 or xl wasnt made with a sumular body and oincredible premium feel that it still feels like today on them 930. Subtle curved edges on the screen just add that little extra careing touch, something that the 950 missed.

Brilliant article and a massive face palm at Microsoft. What could have been a technological showcase for the platform akin to the full PureView experience on the 1020 was abandoned to let the platform burn (to paraphrase Mr Elop). It wouldn't have sold many, but would have grabbed headlines for the 3D touch features which predated Apple's force touch nonsense.

Apples force touch is NOT nonsense....hate to burst your bubble. I use it all the time. its great. Please don't be sour because your leader is a bumbling idiot.

thks great review i was always currious

Nokia is like an ancient crypt. Still has technology of future far beyond, buried deep, teaching what future holds. Nokia was indeed innovative. Hence, seems the ancient giant is going to come awake soon, i guess.

Its Microsoft technology not Nokia.

Windows platform was from Microsoft in those time. The 3D touch and another innovative ideas were from Nokia. The Goldfinger was nokia's secret project.

No you are totally wrong. Microsoft has been working on this since early 2000 so thats why it Microsoft technology not nokia.

You can concentrate on 2nd paragraph of this article or read the whole article. Please go through before debating.

I did. But didn't find anything that this tech is belong to Nokia. Yes its nokia hardware like design,camera etc. But I'm talking about tech.

Those days Nokia only used Microsoft's windows as a mobile platform. They never shared their designs and innovations. After the merging of Nokia and Microsoft through ownership, Microsoft gained full access to Nokia's technological arsenal. So, they still say Nokia McLaren and Nokia's Goldfinger secret project.

You nokia fans really are blinds.

I was developed by NOKIA before MS bought them and destroyed them just as MS does with everything.

Whatever floats your boat.

It WAS DEVELOPED BEFORE THE BUYOUT. YES I AM YELLING. since you have a hard time hearing. IT is PROVEN FACT that NOKIA had this in developement

Neeraj, Please get your facts right. Your comments are hollow and senseless. Do come back again.....after doing better research. We have our high hopes in you.

I have my facts correct. I'm actually talking about 3d touch not McLaren. 3d touch actually implemented by Microsoft in Kinect.

The one that got away, glad to see you finally caught it :D - Reminds me of the Tablet MS launched that the world was not ready for, cant believe 2 years has gone already and 1020 still going strong.

Public obituary two years late. Well, I'm still loyally married to my 920 and fueled by 8.1. Till death do us part!

It's tragic to know and see what could have been, but for a clash of cultures and conflicts - possibly hidden agendas too. Nokia will remain in my estimation as a truly great example of product development and Microsoft having made some very stupid moves. As for the 950/950xl and the launch strategy - pretty dire, compared to what should/could have been. But evidence that they weren't as fully behind Nokia and mobiles as they were stating. This phone would have been such a delight, once perfected.

The good stuff starts at 2:51.

Mem'ries,
Light the corners of my mind
3D touch, McLaurn memories
Of the way we were.

Put me on the naysayers list. That 3-D Touch hover nonsense was then, and is still today, stupid. What an incredible waste of R&D resources. I can easily see why the phone was cancelled. I cannot for the life of me understand why somebody would want such an intimate object as a mobile phone and not touch it.

There have been those before you who asked, "why would anyone want a computer for their homes?" "Why woudl you want a touchscreen on a phone?" "Why do you need a screen which you cannot access with one hand? and the list can go on and on. They did not cancel it becuase 3D touch had no future. They cancelled it, as develpers could not develop apps for it

At just about every juncture, Microsoft has made the wrong decision.

No techbell, microsoft made one wrong decision. it was called hiring Nutella. He single handedly destoryed any future products, software etc that had any amount of coolness to it. He axed EVERYTHING cool that was going on at MS. Now we have what is called ENTER-SOFT. Consumer are dirt under his feet. He cares about enterprise only. Consumers are pesants as far as he is concerned and are not worth the air they are breathing. Hence what we see as the shift in microsoft now to Enterprise only. There is nothing being annouced exciting for consumers and has been nothing for the past 6 months. Just enterprise this, enterprise that. The cancelling of this consumer product, or that consumer software. I am right, and the MS fanboys don't want to hear it, but I am right. sorry. He has single handedly destroyed Consumer based MS products. hence the reason I jumped off the titanic. Maybe I will stop calling him Nutella and call him ICEBERG instead. Its more fitting.

Seems pretty 'meh' in 2016. Not sure the value fo the 3D touch. Disappointing camera expecially with the big hump. Hope MS is still using this technology. Maybe 3D touch could be handy for something like ...accessing your phone through a window? But - Nokia build quality chances are if I had the phone originally, it would still be going today.... Interesting story, though.

I tried to read this, because it is interesting, but once again I was flummoxed by the endless barage of ad garbage that made it impossible to click through the pages. The site works fine from my computer that uses an adblocker, but not from the computer that does not. Maybe someday those who run a site about Windows will get the site to work reasonably well on Windows.

Doesn't anyone get it at microsoft that this could have been huge. Instead of toting it as a phone only feature. They could have told devs that they will be bringing that to the desktop via touch screens, surface hub and AIOs.

Even if there were no third party apps, the 3D touch would have been so cool with just things like call, messages, camera, IE etc. It was a device that could have really helped MS gain a lot of market share, but MS decide to kill their goose rather than benefit from its golden eggs in future.

EVERYONE working on this knows it was HUGE. But Nutella is so single minded and against consumers that it was tanked.

Good article. Interesting and informative.

If this device was cancelled either because users did not understand 3D touch or because there were major problems with the 3D touch technology itself, then i have a recommendation. Instead of 3D touch, a single tap would activate Mix View. Another single tap on the "home icon" of the app or anywhere away from the Mix View tiles, would exit out of Mix View. A single tap on one of the Mix View tiles would access that specific feature (specific Contact, specific Email, etc). Two quick taps, on the other hand, would open the app itself. This would be akin to a single click vs a quick double click of a mouse. Make this feature optional and you can please most users. Other uses of Mix View could include: single tapping "Outlook Email" to open a scrollable list of new emails. Tapping a specific email would open the selected email. Single tapping Netflix would allow a quick browse of suggested videos (if you have that feature enabled) or recently-viewed movies, or newly added videos.... all without loading the entire app. For Facebook: When the user receives a friend request, a single tap will show the other person's main picture and a condensed, scrollable "About Me" section. The user will be able to accept or decline a friend request within Mix View without having to open the app.
​
Single tapping "Settings" would open a list of shortcuts to favorite settings like: brightness, Wi-Fi, sync, etc. I know some of these features i metioned are already accessible by way of the Notification Center, but these are just my thoughts on how Mix View could be employed.

So the tl;dr version is * 3D touch is sort of cool - but nobody understands how to use it outside of Microsoft * it has a metal body and thus sacraficed Qi - something that defined a lot of flagship Lumia * Specs are outdated - again * The camera hump is a poser - it's NOT the 40MP+ monster 1020 successor that many people were actually hoping for Read that list over again, and again carefully just to be sure, now tell me again why this phone would generate hype if MS was to release it? Negative hype maybe, lots and lots of negative hype about how disappointing it is and why MS "doesn't get it" (crap imagine just the outcry of the 1020 owners for instance - let alone all the other people not invested in WP to begin with). MS did the right thing by cancelling it, what is more head scratching is why did the phone got okay'ed for development presumably 1 year to 18 months prior - which would place it somewhere around early 2013 which is way before the MS/Nokia acquasition. This means this lays squarely on Nokia/Elop's feet. To me it is clear that Nokia made a bad call making this phone and it was up to MS to salvage it - but when they looked at it and realise it's unsalvagable (again - read that list up top), so they put a spike through the heart of it and burried it which made complete sense. Now in a Courier tradition, the internet has a thing with dressing up bad vapourware to make it look much better than it is, and that's why all these people thinks the MacLaren is that magical Unicorn that got away, but really it isn't - again, just read that list again.

Goldfinger and McLaren weren't the same phone, but McLaren inherited the touch technology from Goldfinger

I sat here and read and watched all these items. I really enjoyed Zac's writeup, Mr. Mobile's retrospective video, and Daniel's videos, especially the "13 Minutes of McLaren". After going through all this, though, I'm incredibly frustrated. I thought the "13 Minutes of McLaren" was particularly enlightening. Here's what I saw: 1. The 3d touch stuff was wonky and not ready for release overall with one exception I saw: the way the icons sort of "highlighted" as the finger hover above them was cool; it might not have been that useful itself, but it was a cool looking effect, and if introduced it might have served as an introduction to the (eventual) concept of 3D touch once it was developed. Why couldn't they just implement that and otherwise implement the Win 8.1 behavior otherwise? (That demo app Daniel demonstrated towards the end clearly demonstrated they could distinguise between a hover and a touch.) 2. Why couldn't they have implemented the stuff that was working regarding the grip effects? The things like not sleeping when gripped, or locking the screen rotation when gripped looked great. These are decent improvements. 3. Why wasn't there a manager worth a damn who could triage this thing and salvage what was decent (see above)? Watching this, you can't tell me that Microsoft/Nokia couldn't have picked a few features that were ready or near ready, refine those for release, jettison the rest (at least for public release, keep working on the ideas internally) and have made a nice little flagship phone. Yes, it wouldn't have "saved" Windows Phone, but that wasn't the point. The point was to keep the "faithful" faithful, and try not to lose whatever marketshare you had.

Regarding point 3 that would be a really easy to explain. MacLaren was developed during the most uncertain time of Nokia - remember the buyout was settled in April 2014, this phone was canned in mid 2014 which means its development had to be around 2013. There must've been lots of rumors flying around inside Nokia by late 2013 about a possible buyout from Microsoft which would cause all sorts of confusion and low morals from Nokia employees, thus leading to a half assed effort as many employees are either fearing for their jobs (buyouts always leads to lay offs) and most would've probably been spending their time working on polishing their resumes instead of pouring their hearts into making a phone. When MS took over the phone is already too late in development that it is simply not possible to retool the 3D touch of things which requires extra sensors - that's simply not how hardware development works when it is that far down the line. And with possibly many key people either left or are leaving Nokia at that time, salvaging this thing was simply not possible or cost too much to be worth saving, and it was simply better to make a new phone from scratch after the two company has settled after the buyout. This made sense given the situation they were in. Also again this phone would not have kept the faithful happy - it doesn't really do anything well at all, and the lack of a 40Mpx shooter it would even fail to attract 1020 users looking for a new phone. It would not have served its purpose as a "keep the faithful" happy phone.

Well, I'll disagree. Given the shown state of this device when software development stopped circa spring 2014, I don't see a reason why Microsoft, if they really wanted to, couldn't have evolved McLaren into a decent fall 2014 release - remember, we're talking ~1yr before the 950/950XL release in Fall 2015 - if they were selective but aggressive about what they included. They might have had to iterate hardware in addition to software a little bit. But picking what was necessary at the time was a managment issue. They just didn't care at that point.

But the review clearly shows there's nothing worth salvaging from this phone. Again look at the list of what is wrong with it: 1) nobody knows what to do with 3D touch except Microsoft - developers and beta testers found it confusing - it wouldn't have been a selling point when users don't get it nor developers finding any user for it. Nokia betted the horse on this feature yet it didn't work - in most cases this alone would've warranted killing the project itself. 2) then there is the camera hump poser - it is a 20Mpx shooter and not a 40Mpx shooter. The 1020 required customizing the Snapdragon S4 to handle the 40Mpx sensor and was way too outdated while the SD800 only supports up to 20Mpx out of box, which means if they suddenly wanted to retool the phone into a true 1020 successor they'd need some serious hardware SoC customization, that's not something which could be done in a few months. A poser camera hump with an inferior shooter would've pissed off all the 1020 users thinking they were getting a 1020 successor. 3) the only thing going for it is the metal build - but you lose Qi wireless, which was a flagship Lumia feature for most flagships. This phone made absolutely no sense to any existing Lumia users once you take off the rose-tinted glasses, it wasn't worth saving to begin with. With the added chaos of the buyout, nobody would want to take over a project that is destined for massive failure.

3d touch was only useless because it was never given to developers to play with and work on useage. Thats the same when touchscreens came out. what are we going to do with those, now we know. As for the camera etc. you know there WAS a 50mp in there, they are just refusing to admit it. The camera hump is bigger to cram a bigger sensor in to make use of the 50mp and still have OIS. but by the time they wre close to release, they took it all out since they already had 20mps flying around. Cost cutting measures. They could have built a pass through for QI, not that difficult. As for the processor etc, if they held off for a few months instead of shitcanning it all togther they could have put the latest chip in there and have an up to date flag ship. its not that difficult. All these reasons they should not have released are just excuses. NOT REASONs.

>3d touch was only useless because it was never given to developers to play with and work on useage. It's like you didn't read the article: In 2016, I am still hearing from people familiar with the project that users simply did not get the concepts of 3D Touch. This criticism counts for beta testers as well as developers. They HAVE shown it to developers and they found it useless and confusing - it's right from people whom are familiar with the project. >As for the camera etc. you know there WAS a 50mp in there, they are just refusing to admit it. The camera hump is bigger to cram a bigger sensor in to make use of the 50mp and still have OIS. but by the time they wre close to release, they took it all out since they already had 20mps flying around. Cost cutting measures. That's just speculation - and considering that it took them having to customise the crap out of the S4 to work with the big sensor and that the fact that the SD800 also doesn't support more than 20MPx, it means they had to customize the crap out of the SD800 as well if there WAS a 50Mpx sensor, and if that is the case, they wouldn't have dumped all that effort for what would be a way more obvious selling point than the 3D Touch stuff. Think about it - if 3D touch didn't work but they had a working 50Mpx sensor, the most logical thing to do would be to ditch 3D Touch hardware and keep the 50Mpx camera and sell the MacLaren as a proper 1020 successor and it would be an instant sell to management considering all the hype the 1020 got. the fact that it didn't happen tells me the 50Mpx sensor is a BS story. >They could have built a pass through for QI, not that difficult. Yeah and made a silly plastic snap on case for all the metallic beauty? Silly silly. > As for the processor etc, if they held off for a few months instead of shitcanning it all togther they could have put the latest chip in there and have an up to date flag ship. its not that difficult. All these reasons they should not have released are just excuses. NOT REASONs. No they couldn't. SoCs aren't dropped into a socket like your desktop PCs. If they waited for a new chip, they'd have to redo the phone.

This thing is like bigfoot these days. Nerd fantasy that won't die. It's not gonna happen, the end.

You can downvote me if you want, but I am much happier with my 950XL than I would have been with McLaren. The prototype has some neat bits, but nothing to win me over. The 5.5" screen size seems a bit better to me, assuming the phone becomes more pocketable, and the metal is a nice touch (literally), but it would require too much of a tradeoff. Metal phones feel nice (assuming you don't leave it in your car or direct summer sun), but they are heavy, which feels bad in your pocket, and there is no way I would give up wireless charging and NFC just for the feel. I actually like the shape of the 950XL better, with its flat sides and face, plus the much smaller camera hump. It could definitely use some metal edges though. I still think the 3D Touch is a bad idea on a portable device. It's just too difficult to locate both the phone, and your hand in space in relation to one another without touching. I much prefer holding down (long-press) on the tile to explode out options, and I hate that in the demo it would jump to the middle of the screen, which is quite disorienting. The edge-touch options are intriguing, such as the possibility of sliding a finger along the button-less side for volume or focus, but ultimately, I suspect that there would be too many unintended presses. The rotation lock could be done with the FF camera by tracking the eyes, which I think would be much more accurate than even tracking grasp.