Nokia kicks off 'Money Back Challenge' for Lumia 710 and 800 in India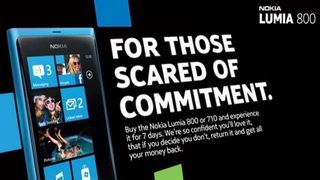 Tech2 India has reported that Nokia are kicking off a new campaign in the country titled "Amazing Money Back Challenge". This enables consumers who purchase the Lumia 710 or 800 Windows Phones to return the device within seven days for a full refund if not satisfied. That's some fairly heavy commitment.
The campaign is active on the Nokia India Facebook page, where consumers can enter contact details, select nearest stores and wait for that store to contact the participant. We presume a trip to a supporting store will also yield the same results. Of course, to return the device, you'll need to have it in almost-perfect condition with the original packaging, manuals and accessories. As well as this, the Windows Phone can only be returned to the store it was purchased from.
While many may see this as a desperate move by the manufacturer, we see it as an interesting challenge for consumers. Potential Windows Phone adopters can now fully own a Lumia smartphone for seven days on a free trial of sorts. Should they somehow not enjoy the experience provided by Nokia, there's peace of mind that a refund is readily available.
We've also got Windows Phone 8 ("Apollo") just around the corner, with current generation devices only upgrading to software version 7.8. The average Joe may not be aware of this fact, or are concerned that they will only receive Windows Phone 7.8. Nokia will have to use this time to shift as many devices as possible before the next wave is ready to roll.
via: Tech2.in; thanks, Arpit, for the tip!
Rich Edmonds is Senior Editor of PC hardware at Windows Central, covering everything related to PC components and NAS. He's been involved in technology for more than a decade and knows a thing or two about the magic inside a PC chassis. You can follow him over on Twitter at @RichEdmonds.
Why, are you not happy with yours? I have to say that I have been happy with my 800, but recently I have had serious problems with it, and do wish that I did not buy it. I've had bad experiences with Samsung omnia 7 and dell venue pro also. My Nokia has been in for repairs twice in the past few months:-(

If you would list your problem, it would be more believable. Also if your problem was listed, it could be reported so Nokia could prepare a fix. However I believe a lot of people since hearing the 8 & 900 will only receive the 7.8 update are content with blaming Nokia instead of facing the reality that we chose to update our plans knowing full well we might not get the Apollo update

Believe me, I am a huge fan of WP7 and would not consider any other OS. It also does not bother me that my phone will not get the WP8 upgrade, as i will get an upgrade soon. The problems i had were, phone unable to upgrade. Sent off, and got the upgrade. Then a week later, the screen would go blank when you answer or make a call. Again, sent phone off, and got repaired. Not confident that i have seen the last of the issues.

Uhh.. I dont think this is a good idea. I can see the thinking behind the campaign.. but I dont think this will go down well for Nokia..

I have never been as addicted to a phone as i am to my lumia 800. I like the design of it better than the 900 mainly because of the seemless screen edges and the covered usb plug

I think its a good idea. Many people wont give it even a try because 'its windows...'. That way they may have a second look

doubtful its the right moment now that wp8 is around the corner though....

That's very 90s. No one thinks like that anymore.

Actually, there are quite the annoying number of people...

Good move actually... Maybe somehow sweeten the deal by offering a discount to upgrade to WP8 as well. They are going to have to pull an Xbox move and eat losses if they want to make an impression on a decently entrenched user base. That's just my opinion though. :)

My girlfriend broke up with me because of how obsessed I am with Windows Phone...I may have some issues with mine at times too, but Nokia provides really awesome support and the solutions are fairly simple. Its not like the other guys don't have their own rancid issues! =p

did she have an apple on her back?

is it possible with the 1001!???

Desperate is always good... Nokia and MSFT always have to be desperate...you just have to... Let me tell you this.. I love my lumia 900..cant wait for wp8 hit the stores

I've been asked by people if they should get a windows phone. my friends and family all know I have one. I always explain why I like it better and suggest they get a phone and try it out. Since here in the US they can return the phone in the first 30 days if they're not happy with it. You can't really see what makes WP better without customizing it with your accounts. it's one of the problems with store sales

Can't say the thought hasn't crossed my mind. Nokia is trimming down the cost of their operations and that makes me wonder what's going on in the production line. I've been using HTC HD7 for a year an a half now and plan on buying a Nokia phone when Wp8 comes. I fully intend to support the Nokia cause based on their full support of our Wp OS. Still I am concerned of the internals and quality of the phones themselves. As far as the promotion in India, the more they put in people's hands will help bring out any issues they may have and help them develop a better phone not that they don't have good phones already but It remains to be seen how the current line of phones perform in a year and a half after their launch date.

If it was a 3 month guarantee then I'd be interested... As WP8 will be out by then ;)

Lumia 710 has all that I want.
Minus that Bluetooth connectivity.

Dude, I too have the same thought about Lumia 710

Hi, I am a happy user of my Nokia Lumia 710. However the only one thing I am desperate about is when will I be able to send or receive files via bluetooth

I haven't used or have seen that feature used since 2006. iOS doesn't have this feature either, I don't get why WP is being picked on so much over it.

Just as a side comment, the greatest WP that failed to deliver, was the Dell VP. I hope another OEM makes a similar device that actually works. It was a beautiful phone with a curved screen like the lumia 800. Just a shame the internal workings of the hardware were typical Dell.

No new in windows phone ri8 nw i just hate ri8 nw windows phone...no
new lock pattern, no new apps,, no new updats,, no new screen savers,,
no new unlock clocks,, wat can i do m just bored wid windows phone and
no gamez all gud gamez r paid i have windows ri8 nw :-(:-(:-(:-(:-(:'(:'(:'(:':'(

No new in windows phone ri8 nw i just hate ri8 nw windows phone...no
new lock pattern, no new apps,, no new updats,, no new screen savers,,
no new unlock clocks,, wat can i do m just bored wid windows phone and
no gamez all gud gamez r paid i have windows ri8 nw :-(:-(:-(:-(:-(:'(:'(:'(:':'(

There is no doubt about the integral poart of your comments but i would like to focus on the brighter sight so please mention the pros and cons too.Hard Money Construction Loan

I am really loving the theme/design of your web site. Do you ever run into any web browser compatibility issues? A number of my blog audience have complained about my site not operating correctly in Explorer but looks great in Firefox.Hatta Mountain Tour
Fujairah City Tour
Desert Safari Dubai
Dhow Dinner Cruise
Windows Central Newsletter
Thank you for signing up to Windows Central. You will receive a verification email shortly.
There was a problem. Please refresh the page and try again.