Nokia officially announces the BH-121 Bluetooth headset, a new way to enjoy your music collection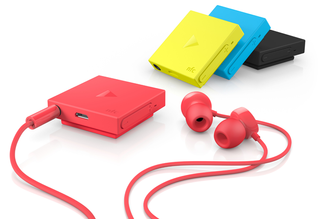 Nokia today announced a brand new Bluetooth stereo headset, the BH-121. Available in cyan, red, yellow and black, the new accessory will fit in well with any Lumia Windows Phone. Previously codenamed "Guru," we've covered the headset numerous times in the past, but soon you'll be able to pick one up for your own media requirements.
So what exactly is the BH-121? It's a small headset, measuring in at just 39mm x 39mm and 12mm - it's super small. Think of it as an Apple iPod Shuffle, but acting as a gateway for your music collection on a smartphone (or other device) to be streamed to your ears. There's even a handy little clip that can secure the product to your clothing.
What's different about the BH-121 is that you attach your favourite (or the bundled) headphones into the product instead of a direct link to the smartphone. This saves messing around with cables into your pockets or reaching down for your phone every time you wish to manipulate playback
As well as Bluetooth connectivity, because this is Nokia you're also looking at NFC technology, perfect for quickly connecting and enjoying immediate playback. The large button in the middle is what controls your incoming calls and music playback, while volume controls, Bluetooth and track controls are located on the edges.
The bundled in-ear headphones (should you enjoy using such style of headphones) come with noise blocking to help provide a more clear and powerful sound. However, because the BH-121 has a 3.5mm audio connector, you can easily attach your own headphones to the device.
When paired with your Lumia Windows Phone, you're able to see just how much battery is left, as well as viewing the connection status and tracking its location for those rare moments when you forget where you last left it. This all sounds neat, but how much cash will you be required to part with for your own?
From December, the BH-121 will go on sale for €39 ($53/£33). We'll look to get hold of one or two and review them for you. What's more, if you wish to win a BH-121, Nokia Conversations is currently running a small contest on the official announcement post where five creative comments will receive the headset for free.
Source: Nokia
Windows Central Newsletter
Get the best of Windows Central in in your inbox, every day!
Rich Edmonds was formerly a Senior Editor of PC hardware at Windows Central, covering everything related to PC components and NAS. He's been involved in technology for more than a decade and knows a thing or two about the magic inside a PC chassis. You can follow him on Twitter at @RichEdmonds.
Not cool. They need to fix xbox music first. Zune on WP7 was so much better. Now i have hundreds of duplicates songs, lack of proper sync support software (the available ones are crap), volume doesn't change when i play a song most of the time (many have this problem), no proper meta data sync, and creating a playlist on the phone is a pain. Doin as much is troublesome on the phone itself, how much more will it be through this Bluetooth device. I'm bot saying this is not a good thing, in fact it's pretty neat. But before Adding more music accessories, how about fixing the music hub itself? It's like trying to make a car smoother and faster when it has only three wheels.

Fixing Xbox Music has nothing ZERO to do with launching a new BT Headset. Sorry Ankmeyester the article is not about what we like or dont like with Xbox Music. Plus I dont know how many other people are having any of the problems your having with BT streaming or syncing. The Music store or hub as you call it is not broken. Sounds like you just dont like it.

I did not talk about the store. Only about the hub. Where we sync our music from the computer. Even in the forums we have many people voicing their grief over an inferior Xbox music in place of the earlier zune. I know nokia isn't Microsoft yet, but someone's gotta push for a better music experience. The music player we have is uncooked.

What does it have to do with a hardware release?

he is agonizing about releasing such hardware to be used in a crappy music software

+1 Microsost needs to fix broken software before adding more... Music sync Skype Tiles update Notification center Sorry to Hijacking... -

Okay what does that have to do with Nokia? Nothing!

They're just messing, I think.

They're not messing. It really is a big issue. The syncing is horrible and everything else mentioned. Although the headset is pretty awesome and I'll probably get it, Xbox Music needs a big fix.

Which makes my original point still valid it has nothing to do with the bh-121. Not that I don't agree it needs work, just has nothing to do with what the article was about.

I don't think your comment on a post about a Bluetooth/NFC headset released by a different manufacturer is gonna solve anything.

I don't like to be off topic, but you saying that the music hub isn't broken is really stupid IMHO. Creating a playlist is a pain. Forget changing the order of the list, you cant even delete a track from a playlist. You cant add a new track without going through a really lengthy and irritating process which i am in no mood to describe here. The point is, it needs fixing. I don't want to connect my phone to a computer to create, edit and manage playlists. Its the least that i expect from any phone,let alone a smartphone. Having said that, everything else is fantastic and i love my Lumia 920. Nokia music (mix radio now *sigh*) is amazing and i am sure everyone loves that.

I say its not broken because its not. It works just fine just not the way a lot of us users would expect or want it to that's why I say its not broken. Could things be better of course 1000000000X over but I stand by my statement its not broken

Xbox music isn't Nokia. They haven't even merged yet.

Granted, the music app is not perfect, but this has nothing to do with this hardware accesory. This accessory will keep doing its job regardless any future fixes or changes to the OS. It won't fix xbox music, but it won't solve world hunger either.

I get that. Good on nokia for always being there. Now can the msft Xbox music team please make the experience better by cementing the potholes?

I think potholes are usually patched with asphalt... for what it's worth anyway.

this is nokias hardware not MS, Nokia has nothing to do with xbox music..rant in null and void

No rant is ever null or void. Just expressing without hating here.

You need to upgrade to wp8, wp7is dead.

Captain obvious to the rescue here. Of course it is dead. The dead product is way better than the current one. This leaves others, myself included, with a distaste in their mouth realizing it absolutely can be better.

Haha, Why are you so miserable? The grass is always greener on the other side... WP7 was better than WP8 when it first came out feature wise/app selection. Think to the future as clearly more people didn't like Zune as it was pretty much an utter failure. Take a deep breath, be patient and wait for the improvements which are bound to happen!

I was on WP7. since months I've been on WP8. i speak with experience

Try using windows media player. It is similar to Zune.

You have pried my eyes open :P
Will try thanks :)

Given this was planned a while ago, Microsoft had no say in this device. How would Nokia releasing a piece of hardware have anything to do with Microsoft updating software? I think you have misplaced your displeasure. Don't blame Nokia for releasing hardware and not fixing Microsoft's software.

Not blaming nokia. Just saying that we have good hardware coming out, how about fixing the music player also? It'll make the experience better.

I agree 100% with you, I'm not hating either I love WP8 but microsoft really really needs to step their game up, the music hub I don't think its broken but there are a bunch of features that are either missing a pain in the ass to use or they don't work that well sometimes, I slso have the problem of the cloud sync where not all of my music shows up on both devices, my computer and my phone. Plus the volume stops working whenever I play a podcast, and I've had that problem since WP7.

I totally agree, its funny that if I make a playlist on my XB1, it syncs with my windows 8 pc and tablets. Im hing with WP 8.1 blue these issues will be fixed. Oh how I miss Zune software, with these features: Ability to buy individual tracks from albums in groups Ability to sync playlists Ability to sort music by purchases and what i own so you know what music that you have burned from cds or pwn from ther sources. And where is cloud music storage for a'l my music? Also, phone syncing of music collection. My love for Zune keeps me hanging on.....

Right, because Nokia acquired Microsoft and now has to fix all their issues. Seriously, man. And Xbox music is fine; you just don't know how to use it properly.

Awesome. Totally getting one of these

Actually pretty cool, need something for my tablet/laptop.

Looks cool, but I wish it was a Smartwatch. Anyways, hope this product does well.

I don't want my headphones plugged into my watch.

LOL exactly. That would be crazy! It can work with wireless (blutooth) headphones though.

Another accessory that you'll barely see in stores.

Yes like snail arrival of Lumia Black. There are still some regions yet to get Lumia Amber update ! "Waiting for (god-dammed operators') approval"..

All Nokia accessories have been all around here in Sweden...

Does it charge wirelessly?

This is my first question. I've had on bluetooth headphones before and none are very good.

I have had good bluetooth headphones, my favs have been the jay birds and also the new nokia line with monster. Those are the only ones I have had that dont cut out.

This. Those Purity headphones are amazing.

Jaybirds? Hmmmm. I'll look them up. I can't really imagine these BH-121 sounding any better than something off the rack at Wal-mart or a local flea market. Same difference but, you know. Someone prove me wrong here.

I've heard GREAT things about the Jaybirds. As for Bluetooth connection via BH-121, no idea what to expect. I dont like that type of thing. I'd rather just get a pair of jaybirds or something then lol since I'll likely be investing in good earphones

This is about the device that connects headphones to you rWP device. While they come with some basic earbuds, that's not the focus of the product. The product is the device that is the gateway to your WP device. You can connect any headphones to it.

The BH-111 is pretty good, but definitely not as good as headphones directly plugged in. I expect this to be at least equal or better since it's a lot newer.

Looks alright but i have my ipod touch to deal with my music needs but still an awesome little device :)

It's a "blue, blue, Bluetooth Christmas!".

So will this make it to the states at all?

No. Payback for this morning's Dell Venue Pro 8 deal. :P

Expecting a list of compatible devices (Lumias & Ashas) with the BH-121.
Thanks !

Umm.. Everything with bluetooth?

I don't see, appart from design, how this is better than a headset like Sony MW-600 . The latter has FM Radio so it had been useful to me when my phone battery died and needed some music.

you clip this to your collar, and don't need the wires from your headphones to your phone when you are running on a threadmill. just put your phone within proximity.

Just like MW600, it also clips and can use any 3.5mm headphone http://www-static.se-mc.com/blogs.dir/0/files/2011/12/MW600S-gallery-image-03-940x529.jpg

I think some of my comments was posted wrong. I actually wrote that the MW600 looked like a great product, except it's nowhere to be found in Norway..

I'm not seeing the value or the use cases, here. I'd rather just have the controls built onto the headphone cord like the nokia headphones already do than an assistant device that still limits the walking range to bluetooth --unless it gives a significant distance boost, but still... Maybe a house device when the phone is on the charger?

Agreed. You could do 80-90% of the stuff from a generic Bluetooth headphone devices. This is for niche market I suppose

You can use any headphones of your preference. Also with the ones with built in controls, if either the controls or the headphone break, you need to get a new pair specifically designed for Lumias. Here they are difficult to get, even compatible ones. I am dreading the possibility that mine break. Which sadly will happen sometime. With this accesory if the headphones break you still have a way to connect any cheap or high-end replacement.

Exactly! You could pick something like this up for less than $10, its not even a real headset. Also I have the Nokia Luna BH-220 earpiece and its awful! No more Nokia Bluetooth devices for me.

I use a device like this when I ski. I keep my phone in my interior pocket and then clip the bluetooth controller to my jacket. I can then change my songs, pause my music and answer all calls with no need to dig into my jacket or try to manipulate tiny headphone controls with gloves on. Works great. My problem with the bluetooth devices on my 920 is that the audio enhancements that are offered only work with a wired headset so I lose all equalizer settings. I'm buying a portable headphone amp to give me the sound quality I want out of my headphones. If this device allows me to have the audio enhancements I would be all over this.

Looks cool , I like the yellow one. Functionality wise , its the same as my Sony Ericsson HBH-220 , only charges with a Micro-USB .

I like the small minimalistic design and NFC is nice and convenient but I'm not sure it's worth the price right now, when I've already got the BH-111.

I like the idea if the price is right, if it saves a lot of battery life and is small enough! Plus the colors are great!!!! And its Nokia which always helps!

They also updated the "Nokia Accessory" app (or whatever it may be called,) this morning, with support for it. It's probably cool, but we'll never see it in stores. Or probably even with a US warranty. Or even available for purchase at all worldwide. (I'm still waiting on the yellow in-ear Purity headphones. Though it's only been well over a year now.)

The primary use case I can think of for this would be in the car if one has line in for their stereo but no Bluetooth. Hop in the car, tap the device, and away you go! It would be an awesome and inexpensive way to get Bluetooth functionality without upgrading your stereo. Of course, suckers like me still have to opt for a Bluetooth receiver with FM transmitter.

I was thinking the same thing. I have an auxiliary jack in my car, but not Bluetooth. I'm just wondering how well my voice will carry for phone calls since I won't have a mic near my mouth.

I hadn't even thought of this scenario. I wonder how well it would work, because I would love to add bluetooth to my car and not have to worry about the messing with an aux cord as much.

So you are assuming that the base has a microphone? i didnt find that information anywhere.

Nice, but the question is if I attach my Razer Moray to the device will the sound quallity decrease.

This would be a great solution for listening to music while on the Motorcycle.
Little hard to manipulate the phone to change your music while riding... ha! But the controls on this could make it simple.

Buying direct from Nokias site?

Really nice. I have the Jabra BT3030 Dog Tag Bluetooth device, since a few years now but the audio quality is a bit 'grain-ish' so if these Nokia tags have a good audio quality I would love to get my hands on it. Waiting for the review now.

I like this and I would get it, though I honestly rather have an updated version of the BT NFC headband headset style. The advantage I see to this is that you can use any fancy headphones you like. The ones that come with my 920 don't have such good sound, to be fair.

I really hope Microsoft doesn't change the low price point of Nokia products

This is nice because I can still use my own headset. Also for 39$, this is cheap! I just hope they will be in-store in Dubai soon.

It's $53. You must of miss-read it because it says €39 not $.

Since this is an official Nokia accessory, do the extra audio options work with this like you had a pair of wired headphones plugged in (dolby enhancements, equalizer, etc...)?

That is exactly what I want to know. I have the ADAPT by Outdoor Technology and everything is flat sounding due to the loss of the ability to use the audio enhancements. I have a good pair of Shure IEM's and am looking at getting an additional amp to give me the sound that is not provided by the blutooth controller. If this gives me the audio enhancements along with the NFC pairing and bluetooth it will be worth every penny.

Does it use BT LE to alert you if you're leaving it behind?

Can someone explain this to me... It pulls music from your phone via bluetooth? So, you'll still have to carry your phone with you in order for this to work or is there on board storage?

Yes, you will still need your phone. I never really understood bluetooth headphones like this either. If I am going to go bluetooth, why would I still want wires dangling around my neck. The only real advantage I see on these is that I can see the battery level. My Motorola S10's work just fine.

if you're running on a threadmill, you might not want the wires dangling down to your pocket. clip this on your collar, place your phone on the floor, and start running... or if you're out walking, and prefer to keep the phone in your pants. it also have a mic, so if someone calls you, you can just click the button and start talking..

Hm I suppose... but you'll still have the long cord for the headphones dangling everywhere won't you?

yes, but the ones I use were detachable from a longer cord, so I clip the nokia to my shirt on the front, my headphones to my shirt on the back, and I have perfect length. http://sdrv.ms/1brtQPV

Thia device is way cool. I love how Nokia is taking advantage of NFC.

I want it!!! This will be perfect for when I want to connect a set of speakers I own so I can keep my cell phone by my desk and not by the speakers!!

Could use this for the gym

But do you have to have your phone next to it? If that's the case, I don't see the point

I'll have a blue, blue, Bluetooth Christmas, too

Why no white? .. Did someone forget to tell them they make white phones as well -- probably the same folks that (haven't) made the white wireless charging case for my 1020... Honestly, how hard is it to release accessories in all the colors you make your phones in?

Sigh, so after all that it's literally just an updated BH-221? (http://www.amazon.co.uk/dp/B008JSFFAK?tag=androcentr-21&m1k=d_wp) I was really hoping this would actually store music locally rather than once again relying on my phone. An iPod Nano and/or Shuffle that syncs with Nokia Mix Radio and Xbox Music would be perfect in so many situations whereas this is nothing more than an update to Nokia's existing Bluetooth headsets, unsure why they've been making such a big deal out of it as it doesn't bring anything new to the table (and in fact, compared to the BH-221, has taken away features such as the OLED display). As ever though, Nokia have released something that looks gorgeous, so there's that at least. :)

I have used wpsince day one wp7was a good start but that's about it. And piss on your parade win mobile 6.5 was way better you are all stupid lol

Battery? My current Bluetooth dongle thingy from Nokia only lasts 4 hours which means I never bother using it.

This looks awesome! I like my current LG tone+ headset but I'd drop it in a second for this. I can't wait to get one.

So how does this work? Does it read songs from our Lumia or we have to store songs on this itself?

Xbox music sucks... Duplicates songs, difficult to create a playlist. They should fix the Music player, at least!

This is like the Sony MW600 but it doesn't have its own display. The Sony can display the track title, etc. OTOH, the MW600 bricked itself after a few days use, just from routine charging. D:

http://youtu.be/XG8jcJqA-GI Check this out guys! A fan video for the new B

Does it make sense to use this in my car to connect my phone through my aux connector? My car currently does not have a BT stereo.

Even I am looking this option for my car. Does anyone use it in car thru aux port?

As someone with a red L920, why do the Nokia accessories and Purity headphones have a pink option but not red??

Awesome, I've been looking for something like this. But then again 40 euros.

I picked up the Jabra version of this type of accessory last year, and love it! Especially for the gym, home projects, etc where I don't want a dangling cord to catch on things (I clip it up high on my collar usually so the short headphone cables are out of the way). The NFC aspect is a great option, way easier than bluetooth pairing (I sometimes use my Jabra with my surface or laptop). Add some onboard storage for simple MP3 playback without a phone and this would be my dream option.

This would be so much better if it wasn't dependent on your smartphone.

I agree, I just don't understand this

It makes any pair of headphones a BT headset.

I don't get the fuzz about this accessory, since I've had the BH-111 for 2 years now. This is basically the same product but with NFC and a little better design, right? But granted the consept is great, and I always use the BH-111 when I go to the gym or go out for walks...

When exactly in December? And in which countries?

So, invest in this and use regular headphones, or purchase quality Bluetooth headphones with pause/play etc on them? There are a few out there that have Bluetooth + standard headphone for wired connections. Hmm this seems like a cheaper option, but is it the better option?

No Bluetooth 4.0, no apt-X, so sound will be mediocre. Glad they got rid of the proprietary charging plug and got micro USB instead.

So I thought this will be included in Lumia 525. My hopes crushed.

will this have previous and next buttons on it?

I would imagine so... probably a long press of the + and - is my guess


you're able to see just how much battery is left, as well as viewing the connection status and tracking its location for those rare moments when you forget where you last left it

What is the source backing up this statement? If it was taken from the referenced Nokia Conversations blog post, it has since then been removed from that blog post. Has anyone been able to find this feature in the actual product? I would be grateful for an explanation of how to access it. This article being presented as news rather than a rumour led me to believe/hope for some sort of Treasure Tag functionality built into the headset. My headset is actually the #1 thing I would want TreasureTagged, so incorporating TT into the BH-121 seems a no-brainer to me. The Treasure Tag app does not seem to react to the BH-121, but I still have a faint hope that a future update will enable it.
Windows Central Newsletter
Thank you for signing up to Windows Central. You will receive a verification email shortly.
There was a problem. Please refresh the page and try again.