Nokia opens up pre-orders on Lumia hardware in Egypt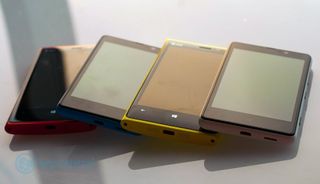 Nokia is taking pre-orders online for the Lumia 920, Lumia 820 and Lumia 620 in Egypt. Announcing that there's only a limited number of units available, the manufacturer is providing consumers the opportunity to get in quick and snatch one of the Windows Phones before they go. The devices have proven to be popular in other markets, which the company is planning to look closely at in Egypt.
Unfortunately no prices are provided, but multiple colours are available, which can be selected along with the desired Lumia. For the Lumia 820 and 920, consumers have the choice of yellow, white, black and red. For the Lumia 620, there's a slightly different line-up: black, white, cyan and green. It's good to see the company firing up the machine in Egypt.
Source: Nokia Egypt (Facebook); thanks, IceCrush, for the tip!
Rich Edmonds is Senior Editor of PC hardware at Windows Central, covering everything related to PC components and NAS. He's been involved in technology for more than a decade and knows a thing or two about the magic inside a PC chassis. You can follow him over on Twitter at @RichEdmonds.
And to think people believed Nokia would fail. I'm getting used to hearing all this good news. Long live Nokia.

Ikr? I keep seeing Nokia Doom and Gloom from everybody ( tech sites and forum Go-ers alike), but all i ever see as far as reports is Nokia starting business in a new country, or leaks on new hardware, impressive sales,etc. I don't get it?

They're all bitter about Nokia not adopting Android. Its a good thing. Nokia wouldn't see a dime of help from Google.

Festa a Fantasia I'm getting used to hearing all this good news. I have just told a few of my friends

Agreed, at least they are warning people of short supplies, should make them quite popular for the lucky people that get one!

I wonder how to preorder a phone that I don't know its price? :-D

I went to best buy yesterday and they had the surface,HTC 8x ,and Verizon Nokia Lumia phone right ther in the front of the store :)

Nice! Good to see rt and wp8 being promoted.

And not a single yellow lumia 920 was seen in germany that day

hehe, exactly the experience of a friend of mine, I was lucky enoiugh to orer the black one ;)

I love my Lumia, everytime I pull it out young people always compliment me by asking what is that. While old people always insult me by asking if its a Iphone.

Same here. answers; iPhone, what's an iPhone...? ;)

lol :) i get that too but i noticed that everyone who spots it, wil be so interseted to check it out..Something new is always welcomed :)

very old news, I preordered 2 Lumia phones 3 days ago.. a 620 and an 820!

Nokia will have released 2 successors to L920 and the launch for this phone will still not have happened in many countries. Talk about going at snail's pace.

Is there any place Nokia isn't going to sell this phone??

NOKIA was in trouble for a longest time.. Restructuring was the only way to stay a float.. Now the phone maker giant is starting to come back, with wp8 it will surely dominate again... Haters can always hate.. I dont give a fuck hahaha.. I want my phone different from every body else

God you lot are sad. Own shares in Nokia and MS? Get a grip, its just a phone.

Guess we'd better not comment on a good product since we don't have stock with Nokia. Everyone, quit being happy!

Nokia please deliver my yellow 920 before taking any more pre-orders....geez!

Guys! Nokia was fearing that the phone will not sell..Thats why they were slow in production and distribution. Im sure we will not have the same issue with the new phones to be relased "catwalk and EOS" both will sell like fire im sure!

Nokia is perfect!Its good products.Get a grip its just a phone! http://www.acompanhantessp.biz
Windows Central Newsletter
Thank you for signing up to Windows Central. You will receive a verification email shortly.
There was a problem. Please refresh the page and try again.