Nokia reportedly scaling back Windows Phone 7 production (with Compal)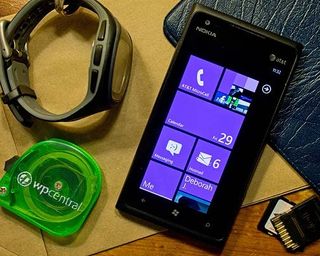 Compal Communications (opens in new tab) is Nokia's primary ODM (Original Design Manufacturer) for the Lumia Windows Phone. June revenues for Compel fell 39.5% due to a reduction in orders from Nokia. Similar reductions are expected for July.
The move isn't surprising in that Nokia will begin shifting to Windows Phone 8 devices and the company wouldn't want to be stuck with a major inventory of the Windows Phone 7 ones. This scale back could include any of the Lumia phones from Nokia including the 610, 710, 800 or 900.
What does the scaled back production mean to the average consumer? Most shoppers probably won't even notice it and Nokia is still slated to release the pink Lumia 900 over on AT&T on July 15th (a vote of confidence from the carrier, no doubt). Seeing how some of the color patterns of the Lumia 900 flew off the shelf earlier this year (remember the cyan model), we expect plenty of inventory on the pink version.
The greatest impact will likely be felt by Compal. As primary ODM for Nokia, they will continue to see a decline in revenue while production of the Windows Phone 7 devices continues to scale back. The pendulum will eventually start to swing the other way and Compal should see revenue increases once production of the Nokia Lumia Windows Phone 8 devices kicks into high gear late in 2012.
We suspect adjusting inventory based on demand is normal for companies like Nokia and our bet is Samsung and HTC already did this months ago. It would be perhaps more surprising if Nokia wasn't scaling down production at this point.
Edit: According to Digitimes, Nokia outsourced the Lumia 610, 710 and 800 to Compal but their "high end" line is made in-house e.g. the Lumia 900.
Edit 2: Another interpretation of this story would be that Nokia is scaling back production from Compal and instead doing more if it "in house" instead. For instance, they started production of the Lumia 710 for their Latin American market in late 2011. That is certainly plausible and puts a different, less dire spin on the story. Thanks, winpho, for the tip
Source: Digitimes (opens in new tab) via: wmpoweruser (opens in new tab)
George is the Reviews Editor at Windows Central, concentrating on Windows 10 PC and Mobile apps. He's been a supporter of the platform since the days of Windows CE and uses his current Windows 10 Mobile phone daily to keep up with life and enjoy a game during down time.
These articles r downers Nokia disserve more attention

orly? Quick, someone tell Nokia and AT&T! lol

or T-Mobile, for that matter :p

I'm not sure this news necessarily reflects the whole reality at all. Nokia could also be moving production to their own factories and not use Compal as much. Nokia has major factories in Asia and South America - and is building more.
I believe at least Lumia 610 was widely reported as a phone that Nokia will manufacture themselves. It is now the volume leader for sure and may be manufactured at Nokia. Perhaps Lumia 900 is getting a similar treatment - or some combination of Compal and Nokia.
Nokia used Compal as quick-start to get the basic reference hardware and manufacturing up and running as fast as possible for the initial Lumia launch. But Nokia is not like Apple who outsources everything, it prefers to manufacture in its own factories much of the time.
Now that time has passed, they have had time to ramp up their own design and manufacturing, and plenty of capacity opening up as Symbian has been ramping down.
Who knows if Compal is even in the play for Windows Phone 8 at Nokia - and how much, if any, does Compal have to do with Lumia 610 for example.

We added a clarification. Nokia outsourced the Lumia 610, 710 and 800 to Compal but the 900 is made internally. It's doubtful that they are moving their low-end devices to their highend factories since Compal can handle more than Nokia can especially for mass-produced phones.

I respectfully think you are still off. There have been news of at least Lumia 710 production moving in-house, so a reference design does not dictate the manufacturer: http://wmpoweruser.com/nokia-lumia-devices-to-launch-in-brazil-chile-col... Why would not Nokia manufacture low-end products themselves? That is exactly their expertise, building over a hundred million phones a quarter in places like China and Brazil. They have huge factories affected by the ramp-down of Symbian (and the little they closed is irrelevant volume-wise), ready for work.
Using Compal, especially manufacturing, for big volumes seems counter-productive. Far more likely would be to use Compal to get a head-start for reference design and initial manufacturing and then simultaneously start production at own facilities as well, building it up behind the initial burst from Compal.
It might well be that Nokia has finally managed to get most of the production in-house, especially considering this alleged scaling down affected June already, which was near the global launches of Lumia 610 and Lumia 900. It makes no sense to see Lumia production go down yet in June, unless Nokia is in even deeper doodoo than we think.

Thank you for the clarification. I think the news now presents all sides nicely.
I think July might be a lot harder for Nokia, but June should still be growth for Lumia due to the range and markets expanding - unless they have really hit a hard place of course.

I just switched over from Tmobile to ATT, just because ATT has better high end devices than any other phone company in the US. Having said that, I bought two new phones for my wife and I. Both lumia 900, and both were bought after the news of no WP8 upgrade for the device. Having a great smartphone and a awesome OS like windows phone 7.5-7.8, I really think that whatever inventory they have left will in fact sell. Supposedly the lumia 900 was going to tmobile, or even later sell it as a prepaid device. I will upgrade to a wp8 device when they become available no doubt about that, I just hope that Nokia is the first manufacturer to have devices since they have an advantage over Samsung or HTC.

Agreed. I can't go a day with out hearing a AT&T ad on the radio (I listen to sports radio a lot) with the LTE Lumia 900 for $49.99.

I'm sure they are not having a hard time selling them.


If they weren't having a hard time selling them they wouldn't be scaling back production, no?

Yes and No. They also are probably scaling back for WP8. Apple does the same for phasing out older devices.

Yea. It's likely they are limiting it for wp8

This news may be significantly misleading, because it does not take into account how much of Lumia manufacturing Nokia has managed to move in-house after ordering the intial batches from their design partner Compal. We know Nokia has been ramping up own manufacturing for Lumia, including reference designs by Compal.
Unlike Apple, Nokia normally does not outsource the manufacturing of most of their phones (some they do, of course). They used Compal to get started on Windows Phone, but they've had a long time now to get their own factories up to speed. This news completely ignores that possible effect, which might be very large.
Compal is not a large-scale mobile phone manufacturer, it is not like Foxconn. It has shipped only some single-figure millions of phones a year in the past years, where as Nokia produces hundreds of millions.

Isn't that why the 800 retailed for so high?

Did compal make any other Nokia devices? The cut back could have been related to their other Symbian phones?

No. It seems a misunderstanding here that Compal is a large-scale phone manufacturer, they are not. In fact they only make some single figure millions of phones a year normally (Nokia makes hundreds of millions). They were chosen as Nokia's Windows Phone launch partner because they had a reference design and capability to modify it for Nokia as well as manufacture the initial volumes.

To add: The only thing I can recall Nokia doing with Compal previously was the Nokia Booklet 3G netbook, but that was years ago.

THIS JUST IN!!!! FACTORY PRODUCTIONS FLUCTUATE AROUND PRODUCT CYCLES AND RELEASE DATES!!!!

Keep in mind its not all Microsoft's fault. Nokia did sell faulty lumias which supposedly was their main income from the WP7 series

I wouldn't be surprised if the defective versions originated from Compal. If you want to do something right, do it yourself!

May be the manufactures are really cutting down the production of WP7 devices, cos I have been trying to get my friend a Samsung Omnia W here in India for the past one week and not able to find onell anywhere online or at the retail stores except for the overpriced ones on eBay.

Here are the bestbuy.com sales rankings for WP's as of today, FYI:

AT&T (82 phones offered)
27. Nokia Lumia 900 Black (28. a week ago, 20. a month ago)
30. Samsung Focus Flash (43. a week ago, 25. a month ago)
37. HTC Titan (29. a week ago, 21. a month ago)
54. Nokia Lumia 900 Cyan (58. a week ago, 60. a month ago)
58. Samsung Focus S (71. a week ago, 70. a month ago)
63. Samsung Focus 2 (55. a week ago, 57. a month ago)
64. Nokia Lumia 900 White (56. a week ago, 58. a month ago)
74. HTC HD7S (76. a week ago, 77. a month ago)
77. HTC Surround (81. a week ago, 81. a month ago)
HTC Titan II is not offered

T-Mobile (27 phones offered)
14. Nokia Lumia 710 Black (7. a week ago, 7. a month ago)
17. HTC Radar (10. a week ago, 10. a month ago)
23. Nokia Lumia 710 White (14. a week ago, 8. a month ago)

Verizon (62 phones offered)
37. HTC Trophy (50. a week ago, 57. a month ago)

Sprint (44 phones offered)
39. HTC Arrive (43. a week ago, 43. a month ago)


Wasn't the Lumia 800 made I house? When Nokia announced there first Lumia phone, it was inside a factory, showing Lumia 800 leaving, what I believe'd was there own. Maybe there is more info in the last year keynote?
Windows Central Newsletter
Thank you for signing up to Windows Central. You will receive a verification email shortly.
There was a problem. Please refresh the page and try again.