Nokia's better in colour. Lumia 920 heading to Pakistan in yellow, red and grey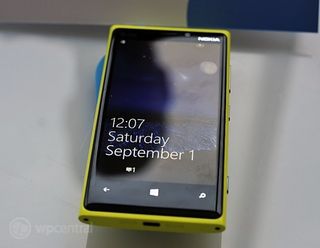 Nokia will be splashing some colour at consumers who reside in Pakistan. The company has revealed that the Lumia 920 will be available in the market soon. Not only that but the Windows Phone will be available in yellow, red, grey, black and white - quite a fair selection. This will come as a slight shock to those who are wanting to be able to purchase one of the less common variants of the device.
It's been a while since we refreshed ourselves on what the handset sports in terms of specifications. The Lumia 920 features a 8.7MP Nokia PureView camera, 1.2MP front-facing camera, 4.5-inch 1280 x 768 IPS LCD, dual-core 1.5GHz, 1GB RAM, 32GB internal storage, 2000mAh battery, wireless charging, LTE, and runs Windows Phone 8.
We'll keep our eyes open to Nokia's feeds for more details on when the manufacturer expects to launch the Lumia 920.
Source: Nokia; thanks, Atif, for the tip!
Rich Edmonds is Senior Editor of PC hardware at Windows Central, covering everything related to PC components and NAS. He's been involved in technology for more than a decade and knows a thing or two about the magic inside a PC chassis. You can follow him over on Twitter at @RichEdmonds.
No, send grey to AMERICAAAAAAAAAAAA

ATT replaced grey with cyan.

I will get the gray on my next visit to Pakistan :)
(Atif)

well they lunch last month in pakistan and price is around 580$ unlocked i think cheaper then other countries

It is a good price for this awesome device. I already have red and white. Unfortunately I had to return my beautiful yellow one because of speakerphone issues.

Agreed. In Malaysia, my country, the 920 is sold at RM 1, 799 recently in a number of stores after conversion to USD is similar to your quote. Only some stores still sell it at its original RRP (RM 1, 999/USD 646).

But we are still affected by the supply shortages until the point that only a handful of stores stock them and the only available colours are still black and white while red and yellow are out of stock. I was lucky to get the red 920 early last month and it turned out to be the last one in stock.

Nokia is really pushing there phones around the world. Keep up the good work!!!!

It is currently available at 62000 PKR (~625 USD) with a wireless charger from Mobilink.
Source: Mobilink

Do people really pay for unlocked phones all the time in other countries?

Yes, which is why apple has a tough time selling their iPhone in emerging markets, cost is prohibitive if you are not in the middle class, and why low cost android phones sprout up like weeds. carrier based subsidies seem not as widespread, plus sim switching is common outside of the usa

Yes we do. Thank God we're free from the wrath of carriers.

I think we in US are spoiled by subsidy.. Why in the world a 600$ phone works for only 2 years.. We take new phones and pay very high bills... Say in countries like India and Pakistan you buy your phone.. Probably use it for 4 to 5 years.. And you pay very less bills ... In some plans you are billed per second of usage instead of per min. 5$ can get you may be around 2500 minutes another 5$ can get you 1gb data.. Just look at what we pay in US ....

When I visit Pakistan, my monthly cost including data is less than $10. But the data speeds are low, so you are always better off with staying on WiFi at home.

Ok that's cheap, but what kind of service does $5 get you? Better coverage, higher speeds, and customer service?

Everything...but limited data. Customer service has never been a problem in Pakistan. There is so much competition, unlimited text is common. Even if it is not free, it is usually a couple of dollars for unlimited text and mms.

Its 3.5g in India though.. At least in all cities... 4g just started 6 months back in India ... Me Indian living in US for past decade

Internet speed is low: 256kbps I think. No 3g/4g stuff here. Coverage is very good however. Even my home town which is a remote area in KPK, Pakistan is covered by multiple carriers. Major highways are fully covered.

Less than 2$ per month for almost full coverage throughout country at speed to be told as high as 7mbps, and as low as 3mbps. I'm in Vietnam :)) so why subsidy

Thanks Rich! It is good to see availability of this handset start appearing world wide. I hope they get their ducks in a row and work out the supply issues they have had with this phone. And perhaps grey appears as a color for Verizon?

Brazil only got Black and White. :(

Why didn't we (U.S.A.) get grey? That makes no sense to me to only sell certain colors to certain regions. You make grey, I want grey, gimmie grey damn it.

In places like Pakistan, most people prefer gray over red and yellow. So the manufacturers are forced to send blacks or grays to these countries.

Bring the grey one to Canada!

920 all around the world except Mexico, great!

LOL. Nokia launched Lumia 920, 820 and 620 nearly 2 weeks ago in Pakistan. I should know, I bought it.
Please correct the news!

The news was tipped today. I waited because I thought somebody must have tipped them already. Plus, online they still show arriving soon. Not WPC fault.

I tipped them with proper URL and pricing from the day they launched it, ofcourse they did not posted news then. Handset were available from that day onwards from Mobilink. Ofcourse unlocked ones. It was reliable news since I work for Mobilink.

I tipped them around 2 weeks ago. Funny how that was ignored and they choose to post incorrect news instead.

Exactly we had same discussion last time as well.

Sometimes we miss things, we're only human. We do receive an awful lot of tips, which is excellent but can prove difficult when sorting through everything. I can only apologise that yours were missed, but the article is correct according to Nokia's website - as opposed to a mobile operator / retailer. I'll look through and see if I can dig the Mobilink one up and fire up a follow-up article.


Really appreciate you reply mate.
The thing is you gave Bangladesh, Philippians and some other countries coverage. It was only natural that I wanted launch in Pakistan also given some coverage. BTW all Lumia colors are available in PK except cyan which I would have love to buy but I guess it is ATT specific.

Here you go:
http://www.mobilinkgsm.com/business/enterprises-solutions/devices/browse...

Correct per Nokia 's website.

I bought my 920 in Nov from Germany, now in Czech republic its available in few stores, though not officially launched in CZ by Nokia, so news seems correct.

It would be truly awesome if they released a green color variant for pakistan....now that would be HOT!
Any idea what bands this will support as it may be an option to buy one unlocked without the ATT branding

i to cannot understand why at least grey couldnt have been a color to order at least in the US. another thing is why on earth do the phones with color have to be glossy. i would have loved a matte white! orefer the grey but matte white would have worked but no i got the matte black instead.

yea I don't want a flashy color. Grey, White, Black all matte in that order is my preference. Cyan may be matte but its a bright color. Its like my cars white or grey only black interior. If there not that I don't consider them. Period. I don't mind a car shining from gloss but my phone shouldn't be shiny and all finger printy and blinding.

I love the gloss white! For me, phone surface finishes are just like automotive finishes: gloss > matte. Gotta have that shine!

I can tell you why. Because there are other people in the world besides you. It is a known fact that shiny phones sell more than matte. And people who want shiny phones tend to like splashy colors as well. People who like grays and blacks are most likely interested in matte finish.

Grey would've out sold cyan in the USA,IMO...the 2 I bought on release day would've both been grey over the black
Green would be nice which is why I have green case on my black L920

Don't forget from Pakistan, Lumia has to travel all the way to Afghanistan and Iran too.. assuming Pakistan is one of the biggest market for Mobile Phone manufacturer and almost every 2nd person has a device. A little more to be done by introducing 3G/4G (very near in future) and blocking out all made in china duplicates.
Just a quick figure.. 90% of 200m population have access to networks, more than half of Pakistanis got access to mobile phones, in 2009.. Pakistanis sent 151billion sms and Nokia said, Pakistan is producing the 3rd highest traffic of SMS in the world. There are around 7 mobile phone operators working in Pakistan... calls are not pretty much but extremely cheap..customer service is outstanding and infact Pakistani market is treated as hatchery of customer service executives for Middle East markets.
Pretty good market though I visited Nokia Care and they were unable to fix my N9 which fell down in water...and that made me to own a Lumia 920.. proud of it.

Will be getting grey soon then!!!!

Now i'll get my Lumia 920 very soon, as the yellow colour will hit the Pakistani market ;)

Windows Central Newsletter
Thank you for signing up to Windows Central. You will receive a verification email shortly.
There was a problem. Please refresh the page and try again.