Nokia updates Call+SMS filtering with general improvements and bug fixes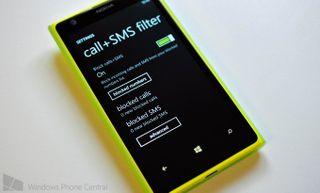 Did you know that on your Nokia Windows Phone (since GDR2 and Amber) you're able to block unwanted contact from numbers through SMS and call filtering? It's a neat settings area, providing you with some power to prevent people from contacting you who you wish not to do so. Today, we've been alerted to a small update being pushed to the store.
Call+SMS filter has been bumped to version 1.7.1.4, which includes just general fixes and improvements. While you can't get excited for new features, it's good to see the manufacturer addressing issues consumers are experiencing.
You can check for updates for the system app on supported Lumia Windows Phones by hitting this link, scanning the QR code below or using an app like SysApp Pusher. Thanks to everyone who tipped us!
Rich Edmonds is Senior Editor of PC hardware at Windows Central, covering everything related to PC components and NAS. He's been involved in technology for more than a decade and knows a thing or two about the magic inside a PC chassis. You can follow him over on Twitter at @RichEdmonds.
This is one of my lumia features i love

Agreed. Use it all the time.

Using it a lot :)
Hope they fix Play to soon also, miss it on the 1020 :(

That's why Nokia has the majority of the market share on windows phone. If Samsung or HTC dedicated as much time to the echo system as Nokia has then may be the Nokia & Microsoft deal might have not taken place.

Lol at "echo system" haha

Why would in say that??? Eco not echo..
and platform rather than ecosystem... Hope you enjoyed that... Smh.

Never use it but glad to see continuous support.

Quite possibly one of my favorite features on my phone now thanks to the idiot girl out there that has used my phone number to sign up for every payday loan on the planet. Glad to see it being updated and maintained no matter how minor an update.

LMAO! Why don't you change your number instead of having to put up with unwanted callers?

I changed it once already but the ridiculous charge Tmobile charges you for changing your number can add up.

Can anyone with a 822 or 928 verify if this works? Current version doesn't do anything on either of these devices if you add a number to the blocked calls, the blocked numbers can still call and leave voicemail. The SMS feature however does work.

Appears to work on my 822.

Yes, it works on my 928. Calls and SMS are blocked but the caller can still leave a voicemail.

Thanks for the clarification. Wish it would block the call altogether without the ability to leave vm. Have to go with the VZ account level of number blocking to achieve this..

Go to the number that called and hold down and it will give you the option to block.

Yep, I still have blocked numbers' SMS flashing up on my screen. Not only does it not block the SMS it shows the damn message.

I can't even get the blocked calls feature on my 928, Long press on the number in history only brings up the option to delete and I can't find it under Extras and Info. I did find a new file on my skydrive this morning named call-sms-filter.xap which has never been there before, and I ran the update to install extras and info update after I found that file, but still..no call filtering. I really need this function. Its the only thing I miss about my Droid. :(

Waiting in a fix to Network+ (last update removed call forwarding/call waiting) and Play To, which doesn't work at all.

This feature doesn't work at all on my Lumia 520. When I try to use it I just get a black screen. Hope this update fixes the issue somehow. Update: It now works fine after installing the update.

I love it,bye collectors!!! Haahaha

You all realize that you can still go into the app and see the blocked calls and messages right? It doesn't really block them, it just blocks you from seeing them, making you think you never got anything.

At leats it's not ringing your ears off, it just kicked them off.

Are they able to leave voicemails?

Who needs SysApp Pusher when we have the WPCentral app? Haha!

Exactly!!! I come here for all my update info needs lol

Can you block texts and not the number? I tried to see but couldn't find anything.

i really want the Black update for my 1020. :(

And I really want a 1020! Consider yourself lucky as it is ;)

Love this feature!!!! I haven't won any random trips since I started using it.

Truly wish this would be a general settings feature and not exclusive. Really got the short shrift buying this "flagship" (at the time) HTC 8X.

This is nice. Please update and add more features :)

I haven't seen the White List and Blacklist...

To get around this, they just add you to a group text. The filter doesn't work for those.

Wonder if there's any chance in the future of being able to block all numbers except for your Carriers and those in your Phone's address book (as an option). Works well with Email.

I just got it! It's seems faster...

Cannot open the fliter at the momt problem

Not working on my 928. Calls still coming through even after a restart.

Go to call history and find the number. Press and hold on the number and it should give the option to delete or block.

Did that. Number was set as blocked but calls kept coming through. I was just doing a test so the number is in my contacts list. I wonder if that's why its not being blocked. Might have to be a number that is not in your contact. I can test with a different number tomorrow and see if that works

I haven't been able to use this feature on my 920 after a month it came out. Does anyone know if there's so.e kind if restriction from at&t for this app?

Phone calls are buttery smooth now

Wish it would actually block the calls and not send them to voice mail.

Buna ..dar ca sa ajungi la functiile avansate era destul un swipe spre drepta!! A doua chestie e ca nu se pot bloca si numerele din agenda , ci doar din istoric .

to this Developer, please please please, Im begging you, please put on the next update tHe Whitelist and Blacklist for blocking, then this is PERFECT! thank you!

I have a Nokia Lumia 521 (and have for the past few months). This was a feature I was actively using until last night when my phone ceased to function. I took it in to Best Buy and received a new one (I paid for the protection plan). I went to block those pesky numbers once again and found the option to do so gone. After searching around the internet, looking it up on my provider's site and calling my provider, I have found that Nokia decided to take that option off the 521. Why? It worked on the phone I bought in November, it worked until last night - why can't I use it on the same device today? Not a nice move, Nokia. Just because I had to replace my phone (which worked one minute and then wouldn't turn on the next) doesn't mean I've replaced the way I feel about receiving unwanted calls. Thanks.

Works nicely, neat. Cannot add numbers manually but must wait for a harassing call to add it? RIDICULOUS!

I cant open call+sms filter on my nokia lumia 520, it keep saying something went wrong, cant open restart your phone, i need this app to work asap
Windows Central Newsletter
Thank you for signing up to Windows Central. You will receive a verification email shortly.
There was a problem. Please refresh the page and try again.