Nokia updates MixRadio for Windows 8.1 with Play Me; brings features up to speed with Windows Phones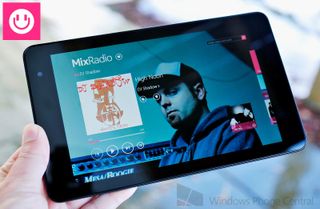 Nokia MixRadio is the company's v2 attempt at the music streaming industry. Previously branded as Nokia Music, the new service focuses more on personalising the experience for consumers, while opening up a whole world of media just waiting to be discovered. While there's the popular client available for Windows Phone, Nokia has just updated the MixRadio apps for Windows 8.1 and RT.
What's included in this latest release? Nokia has bundled numerous improvements and features to bring the feature list up to speed with what's presently available on Windows Phone. You'll now see a prominent "Play Me" button when you first load the app and choose some favourite artists to kick off the collection. This improvement helps make it even easier for you to create your own personal station.
When attempting to bring your surroundings down via sound waves, there are new rating options available on the playback screen (thumbs up and down). These are used to help develop an understanding on the music you like and prefer, to better recommend and find new music that suit your tastes. Really neat if you're looking for more artists and albums you may not be aware of.
Signing into your Nokia account will ensure that your experience is synchronised across multiple devices, thanks to the cloud support. If you're purchasing new Lumia Windows Phones and have a Windows 8.1 (or RT) tablet at hand, there's no need to start your collection and experience from scratch again. Everything is loaded and you pick up where you previously left off.
You can download Nokia MixRadio (opens in new tab) from the Windows Store, as well as Windows Phone (QR code below). Thanks to Windows 8.1, you should receive the update automatically, but be sure to use the store link should you still be on the previous release.
Source: Nokia Conversations; thanks, Craig Pugsley, for the tip!
Windows Central Newsletter
Get the best of Windows Central in in your inbox, every day!
Rich Edmonds was formerly a Senior Editor of PC hardware at Windows Central, covering everything related to PC components and NAS. He's been involved in technology for more than a decade and knows a thing or two about the magic inside a PC chassis. You can follow him on Twitter at @RichEdmonds.
Hey Rich, there is no QR code available. Also, First? :P

Double sure I added that! She's there now :-P Lemme know if she escapes again!

good song on the picture btw

I'm trying to decide on a music service, but i'm confused on which one is the best because there are so many of them. Between Nokia, Xbox music (built in), Xbox music app, Spotify, and Pandora, which one has the most features for free and/or worth paying for?

Without a doubt I would recommend Nokia MixRadio! That's the only music app I use, I switched from playing my own music to Nokia's app when they rebranded to MixRadio. My brother, who has been a Pandora user on his computer for several years, also switched to Nokia MixRadio. With the free version you get commercial free listening custom-tailored to your taste, the ability to skip songs (only 6 per hour, but because it plays music I like I rarely skip), gives you the option to download mixes for offline listening, gives you updates on your favorite artists (gigs, tweets, bio info, etc.), has a bunch of pre-made mixes that others have made, and it gives you an easy way to purchase. If you want to pay for the '+' features you'll get the lyrics to the song you're listening to, unlimited skips, more offline mixes, better audio quality, and ability to listen to mixes through a browser all for $3.99/month.

Very impressive!! So it sounds like as a WP, PC, and tablet user, Nokia Mix might be my best bet.

I know I use it all day. I'm going to be installing it on my Dell Venue 8 Pro, I haven't yet because I've just been playing from my phone.

I'm planning on getting a Nokia 2520. Do you know if there any kind of useful NFC features between that and my 920 when it comes to the Nokia Mix app?

I don't know of any special NFC features for it, but it should be a fairly seamless experience for you anyway. It would be nice if you could go from phone to tablet or vice versa with the same playlist/song.

Maybe I'll run Nokia and Spotify. They both seem to have distinctive features. I think the random mix would be great most of the time, but there are sometimes I may want to listen to a specific song from a random artist not in my artist list.

Not a bad choice. I have a bunch of my favorite songs loaded onto my phone, about 200 or so, and those are usually the specific songs/artists i would ever want to listen to at a specific time. As for my home listening, I've got a 250gb library of music that I play from.

You make a very valid point. I forgot about my own locally stored music. I don't keep any on my phone, but my own PC and (eventual) tablet...that makes a lot of sense.

Right now Spotify has changed the playing field by offering the best free features on tablets and mobile. Still needs to update WP8 though.

What does Spotify offer that Nokia mix doesn't offer?

Spotify lets you choose the artists and songs you want to listen to, while Nokia only gives you mixes that include songs of artists you didn't choose. Nokia is more like a music discovery app, and its free version is only useful on Windows Phone - the tablet version only allows you to listen to 30 second tracks. Even if you're only looking for a music discovery app, I think Xbox Music is a better option than Nokia (if you want to pay). But if you want to be able to choose the songs you want to listen to, Spotify offers better value for money.

Ohhh, ok. I didn't realize that was the main difference. I don't mind a random mix, but I like the idea of being able to choose the exact song I want to listen to.

Ugh, didn't even think of that one. What does Rhapsody have that the others don't?

Why is it that Nokia mix radio play me can play full songs on mobile but on Windows 8.1 play me is only 30 seconds. Is it region locked which could be the reason?

It's the same thing as always: Licensing.

On Phone is free because is a lumia Phone, but at least you have a 2520 you will have to pay for the service.

If you own a Nokia 2520 tablet as well as a Lumia Phone the service will be free on both and you can use the same login on both devices

Meh if it was free I'd use it all day every day along with a lot more people

What countries is this available in?

Australia Austria Canada Finland France Germany Ireland Italy Malaysia Mexico Netherlands Norway Poland Portugal Russia Saudi Arabia Singapore South Africa Spain Sweden Thailand Turkey UAE UK USA Vietnam The ones in bold are new for this release

How do you log in to Nokia account in the win 8 app

Swipe out the side charm bar, Settings - Sign In

Does it have LASTFM live scrobbler?

The app is not available in the store for my surface 2 here in Switzerland. Is it only available in certain countries or only for the lumia tablet?

It's currently available in the following countries (new one for this release in Bold) Australia Austria Canada Finland France Germany Ireland Italy Malaysia Mexico Netherlands Norway Poland Portugal Russia Saudi Arabia Singapore South Africa Spain Sweden Thailand Turkey UAE UK USA Vietnam

Now if only nokia mixradio was available in more countires, like Denmark!

I switched last month from Pandora to MixRadio for two reasons. First, more and better songs per custom mix. I almost never skip forward. Second, I can download my mixes onto my phone. Now I don't need a data connection to listen to music. Pandora pilfered about 80Mb per hour. Since I use my phone for work, this makes a big difference. When I fly, I don't have to worry about my connection @ 15k ft.

I couldn't sign in to mixradio. Its always couldn't complete the operation.
Windows Central Newsletter
Thank you for signing up to Windows Central. You will receive a verification email shortly.
There was a problem. Please refresh the page and try again.