Nutjitsu for Xbox One finally nabs a worldwide release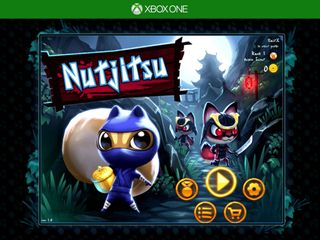 Nutjitsu from NinjaBee arrived on Xbox One in May of this year. It enjoyed the distinction of being the cheapest Xbox One title at the time, ringing up at only $6.49. It was also the second ID@Xbox game (following Strike Suit Zero), as well as the second Windows 8 game to become an Xbox title (after Halo: Spartan Assault).
Unfortunately, many Xbox One owners couldn't enjoy Nutjitsu at launch because it was available only in the US (though there are regional workarounds). Certifying and translating the game for other regions is a relatively costly and time-consuming process for small developers like Nutjitsu who self-publish on Xbox One. Luckily, the process has finally completed. Nutjitsu is now available in 31 regions and 10 languages.
Who can get Nutjitsu?
Nutjitsu is now available in 10 languages:
English
French
Italian
German
Portuguese
Korean
Japanese
Chinese Simplified
Chinese Traditional
Spanish
Additionally, 31 regions are now officially supported:
United States
Canada
Mexico
Austria
France
Germany
Ireland
Italy
Portugal
Spain
Switzerland
UK
Czech Republic
Greece
Hungary
Poland
Slovakia
Australia
New Zealand
Argentina
Brazil
Chile
Colombia
Hong Kong
India
Israel
Singapore
Taiwan
Saudi Arabia
South Africa
UAE
The story of why it took so long for Nutjitsu to reach the rest of the world is actually quite interesting. Visit NinjaBee's blog to learn about the many hurdles the developers faced in their quest to expand Nutjitsu's reach beyond the United States.
Become a ninja squirrel
This classic arcade-style maze game comes from the makers of Fusion: Sentient (Windows Phone) and A World of Keflings (Xbox 360 and Windows 8). Players take on the role of a ninja squirrel who must rescue his clan's acorns from the evil kitsune samurai.
Each level contains a maze filled with samurai guards that the ninja must sneak past. Objectives vary but usually involve picking up as many acorns as possible. As you play through a level, more and tougher enemies start to appear, making it tougher for the ninja to go undetected. Even if he does get caught, he'll still earn XP that contributes to his overall rank.
Nutjitsu offers two modes of play: Ninja Missions and Survival. The latter plays most like a classic arcade game, with our hero simply scavenging for acorns and dodging foxes for as long as possible in search of high scores. Players get to pick the stage they play on in Survival, but not the difficulty or anything else.
Ninja Missions add a bit of complexity and variety to the fox dodging. The game assigns a random combination of level and objectives for you to play. You can "re-roll" for a different level and objective if the current one doesn't suit you, as well as select from five difficulty levels. The higher the difficulty, the more of the objective you'll need to complete.
Even though Nutjitsu is essentially a mobile game with no improvements for Xbox One, fans of old-school arcade games like Pac-Man should have a good time with it. And Achievement hunters will want to get it too, because it takes less than five hours to unlock the game's 1,000 GamerScore. Check out our full review for more details.
Nutjitsu – Xbox One – 261 MB – $6.49/£5.19 – Xbox.com Link

(opens in new tab)

Nutjitsu – Windows 8 and RT – 249 MB – Free – Store Link

(opens in new tab)

(not Xbox-enabled)
Windows Central Newsletter
Get the best of Windows Central in in your inbox, every day!
Paul Acevedo is the Games Editor at Windows Central. A lifelong gamer, he has written about videogames for over 15 years and reviewed over 350 games for our site. Follow him on Twitter @PaulRAcevedo. Don't hate. Appreciate!
Still no Finland, Sweden, Norway or Denmark :( Posted via Windows Phone Central App

The regions are still not supported, although the X1 is now sold there. It will happen eventually.

World Wide relase — doh ... 8o(

Dying to get Xbox one after my exams get over in November.

Don't forget master chief collection lol

Talking about localization in Xbox One. How do I play a game in English? Or Microsoft forbids me to prefer the original game?

If you set your language to English in the System Settings, that should do it. Otherwise, you might need to change your region to US as well (which requires a reboot).

That's the problem. Microsoft is the only company so far that doesn't let me to use English as the System Language if I'm not in an English speaking country. So I'd have to change my region and screw my online services and will not be able to buy games. That's stupid. What if my native language is different from the country I live in? No one in MS dev team think this things through? My Nintendo 3DS, Wii U, Nexus 7, Kindle, everything I have is in english, but MS is too much of a xenophobic and US-centric company to do that...

It's weird how they lock languages to certain regions. But you can also just switch to US region when you want to play in English, and switch back when you're done. Inconvenient but better than nothing.

This has a 2.5*. Is it any good?

This game is horrible and should be rated zero really because its not even worth $6. Maybe $1 would be fair. I got all achievements in about 1 hour. No replay value here.

You would have gotten them much more slowly if you hadn't used an exploit. Let's not misrepresent how they work.

Ok without exploit it would add 1-2 hours of mindless grinding.

One of the few games that can be played in Snap mode.

Switching region does not change language. Any language that is supported by XB1 is selectable by In ANY region.

You would think so, but... Try switching your console to Japan while keeping English text.

Ok, and done. Works fine. It is 2 SEPARATE settings.

I don't know, man. I tried just now. Choosing Japanese text changes the region to Japan with no option to change the region to anything else. With English text selected, I can't pick Japan as a region at all.

Great, thanks... I now have an UNWANTED MSJapan acct., to go along with mu UNWANTED China & Canada accts. :) Any one know how to remove accts from MS profile? The last created becomes the default when you login to website.
Windows Central Newsletter
Thank you for signing up to Windows Central. You will receive a verification email shortly.
There was a problem. Please refresh the page and try again.