NVIDIA and ATI release new beta drivers for Windows 8.1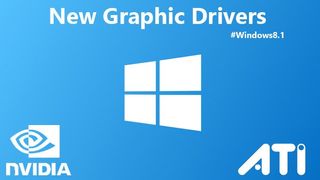 For users who have their head buried in Steam and love their current Windows 8 rig, it might be safe to take the leap and upgrade to Windows 8.1. Two video drivers, one from NVIDIA and the other from ATI, are now available for download.
NVIDIA's GeForce 331.65 WHQL drivers are now available and the company has stated that they provide the "best possible gaming experience" when playing Battlefield 4 and Call of Duty Ghosts. In contrast to the last driver, 327.23, NVIDIA claims that the new driver increases performance up to 19%.
ATI has also rolled out their latest Catalyst Control Center 13.11 Beta 6; they also state that the new driver offers performance enhancements while playing batman: Arkham Origins, Total War: Rome 2, Battlefield 4, and much more. In addition, if you are living on the bleeding edge – the new graphics driver supports the upcoming Radeon R9 290X and the Radeon R9 290 graphic chips.
For any of you who are running and Intel HD graphics card (don't laugh, we can still game a bit), you can pick up Intel's latest driver package (which they released last week) for Windows 8.1 at their website. If you have been having issues with your screen flickering in Windows 8.1 or becoming distorted at times – this may fix the problem.
We remind everyone that the drivers that NVIDIA and ATI have just released are beta graphics drivers and may cause more problems than fixes. Beta drivers should be considered "buggy" and if you aren't having any current issues with your stable driver release – just wait for the official release of the Beta.
Are you a Windows 8 gamer? If so, have you upgrading to Windows 8.1 and are you experiencing any issues with your graphics card?
To download the graphic drivers, please see the source links below for each.
Great! The screen distortion was killing me on my Lenovo. Every few days it would just turn brown/unresponsive and require hard boot.

I'm still running the AMD beta 2's and they've been rock solid. Will have to upgrade to the beta 6's so I'm ready for BF4!

Nvidia 327 was very very buggy.... had a lot of random crashes and screen freezes, all in non gaming scenarios. 331 pretty much ironed out all for me. No issues so far :)

Yeah my GTS 450 driver kept crashing after the Windows 8.1 update. All in non-gaming situations. 331.58 fixed it for the most part but I don't think it's completely stable yet. Will try this 331.65 release.

Yes, it was a widely reported problem for the 4 and 5 series. I'm on GTX 460.

Really, widely reported? I didn't know that!!!! My 560TI crashed like mad after updating until my computer was unusable with the GPU installed. I sent it all the way across the country for an RMA a month ago! I, along with Zotac took it as hardware failure! Grrrrr....
I waited a week to see if newer drivers would come out or if it was reported to be a driver issue and at the time, I could not find any reports of there being a known issue. Guess that is what I get for upgrading to 8.1 early....
You never realize how powerful your GPU is until it is gone.

I've had the 570 for about 2 years. With the last driver, I haven't had any crashes with a clean install :)

Don't the driver updates for Intel graphics go through windows update?

They *can,* but getting them directly from the site is still faster than waiting for the update.

I tried to update, but NVidia update servers seem to be down. No response via NVidia Geforce or on website.

Uhm. i guess its your ISP . im currently downloading the nvidia update.

The nvidia drivers are WHQL, not beta. The nvidia experience (optional add on software that's part of the driver package) has the shadow play that's beta, but is not a main component for the display driver.

Would be nice if you can provide a link to the Intel update driver page. Bought a new lenovo and whenever I touch the brightness buttons the screen dims and I have to re-install my drivers. It's driving me nuts honestly.

You can't search for it on Bing?

I can and I did, but I got multiple results with different drivers when I manually searched for them and when I looked at the lenovo support page. See, I'm not that lazy :P .. *the benefit of the doubt*

Did you manually search from here? http://www.geforce.com/drivers


Oh, I see. What model is your Lenovo?

Its an ideapad z500 ... I think I need the proper Intel driver not the nvidia one. Thanks for your replies everyone.

http://download.lenovo.com/consumer/mobiles/ivga202w8132.exe

http://download.lenovo.com/consumer/mobiles/ivga202w8164.exe

Those are the latest Intel video driver updates Lenovo has on their site. The first is for 32-bit, the second for 64-bit. I'm assuming you have 64-bit. But they're not the latest update.

This is the latest update for your Intel graphics, but since it's directly from Intel's website it's not guaranteed to work perfectly with your computer, though it won't hurt trying it since you can always revert back to a previous driver.

http://downloadcenter.intel.com/confirm.aspx?httpDown=http://downloadmir...

My advice would be to stop touching your brightness buttons.

Will it work for my HP Pavilion Dm4? I have Intel HD graphics and Radeon 5000 series. Anyone know?

For HPs and Intel/Radeon Graphics the drivers are usually pushed by HP and not radeon itself. But you can check in Radeon website and see if its compatible or not.

331.65 doesn't show as Beta when I browse it through the NVidia website.

WHQL are stable release, not Beta.

Btw, ATI doesnt exist anymore. Its AMD now (has been for years now).

Yeah... AMD bought ATI in 2006. And good for them, or they'd probably be running out of business by now.
http://en.wikipedia.org/wiki/ATI_Technologies

Also, I had real terrible battery life when I updated to win 8.1 on my series 7 chronos. Like, from 5.5 hours to two. Updating my HD4000 drivers and my nvidia ones fixed it though.

That's what I was thinking. It's AMD now.

Haven't had any problems with the previous WQHL Nvidia driver for my GTX 670 since I've updated to 8.1. The Nvidia drivers have been listed as Windows 8.1 compatible since the preview launched. The update with Nvidia is more for optimization for the games that are about to come out (BF4 and Ghosts) than for 8.1 compatibility. AMD on the other hand, their drivers are usually terrible and probably worked poorly in 8.1 until they finally updated today. I don't use AMD because Nvidia is way more on the ball with driver updates.

My AMD drivers were fine, the only issue I've had on any 8.1 system has been my yoga and the hd4000 driver. Most of my casual games start off at high fps rates and then drop nearly unplayable.

Well...my Zotac 560 TI OC died last month and I sent it in via RMA and havne't heard back yet. That was september and october is almost over. I know it says "RMAs can take up to 30 days after receiving the product" but really....a whole month and the RMA status still says Received. I'll buy a different brand next time.
Short answer: Yes, I am a Windows 8 gamer, my GPU died a day after upgrading to 8.1 and about 2 weeks before the Battlefield 4 Premium beta came out. I waited about a year for that beta....cant even play it.
I honestly don't know what caused my GPU's death but as soon as I updated to 8.1 with whatever Nvidia drivers 8.1 installed, I had almost 30 driver failures on the same day and then my GPU died. I have screenshots and everything.
For now, I am doing some light gaming, Asphalt 7 and other "Store Apps" gaming that the paltry imbedded Radeon 4000 GPU (cant even find it on the MOBO) can handle and trying my best not to complain to Zotac.
Too bad the Radeon 4000 doesn't have any new drivers, regardless of what release notes may say. Oh well, back to waiting for Asphalt 8 for Windows Phone.

You should get a Palit, Gigabyte or Point of View graphics card instead if want to choose a cheap GeForce third-party brand.

Palit's graphics cards are quite good and stable unless you install beta drivers, Gigabyte's GeForce cards are reliable for gaming just like their motherboards though their high-end GTXs have a high price tag and Point of View's graphics cards, well I don't know how they perform unless you go check their GeForce product line.

Thank you for the information. I will consider those brands for my next purchase.

One issue that I had with my GTX 670 SLI system was that after windows 8.1 got installed, the graphics in Guild Wars 2 was clunky. I noticed for some reason that the drivers from NVIDIA reverted. I updated the drivers and had to install NVIDIA experience and everything went smoothly. :D

And I also use Windows 8.1 and NVIDIA SLI for visual molecular dynamics and what not. Love my Alienware.

Did you just mention Steam and 'Windows 8 rig' in the same sentence? Oh God, I officially mark this ariticle about me, LMAO!

If it's WHQL, it's a full release, not beta, isn't it?

I actually experienced a few problems immediately after upgrading. The screen would all go tinted red and the performance of Splinter Cell Blacklist was awful. Much better now it's settled in. No sign of that update to Nvidia though.

I take it this is for a lab top and computers and not for tablets like the Asus me400??

What ever happens, everyone, do not reply to this post. Thank you. Keep moving! Edit: yeah

Titles a bit wrong... ATI?! ATI don't exist, its AMD.

AMD Beta 6 has been out for a while now, Beta 7 is out now.


I wasn't going to update to 8.1 until they updated the drivers! Just in time for BF4.

I wish WP Central keep it a habit to regularly inform us of such driver updates

No need. The driver control panels can be set up to notify you of available updates.

I keep getting an ATI catalyst control center error since installing windows 8, is there any help for this here?

I saw driver and I got excited as I was hoping these updates also spread to Surface RT but my excitement was shortlived. I was really hoping for a miracle driver update to enable Miracast but I guess I've to cough on a full fledge Windows tablet to get Miracast.
Such a downer..

Seriously? ATI? It is AMD.

Yeah...I was thinking that when I read the article earlier too, lol!

In the UK at least, the Ati brand is still used on packaging. To call the vid branch of Amd after the Amd brand would be a confusing thing for many in the UK. Is it not the same where you live?

Actually, this is not correct based upon AMD's webpage for the UK: http://www.amd.com/uk/products/Pages/graphicsnew.aspx In fact, there is no mention of ATI on the entire page. Same with their "Help me choose" page for the UK:
http://www.amd.com/uk/products/desktop/graphics/help-me-choose/Pages/help-me-choose.aspx
Based on AMD's own website, it is evident that they are using AMD brand for graphics in the UK.

Yep ATI has been dead for years.

Ati has been rebranded to amd to avoid confusion

No, they were bought by AMD...

Issues with SLI can't be turned on and it is missing from NVidia Panel on Windows 8.1. Had to downgrade to an old drivers.

NVIDIA ION still doesn't get recognized correctly when run in Optimus mode. According to NVIDIA it's a Windows 8.1 and not a driver problem. As MS is lazy I don't expect a fix anytime soon and had to switch back to Win8 to have 6 hours battery life again instead of just 2 hours.

Anyone having problems with the Netflix app since the update? And if so, has the driver update made any difference?

Just to point out, these are WHQL Nvidia drivers. Not beta.

thank you amd... your drivers have been more stable than nvidia for a while now if you could make quiter and cooler cards I would buy you more...

My AMD card seems to be working fine with Windows 8.1.

After the 8.1 update my Radeon 7990 seems to be working a bit funny. Every now and then it would activate both GPU's at full load with overdrive on, even when the pc is idle... Gaming performance is the same though.

No problems with four current AMD graphics systems at home on Windows 8.1. One is a laptop, three are desktops. Stable and fast. AMD has been releasing good, solid drivers for some years now. I own some computers which use AMD graphics and some that use NVIDIA graphics. Having much experience with both brands, I've actually had more problems with NVIDIA graphics (crashes, flaky drivers, screen artifacting, freezes, overheating, etc.) over the past few years than with AMD.

Upgraded to windows 8 and amd 13.11 beta 6 drivers and playing arkham origins and loving the drivers

Does not really help people with HP laptops with AMD/Intel swichable graphics since HP has to modify the drivers to work and HP has not released drivers for my Pavillion dv7 since I bought it about 2 years ago. The latest HP AMD/Intel drivers are from September 2011. So fuck HP.


Wish you could download drivers from your respective graphics card oem.. Instead of using hacked drivers or waiting for laptop oems.. to release an update which they rarely do.

Super, if you have a recent video card. Mine's an ATI (yes, it says ATI) Radeon HD 4570, and the latest drivers are from January.

The only thing i need is BLUETOOTH driver. Ever since i upgraded to windows 8.1 my lumia could not connect any more.

Err ATI? You mean AMD, Lol that's quite alot of typos in your article Michael :p.

is there a way to download the update to windows 8.1, but not throug the windows store? manually, i im stuck with the error of the not able to contact server or something like that when i open the windows store, i tried the wsreset and all those. and i really would like to download the update. i have a couple of moths with my lenovo y400 :(

Finally! Since installing this driver my random hard freezes (couldn't even ctrl+alt+del) have stopped and my display driver crashes have stopped. I know next to nothing about anything technical involved here, but it's a HUGE relief to have this fixed. Was worried I had a hardware problem till doing some searching and finding out it was my nvidia driver, was just about to try to roll back to an older version but this seems to have stopped the issue..no freezes in two days and I was having them a couple of times an hour before.

problem with AMD Redeon HD 7670M after installing windows 8.1...... can anyone help.... dell inspiron 15R 5520
Windows Central Newsletter
Thank you for signing up to Windows Central. You will receive a verification email shortly.
There was a problem. Please refresh the page and try again.