NVIDIA and ATI release new beta drivers for Windows 8.1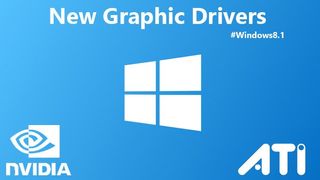 For users who have their head buried in Steam and love their current Windows 8 rig, it might be safe to take the leap and upgrade to Windows 8.1. Two video drivers, one from NVIDIA and the other from ATI, are now available for download.
NVIDIA's GeForce 331.65 WHQL drivers are now available and the company has stated that they provide the "best possible gaming experience" when playing Battlefield 4 and Call of Duty Ghosts. In contrast to the last driver, 327.23, NVIDIA claims that the new driver increases performance up to 19%.
ATI has also rolled out their latest Catalyst Control Center 13.11 Beta 6; they also state that the new driver offers performance enhancements while playing batman: Arkham Origins, Total War: Rome 2, Battlefield 4, and much more. In addition, if you are living on the bleeding edge – the new graphics driver supports the upcoming Radeon R9 290X and the Radeon R9 290 graphic chips.
For any of you who are running and Intel HD graphics card (don't laugh, we can still game a bit), you can pick up Intel's latest driver package (which they released last week) for Windows 8.1 at their website. If you have been having issues with your screen flickering in Windows 8.1 or becoming distorted at times – this may fix the problem.
We remind everyone that the drivers that NVIDIA and ATI have just released are beta graphics drivers and may cause more problems than fixes. Beta drivers should be considered "buggy" and if you aren't having any current issues with your stable driver release – just wait for the official release of the Beta.
Are you a Windows 8 gamer? If so, have you upgrading to Windows 8.1 and are you experiencing any issues with your graphics card?
To download the graphic drivers, please see the source links below for each.
Get the Windows Central Newsletter
All the latest news, reviews, and guides for Windows and Xbox diehards.