NVIDIA Canvas helps creators paint photorealistic landscapes with AI
No artistic skill or expensive drawing devices needed.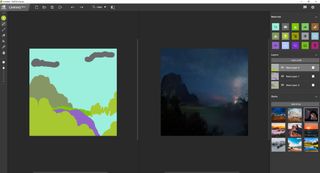 (Image credit: Windows Central)
The urge to create can be innate for some people. However, the actual skill to create digital art and the cost of equipment can be a limiting factor for a lot of would-be artists. This is where NVIDIA Canvas swoops in and invites you to paint photorealistic landscapes using the power of artificial intelligence. The barrier for entry is low, as you need only to know how to make general lines and dots with a mouse or touch device to create stunningly beautiful scenery.
What is NVIDIA Canvas?
NVIDIA Canvas is a Windows 10 application developed as part of the NVIDIA Studio suite of software. Canvas uses a Generative Adversarial Network (GAN) comprised of 5 million landscape photos to convert segmentation maps into realistic-looking landscapes. The application is built upon the technology behind NVIDIA's GauGAN AI. It currently only supports the creation of landscapes, but NVIDIA has expressed intentions to train the AI with a wider range of photos in the future.
The software is designed to be accessible to artists and creators of all calibers. Despite being built upon the foundation of a complicated artificial intelligence network, anybody with access to a Windows 10 PC and an NVIDIA RTX graphics card has the power to try out the Canvas app beta.
Digital art is typically an expensive endeavor, as you generally need drawing tablets or a stylus to create your work. Canvas does not require any of that, however, as it is suitable for both mouse and touch controls. You do not need to know anything about art to create the photorealistic landscapes, as any generalized mark making from just general strokes and blobs is enough for the AI to generate an image.
Because the app is still in beta, there are some limitations to the overall functionality. Pressure sensitivity, for example, is not supported, though it is possible to adjust your brush size on the left-hand side of the screen. The canvas area is split into two segments, with the left-hand square being the area where the artist makes marks, and the right-hand side showing the effects on the final image. Layers are supported, though, so it is possible to adjust and change different elements of your original doodle without disturbing layers that you are already happy with.
Users can simply choose from a variety of texture brushes including hills, water, mountains, or sandy beaches from the available options on the right side of the screen then "paint" loosely with large lines and blobs. From there, NVIDIA Canvas' AI technology takes over to render those marks into photorealistic landscapes in real time on the canvas preview to the right. Additionally, users choose from a photo "style" to effect the lighting of the final landscape. At release these styles were limited to preinstalled images from NVIDIA, but a recent update to the Canvas app added the ability for users to upload their own reference style images.
Once your landscape is complete it can be saved as a Canvas project for later editing, or it can be exported as a PNG or layered PSD file for further processing in other digital drawing and editing software.
How to get started with NVIDIA Canvas?
The NVIDIA Canvas app is still in beta and can only be downloaded from NVIDIA's website. It is currently free, and NVIDIA is asking for feedback on the app from users for bugs and requested features. The only system requirements are an RTX graphics card with a driver version of 460.89 or later and Windows 10 version 2004 or later. For input, a mouse and keyboard is the minimum requirement. Touch and tablet with stylus support are also present as optional inputs.
Get the Windows Central Newsletter
All the latest news, reviews, and guides for Windows and Xbox diehards.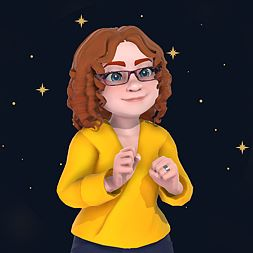 Cole is the resident Call of Duty know-it-all and indie game enthusiast for Windows Central. She's a lifelong artist with two decades of experience in digital painting, and she will happily talk your ear off about budget pen displays.