NVIDIA GeForce RTX 3080 vs. RTX 2080: Should you upgrade?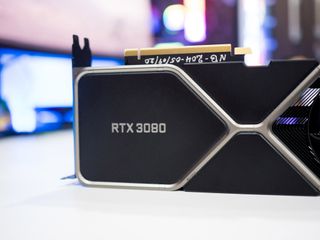 (Image credit: Harish Jonnalagadda / Windows Central)
4K ray tracing beast

The NVIDIA GeForce RTX 3080 is the best GPU you can buy right now if you're looking at next-gen 4K gaming. It's the perfect choice in the RTX-30 series, bringing in a noticeable performance gain from the RTX 2080, along with improved ray tracing and DLSS. However, like all new PC hardware right now, it is in very short supply.
For
Much better ray tracing performance
Better frame rates at 1440p/4K
Cooler and quieter than the RTX 2080
HDMI 2.1
Against
Much higher power draw than the RTX 2080
Availability issues
The best last-gen GPU

The NVIDIA GeForce RTX 2080 is the king of last generation GPUs. While it doesn't quite have enough power to go up to 4K 60 FPS and do ray tracing, it's still a solid GPU to have. It can deliver great performance at 1440p and will not make you feel like you need an upgrade unless 4K ray tracing is your goal.
For
Lower power consumption
Powerful enough for 1440p gaming
Can handle some 4K gaming
The NVIDIA GeForce RTX 3080 is the direct successor to the NVIDIA GeForce RTX 2080. It has kept the same starting price of $700 but offers better performance at 4K, and with ray tracing. The upgrade from RTX 2080 to RTX 3080 is recommended, especially since it makes a clearer jump to the next generation of gaming.
NVIDIA GeForce RTX 3080 vs. RTX 2080 specs
NVIDIA GeForce RTX 3080 comes with a new Ampere GA102 chipset, made with Samsung's 8nm fabrication process. On the other hand, the RTX 2080 has the Turing TU104 chipset, based on TSMC's 12nm process. The shift to a considerably smaller fabrication process means that the transistor count has jumped from 13.6 billion to a whopping 28.3 billion — which amounts to a significant gain in power as well. Let's take a look at the specifications of both cards.
Swipe to scroll horizontally
Category
NVIDIA GeForce RTX 3080
NVIDIA GeForce RTX 2080
Shader (CUDA) Cores
8704
2944
Core Clock
1440MHz
1515MHz
Boost Clock
1710MHz
1710MHz
Memory
10GB GDDR6X
320-bit bus width
8 GB GDDR6
256-bit bus width
Memory Clock
19Gbps
14Gbps
Memory Bandwidth
760GB/s
448GB/s
RT Cores
68
46
Tensor Cores
272
368
Transistors
28.3 billion
13.6 billion
Node
Samsung 8nm
TSMC 12nm
Architecture
Ampere
Turing
TDP
320W
215 W
Ports
1 x HDMI 2.1
3 x DisplayPort 1.4a
1 x HDMI 2.0b
3 x DisplayPort 1.4
1 x USB C
Power Connector
1 x 12-pin
2 x PCIe 8-pin converter included
1 x 6 pin + 1x 8 pin
The RTX 3080 has a significantly higher number of shader cores as well. The 8,704 CUDA cores versus the RTX 2080s 2944 CUDA cores means that the 3080 has a raw computing power figure of 29.77 TFLOPs — up from 10.7 TFLOPs that the RTX 2080 hits.
This is the on-paper comparison, but to understand how much better the RTX 3080 does, we have to look at the real-world performance.
NVIDIA GeForce RTX 3080 vs. RTX 2080 real-world performance
In our NVIDIA GeForce RTX 3080 review, we tested out the GPU in a direct comparison with the RTX 2080, pitting the two against each other in the top AAA titles. The RTX 3080 provides huge performance gains over the RTX 2080 here, and it is clear that the 3080 is the go-to GPU for everybody looking for a consistent and smooth next-gen gaming experience. Here are some FPS comparisons from our review.
Swipe to scroll horizontally
| Game | RTX 3080 (avg. FPS, 1440p) | RTX 2080 (avg. FPS, 1440p) | RTX 3080 (avg. FPS, 4K) | RTX 2080 (avg. FPS, 4K) |
| --- | --- | --- | --- | --- |
| Microsoft Flight Simulator | 48 | 42 | 42 | 28 |
| Control | 98 | 61 | 52 | 28 |
| Death Stranding | 164 | 102 | 101 | 58 |
| Gears 5 | 125 | 78 | 78 | 46 |
| Metro Exodus | 174 | 105 | 98 | 56 |
| Red Dead Redemption 2 | 129 | 82 | 82 | 48 |
| Shadow of the Tomb Raider | 130 | 84 | 75 | 44 |
The RTX 2080 is a decent 1440p gaming card, but the RTX 3080 is clearly the card to go for if you want 1440p 144 FPS performance. The RTX 2080 is only sufficient and will require you to turn down a few settings to get to that magical 144 FPS figure at 1440p, but the RTX 3080 does it more comfortably, with fewer compromises. Let's look at 4K gaming performance.
With 4K, RTX 2080 struggles to hit the 60 FPS baseline, but the RTX 3080 seems to do it with ease. The RTX 3080 will even let you hit 4K 144 FPS with a few settings turned down. The RTX 2080, on the other hand, would have to sacrifice a lot of the visual quality if it is to get to those figures.
Basically, an upgrade to the RTX 3080 will mean that you can play all the latest games at higher graphics settings. It will also mean your PC will consume a bit more power and might need upgrades to some of the other components to get the most of it.
So should you upgrade to the NVIDIA GeForce RTX 3080 from RTX 2080?
The clear answer: yes. RTX 3080 is a beast of a GPU and will serve you well in next-gen gaming perhaps the best graphics card on the market. Even though it's just a single-generation upgrade, it's still a solid one regardless. However, there is a catch. The RTX 3080 is currently very difficult to find, given the short supply and heavy demand.
This has also led to price gouging, with some sellers pricing RTX 3080 cards over two to three times the actual retail price. While the card is a stellar value at its original price, you absolutely must not pay the inflated asking prices. The RTX 2080 should be able to carry you until you can find a reasonably priced RTX 3080.
There are also a few things to consider while upgrading. First of all, you need to remember that an upgrade like this is only as good as the rest of the computer. An upgrade to the RTX 3080 does come with better performance in games, provided your PC can accommodate it. Your current components need to be compatible with the new card, especially the power supply unit (PSU) since the RTX 3080 consumes about 105W more power than the RTX 3080.
However, if you have a powerful enough rig and can get your hands on one without burning a hole in your wallet, by all means, buy the NVIDIA GeForce RTX 3080.
Enter the RTX 30
Step up to the next gen

The NVIDIA GeForce RTX 3080 is a true next-gen gaming GPU. A clear step up from the RTX 2080, it will help you churn out better framerates at 1440p and 4K, with better raytracing performance as well. Stocks are limited, but if you can get your hands on one, it will make for a great upgrade.
Last-gen compromise
Great but not the best

The NVIDIA GeForce RTX 2080 is a great last-gen GPU, but it can't quite keep up with the RTX 3080 at 4K or deliver higher frame rates at 1440p. While it should suffice until you can get a reasonably priced RTX 3080, it still dwarfs in comparison, especially if your goal is smooth next-gen gaming.
Get the Windows Central Newsletter
All the latest news, reviews, and guides for Windows and Xbox diehards.