NVIDIA quietly bolsters its GeForce lineup with the low-end GT 1030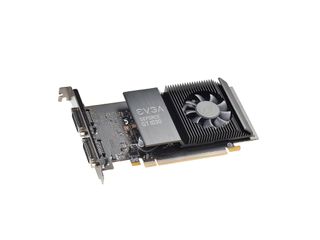 It hasn't received the most robust attention, but NVIDIA and its partners have outed a new entry to its GeForce lineup with the GT 1030. Rather than setting the gaming world on fire, the GT 1030 looks to tackle the low-end of the market with prices starting at around $70 to $80.
Based on NVIDIA's Pascal tech, which is what powers the rest of its 10-series chips as well, the reference GT 1030 packs 384 CUDA cores and a 1468MHz boost clock. There's also 2GB of GDDR5 memory on board, and it supports resolutions of up to 7680x4320 at 60Hz. Hardware partners will, of course, have variations on this reference design. EVGA, for example, has already revealed a lineup of three cards, one of which — the low profile model — is already on sale for $75.
If you need a cheap card for to handle an HTPC machine or work that requires a little more oomph than your integrated graphics, then the 1030 should be a good option. If that sounds like it's up your alley, you can check out cards from EVGA, Zotac, MSI and more at Newegg now.
See at Newegg (opens in new tab)
Dan Thorp-Lancaster is the former Editor-in-Chief of Windows Central. He began working with Windows Central, Android Central, and iMore as a news writer in 2014 and is obsessed with tech of all sorts. You can follow Dan on Twitter @DthorpL and Instagram @heyitsdtl.
Looks like the reference card uses DisplayPort. If not, I'm sure one of the vendor cards will use it.

I think if you going for this card, you'll probably not need a DisplayPort connection. Most budget monitors don't have one.

Doesn't need it. This card is targeted for people like me that want to upgrade a computer connected to a TV and want HDMI 2.0 support (good luck finding a TV with DisplayPort). I have a NVidia GT620 in my HTPC thanks to some wonky TV pictures from the i3 IvyBridge CPU I have. The motherboard also can't do 4K video output. This is a cheap way for me to upgrade my 620 and get 4K support if I upgrade my TV, without starting over with a full rebuild.

MSI make one with DP and HDMI

Don't think you'll find displayport on budget GPU's. These will no doubt be aimed at businesses who use dual monitors like mine.

I wonder what kind of space this thing can be fit in. I'd love to see an ultrabook like the Surface Laptop using this.

Just like any other laptop with a discrete GPU, the GPU chipset would just be placed on the motherboard. Laptops with a 1080 don't have the 11 inch card shoved in their chassis.

That's not entirely true, midrange and high end laptop GPUs are usually MXM cards. But they are much smaller and more compact compared to the full desktop video cards.

This GPU os probably around the same power as the iGPU iris 640 on the i7 model so it is no worth it.

Iris 640 is only available on mobile CPUs, not desktop. The highest for desktop is 630 and it only manages 441 GFLOPS max. GT 1030 ranges from 942-1127+ GFLOPS. Not to mention that having dedicated VRAM, even at 2 GB, is still much better than system RAM. This card should be able to run pre-X1/PS4 games just fine at 1080, and maybe even some early X1/PS4 games.

He asked it for the surface laptop that uses a mobile CPU, and Flops don't really mean true performance, I won't argue that it is better than the iGPU but it isn't even 2x more powerful, it is most likely only 50% more powerful. This card in a laptop would only make it heavier, thicker and reduce the battery.

Yes, sorry. Somehow missed the laptop part. It does seem to end up 50-60% faster, based on 940M vs. iris 540 benches. Hmm, not that big of an advantage but perhaps some people wouldn't mind having that, even if it consumes more power in games.

Maybe I can buy for dedicated phyx

The number of proper games with GPU physx support is so small that I don't think it's worth it. http://physxinfo.com/index.php?p=gam&f=gpu Look for the games with checkmarks.

sound like a sweet upgrade to my media computer using gt 730

But how does it compare to a Radeon 550? Because I have a couple family members PCs I was planning on modernizing with 550s.

It's Nvidia, so it's the worse brand IMO. You'll be plenty happy with 550s.

I believe he was inquiring about performance of the GPUs and not brand loyalty. Maybe I am mistaken...

I wonder if they're going to make anymore GPU's that support PCI slots. The last one I can think of was the Zotac GT 610. I know PCI is old now, but a lot of new mini ITX motherboards still come with PCI slots for some reason and these motherboards are very popular for HTPC's or other stuff like that.

What is the equivalent of this card in the 9xx series? I mean I have just gotten Asus ROG with 960m graphics card. That's better than the 1030, right?

If this card have 3GB vram i'll buy it, but with 2GB no. When you play 4K movies you easily get buffer overrun, that is warned in several forums.
Windows Central Newsletter
Thank you for signing up to Windows Central. You will receive a verification email shortly.
There was a problem. Please refresh the page and try again.