NVIDIA's Ansel will let gamers take incredible in-game screenshots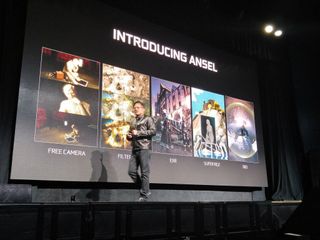 NVIDIA has announced a new in-game camera photography feature called Ansel. Developers can add this feature in their games so players can some incredible looking take in-game photographs.
NVIDIA showed off this upcoming technology at a media event at Dreamhack in Austin, Texas. It will give gamers the freedom to not only take cool looking screenshots, but they can also move the camera around to any part of the map or game world they want. Filters can also be put into the screenshots, similar to apps like Instagram. It even allows screenshots to be taken at massive resolutions of over 61,000 pixels, or over 1,000 times that of a 4K display.
Ansel also supports taking 360 degree screenshots that can later be viewed on a virtual reality headset like the Oculus Rift or on a smartphone with a Google Cardboard add-on or even just with the phone's display.
Ansel will be added to a number of current and upcoming PC. games, including Tom Clancy's The Division, The Witness, Lawbreakers. The Witcher III, No Man's Sky, Paragon and the Unreal Tournament revamp. There's no word yet on when Ansel will be officially released.
Windows Central Newsletter
Get the best of Windows Central in in your inbox, every day!
Annoying fact checker here. 61,000 megapixels? :) Just about 735x 4k UHD. Still impressive nonetheless.

other than amature hour with Tom, that was an amazing show! RIP AMD... we will always remember you were once a great company.

Game devs are going to have lots of fun keeping people from using this to cheat (by looking around other parts of the map).

My thoughts exactly. The only thing I can think of is that things like enemies might not spawn if they're outside a certain distance from the player and it might potentially not load the whole map. Either way they'd still have a geographical advantage and it might discourage proper exploration if they can just fly around everywhere before they get there by normal means.

I hope Battleborn and Borderlands 3 support this!
Windows Central Newsletter
Thank you for signing up to Windows Central. You will receive a verification email shortly.
There was a problem. Please refresh the page and try again.