O2 releases beautiful official app for UK customers to manage their accounts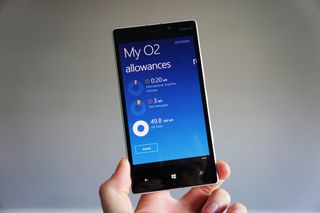 O2 has released a beautiful new app for Windows Phone to help customers get the most out of their contracted plans or through Pay As You Go (PAYG). Much like similar solutions available from other major mobile operators, My O2 taps into one's mobile account to display details without having to boot up a computer to carry out the same task.
As well as being nicely put together, the app itself features some neat functionality too. Here are some highlighted features included in the My O2 experience:
A full itemised bill including your most expensive, longest and most frequent calls
All syncing with your phone book contacts so you can see who you've called and texted
Fully itemised recent charges to your account since your last bill
Six months detailed bill history
Notifications to let you know when you're running low on minutes, messages and data
Allowances of minutes, messages and data
Fear not if you're a PAYG subscriber as it's possible to view allowances remaining for that month, as well as current plan costs. To keep everything simple when topping-up, you can also utilize the automated call service to add more credit to your smartphone.
Note that should you be heading abroad this summer, using this a will take data, meaning you'll be roaming while looking at your O2 account. Consider taking out O2 Travel before heading off on a plane.
Big thanks to Ian and everyone else for the tips!
Rich Edmonds is Senior Editor of PC hardware at Windows Central, covering everything related to PC components and NAS. He's been involved in technology for more than a decade and knows a thing or two about the magic inside a PC chassis. You can follow him over on Twitter at @RichEdmonds.
Wish Vodafone would get their act together and provide similar for customers. I left o2 for them.

Yeah. When I'm in the UK, I use Vodafone due to the reception of O2 being poor. O2 had a really bad app previously but I'm glad to see them offering this. As of late, O2 seems to be or acting very supportive towards Windows Phone. Has something changed? Have they struck a new deal with Microsoft / Nokia / Microsoft Mobile?

+920 With this and their support for visual voicemail, they certainly seem to have changed their mind about WP.

Vodafone? Worst for coverage, but like any mobile carrier selection, test where you live and work (or school). O2 are just way more competent than VodaFone. Having peeked behind both their curtains recently I am astonished by VodaFone. Don't hold your breath on VodaFone doing anything useful.

Amen, I can't keep up with my data usage on Vodafone because their website never works for me

Use data sense in on the phone?

Yeah same, my 1020 is on Vodafone - and it would be nice to have an app. Saying that, the last 2 phones I've had from Vodafone (900 & 1020) have been unlocked and the generic country-variants. Big plus point imho

I got 920 and was unlocked from EE, Vodafone 1020 unlocked same as you.

Wish Virgin Mobile would too... If you take out a contract with them, you'd get free insurance... But, you get bombarded by SMS messages tell you, "DL our free insurance app, to register your free insurance..." Only problem? Virgin Mobile (UK) don't provide that app on WP either!!

Text Stop or go website and there will be an option sopmewhere to sto those annoying texts, you can also block it using the OS option

I know, thanks, they do stop eventually, after becoming increasingly hysterical! Just highlighting VM stupidity...

I was on O2 and EE, left O2 and on Vodafone, reception is just as bad on all 3. Vodafones 4G coverage is not that great, I might switch again. Maybe get GiffGaff sim and phone seperate.

Well VM & T-Mobile & EE use the same network, I have know the odd signal failure, but for the most part it's Okay. But, this is 3G I'm talking about...

My work has just switched to Voda for their corporate contract, consequently they have put a huge mast outside my office. H+ signal all day :¬)

My home signal is bad so I ended up using Sure Signal, it gives me a perfect signal and is one reason I stick with Vodafone.

Wish Telefonica would do the same...

They already made an app...

I've spoken to Vodafone many times about it and each time they say it's being developed. They seem to be dragging their feet

Just left Vodafone for O2. When asking for the PAC code they asked me why and I said it's because of lack of support for WP. They said OK and gave me the code!!!

Voda=useless tossers of the highest order. O2 and VodaFone are the only 2 viable business carriers in the UK. VodaFone get massive government contracts due to them being UK owned :/ (Think about that) So they are arrogant to the extreme, stuffed the gills with Tarquins and Jemimah's with nowt between the lugholes. Trust me, I know too much about these baffons. As a consumer, 3, EE and O2 much better choice all with various pros / cons. EE for 4g, and coverage. Easily the best 3 for close, catching up 4g and terrific 3g and best value deals (plus tethering free on some plans) but calls drops and iffy customer service <variable> O2 is the "middle" choice, good at everything, not excellent at anything, but not poor on anything. Wouldn't touch Voda with a 10 foot barge pole. All IMHO of course.

Wish EE would do this. Their app is embarrassing

I like this update to the My O2 App, the app before was good, but it required you to be on mobile data only, so you had to switch off the wifi, but this app works either way, and the UI is more Clean, and a lot easiler to navigate, about time O2, they don't normally update thier apps for windows Phone, talking about the Priority App, since I see my brother getting more offers on his Android phone, but still, this app is mush appreciated, another app I just discovered is O2 Recommends, where they show you what apps O2 have and when or if they are available

Between this and the O2 Community post about the Cyan/8.1 Rollout, it looks like O2 are really giving Windows Phone the time it deserves! It's great to see! Now.... WHERE'S MY UPDATE!? :-D

Brilliant app. Well done O2.

Hope Vivo (from the Telefonica Group) also does this here in Brazil.

They took 120 years to launch on Android and iOS, Windows Phone coming in the next 250 ys.

Very nice app! Really impressed. Better late than never o2 ;)

well, Windows Phone is slowly gain popularity, thats a fact. I am so glad about that. And this app looks really minimalistic and beautiful, WP Style baby :)

Actually, phone companies want you to spend more on calls and data.
They seldom give you an interface to manage your account...
For those expecting the trend to continue to other networks, will be disappointed.

vodafone australia already has an app for windows phone for a long time already

This app isn't new for O2-UK on Windows Phone but rather replaces the piss poor excuse for a My O2 app that they had before.

Yeah but they cleverly altered one app so they could release another from scratch and get new reviews, i think. The old app was pee poor but I am very happy with them for going to this much effort. Good work O2

Agreed, they pulled the old one off the store recently and replaced it with this one so technically they are two different apps. O2 WiFi and Tu GO should be available soon as well as Secure/Payment SIMs for Tap to Pay in WP8.1

Hello :) I don't care about O2 app, the more I care is I got Windows 8.1 upgrade this morning!!! Lumia 1520 bought from carphonewarehouse working on EE network :) It's country variant I guess unless Carphone wasn't selling India version;)

Your point is, this isn't related to the article in any way whatsoever. This should have been posted in the Lumia 1520 section of the forums instead!!?! So, put simply I don't care that your Lumia 1520 on EE that you bought from "carphonewarehouse", two words not one BTW, got the "Windows 8.1" update this morning, I care more about the My O2 app instead!!!

Wish O2 would put out an app like this here in Ireland.

Might want to blur out the telephone number in the top right hand of those screenshots ;) The app is also really good. Only thing that would make it better is a live tile with the usages information on it. Now I wonder by how much O2 and Data Sense will differ from one another...

O2 would be more accurate as it's measured by the network instead. Maybe someone should text Rich and tell him to blur his phone number out of the pictures :P

Regarding DataSense and O2's data measurement, I remember that carriers can now reflect the data usage via the DataSense in WP8.1. Read it in an article here before WP8.1 preview was out. I wonder what's the case now?

Screenshots are taken from the O2 app Store page.

This is brilliant for me on PAYG. Tells me how many of my free minutes/texts/web I have left so I'm not shocked when/if I were to run out! Awesome. O2 really are working for their WP customers.

Vodafone don't give a damn about windows phones

Not available for my device??? (920) Is it because I'm running developer preview? Edit still had my region set to America for Cortana.

Now if only 3 were as good...

Ha better late then never, all their other apps are extremely poor.

Great app from a great company As a side note my Mrs was told yesterday O2 are buying Vodafone later in the year ???

Told by who? I doubt O2 will be buyin Vodafone. I'd say it's much more likely that Vodafone will buy O2 UK

At last! I've been patiently waiting for this since the beta program came to an end. I thought that O2 had given up on developing an app since DataSense was opened up in WP8 GDR2. This is epic. A first class native WP app, no IOS or Android knock-off here. It looks good and works well. What's even better is that you can tap the phone number in the top corner and view other mobile numbers on your account if you have more than one - fantastic. It has everything I'll ever need. O2, we salute you.

O2-DE is a separate entity to O2-UK the only two things they have in common is the name, O2, and they are both owned by Telefonica.

I have created an app for Czech O2 that looks better in my opinion: http://www.windowsphone.com/cs-cz/store/app/moje-o2/a719c625-773d-49c1-be65-1efef1ec5fcc

Wow... What the hell am I doing with EE, their windows phone app is TERRIBLE. No really it is that bad. Take note other operators, this is how you do an app. Well done O2!

Got this installed on my Lumia 1020 running the 8.1 Developer Preview, but It's not showing up on the Lumia 925 running the Windows 8.1 + Cyan O2 Firmware. I even tried following the link here from WPCentral

Hi i am using skype but it not working for now a days but it showing online members who is active i coul'nt reach them through slype call ..pls let me know

I am using nokia lumia 620
Windows Central Newsletter
Get the best of Windows Central in in your inbox, every day!
Thank you for signing up to Windows Central. You will receive a verification email shortly.
There was a problem. Please refresh the page and try again.