Observer: System Redux Xbox Series X gameplay detailed on video
An improved version of this award-winning thriller will be coming to Xbox Series X later this year.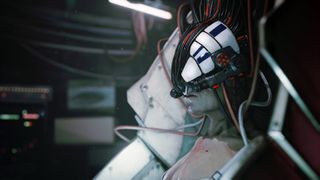 (Image credit: Bloober Team)
What you need to know
Observer was a psychological horror game created by Bloober Team and released for PC, Xbox One, and PlayStation 4 in 2017.
Bloober Team is creating an improved version of the game, entitled Observer: System Redux, for next-gen consoles.
Gameplay shows the game running while supporting 4k, 60fps, SSD, and ray tracing.
The game will also feature some new stories that weren't in the original.
Observer: System Redux will release later this year.
Back in 2017, Bloober Team released a psychological horror game called Observer for Xbox One, PlayStation 4, and PC. The game is played from a first-person perspective and centers around a detective who can hack people's brains with the use of an implant to search for evidence. Players must explore their environment, analyze objects, and uncover the mystery surrounding several murders in a grim futuristic world.
During the IGN Summer of Gaming showcase, it was revealed that Bloober Team has undertaken to augment this award-winning game with updated visuals in the form of Observer: System Redux. The game is set to release "in time for the 2020 Holiday season" for next-gen consoles including Xbox Series X and Playstation 5. Bloober Team has also released a video which compares the gameplay for this upcoming game along side the original.
Just by watching, it's obvious that several improvements have been made including lighting quality and atmospheric effects. According to the video, the gameplay shown supports 4k, 60fps, SSD, ray tracing, and HDR. In addition to improved graphics, some new cases will be added to the upcoming game.
Windows Central Newsletter
Get the best of Windows Central in in your inbox, every day!
Thank you for signing up to Windows Central. You will receive a verification email shortly.
There was a problem. Please refresh the page and try again.