Office 2016 preview rolls out real-time collaborative typing for Word and more new features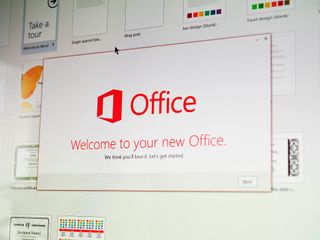 (Image credit: Windows Central)
In early May, Microsoft officially launched the first public preview version of Office 2016 for Windows. Now the company has revealed it has added a number of new features to the preview build of its productivity software release during the month of June.
Here's what been added in the last month, which includes real-time collaborative typing for the Word application:
New charts in Excel—There has been a lot of enthusiasm for the new charts in Excel we delivered— all based on user feedback. The six new charts include Waterfall (shown), Histogram, Pareto, Box & Whisker, Treemap (shown) and Sunburst.
Real-time typing in Word—Real-time typing is now in Word! You can see where others are working and what they are typing as they type it. To try this, save a document to OneDrive for Business and invite your colleagues to join you in a simultaneous authoring session.
Insights in Excel and PowerPoint—Last month we delivered Insights in Word and Outlook, and we just brought it to Excel and PowerPoint. As a reminder, Insights, powered by Bing, brings you contextual information from the web right into your Office experience. Fact check or explore terms without leaving your spreadsheet or presentation. Just right click any word or phrase and select "smart lookup."
Tell Me—Tell Me is an entirely new way to find the commands you need. Just type what you want to do in the Tell Me box at the top of Word, PowerPoint, Excel, and Outlook, and you will get a set of results that let you take the desired action directly from within those results.
Convert Hand Written Equations to Text—Use the Insert Equation feature to write math equations in Word, Excel and PowerPoint with a digital pen, a mouse, or even your finger, and Office automatically converts it to a "typed" format.
Microsoft has yet to announce a specific launch date for the final version of Office 2016, but it is expected to be released sometime before the end of 2015. You can still check out the preview version by going to Microsoft's website (opens in new tab).
Source: Microsoft (opens in new tab)
Office needs to roll out to windows 10 mobile build 10149 because after upgrading to it, it's not in the jump list and even though the icons appear On the documents in OneDrive, they won't launch.

you can't download them from the store???? i just downloaded word and it seems to work for me

When will we get live edit in normal onedrive? Cause thats the only one im interested in.

The preview of these features are for Office 365 suscribers only, i think they might implement that later.

Office multiplayer.... Up to 8 players.... I mean eehh writers.

When are they going to bring back Clippy!

Not something I use much the features of the list. But it seems real time tying it's a nice thing to have for some people.

Real time, ala Google Docs..... And Google Wave?

Yes but for desktop apps, it already works on Office Online.

NEED THIS FEATURE FOR NORMAL PERSONAL ONEDRIVE AS WELL

I agree, Google Docs/Drive have this for years now... I was expecting no less

Just use Office Online. That's what is equivalent to gDocs.

does it have real time collaborative typing? I really don't know, since I prefer to use the full Office that's already installedd in my PC.

Hate to bring the F word into any conversation, but... finally! Real-time collaboration is a huge advantage that Google Docs has had for too long. Let's hope Microsoft brings this across all their Office products soon.

It already works in Office Online so there's no difference with Google.

No 64bit version ? I wanted to play with this but because I have 2013 64bit installed the 32 bit one wont install...

I have installed office 2016 preview two days ago so how am I supposed to upgrade to these new features because settings updates doesn't find me anything :/

Anybody having office 2016 activation issues on Build 10158? I keep getting the prompt even though I've activated.

Same issue...not sure if it's the office build or windows build.. Going to upgrade to 10159 today and see.

My office asked for activation, I cancel and it changed to 29 days left before it was like 140 days left...I'm on build 10159 W10

You need to uninstall Microsoft Office and then reinstall it. Make sure you know the email you used purchasing it.

Cool stuff like this is what always made Office the best option. I'm glad to see that Microsoft is still hard at it.

For Business Use, it's the best option. It's the best office suite, but it's overkill for personal use given its price. WordPerfect Office X7 Home and Student is like $45 for a full license off Amazon. Office's equivalent is like 3x that price. Honestly the only reason I'd have *paid* for Office was for: 1. OneNote: Now completely free from Microsoft. 2. Outlook: Windows 7 didn't have any decent PIM Apps (Windows Live Essentials was always terrible). Apart from that, WordPerfect is easily superior to Word as a Word Processor, and Presentations is at least on par with PowerPoint. Quattro Pro is largely comparable to Excel unless you do some serious Excel work and use Excel Add-Ins. All of those Support VBA as well, and they have almost impeccable compatibility with Office File Formats. On Macs Pages works quite well as a Word Processor and Keynote is superior to PowerPoint. The huge disparity is in Numbers, which works fine for Home use but is utterly outmatched for business use. But for what I used Spreadsheets for, it was superior because I could format and place my tables more easily, as well as more easily set up my charts and graphs. I'm not Spreadsheet Power User, though, and like I said Excel is the superior spreadsheet anyways. In any case, I save a lot of money avoiding Microosft Office, and on Windows - at least - I sacrifice almost no functionality and have a much better word processor. Quattro Pro even has Pivot Tables (Cross Tab Reports). Office is more than worth it for business use due to its proliferation adn the importance of near impeccable compatibility for collaboration. But as a home user the product is just priced too high in relation to competitors to be a consideration. I have it only because it's free, but the Personal Subscription is not well set up. It completely ignores the fact that some people have a Laptop and a Desktop for their personal use (cause you cannot take a desktop on the road with you, and sometimes you need more than a Mobile App to edit these documents... I'm pretty sure VBA isn't supported in Mobile Excel apps...). They should have allowed 2 PCs/Macs, 1 Tablet, and 1 Phone for only one account (can't share any benefits) with Personal and then 5/5/5 with Home Premium including shared benefits. It's not worth an extra $30 a month just to be able to use the software without constant deactivating and activating depending on which PC I want to sit at. Not when I can use iWork Web Apps on my Laptop that have almost all the features of the Desktop Version and use Word Perfect Office with almost all the features of Microsoft Office when I need more on my Laptop, and still save to Office Formats. So even though I have access to Office 2011/2013, it's neither installed nor used by me. It's just too much of a hassle and you cannot easily upgrade your subscription without potentially losing all the time you have left (almost 2 years for me) on the lower subscription, anyways. For business use, yes, it's almost compulsory. Gladly, I do not fit in that category (and if I did, I'd have my employer foot the bill for it, since they cannot expect you to personally pay for software to accomplish your job).

if you need genuine office you can try this link, my office got here and works well,strongly recommend you, it is brilliant www.aakeys.com
Windows Central Newsletter
Thank you for signing up to Windows Central. You will receive a verification email shortly.
There was a problem. Please refresh the page and try again.