Office 365 might be in for a Microsoft 365 branding shift
A rumored Microsoft 365 Consumer tier may be in the works.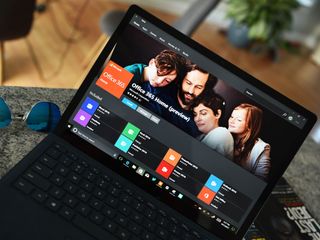 (Image credit: Windows Central)
What you need to know
Microsoft appears to be experimenting with re-branding Office 365 under its Microsoft 365 banner.
Screenshots from two Twitter users show the new branding showing up in pre-release version of Office.
Microsoft says it has "no plans to rebrand Office 365 ProPlus to Microsoft 365 ProPlus at this point."
Microsoft may be moving towards re-branding Office 365 as Microsoft 365, according to screenshots taken from pre-release versions of Office 365 products. Two Twitter users, Michael Reinders and Florian B, have posted screenshots that show their apps sporting the Microsoft 365 branding where Office 365 would usually be displayed (via ZDNet).
As OnMSFT points out, Florian B is on the "Dogfood" ring of the Office Insider program, which he achieved through a registry hack. This ring is meant for internal testing at Microsoft, so it's possible this is just an internal experiment that may never see the light of day.
Microsoft 365 is a brand that the company has been pushing in the enterprise and education segments as a bundle that includes Office 365 apps, Windows 10, and various security solutions.
In a statement to ZDNet, Microsoft said, "No, we have no plans to rebrand Office 365 ProPlus to Microsoft 365 ProPlus at this point. Customers can still buy Office 365 ProPlus without Windows and Intune."
Late in 2018, ZDNet's Mary Jo Foley reported that Microsoft was considering a Microsoft 365 Consumer bundle, which could include Windows 10, Skype, Office 365, and other services. A month later, Microsoft CEO Satya Nadella made a passing mention of a possible consumer subscription in as part of a larger statement about the company's commitment to its consumer business. He further hinted that such a tier could inclue tie-ins to Xbox as well.
If Microsoft indeed has some larger plans for a consumer subscription tier for Microsoft 365, it's possible that we could hear more about them at its upcoming October 2 Surface event or its Ignite conference later this year.
Dan Thorp-Lancaster is the former Editor-in-Chief of Windows Central. He began working with Windows Central, Android Central, and iMore as a news writer in 2014 and is obsessed with tech of all sorts. You can follow Dan on Twitter @DthorpL and Instagram @heyitsdtl.
Microsoft doesn't reference the product. 365 is the best the could do with coming up with a name for something that has constant updates? Every year Office gets more and more marginalized with everyone making their own version. I think this branding won't help. As a subscription, I think people well continually reevaluate their options.

There are more office users than any other productivity suite so I don't think it'll hurt them and actually with it being cloud based, it implies that it's available 24hrs a day 365 days a year. For thoughtful people, it's rather clever if you think about it. The only problem I have it that they constantly use the prefix Microsoft before everything when there's nothing wrong with office 365 or office pro plus but as long as it works for my needs I don't care.

Sounds weird. It would make more sense if there were any more products in the package, instead of the ones that are clearly Office apps. I don't know...

But... why? There is nothing wrong with the name Office 365, it explains exactly what it is. What is it with Microsoft's insane love for rebranding everything? In the end it doesn't really matter either way and wouldn't change things much, except for those people who don't know about the rebranding who are looking for Microsoft Office.

The key point in this sentence - "Microsoft was considering a Microsoft 365 Consumer bundle, which could include Windows 10, Skype, Office 365, and other services." Is Windows 10, they want to hoover up more profits by normalising a subscription to get Windows 10 updates. Personally I wouldn't mind paying 10 dollars a month or so for a sub that will allow me to get xbox live/game pass as well but I will draw the line on a sub for Windows 10. As there is nothing stopping Microsoft still charging 150 dollars for the o/s and then charging for updates later down the line. It's not being cheap, it's about understanding the value money as think about it - when you add all the subscriptions available then add it on top of living expenses... it's a bottomless pit that you work so hard that hair turns grey and before you know you've drained away all your hard earned cash. Resulting in meager savings from to which to survive your retirement on lol...

Makes sense. Office 365 now include more apps than ever that do not come under office branding such as one drive, teams, to-do, whiteboard, etc. Naming it MS 365 makes more sense that way. Separating Office from other apps would also be good to make these apps more consumer friendly.

Objectively speaking, I don't think many people will want to pay for yet another subscription service just to get updates for Windows 10 when it's been paid for outright. If the O/S costed 10 bucks then it'd be understandable and somewhat palatable but not at 150 odd bucks. For everything else it may be a justifiable cost if the services are utilised on a daily basis. Personally I'm not a fan of this path either especially having paid for the o/s outright as presuming it costs 10 dollars a month. That's 120 dollars a year ad infinitum so if that happened I'd switch to linux and I don't think I'd be the only prosumer to do so.

Maybe this is not a rebranding but sounds like an expansion. Office 365 might be staying as is and this might be meant for prosumers who like to stick within Microsoft ecosystem. Microsoft often says the future is mobile, and about blurring the lines between work and life. This makes sense especially if Microsoft nails it with a mobile device and win the hearts of prosumers. I see nothing wrong with it. Having an Android phone and an account linked, hook you into the Google world. There's nothing bad in it, all of the stuff flocks to one place, and just for those who are not against subscriptions. This is not anything ad-driven like Google out there with Android. You pay for what you want and your data stay within Microsoft 365.

Does this open the door for work/ play bundles to come back.
Windows Central Newsletter
Thank you for signing up to Windows Central. You will receive a verification email shortly.
There was a problem. Please refresh the page and try again.