Microsoft releases Office Remote to allow you to control your PowerPoint presentation and more from your Windows Phone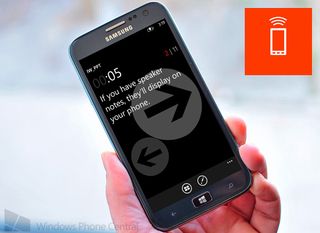 Microsoft Research has just released an app for Windows Phone called Office Remote. Its function is entirely in the name of the app. Office Remote gives you power over desktop applications in the Office suite when you're doing something like a presentation. It's an app that we should have had from day one on Windows Phone 7, but it's now here. Let's check it out.
Let's get the bad news out first. Office Remote will only work if you're running Microsoft Office 2013 on a machine that has an x86/x64 processor, but isn't for Office 2013 RT. You need to install a companion add-in for Office on your PC. Something you can't do on devices like the Surface 2, but can on the Surface Pro 2. That said, Office Remote for Windows Phone is pretty awesome. Here's what you can do in PowerPoint, Excel, and Word with it.
PowerPoint
Jump to the next, previous, and last slide
View slide thumbnails and jump to a slide
View speaker notes on phone
View presentation timer and slide numbers
Laser pointer using touch on your phone
Excel
Change worksheets by swiping
Use Slicers, PivotTable, and Filters
Jump to any named object in your workbook
Move up or down the worksheet
Change the zoom level
Word
Jump to headings
Jump to comments
Screen up/down
Line up/down
Change the zoom level
Sounds pretty good right? Office Remote will be immensely useful for anyone giving a presentation and needing to control the slides, view speaker notes, and more. By far the coolest feature is the virtual laser pointer you get with the app. You'll see an image of the slide on your phone and anywhere you place your finger will produce a virtual laser on the screen that everyone will see.
There are also interactions you do with Excel and Word, although it seems you'll use this app mostly for PowerPoint. Either way, we're stoked to see something like this finally come from Microsoft. Hopefully it becomes integrated into the OS itself versus being a separate app.
We played around with the app for a few minutes and noticed everything working as advertised. Just make sure you turn on Office Remote in whatever Office application you're using. You'll now see an "Office Remote" tab (image below) that you'll want to click and power up.
Want to get Office Remote for Windows Phone 8? It's free and you can get it from the Windows Phone Store. You can also use the QR code below or swipe to the right in our app. Lastly, don't forget to install the add-in for Office on your PC by downloading it from Microsoft.
Via: The Next Web
Get the Windows Central Newsletter
All the latest news, reviews, and guides for Windows and Xbox diehards.