Official GOQii fitness app arrives on Windows Phone Store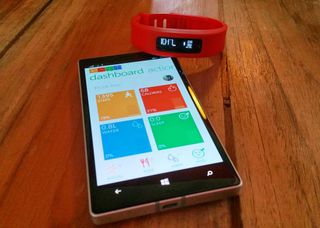 A product from an Indian startup, the GOQii Life includes the GOQii band, an advanced fitness tracker and a GOQii coach, a virtual yet human coach that guides you on daily exercises, nutrition, sleep, stress management, and lifestyle change.
The GOQii band is available in India and the Middle East at the moment, and will expand to other markets soon. The official GOQii app for Windows Phone devices has recently arrived on the Store after being in a closed beta since a while.
Right away, you'll notice the beautiful UI and an intuitive user experience of the app. Colorful tiles and buttons on the home screen allow you to log your food and water intake, and check your sleep and steps activity.
The app also allows you to connect with your personal coach in a consistent chat screen. The app syncs to your band via Bluetooth LE, and although it is low-energy mode, you only need the connection when you're syncing the band with the app else you can keep it off when you're looking to save some battery juice.
There are a couple of issues though. You can't edit the food log, so if you've added an entry with a typo, it stays like that. Also, while you can log food you've had any time, there's no way to add time to your water intake.
I've been using the GOQii band since a few weeks, and if you're looking for a fitness band, I'd highly recommend it. If as a Windows Phone user, you were on a fence about buying one, go ahead now. The GOQii app is one of the nicely done Windows Phone apps, and apart from a few quirks, works quite well.
It has Qi in the name... Wireless charging compatible?

Great, but is there gonna be a story on this?
http://m.softpedia.com/camera-updates-roll-out-to-lumia-denim-phone-4661...

Page not found at the link

Try http://m.softpedia.com/camera-updates-roll-out-to-lumia-denim-phone-4661...

There is quite a bit of doubt over that story...

n how much it will hurt my pocket?

I haven't heard of this startup!!! But Great to see that India too has some firms like these entering in tech field....i think its probably due to Modilution.... :-p

LOL at people who think everything great happening in India is just because of modi, this band was launched well before modi even became PM.

Lol stupid. The company was formed much before Modi came into picture, I have been using their band and beta app on my phone for couple of months now

I have been using the GOQii band since the beta launch of the band. That was in March 2014. Modi came into power in May. So, Pelase stop this Modi's Made in India slogan.. Btw, GOQii is not just a desi brand but an amazing International Brand with launch in UAE and soon in US.

I wonder what the bands will cost in the US, if they ever get here.

It is a subscription based model. The band is free. Correct me if I am wrong. I wouldn't get it.

The app looks playful, reminds me of a tamagachi
Windows Central Newsletter
Thank you for signing up to Windows Central. You will receive a verification email shortly.
There was a problem. Please refresh the page and try again.