With official LinkedIn Windows Phone app here, IN+ will be gone by end of May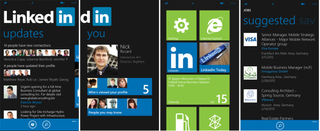 With the arrival of LinkedIn's official app in the Marketplace, users of the unofficial substitute, IN+ Networking, developed by Skilloo, are beginning to receive notice of IN+'s imminent demise. As of May 31, IN+ Networking will no longer be available for download and will cease to function.
Skilloo founder, and now member of LinkedIn's Mobile Team, Christian Haas, sent out an email to users to let them know that IN+ Networking will be replaced by the official app:
LinkedIn for Windows Phone was partially developed by Skilloo, in collaboration with LinkedIn and Microsoft. It has a beautiful interface and functionality galore. You can get it here.
Thanks, for the tip, Phrotzy!
Windows Central Newsletter
Get the best of Windows Central in in your inbox, every day!
It doesn't sound like the dev is too broken up. I'm glad they were able to collaborate with LinkedIn and MS to make an app. If only other companies would do the same with indie apps. . .

It either got them a job or because of their job they had the chance to create the 3rd party app on their own (and make some side cash). How could you be broken up about that? haha

Now THIS, THIS is how it should be DONE! Find a passionate WP7 developer and have the first party add them to their team! Genius! Microsoft, make this happen more!

and the LinkedIn app for WP makes the other platforms look like utter rubbish.

yeah, this looks like a real success story here... as I see it:
lacking an official client, a 3rd party dev fills-in the gap with a good (but no way as good as an official app could be) offering..
official site (LI) with the seemingly always helpful MSFT (in terms of bringing-in official apps) team up with the 3rd party dev to accelerate bringing a great official client to the platform..
...in doing so, the dev gets rewarded, LI gets a great client (many say better than iphone/android versions) and MSFT and wp users benefit from access to yet another great app on the platform.
i'd call that a win-win-win-win.

now, lets see pandora get with it.. from browsing the marketplace i'd say there's a nice talent pool 3-4 devs deep to look to for building-out a wp client.

Give me Pandora, a proper Google Voice app and an LTE Windows Phone and I'll switch. I really can't have a smart phone without those things.

Pandora and Google aren't everything, there are 3 phones with LTE now

Just curious why you want Pandora so much over other great alternatives like iHeartRadio, Slacker, Rdio, last.FM, Spotify, etc.? I used to use Pandora myself and it's good, but others do the same or better IMO and I haven't looked back. (Using Slacker as my main now FYI)

Cause he/she wants and Iikes the service?

But why did I get an email from LinkedIn just yesterday telling me I should download the LinkedIn Mobile app "Available for iPhone, Android, and Blackberry." and with a link to this page http://touch.www.linkedin.com/mobile.html where there is no mention of WP7 at all.
Seems like somebody at LinkedIn didn't get the memo.

the PR turds that write those emails are obvlivious to the changing mobile landscape.

BTW, LinkedIn for BB is complete and utter rubbish.

I originally felt bad for IN+s developer but now that I see LinkedIn did theirs w/ his help, I'm cool w/ it and will uninstall IN+ today :) - Congrats to all!

So true. Not only this app but all the official apps.
This app will look equally as sexy on a windows 8 tablet.

I received today an advertisement email from LinkedIn that celebrates their apps for iPhone, android and bb...NO MENTION OF WP AT ALL...No good...

I sent an email to LinkedIn support stating that the WP app isn't listed on their website and also when will LinkedIn posts say, "xxxx is using LinkedIn for Windows Phone". The reply I got back was...
"The updates be automatically posted as soon as possible. Unfortunately, at this time we do not have this functionality available. Your feedback has been sent to our research and development team for future consideration." Hmmm...

Yeah I noticed some similarity between the IN+ and LinkedIn apps

Beautiful app, I'm glad to see original IN+ developer to work with Linkedin and Microsoft to create this amazing app :)
Windows Central Newsletter
Thank you for signing up to Windows Central. You will receive a verification email shortly.
There was a problem. Please refresh the page and try again.