The official Starbucks app is now available on Windows 10 Mobile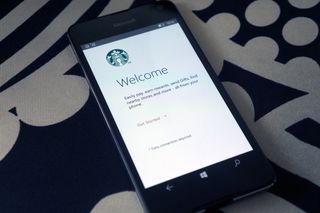 The official Starbucks app has made its debut on Windows 10 Mobile. The app is available in the U.S., Canada, and the U.K., and allows you to pay for your orders directly from your phone. You can also locate stores near your location, track rewards, check your Starbucks card balance, and much more.
Here's the breakdown of what's available:
Pay: Use your phone to pay at 7,000 U.S. company-operated Starbucks stores and 2,500 Target and Safeway Starbucks locations in the U.S.; 1,000 Starbucks stores in Canada; and 700 Starbucks stores in the U.K.
Card: Check your Starbucks Card balance, reload your Card, view your transaction history and transfer balances between Cards.
Tipping: Leave a digital tip on purchases made with the app at company-operated Starbucks® stores in the U.S. and Canada.
Rewards: Track your Stars and redeem your Rewards and custom offers with the My Starbucks Rewards® loyalty program.
Gift: Send Starbucks eGifts to friends.
Store Locator: Find the stores nearest you, directions, hours and amenities.
The long-awaited app is certainly feature-rich. If you like getting your coffee from Starbucks, be sure to download the app from the link below, and let us know how you're liking the official client in the comments.
Download Starbucks from the Windows Store (opens in new tab)
Thanks for the tip Duane!
Windows Central Newsletter
Get the best of Windows Central in in your inbox, every day!
Harish Jonnalagadda is a Senior Editor overseeing Asia for Android Central, Windows Central's sister site. When not reviewing phones, he's testing PC hardware, including video cards, motherboards, gaming accessories, and keyboards.
Waiting for the "it's raining apps!" comment

LOL is that your real name? Are you from Genoa?

Nope, but my real name is worse than that. Ive been to Genoa 2 weeks ago by the way :P

I'm sure every name is good bro. Peace and love.
:D

It's raining Apps!!....(sorry, got here a little late)

Great for you coffee drinkers.

Are you trolling? No coffee drinkers go to Starbucks.

He's right you know... At least those that appreciate real coffee

Yeah..but that didn't stop people to comment that "even starbucks app is not available for wp"..

This is the same line of subjectivity as all of the "real" music comments. If Starbucks isn't you cup of tea...I mean coffee, then so be it. Personally, I'm one of the 7 people on Earth who can't stand even the hint of coffee flavor, but I do like their Refresher beverages.

"I only drink coffee made from beans harvested from the excrement of endangered species." Ok, that's great. Filtering hot water through ground coffee beans technically is real coffee, and millions upon millions of poeple clearly enjoy Starbucks coffee. I'm not saying that as a Starbucks fanboy. I hardly ever go there, because I have a very nice Saeco coffee machine at home. But when the alternative is McDonalds, Dunkin Donuts, Keurig K-cups, etc., Starbucks is unquestionably good coffee.

Was going to stop by yesterday. Decided not to due to the line of cars wrapped around the building. "No one goes there. It's too crowded." - Yogi Berra

My life is now complete yeah coffee the way...is over

Starbuck coffee is expensive. For the price of one coffee I can be fed for 3days. I don't understand the phenomenon of Starbucks.

I'm guessing you don't live in the US, UK or Canada then?

1) the price of straight up coffee isn't too much more expensive. The expensive coffees probably have the amount of calories you'd eat over those three days. 2) they do decent things for their employees like send them to college. If you are in the military, I believe they'll send your entire family. 3) they are more ethical than McDonalds. Not saying they don't do bad things, just less than others. All these things cost money. So, yeah, you pay for more than the coffee. If you take full advantage of the rewards program, you can get almost 25% more for your money as well.

Starbucks coffee is only so high in calories because it's mostly sugar-water with some coffee flavouring.

You are aware that you can order what you want, including black coffee. What's the obsession with bashing a company when the news is that of a popular, much requested app?

Sure, but "yay a Starbucks app" is such a boring comment. And while sure you could order black coffee, on the whole Starbucks drinks and food are pretty awful. It's like ordering airplane food by choice.

"Yay a Starbucks app" is equal in boring to "Windows sucks, there's not even a Starbucks app...dead platform" I don't mind Starbucks Refresher drinks and they have a cherry crisp thing that uses my home state Michigan cherries. Whoooop! Regardless, they are huge and many people who like the roasted bean juice do go there and the app seems to be functional, which is really the point.

I find "only sheep like popular things" to be equally boring. I suppose next you'll tell us that Nickelback is a terrible band or Carrot Top is a hack comedian.

I guess boring because it's true. I'm old, well 40, I actually don't know Nickelbacks' music and I've not even heard of Carrot Top. But I'm sure you're right cos I am boring.

That can feed you for like ... four months.

I'm not a fan of Starbucks either but I go there to meet up with friends. My usual order is a tall latte which cost under $3. Which means you're able to feed yourself off of less than a dollar a day? I call BS. We've got so many drama queens here.

the guy must be from India.. a coffee and some snack for a couple in India costs around INR 1300 approx... which roughly translates to ~$19 for two people. For INR 250 a day, I can easily have breakfast, lunch and Dinner for sure - and with 400 rupees a day, a better one at that. People should understand that Starbucks in India is positioned as a premium offering unlike CCD or JavaBeans (later not so popular by the way). It is also popular beacuse it is "Starbucks".

Lol where did you go for having 1300₹ coffee and snacks? Palace on Wheels?

Try Starbucks home blend, Maxwell House tastes like mud after that..

And if you try some Peet's Coffee, Philz, or any number of small local roaster coffee, Starbucks will taste like mud as well.

Watered down mud, give mud some credit, Starbucks coffee isn't that tasty :-P

Not in the United states!!!

I wonder how payment is handled. Is it via the wallet app or via nfc method in the SB app itself? Anyway glad its here though I don't buy coffee its great for those that do.

It only shows the barcode of gift card at the moment, but would imagine they are prepared for T2P.

Thanks for the info. Im just eagerly awaiting more wallet support update for the UK.

I'm wondering about pre-ordering. I don't see that option. Am I missing it, or the app doesn't have it?

Doesn't seem to be there for me either, so perhaps it's not ready yet... Would love the ability to pre-order, especially at conferences where there are usually massive queues...

Yeah I'm guessing its not there. Pretty unfortunate though as it's like half the reason to get the app.

That's what I noticed, and for me, it defeats the purpose of having the app because I can already use my MS band 2 to pay via a loaded gift card. I honestly thought I would be able to preorder items via the phone app. I still downloaded it so they don't remove the app due to lack of WP user base.

Thanks for the warning! I'll certainly look like a fool banging the phone while refusing to pull a $20....

Thanks for the warning! I'll certainly look like a fool banging the phone while refusing to pull a $20....

Same as all the other Starbucks apps. You have a digital card with a barcode you scan at the store.

Ahh, ok, I was thinking it was nfc based which made me happy that greater support for the wallet app was incoming. Good to know.

I believe it's just a bar code in the app that's is linked to your rewards card. I've been paying from the wallet app for a while because I scanned the barcode off the web before the app arrived.

Pity I don't like Starbucks. Call me a 'hipster' if you like but it's much better (and cheaper) to make your own coffee

That applies to virtually all restaurants and cafes. Starbucks is just popular to hate though.

but starbucks really does have ****** coffee. Virtually any other place has better coffee than the buck's

The market disagrees with you.

Something being popular != being good

You not liking it != not good. It's not as if Starbucks is a budget choice. People are choosing it because THEY like it.

That's a terrible argument. McDonalds sales a lot more burgers than any other chain as well, it's not better than Shake Shack, Five Guys, In N Out, Habit, and the list goes on...

Well, if you understood my point you wouldn't call it a "terrible argument". Beyond the subjectivity of what is "better", McDonald's has a clear value advantage over those other businesses. Some people choose McDonald's because it is cheaper. There are also plenty of people who like McDonalds...even though you don't. The value proposition is really my point. Starbucks is NOT cheaper and people still CHOOSE to go there. They clearly like the product and are even willing to pay a premium for it. Just because you and others don't like it, doesn't mean that it isn't a good product to other people. The REAL point is that they have a nice app for a popular product. That app was created and is available. The opinions on the coffee are really pointless when we should be talking about the app.

Who cares about talking about the app though, fractionally more fun to make inane comments about coffee. Starbucks vs Hipster coffee is the new PC vs Mac.

I wish all of you would just stop taking freaking b*tching! We need apps on WP and even the actual company releases it for our platform, all you do is whine and do the same when the app is retired! Just download the dang app man!

That and you can't really make your own coffee when you're away from home. I'm not carrying a damn thermos just to avoid going to a Starbucks.

Given the number of people you see in Starbucks with their watered down coffee and Macbooks, I think it's the hipsters that are in Starbucks, not people at home making their own coffee. I can understand why you don't like Starbucks coffee though, it tastes like guter water with sugar and coffee flavouring. Thankfully here in London there's lot of good coffee options, amazes me that Starbucks is still doing so well. But then most people like simple lowest common denominator, witness McDonalds, Oasis and Trump.

I think it's more of a convenience thing. Case in point, my favorite coffee shop is a small one that roast their own beans but is about 10 miles further in which I pass 5 starbucks along the way.

Maybe in America where it's such a big country that makes sense. Here in London where there's 2 Starbucks, 2 Cafe Nero's, a Costa and half a dozen other coffee options on most major high streets it's less excusable. People just have no taste.

If you had taste, you wouldn't be in London.

Really, tell me where I should go then. I don't think having taste really defines where one should live, but I'm posting drivel on these comments, so as well to hear yours.

You got a lot of negativity and opinions you think should be universal. We get it. You don't like Starbucks.

Starbuck was one of my favourite characters in Battlestar Galatic, so I don't hate all Starbucks. I also don't expect my opinions to be universal. I accept most people are a lot less demanding than me. Sometimes I wish I was as well and could just enjoy mediocre products.

Awesome! I can finally pay at Starbucks by taking out my phone instead of just using my band! (I'm geniunely excited, no sarcasm intended)
Edit: the app is glitching on my 950. The sign in screen disappears about 3 seconds after I start typing my email. Guess I'll stick with my band for now.

Working fine on my 950. When I first installed it would just crash on launch so I uninstalled and reinstalled and now it works just fine

Works fine on my 950 too. Didn't even need to reinstall.

Weird. I turned off Contacts permission for the app. Maybe that's why?

That's weird. I have a similar issue, I can load the page, but whenever I sign in it has a connection error :S

About time. This feature and the lack of extensions on edge was the thorn on my side since I switched from Android. I now can relax knowing I can do everything I really need on Windows mobile and consider a flagship like upcoming HP or a Surface in the future instead of my cheap Lumia 640.

Yes! But, it crashes every time I try to open it on my Lumia 950 XL running 10.0.14393.5... :(

Works on my Lumia 1520 running the same build, but I use it as a test device for the Fast Ring...

This happened to me at first so I reinstalled and now it's working great

Uninstalling and reinstalling does not work for me... :/

Strangely enough, I just tried opening the app again and it started working...

Looks fine on my 1520 and 950 XL

Excellent. But what's the point of restricting the app for mobile? Seems a bit counterproductive to only develop the app to use only on mobile when many bring their tablets, 2-in-1s and laptops to Starbucks to work.

No way Starbucks wants people holding a laptop up to pay for coffee. No way I want to be in line behind someone trying to scan their laptop.

Lol. Hey, people are taking pics with their iPad Pros in bars and gatherings now... I cannot facepalm enough.

If that laptop is a Surface Book, or a Lenovo Yoga, or anything similar, it's not hard at all. But I see your point.

It's not hard. It's just stupid.

Maybe I want to reload at my desk without using a browser.

No probs installing and setting up on 950XL running 14393.5. High time! In California it is still two hours before the first nearby Starbucks will open, but my phone is loaded and I'm eady to go. Now I don't have to carry a back-up iPhone when I go out before dawn to feed my addiction. This is one of those apps that is important without being crucial. Yeah, I can make better coffee at home and do every day, but at some point it helps center the day just to go through the Starbucks ritual. OMMMMM...

Any chance it will come to India? Starbucks is very popular here now.

I won't be using it until their cups are 100% recyclable #wastenot

Why don't you just bring your own cup Posted via the Windows Central App for Android

You must eat, drink, shop...basically nowhere.

Another battle won. But the war still rages on.

Cool, do Like a wee coffee, never use Starbucks though, never will.

For UK users: When adding a CC, what letter code do we use for the County when entering the address details?

Why only US, Canada and UK? what about the rest of the world? Starbucks also has affiliates in Australia, Germany, Belgium, Spain....

Please make it possible in other countries, like Thailand. I'm waiting for it for a long time.

You've got vote here, for Thailand.

A third vote for Thailand from me too.

But... Anniversary update is more important !

I am off to Malaysia tomorrow, Starbucks is in lots of places in KL. I would love to use it there

This is great I love the app, normally use costa in the uk but will be using Starbucks now there is one in the next town.

Ok. I have a 950xl fast ring. I don't see it in the store. I get on my PC (win 10) and it says it doesn't work on this device. What up?

Ah, never mind. Downloading it now ...

For everyone not in these 3 countries, I changed my region to UK and I am able to download the app. Now I can confirm that at least the store locator is good to use in Thailand. I do not have the starbucks card to test it further, though.

And the app needs access to contacts because???

You can send a gift to someone?

PayPal as a payment method. It's missing?

Untill paypal releases the app it's unlikely to happen.

How would paypal having an app, have anything at all to do with whether the Starbucks app can connect to paypal?

It's a bit buggy, like it somehow added $25 (a default value) rather than the $10 that I explicitly entered. When I click "Show Me More" it wouldn't do anything when I finished and clicked (and re-clicked, over and over) the "Got It" button. But still, a big improvement - now I have to actually use it and see if pay works for me, or if I just hold up the line. I should be in QA because I guarantee I'll do something wrong or an app will misbehave for me...

Brilliant! Delivered as promised.! That's what we call a BRAND!

Actually it was promised to be ready several months ago.

Crap, where's the Order function?!? Ordering ahead is the best part of the Starbucks experience!

I waited all this time. And I can't sign in. I am using the correct user ID and password. I can sign in. On their website just fine. Is anyone else having this issue?

Same here. I can log in fine on the website. I even reset my password and it still doesn't work.

I'm not able to sign in either.

Looking at the app reviews, lots of people are having that problem...

Does anyone know if it's a UWP that's only available for mobile, or was it not written as UWP? Just curious and more UWP developers are good for the ecosystem, even if this app happens to only be for mobile.

I doubt it's a UWP. I downloaded the .appx and it won't install because it only supports the ARM architecture. here's a screenshot of the .appx open on my laptop .. https://i.imgur.com/t8IW0Ou.png

@timster01, thanks for checking!

ITS RAINING APP... No but Anniversary Update and this they are good news for W10M for being a standart great Mobile OS.

Guess I'll download it just to show support.

Hopefully Dunkin Donuts will respond in kind so I can stop carrying around my BB10 phone just for the DD Android App.

They waited for the Anniversary update on mobile and then MS said its delayed by few weeks and Starbuck is like "f*ck it.. release the app anyway" lol.

Mircosoft saw starbucks had it all done and said to them since we screwed them over on the anniversary update, can you please just release the damn app to take some heat off!

Now we need to get them to add the Windows Phone logo to their website, and anywhere else they promote the app.

They had it on their site last week for a few hours

That will cost more than the benifit they will get from the 4 users that will see the logo and go hey, i gotta get that app...

Got it - now I just need to go to a Starbucks to test it.

Very cool, I would like to download this!

Does any one here try to log in with account created by iphone. I try to log in with such , but keep, get fail to log in messages.

Can't create account on my Icon. Create Account button flashes but account not created...

Why does WC still include the QR code at the bottom of these articles. Is there still a way to scan it with your phone? If so, someone please let me know because I can't find a way to do it.

Yes, you can d/l an app from the store, Scan-QR Code and Barcode Reader

For those who missed it, Starbucks COO is Kevin Johnson, a former microsoft executive. He has shares in both companies. I bet someone from MS called in on a favor. We win either way but just throwin it out there.

Why is the app only limited US, UK and CA? Starbucks is everywhere and Starbucks Rewards are honored everywhere.

I need a Cumberland Farms app so I can keep up with all the 99 cent large iced coffee's I drink throughout the day!

We have espresso machines at work, the fact that you have to go out of work to get coffee says a lot about your ****** jobs. Anyway, Starbucks isn't bad. It's just not coffee and definately not my cup of thee :D It's good that as a big company they give the example by creating a winmo app. It doesn't matter if you don't like the product.

Espresso machines aren't that expensive, it's not just about the coffee. It's just a nice way to take a break. We go for 1-2 hour coffee breaks in the late afternoon at least once a week. You can do that when you don't have a ****** job...

That's cool and all but when is Snapchat and PokeGo coming??? Posted from my Note5

Probably sometime after you get old enough not to care.

This would make my mom very happy if T-Mobile would actually update her 640

Any news if the Starbucks app will come to Norway or another European countrys?

Finally. Now I just need a phone with Window 10. Come on HP Elite x3!

This isn't a UWA. I thought it would be. I don't see it for desktop.

Wait a minute.... Why doesnt an app that was just released today for Windoes Phone have the ordering feature? This has been a round for quite the long time on iOS and Andriod. This app looks nice form teh outside but all and all it;s really pretty limited...

So it's a UWP app that doesn't work on PC and it's crippled without phone orders and it won't let you sign in. And they sell overpriced, crappy, liberal coffee. Other than that, it's great!

Gotcha! You should have known that the windows mobile app would be limited to basics and not have all the features of the IOS app. Are you really suprised?

I was not able to log in either. I was able to create another account through the app and I can sign in with that account. I still can't sign in with my original account though... For the people saying this not a UWP app because it's not available for other form factors... When publishing your application to the store, you specify what architecture and form factor it should be made available for. After making those choices, the published package will only show those choices as being compatible.

No mobile orders yet... But still pretty decent!

I actually prefer a third party app i have been using for last couple of years. Especially the official one dose not anything too special like mobile order.

Nice! But all the cool kids pay with Microsoft Band! :-)

At the Starbucks I usually go to that required twisting my arm because of the scanner location, gave up on that and went back to my Android phone. Also, you can't reload your card from the Band or check your rewards status. Not really a useful solution

What they need in Canada is an app for Tim Hortons, LOL.

schnuffi, download timmyME. that is the offical tim hortons app. It was there the last time I used my windows phone. Unless they took it down...

I wish I could use it but I am a Canadian living in Europe

TimmyMe has been on Windows phone for ages. I use Tims in the morning and Starbucks in the afternoon.

Anyone else have issues logging in or creating an account? I click on "sign in" and I get a blank black screen with "sign in" at the top but see nothing else. Can't input anything. Same goes for creating an account.

I can't log in with my current credentials.

Did the QA team fool the Starbucks team? This app was forever in testing yet it fails at first step. Sign Up/In is litterally the first task that you do on the app and it is not working. Sign Up screen shows up but it takes a good while to do that. Create Account button seems to do nothing over LTE. Need to test it over Wi-fi. may be they just made a wi-fi only app ;).

Agreed :( I can't log in either. I wonder if it went to the store accidentally, and wasn't ready.

I think it created your account; just won't let you sign in. I had to do it in Edge and it took forever there. No success yet on phone.

It won't let me sign in :( Lumia 650 on Tmobile. Any suggestions?

Appears to a problem at server side as i can't log in via their website either

Done!! Even though they raised their prices and their coffee is pretty crappy, this is good for traveling (and using up the gift cards I get for Christmas). AND I want to show companies that people DO use Windows phones :-)

Not Working! But I can't log in on line either.

Weird, I can log in online but not in the app :S

Now I can put it on my new 650!

Good luck signing in. Takes forever online and won't on the app. I downloaded it to give moral support since I make Keurig at home that is much, much better tasting and much, much cheaper. With all the billions that Starbucks makes, you would think they would have a better web system.

Downloaded in UK finally, but it took reinstall to log in... But now have USA rewards showing, not UK ???

Won't let me sign in after registering.

Well, uninstalling and reinstalling did let me sign in. I have 0.00 in my card and a pay button.

Swipe right and it will show card and true balance

So am I the only one that cannot install it? I get an 0x87AF0813 error code on the download. I was on the preview tier on windows 10 with a lumia 950.

I'm going to tell my sister

Hhhm now thinking it is UK rewards, but showing as green not gold, rewards at 24/53... What the hell ??

Anyone else in Canada having trouble logging in? Reset password and still won't work. Should say I'm having the same problem through a browser too.

Having the same issue with my account. Can't sign-in. Tried App from the US Store and from the CA store (not sure if they are different). My SBUX account is CA, I can log-in online but the app says my account does not exist (can't log-in can't reset.

Thank you very much, Starbucks for show MS Windows phone users users some loves!!!!

Cannot create account in app.

I'll actually visit Starbucks a little more often because of this. Not a fan of the coffee, but it's at least consistent when travelling. Usually use my Band to pay, but having the app aside from MyBucks is nice. I found that adding a shot of espresso to their dark roast drip makes it decent.

Finally able to log in, and to sum it up its dissapointing. Although functional it seems cheaply done. Not as nice as the iPhone app and missing some of the features like order ahead. Outside of being able to see my points and card balance it does nothing more than the phyical card or like I had set up in MS Wallet a barcode. Very poorly done.

Woo at this rate all the big name and popular apps will find it's way to the windows mobile platform by 2027

Smart move by Starbucks because there a quite a few businesses who are using Windows Phone and soon to be a lot more thanks to HP and Microsoft. Dunkin is seriously slipping.

For everyone who can't sign in to the app, I used the contact us page on Starbucks.com. They have a form specifically for contacting them regarding mobile apps: https://customerservice.starbucks.com/app/contact/ask_wifi_mobile_apps/ I received an acknowledgement email saying I should get a response within one business day. Also mentioning this in my review of the app on the store. Hopefully this will bring their attention to the issue.

Considering how long they've been at this app (launching in Brazil first over a year ago!!!) this app seems almost like it was slapped together. Just a few of the issues noticed: - Buttons don't line on from screen to screen. Look at the positioning of the "PAY" button on the pay screen and then look at the position of the "DONE" button on the screen after you hit "PAY". Come on guys - how about taking a little pride in your work. - They couldn't figure out how to get the same cool animation on the Rewards screen?? Seriously?? - When you tap on the "PAY" button, on the next screen, the whole top of the screen doesn't scale properly so the card image is cut off at the bottom. That's just a few. I have the luxury of having both platforms at my disposal and can do a side by side comparison. It's nice that they put out the app but they really didn't take any pride in their work behind it. Just sloppy execution.

This is reason #996 why Windows phone failed. If its not an Xbox game, the apps are laughable compared to iOS and android. Android apps are 99% of their iOS counterparts, windows apps are 30% of iOS counterparts. This is a weak, VERY generic version lol. That's just what windows phone users get. fake 3rd party immitations, horrible web wraps, or basic basic Windows 95 type looking apps. But, I am happy it's there. it's better than no app.

Aaaaalllllllll that waiting... And no order ahead feature? Hmph...

Crashes every time I try to see my history. :'(

Yeah. Just because Microsoft had to do that.

Awsome! Ok Dunkin' Donuts it's your turn!

App not available in Indian Store. Will try changing location and downloading.

Is it worth it to get the inside preview for this. Because I have an HTC one m8 for Windows and it week never update to 10

It is always great to see another mainstream app in Windows Phone, renews my sense of faith in the continuity of this OS.

For coffee drinkers you should head out to Minnesota they have Dunn brothers and caribou coffee and over other but I forget the name. My grandfather sent me some and it was awesome

Sooo glad to finally have the app. :) Thanks a ton. And just as an aside a Starbucks coffee is only sweet if you put sweeteners in it. Obviously the people saying it's sugary syrup have never had a Starbucks coffee.

I don't go to Starbucks maybe I'll get the app sometimes I can get free coffee. Although I won't drink coffee in 35C+ temp as it's been for weeks.

Anybody else having problems with this app at the moment ?? I had an update from Starbucks a couple of weeks ago and it has not worked since... I have uninstalled and reinstalled, even did a fresh install of the OS... damn thing lol
Windows Central Newsletter
Thank you for signing up to Windows Central. You will receive a verification email shortly.
There was a problem. Please refresh the page and try again.