Official Vyclone app now available for Windows Phone 8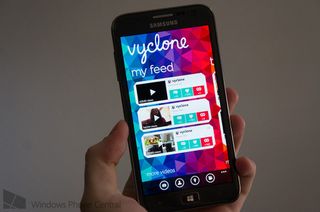 An official Vyclone (www.vyclone.com) app has been released for Windows Phone 8. The app enables consumers to mix footage captured on a Windows Phone with film taken by other people at the same event. The service synchronises and edits each clip to create a single movie with all angles cut together. Raw footage is also available too, opening up custom remixes. It's quite the app.
Vyclone also sports sharing options, with trending videos and more all displayed within the app. The interface is gorgeous and full playback functionality is featured. It's easy to follow other users, comment on and like videos. Also available on both iOS and Android, Vyclone really opens up the realm of video and offers new ways to produce and share footage.
The Vyclone team have worked closely with Nokia, which is clear to see in the end result. You can download Vyclone for free from the Windows Phone Store (Windows Phone 8 only).
Rich Edmonds is a word conjurer at Windows Central, covering everything related to Windows, gaming, and hardware. He's been involved in technology for more than a decade and knows a thing or two about the magic inside a device chassis. You can follow him over on Twitter at @RichEdmonds.
Nice app. But won't be like using someone else's content without permission?? Or may be I am not sure how does it work.

I guess that by signing up we agree to share our videos so others can use them as well. Maybe the service it's good, I will give it a try and test it this weekend.

The web page doesn't load for me (loads header/footer and blank between) - could be corporate firewall - so I'm wondering how it works, too, but my thought is that you connect with friends to do this. I dunno.

From their "legal" page:
"Say you shoot a movie and it's awesome but you want to keep it for yourself and your buddies. No problem. Choose what content you want to share on the Vyclone website and whether you want it to be publicly shared, viewable and editable. Who said we weren't nice? When you choose to submit your content just decide if you want it to be public or private. If you choose neither though, then we'll make it public.
By choosing to publish the content to the Vyclone website through the app, you are granting pretty much everyone else the right to use, edit and view your content. It's 21st Century sharing, and we hope you like that. If you don't, then choose private when you submit your content to the Vyclone website through the app. Got it? Yes? Super."

Don't use it but love it when i see the toast notification from WP central stating official (insert app name ) has been release for WP8 ;)

I love how on their website, the Windows Phone is infront of the android and IOS device.
Also on the right hand side you can clearly see all three store choices. I've found that you normally only see google play store and itunes and windows phone is probably under "other device" or not even listed at all.
Kudos to Vyclone on that

This. Take a look at https://foursquare.com/ for instance. Although they now have a very beautful app for WP, the link to the WP store is just small "text" instead of a store logo.

https://foursquare.com/download/ This is the link. But yup. Exactly what i'm talking about.

What happened to the beautiful blue and green WP store logo? Can anyone remember it?

It's a very nifty app, I use it on my GS3. Great to see it land on Windows Phone. Nice little surprise every other day or so. Now we just need more "big" companies to release some apps. But in due time.

Awesome. I go to alot of concerts. :D I'll tell my buds. http://youtu.be/4dA7DMXmT0A

This is good news. I would also like to see Vine come to Windows Phone.

Doubtful. I'm not sure it is even POSSIBLE with Microsoft locking down developer access to video files saved on Windows Phone. The app would have to record and store all footage INSIDE of the app.

I remember when this launched. I was envious that it wasn't on Windows Phone. As is always the case, when it comes out on Windows Phone, I recruit every smartphone owner I know to get the app. Now we're planning on making great videos at parties and events. In just the couple of hours that I've known about this app, I've recruited about 20 people to get it...on all platforms. NONE of those people even knew about the app before. Developers take note that we may not yet have the numbers of those other two platforms, but we are a influential bunch. I have two "I wishes" for this app, so far:
1. I WISH that Microsoft would open up the API to allow apps to have access to the saved video files. I'm pretty sure that's why our app can't remix on the phone like the iPhone version can. It's also why we can't upload saved video to Vimeo or YouTube or Facebook or WhatsApp or anywhere. Lame.
2. I WISH that this app would add SMS and EMail to their "sharing". Currently, it is only the Windows Phone social sharing trio of Facebook, Twitter and LinkedIn.

What are the odds of two/more WP8 users at the same place, recording the same thing? Maybe if the event is sponsored by Microsoft. Edit: I see its not just for WP. Sorry.

okies why am i not able to download it...getting an error that its not available for my region...my store is set to US...

Is it just me or is the FB login not working?

I couldn't get Facebook login to work either, but it did something because it won't let me register and says my email was already used. I emailed support.

I have it but it won't go beyond the splash screen.

I never sign up using Facebook. By the time 2020 comes your information will be all over the planet and in every database with pictures and tags (facial recognition) I just create an account with my app email which becomes a spam email after my email address gets shared by the app or service provider. Fyi app is nice!

Is this just like vine? If it is then can you find users from vine?

Awesome! Made my first Vyclone today and it was for a small group singing Happy Birthday to a bunny! Two of us are shooting and we didn't TOUCH the mix, this is what the app/service came up with. It's pretty impressive stuff...https://vyclone.com/movie/519977ad589433b00400027a
Windows Central Newsletter
Get the best of Windows Central in in your inbox, every day!
Thank you for signing up to Windows Central. You will receive a verification email shortly.
There was a problem. Please refresh the page and try again.