Offline Map data updated for Windows Phone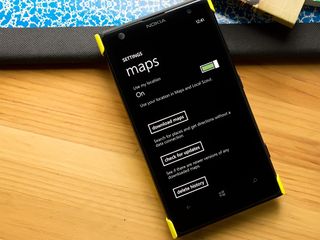 Along with all the excited in the air today about the release of the Windows Phone 8.1 Preview for Developers, many will also see an update to Nokia's Offline Maps.
Our tipster is seeing updates for the entire U.S. map collection and we've been able to confirm updates for New York. It does appear that the updates are for devices running Windows Phone 8.1. My Lumia 1020 is still running Windows Phone 8 and no updates are in sight.
Offline maps are used for the HERE services and helps reduce your dependency on a data connection while traveling. You can choose maps by State, Country or Region. The process is simple to check for offline map updates and is as follows.
Go to your Windows Phone Settings
Swipe over to the Applications Page
Scroll Down to Maps
Tap the "Check for Updates" button
Should updates be available, you will be given the option to install the updates now or wait until a better time to do so.
We are not exactly sure if updates are available for all the offline maps or just a select few. If you are seeing updates to your maps, let us know in the comments below.
Thanks, jobinthomas, for the tip!
Windows Central Newsletter
Get the best of Windows Central in your inbox, every day!
George is the Reviews Editor at Windows Central, concentrating on Windows 10 PC and Mobile apps. He's been a supporter of the platform since the days of Windows CE and uses his current Windows 10 Mobile phone daily to keep up with life and enjoy a game during down time.
Texas has an updated map.

Hey im facing an issue ..my store is not opening..im running a wp8 without update,,..any idea why?

Looks like you were half a second faster haha. Mine isn't working too. Running wp8.1

Same here on wp8.0; store is down for more than an hour now. Anyone from WPCentral staff have any news on this?

Its some backend problem probably, i am on wp8 in India and its happening with me too. Wait for a couple of hours maybe, it would get fine soon.

same here too..
nearly for 4 hours now

Check out your account settings. US here, but I had to reype in my MS and other account passwords before being able to do certain things.

My California, New Jersey and South Africa maps all had updates.

My store isn't working all day, since i've updated to wp 8.1 it only worked once. Does somebody else have this problem?

It's not working on my 8.0 also so it's not just 8.1 issue.

Its not working through the Browser either. stop whining and be a little patient. You darn preview loaders did melt down the entire microsoft server farms. Hehe

It's not even working on WP7.8.

Hey.... Its not coz of wp8.1 .... Check for the latest wpcentral post that specifies you about the store unavailability!!! Thnx ... - Lumiatic guy

Bog standard wp8 here in the UK, Lumia 920 with no network lock. My Colorado and UK maps updated

Server is down. Im Crying

Maryland, Minneapolis and Virginia all updated.

I see updates for Austria, Italy, Croatia and Slovenia, all that I have.

Finally some newer/high resolution satellite images

Same, finally my town actually has some proper imagery instead of just being a big green and brown blur.

Swedens maps are updated too. Just downloaded.

I can't see any road changes, but it looks like the satellite images is updated. Here Sweden said to me that the updated maps for Q2 would come late April early May. I think the number of changes will be quite big, I have seen many changes in Sweden as a tester of their service Map creator.

Also noticed, Windows Phone 8.1 brings back the regular Maps app on my 920.

I didn't get my update... Wat to do?

India has a new update too!... Amendments of mere 32 MB

Missouri and Kansas maps updated as well size was about 37 mb

Lumia 820 O2 UK. Maps updating!

Just wondering... I've noticed 'maps' show up in 8.1's Storage Sense on the SD Card... How the hell do I download maps TO the SD Card?!

Updated here in Saskatchewan so maybe it's more for features than cartography?

I know one can move the map app to the sd card but can you move the map data as well?

The only offline thing here is the store...

Got all the maps I downloaded updated. Store working fine for me...

UAE updated with nice full 3D. Hope the traffic is more realistic now

The Netherlands updated, coming in a 70+ MB update.

"We can't reach the maps library right now. Make sure airplane mode is turned off and check your celliular data or Wi-Fi connection, then try back later."

I know this isn't new, but, Why in the world can't I download maps in the background? I drive alot so I'm trying to update the entire US, which is a huge map. I don't feel like staring at my screen for an hour looking at the progress bar. That being said, WP8.1 is awesome!

Yea, that's what I'll do. Lol

Even little old New Zealand got map updates.

California isn't updated, but I just downloaded the maps a few days ago...

China, Taiwan and California updated. The colors are a bit different now too...and you can use two fingers to change angle. New?

update was available for Dominican Republic too!

Even online data is better. My wife's iPhone had photographic zoomed images of my region and this morning my phone map was just a blur. Now it is as crystal clear as the iPhone data. Nice.

Virginia, Maryland and Washington D.C all have updates. It appears to be the same for every state, because when I selected "update," all three maps updates at the exact same time and speed.

Sardegna (Italian region) updated

Bing maps using here maps database?

Apparently all phones running 8.1 got an update for maps

10mb in Chile =D wP 8.1<3

yeh its for offline maps, m in india n i got an upate for my offline maps

Updates are available for Belgium and France

When will maps of Japan and Korea be available in WP8.X platform? or they are simply abandoned? I don't think it is a good idea by using online maps while travelling there, as data could be expensive. Moreover, maps cannot be stored in MicroSD cards, which is painful for those who are using 4GB ROM devices.

USA and Ontario maps updating with 8.1. Several starts and stops.

Netherlands got the update too. However I'm not sure what's new. Probably because of Cortana thingies.

FYI I tipped you guys about this 2 weeks ago with no effect. Bigger news going on around that time to be sure but it is interesting that all 9 of my maps of Stares and Provinces were updated the, and now, only a couple of weeks later, again they are all being updated. I wonder if there is now a semi-official update frequency, a lot of changes being made for compatibility issues, or just coincidence?

All my maps are getting updated: Beijing, California, Hong Kong and Macau, Lombardy (Italy), New York, Shanghai. i guess is part of the new Maps for 8.1

Ontario, Quebec, New York & Hawaii maps all updated for me. Not sure if this was present pre Win 8.1 upgrade/Map update, but I did notice the following: 1) i can use 2 touch points to rotate the map 2) some malls in Ontario now have indoor maps displaying retail locations (IE. yorkdale shopping centre & sherway mall). Nice....

Mine says none available for the entire U.S.A. and I am in the U.S.A. Is there someway to check the version? Or someway to see if it is set to auto-update?

Turkey offline maps has an update. Though it stated a 44.7 mb update, after accepting the update a 367 mb update started. However it finished pretty fast.

Got the Bulgaria map updated - 138mb this is huge.

Bulgaria and Serbia updated.

Is anyone else having a problem about reaching the maps library?