Oggl and Oggl Pro for Windows Phone get another update, myriad of fixes in tow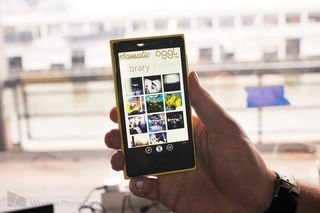 Hipstamatic Oggl and Oggle Pro both launched last Friday. The apps were teased to come to Windows Phone back in May at the Nokia event in London. Since then, many of you in the community anxiously waited for them. When they did come out on Friday they were met with mixed impressions. We love getting big apps in the Store, but they were very much first versions of the app. The latest update today addresses a variety of those issues. Let's check them out.
First off, in case you aren't familiar, there are two versions of the app - Oggl and Oggle Pro. Oggl is available for all Windows Phone devices, but Oggl Pro is an exclusive version for the Nokia Lumia 1020. Both have received nice updates today with fairly big change logs. Here they are:
Fixed bug that was causing downloaded gear to be removed once the app is restarted.
Improved filtering capabilities and performance for special filters.
Fixed so that the caption now is posted into social channels correctly
Added support for disconnecting from social channels under the settings page in the app.
Improved performance in general but more to come for preview and rendering.
Fixed issues for HTC 8X that has some funky camera settings that we did not support.
Added a sign out confirmation message box to the Settings page
The team notes that that their thanks to everyone providing feedback from the onset. They'll continue to improve the app, so be sure to send any issues or suggestions you have to the team.
In typical Windows Phone fashion, I'm getting some Store errors as I try to update the app. So I can't comment right now on the changes. Maybe you'll have better luck and get to update the app. If you do, be sure to let us all know how you're liking (or not liking) the update.
Nokia Lumia 1020 users, you'll want to get the Oggl Pro version. Go to the Store to get it. Everyone else on Windows Phone 8 will be looking at Oggl, which you can get here.
Hey Troy, thanks for the tip. You're the man!
Windows Central Newsletter
Get the best of Windows Central in in your inbox, every day!
Does it look at my albums if no then....NO!!

I don't think it does so on the iOS version either. The idea is you use the app to capture a moment, not retroactively edit a photo. Edit: I checked on iOS, you can't go look at your albums and add filters/effects to old photos. I think this is an interesting approach. Don't make me wax philosphical on the past, present, and future of photography.

Would be nice if it at least worked as a lens then.
Edit: moc426 informed me that it dies work with lenses. Nice.

It's a pain in the butt approach. I don't want to have to take 2 photos of everything (a good quality one and an Oggl one)

Yeah its a stupid approach.

Yea but sometimes i dont want a filter to upload it to instagram...they should have made that a wp exclusive since im sure they know we dont have instagram.. How much more downloads/ profit would they had made? Edit: even though instagram is not the main purpose of this app

I'd like an unfiltered lens.

I'm not happy with the current state of the app, but three updates in a week gives me hope. I'm still confused as to why this doesn't show up as a "lense" though.

I just thought the same thing about the lens adaptation.
Also, not a fan of the app... but impressed that they seem to actually care about making it work.

It is listed in the lenses. It is just a plain tile with the name on it.

App works great on my 920

They added 512 MB support?

No love yet for 512mb devices. It is a shame, because mobiles like Lumia 720 would be awesome to see using the sluggish Oggl.
I tried several times this app on Iphone 4s, unfortunately I gave up, because it is so heavy bugged, that I can't stand. Kitty Camera instead was nice, but since Yahoo buyout, no kitty camera anymore (at least not officially).
Instance or Instagraph are better than Oggl. I hope a day, Oggl make a nice app, around its social network. Until that time, I will stay in third apps to post on instagram. There is a rumor that Instagram blocked Windows Phone pictures these two days because the way the things were going, they would pick up in their official blog a photo with the hashtag #lumia #zeiss as a sample of nice picture provided by the best smart cameras on the market.

I'm thankful we have Oggl, but damn it is tedious. How about they fix that first.

Oggl is several months avaliable on iOS and still I found several bugs on it. Then, take it easy, the app has a lot of problems, specially because the way it was developed. It is supposed to increase the filters every month (since you subscribe), then it has slugg interface, that usually decrease so much the app performance. If you go to app store reviews and even in sites, they complain about it, but the company decided to choose that interface and developed in that way. We hope, that choosing Windows Phone over the saturated Android, they could regain their status among us, that hipstmatic got in 2010. But to do so, they have to be better than the work on iOS. From the applications that I tried on my Iphone 4s that time, the most bugged was Oggl. So many forced closes (and iOS is not android to have so much forced closes).

Hahaha funky camera settings

I try... I really do. But I just don't get this app

Same here Duduosf. I'm about 5 minutes from an uninstall. It has log ins for Instagram and Facebook but I can't see anything. I'm still plugging at it but losing interest rapidly.

And the worst thing is that the only app left is Instagraph, which kinda sucks in my opinion

Does anyone know why I get an icon for my pics taken on the live tile. I took 11 pics, and it tells me in my live tile notification, I can't get it to go away.

Not working on my Lumia 920. Maybe something related to multitasking has broken it, since problems started to happen when I locked the screen with the app open and/or used some other app at the same time, can't remember exactly. But it crashes EVERY TIME I try to open the album or feeds. I can take pictures but can't post them. Sad is I haven't seen anyone complaining about this, so it might be happening just with me. Today's update didn't fix it :(

No bro this app is f#cked!!!

I was really disappointed with some of the bugs I experienced. Nice to see the app updated so quickly... Filters are second to none.

Its getting better, slowly. Not quite as buggy

What's the benefit of Pro?

That you own a Lumia 1020.

No Lumia 521 support yet.

Alright, I was hating... but I'm starting to appreciate this app.
It's an artsy instagram, with it's own community.

Nice idea and all that , but really, it goes against the whole Windows Phone basics of do first then select later
It's pretty much useless because you can't use it after taking a photo, but have to use it for any photo that you MIGHT want to share (so you have to take a photo twice.. one to keep an original AND the Oggl one.. NOT GOOD Hipstamatic
Now add the ability to use a photo already in the camera roll and then you're onto a hit.
My 2 cents worth anyway

Right, but the app isn't meant to be a way for you to post to instagram, although that is what some Windows Phone users have been almost forced to do.
It's more about taking photos in an artistic manor, apply effects and sharing within it's own community. Sharing to instagram, twitter and Facebook are kinda just extras. This app is more about photography than sharing pics of your friends.
After I tooled around the app a good bit I began to understand the concept a little more.

Due to the sheer number of lenses and types of film I wish they could make some suggestions for good lens+film combinations. AFAIK the only way right now to do this is to cross-check all of the sample photos in their previews and then create custom lens+film combos.

I thought the gear was supposed to have live preview...not sure why its not working.

When you change lenses it gives you a "quick second" look at the filter. Personally you should see the filter on the screen when you're taking the picture...other than that I quite like the app. #jmerritt74 it's a good community and a lot of great photographs!

Tha most useless app!!! How are u supposed to find other peepz on other platforms etc :( this app is a f#ckin joke!

Biggest problem is that you can't modify existing camera roll pics...

Wonder if Hipstamatic makes Oggl (not Oggl Pro) available for 512MB devices... Hope for that update!

Hate to change subject but wow this has been kinda dull for wp8, week is almost finished nothing interesting has happened no special games, no special apps not even gdr2 for Lumia 920. I really hope today changes a bit.

How come it can only be downloaded on devices with 1gb ram?

Buggy, doesn't let you do from albums, shouldn't require so much ram and the developer's attitude stinks

Actually, their support has been very good. I've put in several bug reports, some emphasizing bugs others reported and in each case got a polite response within 24 hours. Two of the bugs I've reported have been fixed in the latest update. I do think that the product was buggier than it should be, but frankly I don't know the size of their development team or the time constraints placed upon it. It appears that It's different from their IOS team so there is probably no small amount of learning going on. I also think it would have been helpful to explain exactly what they were going for with Oggl. One of the first things I discovered was that I couldn't access my existing photos, and I was Initially annoyed. I thought perhaps they even slighted Windows Phone. It turns out however, that that's the point. The idea is to capture and be creative with the limitations imposed. I think if that was better explained initially, you wouldn't have so many people impolitely whining about things they can't do. As with most things communication is key. Since then, however, they've impressed me with their updates and the communication on Get Satisfaction. And the community and photos do look interesting. I'm not sure If I'll be subscribing to Gear, but given their response it's at least a possibility. And if some of the whiners here uninstall it in disgust, well, let's just say i don't think the community will suffer for it.

I concur. It's a great app! Great community! The Hipsta community is a pretty talented bunch of people. I'm on board completely with this app. Nice to have one of the big players on WP.

I definately am in the minority here. I like the app quite alot.

I like the idea, the community, and the overall app. Just a few issues related to bugs and performance that can be fixed to get me to love it.

To be honest I only want them to optimize it for 512Ram devices... But glad they are addressing bugs

Why when i go to my store appear that my phone haven't the minimum requirements to run the app.. plz someone downloaded it?????

I downloaded this app because of Hipstamatic being attached to it, and I'd heard the filters were great and it's an official way to upload to Instagram. However...
Strike 1: Can't edit previous pictures.
Strike 2: No auto-fill lists of people to follow. You have to search for exactly who you want to follow.
Strike 3: Slow.

I've tried this app on the 8XT and it doesn't actually let me take any pictures. The app will open and but after hitting the shutter button (either hardware or software), it still does not work. I want to like this app but with even the most core function of this app not working, I can't like it at all.

Considering they say they fixed some things on the HTC 8X, I'm surprised I can't run the app for more than two minutes without it resetting the whole phone. Uninstalled.
Windows Central Newsletter
Thank you for signing up to Windows Central. You will receive a verification email shortly.
There was a problem. Please refresh the page and try again.