Oggl and Oggl Pro for Windows Phone get another update, myriad of fixes in tow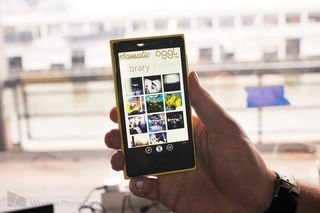 Hipstamatic Oggl and Oggle Pro both launched last Friday. The apps were teased to come to Windows Phone back in May at the Nokia event in London. Since then, many of you in the community anxiously waited for them. When they did come out on Friday they were met with mixed impressions. We love getting big apps in the Store, but they were very much first versions of the app. The latest update today addresses a variety of those issues. Let's check them out.
First off, in case you aren't familiar, there are two versions of the app - Oggl and Oggle Pro. Oggl is available for all Windows Phone devices, but Oggl Pro is an exclusive version for the Nokia Lumia 1020. Both have received nice updates today with fairly big change logs. Here they are:
Fixed bug that was causing downloaded gear to be removed once the app is restarted.
Improved filtering capabilities and performance for special filters.
Fixed so that the caption now is posted into social channels correctly
Added support for disconnecting from social channels under the settings page in the app.
Improved performance in general but more to come for preview and rendering.
Fixed issues for HTC 8X that has some funky camera settings that we did not support.
Added a sign out confirmation message box to the Settings page
The team notes that that their thanks to everyone providing feedback from the onset. They'll continue to improve the app, so be sure to send any issues or suggestions you have to the team.
In typical Windows Phone fashion, I'm getting some Store errors as I try to update the app. So I can't comment right now on the changes. Maybe you'll have better luck and get to update the app. If you do, be sure to let us all know how you're liking (or not liking) the update.
Nokia Lumia 1020 users, you'll want to get the Oggl Pro version. Go to the Store to get it. Everyone else on Windows Phone 8 will be looking at Oggl, which you can get here.
Hey Troy, thanks for the tip. You're the man!
Get the Windows Central Newsletter
All the latest news, reviews, and guides for Windows and Xbox diehards.