OneDrive and WhatsApp for Windows Phone both get minor updates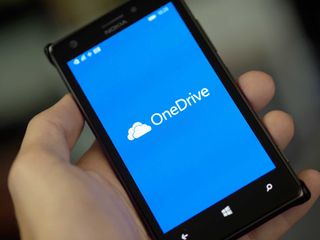 Microsoft has pushed out a small update for OneDrive on Windows Phone, with some bug fixes and improvements. Meanwhile, another minor update is available for the WhatsApp messaging app as well.
The OneDrive update brings the version number to 4.13, but as we indicated the change note only state that it has "bug fixes and performance improvements"
Download OneDrive from the Windows Phone Store (Free)
The WhatsApp messaging app was updated just a day ago with a minor bug fix version, and that appears to have happened yet again today. The new version number is 2.12.72.0.
Download WhatsApp from the Windows Phone Store
If you do notice anything major after updating the WhatsApp and OneDrive apps, let us know in the comments. Thanks to everyone for the tips!
Windows Central Newsletter
Get the best of Windows Central in your inbox, every day!
WhatsApp update fixes a problem which is call can not be placed from Windows phone to Windows phone.
But now it is fixed and working awesome :)

It was working before too. I made 5 calls, out of which 4 were to windows phone users. Worked out fine for me. I am sure that is not the change.

Yes, it also worked for me before this update.

You have to remember that not all bugs affect every user and could be caused by various problems. So if that was an issue he was having then this could very well have fixed it.

There was a problem in making call to some of the models. Now its fixed. Im using L 730..

I have a pin code for my ondrive app and I don't want my photos from OneDrive to be accessed from the photos app, what do I do?

It seems you can't do it.

Turn off 'Show my photos and videosfrom OneDrive', in Settings (from the hamburger menu) of Photos app.

Second to comment......not

To bad it did not fix the music album covers showing up in my photos

No addition of Skin Tone Emojis or Spock Gesture Emoji & neither return of Multiple selection of messages yet...

Still no multiple message selection & message searching :(

Yesterday the update broke whatsapp calling anybody with that problem see a fix in this update?

Yes, calls used to work better before yesterdays update

I agree, only change was that tapping on the calls made showed details rather than calling back

Yes buddy there should be a multiple msg selection option...WhatsApp needs dis option...

Before they start whine :)

Yeah they should update multiple messages choose option.

Yes! It will be very helpful :)

Still waiting for a app called window central to get an update

You can expect an universal app. in late August instead.. IA

I had a problem when i called someone and it reconnects in between.. Tried ending the call but still works in the background.. Had to restart everytime. Does anyone had this problem ?

Faced this problem in 4 out of my 5 calls.

Hope this update fixes it because we cant even force close an app.

What's new i think is a little "message" icon at top of list of contacts

They really need to improve the speed and performance of the OneDrive app. And enable some kind of background agent or caching or something so when I open it it's up to date.

That would be nice, indeed. Maybe just how it worked in WP 7.5/8, everytime I opened that app, it was snappy with almost no waiting for the app to load or update each time it was opened. But those days are no more, its "time to move on" as many say today.

In Dubai the call feature is blocked.. So use another country number to register for WhatsApp.. Incoming works fine But still outgoing is not possible...

Khi nào thì có bản tối ưu OneDrive cho Lumia 640 vậy ? @@

Its always minor big fixes

The whatsapp application does not have a ringtone option for incoming calls. This needs to be dices urgently

it does have ringtone it uses your phone ringtone which u have kept

Off topic :Viber has been updated
Version:4.5.2.0

WhatsApp call history section has been removed.

We can attach audio files now..!

WhatsApp - can't edit videos before sending aa limit to share only 16 MB size. Please do imrove.

Download WhatsApp video optimizer

I couldnt install on my Lumia 1520 with Windows 10 Latest build. In both the store i tried to install and it throwed different error codes. Do anyone else face such problems?

Yes, update failed now my whatsapp is unusable. I also cannot uninstall it so I'm stuck!

Same here! But not solution despite you do a hard reset, which I'm not willing to do! So probably will sideload from the pc

... but how will you uninstall it?

The app still does not work on my 920. Never has worked.

Previous Whatsapp And updated whatsapp Working fine in my L920

For clarity, OneDrive never has worked on my 920.

Anyone getting echo issues when calling another WP

Everything is moving more fluid and less push exit from app... i am please with all the update so far, just waiting for the day windows phone uses glide and snapchat apps... :(

SnapChat? I wouldn't hold my breath if I were you.

I was hoping the update would bring the new emojis.

I wish WhatsApp had OneDrive backup :)

When are they going to fix OneDrive on Windows? The Metro app has been broken for several months now, if not forever. You can't move anything, you can't delete anything, you can only navitgate to stuff and tap on it. Especially true if you're trying to do it on the native file system. Have to do all file management on an 8" tablet in file explorer. They need to fix their software. No wonder they're failing in the tablet and smartphone market.

WhatsApp is still delaying notification. I have open the app it's then i see the messages rushing in

Yea.. And also there are still no conversation tones just like in android, iOS, Symbian or whatever. (If we open some chat and not look at the screen, we actually can't find out whether the other person sent any reply or not. And also adding to that, there is no tick sound if our message got sent!)

cant install whatsapp after the update