WhatsApp Windows Phone beta adds OneDrive message backups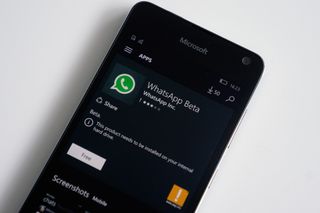 WhatsApp has updated its Windows Phone beta app, adding the ability for users to back up their text messages and media on Microsoft's OneDrive storage service.
The new OneDrive feature (via MSPU) is enabled by going to Settings > Chat and Security > Backup. Users can set up their backups to launch on a daily, weekly or monthly basis, or simply manually. There's also a setting to only allow backups when connected to Wi-Fi. This feature will likely be added to all WhatsApp Windows Phone users in the future.
Download WhatsApp Beta from the Windows Store (opens in new tab)
Windows Central Newsletter
Get the best of Windows Central in your inbox, every day!
But still no UWP version ? :(

Alot of phones are still on wp8.1 that's why. Posted via the Windows Central App for Android

U mean 86% right? The last time I checked 14%was on Windows 10 mobile. Lol Posted via the Windows Central App for Android

The difference between 90% and 86% is like, 10 phones lol. Plus the ~ symbol is supposed to stand for "approximately".

Lol oh sorry. Thanks though Posted via the Windows Central App for Android

Many apps got upgrade to uwp but still they are only available for mobile

I think UWP gives apps some native features that silverlight didn't have. I'm not sure what exactly, but there was a list. Posted via the Windows Central App for Android

Like actionable notifications.
You can reply as soon as a toast pops up or reply from action centre.

Uhm. No because they can have both.

Not likely they will make one anytime soon. It's a mobile only application after all, so they don't stand to gain anything from it.

Ppl embrace the Web WhatsApp already. UWP should be a good thing for developers and ppl alike. Windows mobile should get a considerable market share plus Windows 10's UWP acknowledgement.

I don't understand why they wouldn't want a UWP for quick messages on the Xbox One, and an easy updatable app on Windows.

Because if they do then they have to ditch 8.1 app where most of the users are

There's a better alternative. WhatsApp for desktop.

Ha! What are the advantages of a desktop application over UWA?

It really depends on the application. There are no 'clear' advantages. Also, it depends on the user.
VLC is an example. I haven't used it much (Win32, UWA) but there are certain advantages that the desktop version has according to the developer.

I couldn't agree more with VLC. UWA is good, the interface and controls are all great but still I feel like it has a long way to go to fully satisfy the experience with the VLC desktop program. UWP have a great potential than a desktop application could ever have, there's no denying that. And when it comes to social messaging platform, you know you want to have a UWA. If WhatsApp wanted to do a desktop version, it would have done it already. This is anyone's time to hit the UWP road. I mean you don't know anything for sure unless you try, right!

I agree. They need to give it a try (WhatsApp). It'll definitely be liked by people. I'm sure.

Windows Phone + MacBook Pro Posted via the Windows Central App for Android

Whatsapp web is great but was just wondering if anyone has tried it on edge on continuum. Does it work there? ?? I don't have a 950 so i can't say. Has anyone with a 950 tried it yet? ? Posted via the Windows Central App for Android

Yaa it work as good as WhatsApp desktop

Far from true. With a UWP, we get actionable notifications in the action centre, proper integration with the people hub etc. Check out Viber, is a UWP app done well

UWP app can be released to phones only thought.

@neglkted. There is a desktop installer for the web app... soo yes a UWP app would be pretty interesting to see. I say interesting as the .exe is essentially a web wrapper reliant on your phone as a relay. So the how they approach the whole UWP app prospect will be interesting, if anything they can single handly destroy the Microsofts's messaging any where prospects by having a UWP as it would mean potentially with one number, you could communicate from hololens, xbox 1, any pc running Windows 10 that has the UWP installed. Once you have that would you bother using standard sms anymore? hmm...

Apps like WhatsApp will be likeable with UWP support, however it seems to be a far fetched task for the developers...

I truly don't think WhatsApp wants to bother with 2 Silverlight apps (8.0 and 8.1) and with a W10 UWP app.

If Mark wants ppl from all the corners of the world, he'd do it. It's just a matter of time, and this is a social network after all.

I can't find this app in the store, only the original app

It'll take some time my friend. Posted via the Windows Central App for Android

Beta was available for everyone a few weeks ago.

Ehm... You can use the link of the article :/

Finally! They actually had this feature (unannounced) back in 2014, before Android or iOS had it, but it wasn't configurable and people were having issues with it and it was eventually removed. Really glad they're bringing it back.

Yep and now multiple pictures / video forwarding as it is in android

I've been asking about this for ages.
But well done moving forwards

But still it also beckup photos and documents which I dont want to uploaded

The normal back up save picture as well I find that on a restore they are always blurred.do you have this issue?" sanjay

Yes, a normal SD backup will cause the photos to be blurred on restore since that media might not be present.

Super job... All.set up for daily backup

This is a very important feature for phones without a SD card like 930. Until now, the only way to restore WA messages was via a SD card ☺

Will we be able to use this to take our WhatsApp messages to other platforms? Or are the backup files specific to Windows Mobile?

I think since it's one drive, all you have to do is make sure your one drive account is added to your phone before you try to backup or restore Posted via the Windows Central App for Android

Good question i don't think Android or iOS WhatsApp apps would recognize a backup done in the windows 10 mobile counterpart but that's definitely up to devs, Facebook messenger is a good exemple

I would prefer it if Whatsapp just did the Messenger thing and store messages etc in the cloud. Only having access to Whatsapp on one device is really hobbling.

What about multiple selection while forwarding message in windows phone? It is already there on android maybe ios also..anyone know?

you're a bit late to that party as we already had multiple msg selection to delete/forward or starred a while now. Tap on the far left of each msg.

Excellent feature. Thanks WhatsApp developers

Took them a while for such a basic feature... got tired to have all my chats erased each time i needed to do a reset.

Would love to see Cortana integration so that I can get my messages reply to them when driving.

I go to work (volunteering) walking 80% of the time :'(

I've waited for this since 2013, and they bring this now when I lost all my chats (March 2014 - August 2016)

If it's your chat with your ex just let it go!

You're lucky! Making me jealous! I'm a d**b a** single dude

Can anyone tell me if I'll be able to open my current chats from the alpha version if I install this one to test the new feature? It'd be incredibly helpful since I'm about to change my phone in the next couple weeks. Thx!

Wait a couple of weeks. Let them iron out any bugs...then go for it (not like you'll have an option anyway at that point if you are changing phones)

There is an alpha version of WhatsApp?!! I thought there is only a beta beside the mainstream app

not alpha. this is in beta. you can download it.

By alpha I meant the one publically available

Alpha -> Beta -> Public release is the general flow lol.

Wrong, Alpha is early development, before beta

Finally *.* Luckily it can be done daily U.U

U.U is in English! I have to start taking English curses!

Will there be sending / forwarding messages and media to multiple recipients any time soon?

Good! Been waiting for this.
Next should be changeable font in chat

would really love that, especially knowing we have ms word built in to our w10m devices with all those sweet fonts.

Expecting soon for public release. Windows 10 new emoji's must be added.

Great news! Posted via the Windows Central App for Android

That's biiiiiiiig news :D

Make a true UWP app for Windows 10 mobile

How to download WhatsApp beta? Where is the link

There's a link in the article.

They destroyed the emojis...

WhatsApp Beta???!! I searched it on my Windows store, and I can't find it..

Why not just use the link provided in the article?

Thanks.. I got WhatsApp Beta..!! But I can't find any difference WhatsApp and Beta version.. Or am I missed anything unnoticed ???

It's private. It was released a long, long time ago and those who registered at that time are the only ones who can download the app and get updates for it.

This is a good step in the right direction Posted via the Windows Central App for Android

Polished emojis and OneDrive backup just need uwp app to make it complete

Not able to see any differences...

And one of my friend is also able to quote msgs...i am not able to do ...i am using l650....

To quote it's simple as tap, hold the message and press reply. If the chat is bugged and you have no such option to reply (has happened to me in group chats - had to leave and be re-added only then it started working again) You may need to either wait abit, delete the DM chat and recreate.

Awesome, I hope they bring backing upto a msd card next. Sure I am aware of the ramifications but if someone already has your phone they can easily email themselves a plain text file of all your chats already and delete that sent email. Soo yeah, we need feature parity with Android especially since the backup system on WM10 leaves much to be desired when compared to WM6.x.

Where are they storing the keys needed to decrypt the backed up messages? or are messages only encrypted during transit and then stored unencrypted on the device?