OneDrive now available on Windows Phone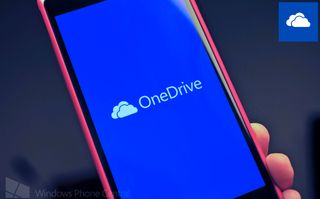 We're expecting the official OneDrive rebranding of SkyDrive to take place any moment now. In fact it might take place sooner than a lot of us expect. Why? SkyDrive for Windows Phone has just been updated to reflect the branding changes to OneDrive.
New OneDrive features for Windows Phone
Head to the Windows Phone Store and you'll see an update for SkyDrive. Update the app and you'll no longer have SkyDrive, instead you'll have OneDrive. Not only is there a rebranding, but there's new features in this updated app now at version 3.5. Here's what's new:
New thumbnail view
Improved view of shared files
Share multiple items at once
Pin folders to your Start screen
Open your OneDrive files in other apps
Bug fixes and performance improvements
The new thumbnail view is really nice. It's perfect for folders with a lot of photos inside. The ability to pin specific folders to the Start screen is also a welcomed addition. You can also open OneDrive files in other apps, which a lot of you will probably put to good use.
You can grab the newly updated OneDrive app in the Windows Phone Store.
Thanks for the tip Mark T!
Windows Central Newsletter
Get the best of Windows Central in your inbox, every day!
The changes are beginning to emerge! :D

3gigs more of space, thanks Uncle Gates!!!

Because i signed up to receive an early alert about this he gave me 20GB + 3GB!

Me too... I´m now @ 7GB + 3GB (present today) + 20GB (present December, 1 Year) + 20GB (present today, one Year) = 50GB

same as what I have now, dude! ;)

Our wps upcoming file manager should have the same UI as onedrive

Well, it should be the same as in W8, where the OneDrive app is the metro version of file explorer.

Not according to the current SDK emulator, though that could change by release.

Lol :) Posted via the WPC App for Android!

Every cloud has a OneDrive lining lol

the update # OneDrive I received additional 3Gb storage for free #Microsoft

I'd thought I was going crazy then because I had 45gb and I was seeing 48gb. But is it one of those 1yr offers?

When will it be available for windows 8.1?

I think it will be available for 8.1

Do we get extra space for signing up on a Windows machine?

it is written those features are for version 3.5 , but the latest version is 4.0.0.5

Wow 10GB space (+3GB). I have not enabled auto upload photos...

Excellent!!!
I like new name "OneDrive"

Now MS, how do plan to change SkyDrive in the Office app on WP? :P

8.1 update. It's not too far off.

It changes instantly. Just go into WP Office and then click the SkyDrive location, and it will change.

Excellent. The new OneDrive seems cool. Yay !!

25gb free + 200gb (sp2) and now...+20gb for onedrive...:D

Surface Pro 2. The 200GB that comes with it is for 2 years though.

How'd you get +20GB for OneDrive?

Yay for update.. Too bad they forgot to change the name on the tile. It still says SkyDrive. And yay for 20gb extra storage :D

Re pin the tile. You will see the changed name in your app list too.

I'm keeping the old one around for nostalgia.

Just like to add that if you got any music files on there, you can play the whole track under lock screen where's before it used to stop playing when the screen goes off.

Is it available for wp7.8 too?

Yea it is...but we only get the new name..no new features

Pinning folder to the start screen is what I was waiting for!

I still don't like the rebranding but hey, at least I got the +3GB storage without ever had any auto-upload enabled, which is a first since none of the other promo emails ever arrived. This should be good to backup things when 8.1 arrives.

Rebranding was forced on them due to the television group named Sky and its copyright on it.

I know that. And, as a lawyer, I also think Microsofts legal team must suck if they lost. Because you can't copyright words of any language.
In any case, even if this wasn't forced by some illegal court decision, the rebranding would still be horrible. "OneDrive" is just appalling. And curiously it's already used by another company. And this time it's the entire composition and not just "One" :P

about time too !!! im verry happy that microsoft is now putting effort in the the WP ecosystem! Im very glad i made that switch over from android to WP. This app is great especially that i got 3GB free not to mention the free 20GB i got when subscribing to the newsletter earlier this month.

Yeah...now I have 30GB of storage space + 32GB in my Lumia 920, so that means that I have 60GB.

I have 30GB of storage...I'm sure when I last checked it was only 7. Strange...but I'm not complaining :)

Like the rebranding but still can't select and share multiple files via email, and no dark theme option.

An extra 3gb camera roll bonus, plus 20gb enthusiast bonus for a year -- get in!!

My live tile still says SkyDrive though. Splash screen says one drive and all the other changes present though

Anyone else find it really slow to load pics?

Checked and I received my additional 3 GB of space for having auto upload enabled on my Nokia Lumia 920. Thanks Microsoft.

Multiple sharing is a worth addition :)

Interesting...i didn't get a notice from the app store to update SkyDrive to OneDrive. I had to search the store for OneDrive and select to install it. SkyDrive was removed from app list after that. Considering the type of change this is, you'd think MS would put it on the front page of the store or advertise it as an app update.

Still no sorting on the WP app :(

Why is MSFT changing names all the time..whats next for SKYPE?? any guess??

Do you understand the puzzle...? https://twitter.com/OneDrive

Silly name. People who don't know will think its probably some type of satnav.

I wish they put option to view files between offline or online like they did on SkyDrive for Windows 8.

Not sure why they're keeping the cloud logo... not fitting to the name anymore. I kinda wish they'd fought for the name a bit more.

It appears its just a name change for WP7.5

Guys It's kinda broken. It doesn't update/refresh if you have synced a bit volume of files on your pc. It requires an app reeinstallation for it to work