OneDrive for Windows Phone update with Cortana search now available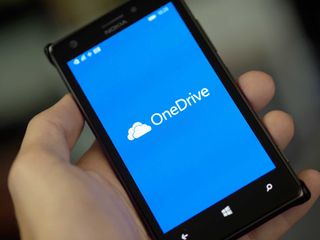 It looks like the update to OneDrive for Windows Phone that brings along some new search integration with Cortana is rolling out to devices. The update was announced last night, but has been slow out the gate.
So what will Cortana's assistance be bringing you? Simply put, you can now have everyone's favorite digital assistant search through your OneDrive files for specific images of words and phrases. For instance, if you're trying to track down a photo of a sunset from your last vacation to Hawaii, Microsoft says that you can simply say "OneDrive search for Hawaii sunset photos," and Cortana will do the hard work of tracking the picture down. This search magic applies to words and phrases as well, so you can quickly find a specific reference from a Word or PDF document stored in your account.
In any event, if you're interested in checking the feature out for yourself, the update should be available to snag now. Simply hit up the store link below to get started.
Thanks for the tips!
Download OneDrive for Windows Phone
Windows Central Newsletter
Get the best of Windows Central in your inbox, every day!
Dan Thorp-Lancaster is the former Editor-in-Chief of Windows Central. He began working with Windows Central, Android Central, and iMore as a news writer in 2014 and is obsessed with tech of all sorts. You can follow Dan on Twitter @DthorpL and Instagram @heyitsdtl.
- if it brings up Bing try opening the updated app before you use your voice. -

Same for me. I can't update it in the Windows Phone Store as the option to update, view or share is not available and the app is not present in the Store Beta

''Hey Cortana, Onedrive search for Dick's pics''

*cortana voice* "searching onedrive for pictures of Richard"

Cortana: "Luke, sorry... I didn't get that. Or perhaps it's just too small to see. Let me give you results for male enhancement medications instead..."

Lol I searched OneDrive for fish and after Cortana, it crashed

That's the question I have, too.

I don't see a question here...

There was a question originally.

I really wish someone would tell me if Cortana is working on Windows 10 for phone like giving directions and reading text messages

Last time I was on it it wasn't.

It was at first on mine, now it only does written commands :(

it isn't. search is basically less functioning than on wp7 currently

Whenever I try to search just pulls up Bing.

try opening the app once before trying voice commands with Cortana

Nice one - that fixes it!

Didn't fix it for me tried several times and all I get is bing results

What is your phone language, region and speech setting? It works where Cortana speech to text works. To look at what Cortana supports, search for "cortana alpha for windows phone 8.1" and you would find the windows phone article with details. (This forum does not allow me to add links).

I'm in UK and location and language set to UK OneDrive even prompted me with cortana search but still get bing results.

Worked for me too! Cortana found my friend's resume that I couldn't find for the past 3 weeks! This is AWESOME!

Finally figured it out . Had to say "OneDrive search for" not "search OneDrive for" easy when you know how.

yeah it's working!
fast and cool, it searches the exact file name:)

OneDrive will not update on latest Windows 10 build. It downloads but will not install. Attention Required! At least on my 635 that's the case.

How about the photos automatically uploaded to OneDrive by the phone? How can she search that?

It depende if you hace location enabled when you take the photo, if its on the location is saved in the photo exif info.

If you have it enabled, it auto tags your photos (family, sunset, drink, sky, etc) :)

It gives me and error when I try uploading a photo to OneDrive from my Lumia 920

it happens to me as well (always)
you can use auto upload/auto sync setting, that's even better, i always retry all my upload in OneDrive and it sucks!

Update's a dud wont install

If only I could use Cortana in Latin American Spanish...

Just keeps bringing up Bing.

try opening the app once before trying voice commands with Cortana

Mine also keeps bringing up Bing. It shows as an available command and suggests I say "OneDrive search for cats", but even when I say exactly that, it searches bing with "one drive search for cats" (and does the same for all other searches). I tried a phone reboot. Going to try and uninstall/reinstall now (oh yeah, it's a system app now). Lumia 1520 w/ 8.1 PFD

try opening the OneDrive app once before trying voice commands with Cortana

T​ried that already, too. No luck. -_-

Exactly same problem here. English UK. Not sure if that's relevant

I said "OneDrive search for my wife's name" and Cortana came up with files and pics that had her name in the title and/or in the document. Nice..

Cortana is currently nothing less than cow dung in my region. Can't even recognize my contacts names.

Yup just Bing search for me too

Does it work outside of the US and in languages other than English?

Yes, it works where Cortana speech to text works. To look at what Cortana supports, search for "cortana alpha for windows phone 8.1" and you would find the windows phone article with details. (This forum does not allow me to add links)

My mind was just blown :O

I don't expect this to be available for Spanish Cortana. I wish there were more regions available, I hope this comes with Windows 10

It should work with Spain settings for language, region and speech if you have the right OS version.

I did get a notification of the feature when opening OneDrive. By version you mean Denim? I didn't get to that for being in Preview for Developers (boy does that sound old now).
I tried it but it didn't work.

it works where Cortana speech to text works. To look at what Cortana supports, search for "cortana alpha for windows phone 8.1" and you would find the windows phone article with details. (This forum does not allow me to add links)

Kinda off topic but I also hope we get unlimited storage for photos and videos like the new Google photos

Don't be cheap. Get office 365

What if a person has absolutely no need for any of the office programs? I'm not going to but a cow if I want a glass of milk.

If they don't need Office then they can just buy OneDrive storage. It's cheaper than any other decent cloud storage system.

Sir Sin. Office 365 is no more then $100 a month. It comes with benefits like added Skype min. 60 or so. Also "UNLIMITED" for me 10tb. Of OneDrive Storage. Why buy a glass of milk when office 365 Gives you all the milk you may ever possibly dream of.

Smh. Still have my office 2010. So yeah.

Ill sit here with my 10 tb of space or more with office 365 that comes with alot more extras. :D I bearly even use my availible onedrive storage.

Uhhh good for you then? Posted via the Windows Central App for Android

Under 100 a year... Is not a huge commitment for unlimited storage

Geez I know there are options. I'm just saying I hope Microsoft does the same.

This is incredible. So far, it found mountains, trees, people,buildings, and words that are in documents/photographs/pictures. This is seriously pretty amazing.

Bring me in Bing search too even after a reboot, someone know if its because i have set a password in OneDrive !??

Nope. It's not due to password. I have it. It still works.

Humm i wonder why its not working for everyone set for US !!

Every search I do Cortana says looking and starts uber.......

The only thing that needs to happen, is it needs to find where in the OneNote the words are, instead of just showing me 'yeah, somewhere in this folder there is a word you were looking for.'

Works for me. It's actually OneDrive doing the searching. All it does is parse your phrase into OneDrive search.

It's working nice. OneDrive and Cortana to the world!!!

i don't have cortana yet. (phl)

Just long press the search button and say "OneDrive find Nathan". No need to even have OneDrive open. Of course not everyone has a Nathan in their lives, but you get the Idea... Works like a charm after the update.

It was also only doing a Bing search for me. Solution: After updating the app you need to open it manually at least once. Et voilà, it works now.

Ohh yeah it work, i open onedrive and then the Cortana icon appear in OneDrive with tips, then i close one drive and it work !! Thanks for the tip Didier3001

Dunno when i'd ask Cortana to do that..but I know that Cortana still don't know how to read my emails and my previous messages. "Cortana read last messages of my wife" or "Cortana read emails of today" still Is impossible. Maybe we should hope that Siri comes to WP as "it" (being Siri a computer algorithm not a lady like Cortana) as a polite thank to satya strategy, seen that Siri is able to do it since the beginning (I have been told and shown)

Rome wasn't built in a day. A year ago Cortana was being born into wp8.1. Now you expect a 1 year-old to do that of a 25 year-old secretary?

Got an idea? http://cortana.uservoice.com/

I still find alpha to be worthless. First thing comes to mind when I seen alpha was thought of that ai from rvb

Yeah the Canadian Alpha version is useless that why i came back to the US beta, on alpha Cortana cannot even find the nearest McDonald's near me on beta she give me all the best rating restaurants around me the address, phone number and the map...

Is Siri a 25 year old secretary? Do I need to tell MSFT something the most important competitor does? Shouldn't Cortana be same of the competitors and only then, be better? I have been suggesting that Cortana must tell the time.and after one year, finally, after the right questions,,she does. Just ask "what's the time in Rome?". If you say "what's the time" Bing comes up. Mind that I am a nn avid Cortana user. I use it every day, but sometimes I wonder why waste dev tine on almost useless features...like "coupon around me". How many people would ask that? Maybe I am wrong but MSFT has a long story on voice recognition and I believe it is not fully developing Cortana potential

No Siri isn't. I was comparing how you could pay a real live secretary to read emails to you. How many years has siri been around? Maybe take that into concideration. If you like it so much buy an iphone :D

swizzlerz is right Cortana is still in beta and she do already a lot more than Siri or Google now, only after one year... when Siri is actually very old and btw a lot of my friend got an iPhone and Android but neither of them use Siri or Google now, when i see all my friend who own a window phone they all use Cortana every day !!

This works great. This is going to be useful. Looking forward to OneNote integration

does it still perform better and have more features on android than on microsofts own platform which is supposed to be the premium MS experience?? why yes it does.

I'd like to know what phone you have that you get a better experience on Android, because on my M8, it's not a better experience than my 830, or is that just the thing to say in these forums?

it has numerous additional features vs the wp version, and generally starts faster than the wp version too on similar hardware. I can't speak to your m8, i don't have one, but you can look up the differences, such as the ability to upload full resolution when not on wifi on android, but not possible on WP

Off topic..
Fantasia painter updated again

The point of auto update was so I don't have to know every time something updates. Try tip us its somewhere on the website and in the WP app

Weather to go( best weather app in store) updated ! With metro theme( i guess), total themes to choose frm are now 6!!

Updated to v 4.12.0.0 Does not search OneDrive, just does a Bing Search. Right version?

See didiler3001 above, or comments below.

Launch the app once and then try.

open OneDrive then closed it - it said it now supports Cortana. Tried doing a seach 'Hey Cortana, onedrive pictures of Hawaii' - Bing results. If I open OneDrive and do a manual search on Hawaii - it brings up photos. Am I still doing something wrong?

It's failing on every search I conduct. Can some one share with me their sunset pictures from Hawaii? That search apparently works well. :-\

Open OneDrive and accept.

My OneDrive app just got updated a few minutes ago and I can assure you this doesn't work on my Lumia 830 ATT US. NVM, see below, mods can delete this.

Oh, hot dang, you have to open up the updated version of OneDrive, and then click the check mark to accept Cortana searches, it's not automatic. And now it works great. Should be in the article above. Didier3001 mentioned it above, but I didn't see that, so maybe someone else will see this.

Accepted in OneDrive, still get Bing results.

Where is this checkmark? I went into Settings in the OneDrive app, and I can't find it anywhere. It doesn't prompt me when I run the app either.

It should be there as soon as you open OneDrive, make sure that it's been updated.

It'ld be great if cortana could open the requested file too.

I asked to shows me pictures of houses and it shows me pdf documents which have nothing to do with houses - fail

No use Cortana not working at all in windows 10

I get PDF files too even though I ask for photos, kinda like searching windows :/

All this stuff that MS is doing in the past few years is great. A real turnaround, and seriously focusing on one specific goal, uniting all the divisions, and utilizing resources very well....
........
With that said, I have to say that I'm worried about one specific area in technology that MS for the most part seems to be taking for granted.... The Automobile industry...
........
In recent years autos have become more about the technology in the interior, and less about what's under the hood.... Both Apple, And Google, are aware of what's to come next decade, and it's big... Whether you like it, or not, cars will soon be able to drive themselves... The world is changing and I seriously believe that in 2020 companies like Apple, and Google, possibly MS, will be merging with auto makers, as software will become the main driving force.. All of these companies are going to evolve into artificial intelligence focused companies, and automation will take precedence... As it looks, to me, MS is going to be behind once again... Any of you who are automotive enthusiasts should understand my concern here... I understand how crazy what I just posted sounds, but you better do some research on self driving cars.... As it stands it's pretty much imminent, and if you don't think this has anything to do with Apple, Google, Samsung, LG, GE, MS, Sony, and the like,,,,, you'd better think again...
.........
So, where does MS stand now with a self driving car❓ Trust me, this is not a fad. It's serious business... So, serious that MS could end up irrelevant in the future if they don't act now.... What are your thoughts❓
..
File this under distantly relevant editorials by Rodney J.

Hopefully there's a car in the Microsoft Garage. ;-)

It's possible MS is working on something... Kinda hard to hide a test car... Hololens was a complete surprise to many.

Sad I missed this comment before

Cars sensors will be covers in snow how then will they drive? Same goes for mud on a muddy road. People will always drive cars and be fully attentive about the operation of the vehicle. If you are distracted it is still distracted driving here in Canada. I dont think automation of cars will be as big as some think. Look at hybreads.... How many purchased one. Invest in what makes money. Not helping someone else make money.

To explain my last point. The automotive companies have been bailed out with tax dollars.... Microsoft turns a profit. Microsoft doesn't need to bail them out too. Let Ford make its automation. Let google search its users. I will never buy a google driven car.

What❓❓❓❓❓
1. Umm ok. That has nothing to do with anything.
2. Im being serious here, and GM, and Chrysler, aren't the only two auto companies in the world.. What❓❓❓
3. No, MS shouldn't want to let Ford make it's automation. Google/Apple won't ignore this.. Bad business to ignore a huge new market.
4. Buy a Google car❓ Why would you have to do that❓ There will be many to choose from around the world... So many new companies are going pop up, eventually making some current automakers irrelevant...
.........
Like I said... Go do some research... Get a understanding of what's going on... And, dispel any current BS.... You don't want a Google driven car... Lol... Sounds like some old school dude back in the 60's saying he'll never drive a Japanese car... Lol. I'm talking about the future, man... Be open minded.

Lol... No, dude... You're questioning if technology will work.. Anyways, it's inevitable, and if MS doesn't act fast the will be seriously left behind.. Mark my word. Do some research...
......
And, yes people buy "Hybrids"... The Toyota Prius is one of the most popular cars on the road...
......
"People will always drive cars and be fully attentive about the operation of the vehicle"
Once again... That's about as insightfully as saying "people will always ride horses, and cherish the relationship with them"......

Left behind how? In the dust. Let Microsoft chose how to make or not make cars. Leave OneDrive posts to OneDrive. You are so off topic today. I think that car automation I a waste of Microsoft's time.

I respect your opinion... Nevertheless, I still think that with all MS is doing good right now they might end up in the same situation in the future as they are with mobile right now... Behind the competition, and playing catch up. That's how it's relevant.. They need to be first in new areas of technology....

It always makes one drive instead of OneDrive when I try...

Open the OneDrive app once after the update. After that it will work.

And as usual it's not working in my region (Australia). As a long time Microsoftie I'm really starting to get fed up with the inequality!

If you have OS version 8.10.14141.167 or later, it should work with language (English(Australia)), Region (Australia) and Speech (English (UK)).

Got the update, it doesn't work.

Just updated. Works like a charm every single time no matter what I search for.

Doesn't work for photos I tried it one too many time can't locate any of my photos.

Works great for finding web photos but not my OneDrive photos.

She tries, but usually fails to find the specific files I tell her to search for.

I just want all this invasive integration turned off

I updated today. And I noticed the hamburger button is missing. Can't access any menu. Anybody expericing the same issue?

Opening OneDrive for the first time after the update brings an announcement about the new feature. After that the search works great.

Sounds great, but they have bigger things to fix. Last night I was just trying to browse through my photos in OneDrive on my Lumia 925 over a good WiFi connection and it was so painful that I gave up. I scrolled down quickly through a few months, and at first I was scrolling past grey square picture placeholders, but eventually I didn't even see those, and pictures started loading in all sorts of weird places, with text overlapping them. Just a terrible experience for simply browsing photos.

Not every countries have cortana.