OneNote gets dark mode and improved navigation soon
Our retinas are finally safe.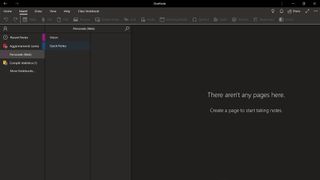 OneNote is an incredibly popular notetaking program from Microsoft which is used by millions of customers around the world. While OneNote features a variety of tools like the ability to draw, it doesn't feel as unified with the operating system as a whole. For example, in its current state, it lacks a dark mode. This means that the application is always incredibly bright, no matter if your operating system is customized to go easy on the eyes.
Luckily, that's about to change very soon. According to a report by Aggiornamenti Lumia, Microsoft is adding a dark theme to OneNote very soon. It's unclear when this feature will launch, but it looks like it's already rolling out to a select group of Windows Insiders.
Aside from dark mode, OneNote appears to be getting improved nativation. Microsoft's Vice President of Notes and Tasks Laura Buttler said a "new majorly improved navigation" system is coming as well, and that the screenshot was from an older build on Twitter. Hopefully the changes will make OneNote even easier to use.
OneNote is available on a variety of platforms from Windows to Mac, so it's quite a versatile tool. You can easily carry over your progress from one device to another. Be sure to give it a go if you haven't already.
See at Microsoft (opens in new tab)
Asher Madan handles gaming news for Windows Central. Before joining Windows Central in 2017, Asher worked for a number of different gaming outlets. He has a background in medical science and is passionate about all forms of entertainment, cooking, and antiquing.
Nice! The only left for me is dark Office Mobile for Windows and my dark collection would be completed.

I'm gonna be the one to ask if this will come to W10M, sorry.

Will it come on Blackberry OS?

I mean, it might do! If they're still rolling out updates to the Redstone branch that W10M is stuck in.

I love OneNote.. MS needs to make an ultamoble device with a "OneNote" OS. 🤔🤔🤔

this. but also a powerful browser. not this crippled for ages Edge sh*t

There is a new browser based on Chromium coming. That should fix any compatibility issues, and run the mythical PWAs fine.

I'm intrigued by this new navigation. I use OneNote sparingly, partly because I don't like navigating around the app.

I feel the same. I use the app daily, but I feel the navigation is a bit frustrating. When the new navigation came out for the UWP, I gave it a chance because MS reassured us that they tested the navigation and it is better this way. But I find the navigation in the Win32 app more intuitive.

Radial menu? No? Come on, Microsoft, it's one of the most requested features for OneNote.

I also requested that features via Feedback app & got 50+ upvotes.

This would help a lot. I've switched to the UWP but there are lots of drawbacks. One is that the background color has to be set per page - you can't set a default background color. This would go a long way - IF dark mode means a dark background. Also, I'd want to be able to print with a white background, of course. Also, there are still some syncing issues to sort out. The navigation overhaul sounds promising.

Come to think of it, you know what would be truly awesome? Systemwide hashtags. To-Do, Outlook/Mail, OneNote, OneDrive/file system ... and systemwide search to follow suit. Just a thought.

Why does One Note have worse functionality on Windows than on iOS? For example, no insert from camera. Anyway, is "majorly" an English word?

OneNote for Windows 10 does have an insert from camera option.

I just used it today. But it doesn't crop your document photos like it should.

Our retina's are safe? There's a dozen studies showing that the most natural way to read text is black letters on white background, with the opposite doing more harm than good. It's really easy: If you are in a well lit room, dark mode is a big no. If you are in a dark room, dark mode is good. Otherwise the only legitimate reason to use dark mode is energy consumption on OLED displays. Our retina's don't like big changes in contrast.

It depends on the light situation. In darker rooms a white background is bad. I personally prefer a cappuccino-like tone over pure white.

My retinas tell me that looking down at a bright white screen for hours hurts. Apparently this is a common complaint. And even in a meeting or conference or class, there isn't that much moving from ultra bright to ultra dark, especially if you're taking notes. In my experience dark themes feel a lot better for my eyes. Right now I invert the colors in Windows.

Have they fixed the issue where OneNote claims a valid email address containing a new TLD such as. email or .photography when trying to share a notebook, isn't valid. I have an email address with a personalised domain with the TLD of .email. When I try and share a notebook, or says it's not valid

No one uses One Note anymore. It pretty much sucks and MS should kill it

Bleached brother weighing in, I see....

Where is bleached BTW? Blocked or committed? I miss him so.

Nice!! I've been waiting for this!

Nice, looking forward to it.

How about Sticky notes, still not showing ???

I am also waiting for Sticky notes integration in OneNote for Windows. When?

I'm sure it's coming, since it's already in Android at least. In the meantime you can literally just open sticky notes app... Which it also kind of makes sense to have it on other platforms first since there isn't really a separate sticky notes app.

OneNote is very slow on iPhone, plus it doesn't support background syncing (when app is closed). I recently moved all my notes on OneNote to Apple notes.

good for you, we'll see what happen when you don't use or move away from apple wallet garden

Yes I had thought of that, too. Actually it's easy for me to go back because I haven't technically moved my notes from OneNote to Apple Notes, rather I've copied them. I agree Apple products are expensive, but what alternative is there? Microsoft is no longer interested in the consumer market in general and phones in particular. Android's security and privacy and ecosystem are not on par with Apple's offerings. Besides a premium Windows device or a high-end Android phone cost as much as a Mac or an iPhone, if not more.

OneNote is pretty snappy on my iPhone XR. No complaints here. Of course it isn't quite as fast as Apple's integrated application, but Apple Notes also isn't anywhere near as robust as OneNote either.

Well, I'm not going to buy the latest iPhone just for OneNote. The Apple Notes app is fast even on older iPhone models, like 6s which is the one I have.

Needs a proper tag summary page, and it should list/organize recent notes by date, so you know, Oh, this was a note I wrote last Tuesday.

It may be nice to have the option to organize recent notes by date, but I definitely don't want that to be the default.

The Win32 version of OneNote is a hundred times better than the UWP version.

I'm still waiting for the ability to adjust the shape of my pens/markers. A round tipped marker would allow me to more easily highlight a curved or diagonal line. So if I want to highlight a certain area in an enzyme or pharmaceutical , I'm often left with a very unprofessional result. Allowing me to change the brush type from chisel to round would solve this.

I applaud this move in light of finally manageing a more consistent experience across the board with windows 10. It does however make my think of other practical issues plagueing OneNote at this point in time with day to day operations. 1. I can rotate images in smaller increments for finer editing. This is possible in other office software.
2. OneNote is very buggy in saving page titles. They are regularly saved by title which makes finding articles with the same title difficult in a large list. I have experienced this quite a few times now with a journal in OneNote. It would be more convenient if I could filter pages in the list by date, most recent or most recently edited within a section. It would make work so much more productive with less searching.
3. Save a default page layout for a specific section. By default OneNote always starts off with a fresh white page. Highly annoying having to remake a specific template over and over.

Ugh the default page thing is SO annoying. I am close to moving back to OneNote 2016 because of this specific issue (though others also weigh on my mind). But I am a fan of MS's progress on the UWP so I'll probably stick around.
Windows Central Newsletter
Thank you for signing up to Windows Central. You will receive a verification email shortly.
There was a problem. Please refresh the page and try again.