OneNote Web Clipper adds preview mode, YouTube support and more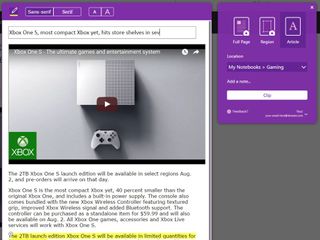 Microsoft is adding more features to its OneNote Web Clipper add-on for Chrome, Safari and Internet Explorer browser users. It adds features like a preview mode, support for adding YouTube videos and more.
Here's a quick look at what's new and improved in OneNote Web Clipper (opens in new tab), which allows OneNote users to quickly save parts of web pages on the app.
Preview—Ever wonder exactly what was about to show up in OneNote once you clipped? Problem solved! Now all clipping modes—full page, region, article, recipe and product—provide a preview so what you see is what you get.
YouTube and Vimeo support—You can now clip videos from YouTube and Vimeo pages into OneNote.
Highlight text—When you clip an article, product or recipe you can highlight sections of text, and those highlights will be saved to OneNote.
Clip multiple regions in one go—Clip multiple regions of a webpage and save them all in a single OneNote page.
Use your own title—Change the title of your page in the preview window before sending it to OneNote.
Articles your way—Change the font size and type in your article to improve readability before you even clip it to OneNote.
You can download the new version of Web Clipper from Microsoft's OneNote site.
Windows Central Newsletter
Get the best of Windows Central in your inbox, every day!
Much awaited.... Finaly I can let evernote web clipper go :)

What about an extension for Edge?...

I thought the same thing but if you look in the Store there is indeed an Edge extension.

Woohoo! All concerns are fading away... ☺

UPD: Fixed it with extension reinstall, and removing permission from MS account. It asked for permissions and works fine now. Region and multiple regions clip will be awesome for Edge :) OLD message:
Same question here, since currently it doesn't work on my PC and SP3.
Just purple box with spinner.
I thought this update will fix it :(

I'd appreciate if you could explain in more detail. I also get the purple box with spinner. Uninstalled and re-installed several times to no avail. What do you mean by "Removing permission from MS account"?

I'm not 100% sure, but i believe if you go online and log into your MS account, there's a page dedicated to apps and websites you've given permission to access your account. Find the one for the extension and remove the permission. Then reinstall the plugin, and it should ask for those permissions again.

Thanks for your prompt response. I found a Reset function in Settings > Apps & Features. Uninstalled, re-intslled, reset ... no success. .

As Shipwreck_Will said above - there is page where you can revoke access to your account from different apps. Try https://account.live.com/consent/Manage I've removed several old including Office online. I don't remember that there was Web Clipper, but now I can see it.

Thanks. None of the extensions are listed under that URL. Still struggling. Off-topic: Sending this from Chorme because Edge and IE systematically freeze with "Recover Webpage" . But then Chrome is no better. Keyboardd input is very unresponsive with long delays and mouse cursor is flickerig nervously. And even Chrome just now asked me to reload the page. Is there a problem with Windowscentral.com? This has been going on for several weeks now.

Looks like problem isn't fixed on my second PC. I'll try to look closely on weekend, but code is minified and error message is cryptic ☹

I wish it worked like this on Android. Sharing web pages from Chrome to OneNote on Android just makes a new note with a web link.