Opera adds a free built-in VPN service in its latest Windows browser update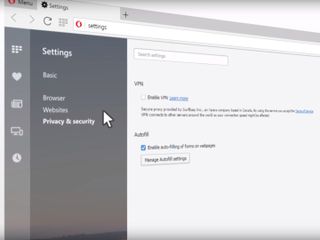 Opera 40, the latest version of the Opera desktop browser for Windows includes a number of new features and improvements, One of them is a built-in VPN service that is supposed to add more privacy and security for web browsing.
In a blog post (opens in new tab), Opera says:
People who want to start using the VPN feature can go to Settings, then Privacy & Security, and then finally click on the Enable VPN box. Uses can pick their specific VPN server location, or the browser can pick one based on the best network speed, latency, location and server capacity.
In addition to the new VPN feature, Opera 40 includes some new battery saving options, along with video pop-out improvements, adding RSS support to its built-in newsreader and much more.
Download Opera 40 for Windows (opens in new tab)
Get the Windows Central Newsletter
All the latest news, reviews, and guides for Windows and Xbox diehards.
Statistics says that only 3% of the internet is available for users. And we can find almost everything we want/need. Using VPN we can hide while browsing those 3%. I want to browse other 97% of WWW!!!

just nasty fetish porn of all kind

That sounds like the "humans only use 10% of their brain" myth.

An average human utilise 100% of their brain but not at the same time. In this case, internet can probably be only 3% for the general users of the whole world while 97% stay in remote state. Cyber space and information are huge just as a brain and impulses in it. Only difference is that internet is not ones biology that can be physically and fully controlled/utilised.

This 3% figure sounds ridiculously off. Source?

how long before they are pressured to cough out user data by our overlord big brothers in the name of national security?

Wait, that's free?!
Really!
Bravo!
Cheers for Opera!
Downloading opera now and deleting chrome.

nothing is "free" in this world, there is always something "fishy" about free products

Omg... Downloading opera now

Yep, I am doing the same! Cannot believe after all these years I am actually going back to Opera. I hope that the rest of Opera lives up to want I need. But they may have just convinced me.

Ooooo, tempting. Almost enough to switch me from Edge. Though I hoped their mobile browser would have been better than it was/is, I only hope their desktop browser is better. I'll give it a run next chance I get

Wasn't Opera bought buy a Chinese company? Humm... VPN...

Yeah, Chinese owner. Wondering if Opera is still safe to use. It is serious question... Seem to be good browser but again not sure about Chinese ownership...

I downloaded and have been using Opera since they announced this feature was coming, and I'm really impressed with it. It's my primary browser on a couple of computers I use. And, to be honest, it's the best to browse sites like this because the ad blocker is so good.

If only they released this during the Olympics. NBC wanted me to prove I pay for TV or they wouldn't let me stream the events I wanted to watch. Since we only pay for internet this wasn't going to happen, and I didn't want to pay for a VPN service. However, I'll use a free VPN...in 2 years for the winter Olympics.

Should've downloaded the beta version pal, it was added a while ago

Not a fan of how their VPN implementation goes straight past my network security, i.e. Malwarebytes's IP blocking doesn't work.

Is it safe for torrent downloading?

This only sends browser traffic over VPN, so if you find the .torrent file from a site then that bit is over VPN but the actual BitTorrent file transfers etc. are NOT over VPN and it's not system wide

The people who now own Opera are connected to the Chinese government so ugh yeah don't go near Opera. Use Vivaldi which is by ex-Opera people.

Wish the VPN allowed plugins to load normally. It disables them by default and you have to click to enable any plugin like Silverlight for example. It interferes with sites sometimes and they don't load properly.

Hopefully other companies like Google, Microsoft, Apple and Monzilla will follow Opera's lead and include similar free VPN services. I feel like more people would use VPNs if they were free and had trusted names behind it. Sure, there are plenty of no-name company free VPNs out there, but without any brand recognition, are you sure you can trust them with all your internet traffic and data? And likewise, even from reputable companies: Many people just don't care enough to pay for a VPN. Hopefully Opera can spur more people to try using a VPN and help protect their privacy and information when browsing online.

When Bing is used like it should on the otherbrowsers i switch back ;)

Statistics say that most of the free VPN providers are not so trust worthy but free is free no matter what and ppl will always lean onto it.

Vudu and Netflix didn't work for me from France.

What is better, free VPN or no VPN at all???

Is this why we keep seeing those lifetime VPN deal Windows Central posts? You know, the ones where we can't comment and hear from other people as to whether it's a solid deal or not.

I took advantage of one of those deals and it is working like a charm for me in France, I still get Bing points and can watch some local tv, and some other streaming services I otherwise would not have access too.

Nice, which service did you end up taking the promo on?