Order & Chaos Duels for Windows 8.1 joins Windows Phone version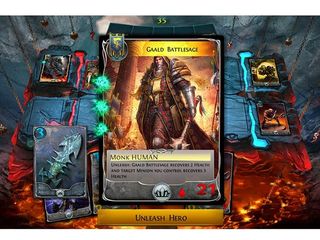 After previously releasing their free-to-play fantasy themed collectible trading card game Order & Chaos Duels for Windows Phone earlier this summer, Gameloft has now ported the game over to Windows 8.1 as well.
Just in case you are not familiar with the game, here's a quick list of its features:
Nearly 300 gorgeous cards to collect, with all the heroic fantasy-art style of the Order & Chaos games (MMORPG & MOBA)
Fast & accessible duels on the go with spectacular special magic effects for the cards
Deep content & strategy with the game mechanics of a traditional trading card game (TCG)
Epic live and asynchronous online multiplayer games
Quests & adventures to fight against evil and free the world of Haradon
Optimize your deck for battle in solo & online multiplayer PvP modes
What do you think of Gameloft bringing this game to both Windows Phone and Windows 8.1?
Get the Windows Central Newsletter
All the latest news, reviews, and guides for Windows and Xbox diehards.
Is it similar to Hearthstone?

similarity to hearthstone is that it is a card game, that is pretty much it.

For 2 seconds my heart paused with joy. They fixed and released the expansion but...no. Walks away sad.
Plz fix the first O&C!

Gameloft is likely never going to.. I'm sorry

It's not 8,1 it's 8.1, secondly store link is not working

whats the difference? i mean i have 8.1 and had it installed? its like some kind of optimization ?

8.1 is for PC Reminder link for those who do not have yet on Windows Phone is marked 8. The only new thing is that it is NOW on Windows PC 8.1 as a Metro App.

I don't think its better than lies of astaroth other than the graphics. :p

Link shows Parsing error..solve it

Only cardgame I'll care about on WP/WinRT is Hearthstone.

*free to play* STAY AWAY FROM ME

I bet this is as borked as the rest of the friggin' gameloft MESS. Downloaded Rival Knights on phone, works fine until last update. Lost everything...waste of life. Found it on Windows Store in Windows 8.1 desktop.....also broke. Absolutely crap. Similarly, their Despicable Me which they've changed somewhat, had trouble downloading 'extra' content (although the necessity for that is beyond me, if it's already been installed from the store, why the hell do I need additional content?)....Gameloft is on a run up to a bloody big wall and they're going to bash their heads open on it at this rate - they're releasing stuff that simply doesn't load or doesn't work let alone load, and the rate at which they appear to be doing it is phenomenal.