ORIGIN officially reveals its OMEGA living room gaming PCs starting at $999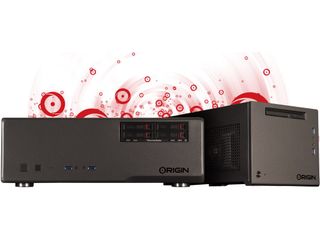 Gaming PC maker ORIGIN teased us at CES 2015 about their upcoming OMEGA line, but today it made it official. This new Windows 7 and Windows 8.1 PCs are designed to give hardcore PC gamers a way to play from their couch on a big screen living room television.
ORIGIN is offering several different case designs for their OMEGA PCs, but all of them have been made to be small enough to be included with a normal home entertainment system. Here's a look at the main features of the ORIGIN OMEGA:
Truly Custom Name Brand Components: Customize your OMEGA and choose from a variety of HTPC cases to match your personal home or office set up. Only ORIGIN PC gives you the choice of the highest quality, name-brand components that have been tested and approved for high-performance!
NVIDIA SLI Ready- Take full advantage of the power of NVIDIA SLI technology with up to 3-WAY NVIDIA GeForce GTX 980s to run any PC game at up to 4K resolutions with buttery smooth framerates that will make all of your console gaming friends jealous!
ORIGIN PC Professional Overclocking: Unlock the full potential of your CPU and or GPU with ORIGIN PCs professional overclocking services to maximize your gaming experience.
Multiple Storage Options: Customize your OMEGA to support an SSD and/or, high capacity storage drives for a total of up to 14 TB of space! Install all of your games and media so you don't have to choose only what fits.
Steam OS Support: Want to choose a different OS other than Windows? Not a problem! The ORIGIN OMEGA will soon also support STEAM OS on its official launch date.
Steam Big Picture Mode: Want a more console-like experience for your PC? You can choose to boot directly into Steam's Big Picture Mode to enjoy the intuitive navigational menu using a wireless controller and have easy access to your entire Steam Library of games and media.
Mouse Emulation Software Support: Don't want to use a wireless mouse or keyboard? No Problem! ORIGIN PC can install optional Mouse Emulation software so you can have full control over your mouse and keyboard using your wireless XBOX controller!
Easy Updates and Access to Your Favorite Apps: Why settle by struggling to properly update your drivers or access all of your favorite non-steam PC games and apps from an annoying/limited GUI? With OMEGA, you have zero bloatware and can have easy access to all of your favorite applications such as Battle.net, EA Origin, U-Play, SKYPE, Netflix, Skype, and much more!
Free Lifetime 24/7 Support: Every ORIGIN PC system comes with industry leading Lifetime 24/7 Support based in the United States.
The starting price for the ORIGIN OMEGA is $999.
Source: ORIGIN
Get the Windows Central Newsletter
All the latest news, reviews, and guides for Windows and Xbox diehards.