ORIGIN officially reveals its OMEGA living room gaming PCs starting at $999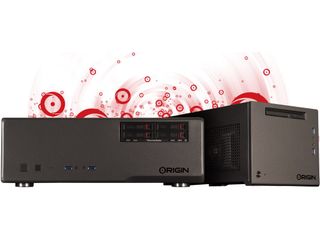 Gaming PC maker ORIGIN teased us at CES 2015 about their upcoming OMEGA line, but today it made it official. This new Windows 7 and Windows 8.1 PCs are designed to give hardcore PC gamers a way to play from their couch on a big screen living room television.
ORIGIN is offering several different case designs for their OMEGA PCs, but all of them have been made to be small enough to be included with a normal home entertainment system. Here's a look at the main features of the ORIGIN OMEGA:
Truly Custom Name Brand Components: Customize your OMEGA and choose from a variety of HTPC cases to match your personal home or office set up. Only ORIGIN PC gives you the choice of the highest quality, name-brand components that have been tested and approved for high-performance!
NVIDIA SLI Ready- Take full advantage of the power of NVIDIA SLI technology with up to 3-WAY NVIDIA GeForce GTX 980s to run any PC game at up to 4K resolutions with buttery smooth framerates that will make all of your console gaming friends jealous!
ORIGIN PC Professional Overclocking: Unlock the full potential of your CPU and or GPU with ORIGIN PCs professional overclocking services to maximize your gaming experience.
Multiple Storage Options: Customize your OMEGA to support an SSD and/or, high capacity storage drives for a total of up to 14 TB of space! Install all of your games and media so you don't have to choose only what fits.
Steam OS Support: Want to choose a different OS other than Windows? Not a problem! The ORIGIN OMEGA will soon also support STEAM OS on its official launch date.
Steam Big Picture Mode: Want a more console-like experience for your PC? You can choose to boot directly into Steam's Big Picture Mode to enjoy the intuitive navigational menu using a wireless controller and have easy access to your entire Steam Library of games and media.
Mouse Emulation Software Support: Don't want to use a wireless mouse or keyboard? No Problem! ORIGIN PC can install optional Mouse Emulation software so you can have full control over your mouse and keyboard using your wireless XBOX controller!
Easy Updates and Access to Your Favorite Apps: Why settle by struggling to properly update your drivers or access all of your favorite non-steam PC games and apps from an annoying/limited GUI? With OMEGA, you have zero bloatware and can have easy access to all of your favorite applications such as Battle.net, EA Origin, U-Play, SKYPE, Netflix, Skype, and much more!
Free Lifetime 24/7 Support: Every ORIGIN PC system comes with industry leading Lifetime 24/7 Support based in the United States.
The starting price for the ORIGIN OMEGA is $999.
Source: ORIGIN (opens in new tab)
Get the Windows Central Newsletter
All the latest news, reviews, and guides for Windows and Xbox diehards.
I see.. Everyone giving up on Stream OS being ready and releasing them without it now

because it added nothing. Valve is already a middle man that can be installed in any windows PC, and contrary to valve's wishes, linux gaming is just more trouble than it is worth. When you consider how much money you pay for games, the biggest cost is actually Valve's tax than the windows tax which you pay once very 3 years and with free upgrades as the upcoming windows 10, is by far the best value. Quite simply the only area valve may have been able to justify its existance beyond just a middle man, was in the area of creating a TV friendly UI. But with full screen mode on windows being all you need, why bet on steam OS?

Well said. I've had a pc connected to my telly for years. I use steam. Don't need a specific box for it. And steam has the big screen ui so it all works. Or I can just ignore it and do what I want.

Exactly. They sort of missed the boat with Steam OS. Should been much faster with it's development and much more aggressive in its marketing. But, as is usual with Valve, they program on "vavle time." i.e. Half-Life.

Origin will be offering these systems Steam OS. I can't see much reason to get such a system with Steam OS instead of Windows--saving a little money or hating Microsoft seem stupid when most of the games that one would want to play on such boxes require Windows--but one will have the option of Steam OS.

Seems kinda worthless with all the streaming/connecting possibilities with TVs today.

I've never seen a tv have the ability to stream PC games, if they could do that then there would be no need for this. I like the look of these and it could beat steam especially if they act fast in releasing them.

They actually developed and announced that for stream.. valve just didnt finish the system yet

You keep saying 'stream', but what you really mean is 'Steam'.

Thats correct. Blame Auto Correct - just like that

Ha, okay I totally did not think of that!

If I remember correctly, Sony struck a deal with Samsung to stream PS to Samsung tvs in 2015. So, I would have to imagine it is possible. Someone just needs to step up and do it.

And Samsung was to start using tizen in their TVs lol

Actually, all their 2015 TVs will run on Tizen and Playstation Now is coming as well. http://www.cnet.com/news/samsung-tvs-will-let-you-play-playstation-games-without-a-playstation-in-2015/#!

I was thinking more along the lines of Miracast and that nearly every PC has an HDMI out now.

Miracast is horrible for gaming though, the lag is just too big most of the time.

Yeah and I doubt this Origin device streams so back to the HDMI.

streaming will be possible with xbox and windows10 collaboration....

Nope Posted via the Windows Central App for Android

what is the difference between SKYPE and skype?

First letter is capital for former.

I'm not saying these PCs in the picture are not good looking, but I have a Denon pre-amplifier from the late 80's that totally looks like this haha.

I seen a few cases from tiger that reminded me of some of the brushed steel receivers

They look like Silverstone cases

Yep. And my Silverstone HTPC is a much better value since I got to handpick every detail.

I'll say it again. It's stupid going SLI 980s for 4K gaming when CrossFire 290Xs are cheaper AND offer better performance universally at 4K.

Power consumption Posted via the Windows Central App for Android

On what planet does 290Xs generally perform better than 980s?

In multicard setups running at high resolution. HardOCPs review said that basically the 290x and the 980 are tied at 4K, the difference being power consumption for the 290Xs is higher. Then it goes on to say that the SLI performance gave inconsistent frames and how XDMA Crossfire is better than SLI which needs reworking. Personally I'd go for the R9s if I was going 4K gaming on a multcard setup, though a SFF PC, hell even an mATX case may not cope.

Did you guys see nvidia facing a law suit for false advertising

Did you see how this article want about that?

Is it me or should Microsoft update their Xbox One controllers to work wirelessly with PCs of this sort?

We would need a dongle for that just like the xbox 360.

Do Xbox one controllers have blue tooth support? I don't think so unfortunately Posted via the Windows Central App for Android

They use Wi-Fi Direct, so, provided that you are using Windows 8.1 (or Windows 10 Preview), you, in theory, can use Xbox One controllers on a computer wirelessly with no dongle.

Unfortunately not implemented. I wish though, I have a lot of wireless controllers that don't get use anymore. Granted they are x360 controllers. I really do like using the x1 controller on my pc, it feels so nice. Posted via the Windows Central App for Android

Hope these guys aren't expected to be included with the greats...Atari 2600, 5200, commodore 64, Amiga, Magnavox odyessy, collecovision, jaguar, etc just because they throw a case and a name on it
#origin omega..NOT!!!!! Just saying...

I like it how these idiots talk about farming like they really farmers, nothing more than putting seeds in the ground. I grew up doing farming as a kid in Westmoreland, Jamaica growing everything we eat. From calalu, ackee, yam, cassava, dashain, coko, pumpkin, and banana. Seeing these typical damn idiots everyday who just figured out that if you plan some damn seeds it will grow, all cause they think they are so new age and cool.