OtterBox cases now available for the Lumia 920 Windows Phone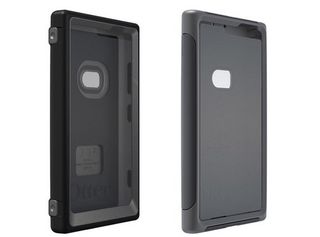 OtterBox cases are now available for the Lumia 920, with two listed on the official website. Both the Defender (left) and Commuter Series (right) can be ordered online for $49.95 and $34.95 respectively. Tough it's common for smartphone owners to invest in device protection, one has to ask - does the Lumia 920 need protecting, or should we worry about the surrounding environment?
In case (pun intended) you're wandering how tough the Lumia 920 is, PhoneBuff recently ran a series of tests that looked at causing as much pain and misery to the Windows Phone as possible. From being smacked by a wooden post to thrown against a lamp post, the device took a beating. It was only after a number of forced throws did it eventually begin to crack under pressure.
We previously reviewed both the Commuter and Defender cases for the Lumia 900 earlier in the year, so be sure to read up on our thoughts before looking at investing in either for your new Lumia 920.
A case is always there for peace of mind, though we doubt you'll actually see any issues with strength should you purchase a Lumia 920. Just be sure to carry a bag of cement around to patch up the ground where it left a crater. Our Paul Acevedo has also spotted the cases in his local AT&T store, so be sure to check with your nearest for information on stock.
We're looking at getting some for the Windows Phone Central Store (opens in new tab), but unfortunately the only way to pick one up is from OtterBox as the company has recently switched to direct-sales only.
Source: OtterBox (1 (opens in new tab)) (2 (opens in new tab)); thanks, Cirga, for the tip!
Windows Central Newsletter
Get the best of Windows Central in in your inbox, every day!
Rich Edmonds was formerly a Senior Editor of PC hardware at Windows Central, covering everything related to PC components and NAS. He's been involved in technology for more than a decade and knows a thing or two about the magic inside a PC chassis. You can follow him on Twitter at @RichEdmonds.
They supported this one a whole lot faster than the 900. Good news.

Screw Otterbox, they were the ones who wouldn't support my original Win Phone. So they get no money from me ever again. They were too damn busy with the iPhone and Galaxy 2 at the time.

I just can't cover my beautiful white 920 with any case

Agreed, the worst thing you can do to a piece of art is cover it with the bulkiest cover ever made, which does not even attempt to TRY and be attractive in any way. I love my lumia 900 naked. I've dropped it a couple times and didn't do a damn thong to it, but a little squished on one corner, and you have to look for it.

I don't want to put a case on my 920, but it's admittedly a VERY slick device I constantly feel like I could drop it, though I have only done so once (went to grab it from my desktop and it slipped). If I get something, it would be a bright color to go over the black, simply to make the device stand out more.

Yea I have the matte black and its hard to hide the sexy beast.

The Otter Box is for iphone users. Lumia and 8X owners don't need it...and why would you even cover up those beautiful phones that are tough as nails?

That's just nonsense. All phones break.

Yeah but lumias don't unless you try...

You keep telling yourself that...mine just fell 2-3ft and the screen shattered...

Love to see more cases becoming available, but holy shnikes these bad boys are thick. These are from the Otterbox Doomsday Prepper's phone case line. =P



Where can I find a car dock that provides power to my 8x? It's like HTC completely forgot about providing accessories for their latest batch of windows phones.

ProClip has the 8X car dock on pre-order.

I've had ProClip docks for both my Lumia 900 and Galaxy S III and they're both great.

This IS a 2-part solution though... you need a mount for your specific car and then the phone-specific dock attaches to it.

www.proclipusa.com

Thank you! I didn't know anything that custom existed. Now I need to do some soul searching to see if I want to spend $100 on a car dock.

I haven't found on the website when they think it will ship. Have you heard?

You have the prices reversed

Nice for those that want it, now if only I could find a nerd holster I approve of for my 920.

Finally, someone agrees they are "nerd" holsters, haha. But I agree, make something for each persons preference!!! In time I believe we will see more and more options!

I will definitely buy a holster when I get my 920. It'll be quite a change from carrying it inside my pocket but I'd rather have a holster than cover the 920's look with a TPU case or what not.

the case is not match with what Lumiaa 920 is for. I cannot cover my cycan 920 with this colorless case. Mine is just beautiful as it. And yes, the cae is too thich. I like them come up with something see through clear plastic. That, i would buy

I'm torn. My Lumia 920 is beautiful and it's a shame to cover it with a case. But I'd feel a whole lot better handing it to my daughter, i'd be less fearful of it meeting the concrete. Decisions!

No thanks, might get a screen protector or a clear skin for my 920, but don't feel it's needed at all... Those YouTube stress tests were more than convincing about the durability of this phone...

I'm looking for those as well. Any you would recommend? I'm clueless as to what is good.

+1 on the screen protector. I already have minor scratches on my screen just from being in a dedicated pocket... pre-shaken out an everything. Little scratches will surely add up over time.

I suggest you stop believing everything on the internet. Mine shattered from a 2 to 3 ft drop on carpet.

This. There are so many ways for things to take an impact or get crushed or bent. My brother's 920 fell on a tile floor from about the same height on and the screen shattered. This tile floor has broken many things before; and the phone had already survived some drops, proving its ruggedness.
These things are tough, but not indestructable--a well-placed knock can take even the 920 out. I'll still likely take my chances so as to not cover up my beautiful yellow phone.
I do wonder how well a screen protector would fit on a curved piece of glass...

So far, they don't fit well! But I don't want tiny scratches. They cover the main screen, but don't adhere well past that, and don't cover the curve. I would welcome a suggestion or solution if anyone knows of a screen protector MADE for the 920 and its curved glass.

I have the Otterbox Defender case and it's awesome!

Yeah I have had mine for a week or so work construction so its a must. When I get home though I take the beautiful thing out to breathe lol.

Grabbed one from the corporate ATT&T store in White Plains, Ny for a redcued price (only reason to buy). The case is very sturdy and provides serious protection for the phone. But, considering that this phone is a tank....the Otterbox ends up being a clunky case that really takes away from the beauty of the phone....Definitely recommended for trips and extreme outings though.


If you need an outterbox get an iPhone. To put one on a L920 is idiotic.

This is a silly comment.

A 920 in a case like this will still have nearly all other benefits over an iPhone that one wihtout the case wil have. Only outer appearance suffers.

Not that I would use one of these, but the comment is just ridiculous.

Agreed. Don't know how the hell iPhone got reeled into this.

Your comment makes no sense. I have one on my 920 and have one on my iphone 4s. This is a beautiful device and a drop on a tile floor could cause damage. The Lumia is a big phone. The defender case doesn't beef it up that much.


Come again?

http://img16.imageshack.us/img16/5892/wp0000231.jpg

I have the defender for my 8X and it was 39.99 at a Verizon store, bulky but really nice.

Too late. My Lumia fell is already dented on all four corners. SIGHS...

FOUR corners dented? How many times did it fall?

I just can't cover up my White Lightening!

I would grab the Commuter case over the Defender. The Defender collects lint and pocket fuzz easily and makes it a bit difficult to slip the phone out of your pocket, and having handled a 920 with the Defender case on, I can attest to the thing being HUGE.

The only case I will get is a lifeproof case. But that might not happen, so no case for me.

Wow! These cases cost almost as much as the device (on contract)!
The Lumia's are georgeous, and it's hard not to want to protect them; but if you must cover, go for decorative :)

Speck had a couple cases available at the AT&T store - a case with color!

No way..
Not covering up my Nokia!! Otters are hideous.

Actually, I think Otters are quite cute. Otterboxes on the other hand...

Haha. Otters are the coolest.

As much as I hate to say it, I might need one, just dropped my 920 today, and to my dismay, its shattered, utterly. Ordered a new screen though, an unbranded one too!

what in the world did you drop it on to do that

It fell from about shoulder height onto a stainless steel reach in freezer, bounced from there and landed screen down on tile floor, needless to say the screen didnt survive, still works though! Just need a new screen. Well new glass to be specific.

I feel your pain.

http://img16.imageshack.us/img16/5892/wp0000231.jpg

AT&T allowed me to upgrade one of my lines that asn't elgible till November of next year to replace the 920 for $49. Got another free charge plate and now I qualify for the free Nokia Purity headphones. Only downside is that the cancellation dept. (had to threaten to cancel 3 lines and 2 u-verse homes) could only order the white version instead of cyan.

BTW, my drop was a little over two feet on carpet but it landed on the corner, as you can see in the pic.

Oh yea I feel your pain definitely. I just hope the replacement screen will be easy to install. I actually have my hands on the service manual, But no specific instructions on how to replace the screen, just complete disassembly and reassembly.
I have insurance, but it's a $200 deductible, and as you said, there is almost no color avaliable for another 2 weeks.

Cement isn't going to do a whole lot to help you patch up the sidewalk unless you also have some aggregates lying around so you can make concrete. Otherwise, it would be like putting a hole in a cake and replacing it with flour.

People need to stop paying attention to YouTube videos and get real. The Lumia 920 has a glass screen and is just as susceptible to cracking as any other phone with a glass screen. Mine shattered the first time it fell from 3 feet on to a concrete floor. Other people have dropped theirs multiple times and not had a problem (yet). It all depends on what part of the phone strikes the floor first. Personally, I'd rather not spend another $150+ on repairs so I'll be seriously considering one of these cases when my 920 comes back from the service center...

I couldn't agree more. I was one of the idiots who thought the phone would never break, especially after owning two 900's.

And this is my response to those who watch too much Youtube or think cases are not needed for the 920.

http://img16.imageshack.us/img16/5892/wp0000231.jpg

Can you tell me if you sent yours in for repair? I had mine replaced but would like to have my cyan fixed still.

I sent mine to the shop that Nokia recommended, Palco Cell Phone Repair (http://palcocellphonerepair.com), and now I'm just anxiously waiting for it to return (just mailed it out yesterday)...

Shattered my 900 previously, replace the screen myself(very easy and unbranded). I don't want to cover my 920, but don't want to cry myself to sleep again.

I just sent mine there too, nervous and hope it all works out well and in a timely fashion, its like sending your kid somewhere without being able to get into contact with them.

I have the otterbox case for the iPhone 4s and its protected the phone from some nasty falls and helped in the rain. I ordered one for my Lumia 920

Does anyone know if wireless charging and NFC still work with an Otterbox on?

Really didn't wanna cover SpongeBob, but my speck case looks awesome on it.

I have had my otterbox for my Lumia since the 11. I really need this. I never get a phone unless otterbox makes a case.

Otterbox makes great cases. The 920 is a big phone, so any case will add size to it. I have the defender case and it isn't that much bigger. It's a really nice looking case. I've taken the phone out on occassion. It just seems fine in the case. This will work for a lot of people. It's a good case.

I tried out the defender case. Wound up returning it. The wireless charging does work through the case. The plastic screen is a lint magnet, and really takes away the beauty of the screen. Dulls the colors IMHO. The deal breaker for me was the camera. The defender protects the back of the phone well, but protrudes out around the camera. This breaks the camera when the flash is used. It basically creates a cone effect, causing ghosting/washout on photos. Noticeable on all flash photos, and makes it utterly useless in low light photos where flash is essential.

I dropped my L920 only once and got 3 chips on it on the back. Ended up exchanging it because of a screen crease.

I had a very nice TPU case for my Focus made by Amzer--hopefully they'll make something for the new Windows Phones soon.

Loved mine for my old 900

It should. Wireless charging is actually wireless, but in a 1mm range soo... Basically the back is not a giant wire, there's a coil inside. So yes, it'll work

I'm torn. While I want to protect my phone, the Nokia 920 is tough and gorgeous.

The only protection the 920 needs is a piece of nice aluminum or transparent sheet that covers the camera piece on the back ONLY. That is the only concern since it is the center contact point on a surface.

I just got mine glossy white gel case for my white Lumia 920 from amazon, its just so cool u can't even tell I have any case on my phone ,it just look same as its as Lumia back cover ,my phone look so sexy ,I love it.
I just paid $5 for it:).

Bought a Dfeender at the ATT Store in CT when I bought my 920. Love it for what it is. Of course It's not for styling its for protection and ugly as a monoblock. I've seen too many dropped phones in bars to question the purchase.

I don't understand why they did the camera/flash cut out like that with one big hole. They should of did the cut out separately like they did to the Lumia 900, it looks more OEM that way:
Windows Central Newsletter
Thank you for signing up to Windows Central. You will receive a verification email shortly.
There was a problem. Please refresh the page and try again.