Out This Week on Xbox One: Dying Light, #IDARB, and more!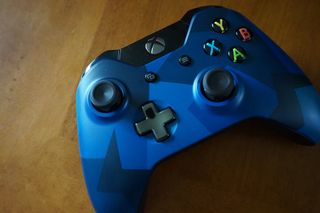 Finally, we have our first real week of game releases on Xbox One and there are a couple that you probably haven't heard from. The biggest release of the week is of course Dying Light which is the only AAA game of the week as well. We also will finally see the release of #IDARB this weekend as it will become available for free as February's Games with Gold game.
However, these games are not the one that I'm anticipating the most from this week's lineup. You're going to have to continue reading to figure this one out.
Dying Light
the ultimate parkour zombie-fest
Dying Light is a first-person open world survival horror game from Techland that will have players scavenging for supplies to send to safe zones and crafting weapons to help defend yourself. But there is one huge problem, the town has been infested by zombies and they're looking for a snack. Hopefully you're not out when the sun goes down because that's when all hell breaks loose.
The game also features a four-player co-op mode and some asymmetrical multiplayer action. However, the coolest multiplayer feature is the "Be a Zombie" mode. This mode allows you to take the role of a zombie and join other players' worlds as you try to hunt them down. Dying Light invades the Xbox One Tuesday, January 27.
-Dying Light - Xbox One - 21.21 GB - $59.99 - Xbox Store (opens in new tab) - Amazon (opens in new tab)
#IDARB
the red box awakens
#IDARB or It Draws a Red Box Is a chaotic 8-player eSport jumping jetpack future arena ball game that is as inspired by Bomberman, Smash Bros., and NBA Jam. Creators of the game over at Other Ocean started the game just for fun and started using feedback from fans on Twitter to add enhancements to the game. The objective of the game is to score the ball into your opponent's goal. Unfortunately, this sounds easier than it is, but that's part of the fun and competitiveness of the game.
The game allows up to 4v4 locally or online. I've had the game since early December, and it is loads of fun to play and it will have us creating tournaments. #IDARB comes to Xbox One this weekend and will be free for Xbox Live Gold members.
Life is Strange (Episode One)
choose wisely
'Life is Strange' is a five part episodic series from Dotnod Entertainment. The game features an interactive play-style like the one seen in games such as D4 and The Walking Dead. You play as Maxine, who has returned to her hometown only to find out that a lot has been going on since she left. She reunites with her best friend, and they begin investigating a disappearance on their own. The deeper they look into the disappearance the more secrets they find about their city.
Life is Strange spices up the interactive gameplay by adding time manipulation, which allows you to turn back time after you have made a decision or action. The game is also said to hold substantial short, mid, or long-term consequences for the decisions that the player makes. Life is Strange is easily my favorite game of the bunch coming out this week. It launches Friday, January 30 with episode one and episode two coming about 6 weeks later.
Unmechanical: Extended Edition
bring your best puzzle solving skills
Unmechanical: Extended Edition finally brings the beautiful puzzle platform to next-gen consoles with exclusive levels, story, and puzzles. The game is set in a world filled with, flesh rock and steel and you play as this tiny robot who is trapped in an underground lab. It is up to you to set the robot free by solving puzzles and platforming.
Unmechanical: Extended Edition becomes available on Friday, January 30.
What game will you be grabbing this week?
Get the Windows Central Newsletter
All the latest news, reviews, and guides for Windows and Xbox diehards.
Can't wait for IDARB. Have no friends. #firstworldproblems.

We're going to have to set up some matches! Posted via the Windows Central App for Android

Let's play....2 more cheevos left. I need another player to help out. Wouldn't take much time. Anyone interested should hit me up GT: Kenzibit

Where did that blue controller come from?

It was a best buy exclusive

Life is Strange. Very excited. Love story driven leftfield games.

Yes I can't wait for it! Reminds me a ton of Heavy Rain Posted via the Windows Central App for Android

Life is strange sounds very interesting, will be checking it out when released

I pre ordered doing light. It looks good.

I'm looking forward to Life Is Strange, I'd never heard of it before but the description sounds right up my alley.

Dying light got pushed back to the 27th of Feb in Australia