Out This Week on Xbox One: Fruit Ninja Kinect 2, Battlefield: Hardline and more!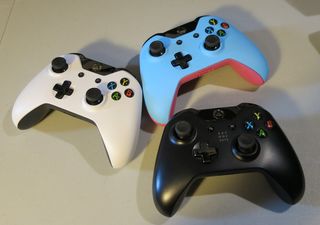 This is probably the biggest week we've seen so far this year when it comes to big names especially from already established brands. Of course the most significant titles for us this week is Fruit Ninja Kinect 2 and Battlefield Hardline. As always, there are other games headed to the Xbox One this week but we'll let you continue reading to figure those out.
Fruit Ninja Kinect 2
kung-fruit
Fruit Ninja Kinect was easily one of the most fun and responsive titles for the original Kinect for Xbox 360. So it's no surprise that it has made its way to the next-gen, with Fruit Ninja Kinect 2. Halfbrick Studios is touting this version to be bigger, better, and juicer in every way.
Some of the newest features in this sequel are five new game modes, four play multiplayer, and a new progression system. And that's only the beginning. Not much else is known about the title even though it launches tomorrow exclusively for Xbox One. Also, keep an eye out for our review which should be coming later this week as well.
Battlefield: Hardline
law and order
Battlefield: Hardline is the first time that the series strays from military conflict and focuses on the conflict on our home soil. In the single-player episodic campaign, you play as a young detective who has recently joined Miami's vice unit and your job is to help them work their way from the bottom of the drug supply all the way to the top.
In multiplayer, Battlefield: Hardline still emphasizes the use of vehicles and squad-based warfare. One of my favorite game types is heist. This version has one team playing the criminals as they try to pull of an elaborate robbery of a bank. The other team then plays as the cops who are trying to stop them.
Battlefield: Hardline shoots its way onto the Xbox One tomorrow, March 17.
Battlefield: Hardline – Xbox One – $59.99 – Xbox Store

(opens in new tab)
Final Fantasy Type-0 HD
the beginning of the end
Final Fantasy Type-0 was first released back in 2011 for the PlayStation Vita. The game's biggest draw is that unlike most FFs, this one feature real-time, action-based fighting system similar to the one from Crisis Core.
As usual, Orience has become war-torn and it's up to you to stop it. The Milities forces have attacked Rubrum, which provokes Class Zero to come about and stop them.
If you are a fan of other titles in the Final Fantasy universe, you are more than likely going to like this one adds a fresh take on the series. It is said to be more gritty and fast paced compared to other installments in the series.
Final Fantasy Type-0 HD launches tomorrow, March 17.
Final Fantasy Type-0 HD - Xbox One - $59.99 - Xbox Store (opens in new tab)
Bladestorm: Nightmare
the hundred years' war
Bladestorm: Nightmare comes from the studios that brought everyone Hyrule Warriors. This time they bring us their take on The Hundred Years' War that went on between England and France.
You play as a created mercenary character who is given contracts by either side and has to fulfill the objectives of said contract. That being said, your character is very vulnerable, so you must make the best use of the available units and abilities that you are given.
Bladestorm: Nightmare becomes available for Xbox One tomorrow, March 17.
Windows Central Newsletter
Get the best of Windows Central in your inbox, every day!
How do I get that blue and orange controller??

Not orange. That's the custom WC controller (website's colors)

Oh I see it. Thats rather cool. How did they get customized?

They had an article regarding this. Apparently there are some guys who can customize controllers with any colors you want. Maybe Johnathan is kind to tell us...

Or you could simply use the Search feature at the top of the page: http://www.windowscentral.com/controller-modz-xbox-one-controllers

I think you might want to tune your phones color settings if you think pink is orange

Man I was going to ask the same question and it was the first comment...!!

That picture should have been the real topic of the article.... Though once I pick up a Kinect, Fruit Ninja is a top pick....

I wonder how long it will be until Xbox starts selling its console to other companies. Like selling the Xbox to Android, it would still be an Xbox, but its name would be the Android One. Or selling it to apple. Because I have learned that Microsoft, windows phone primarily, loves screwing its own hardware. Im a butthurt Microsoft fan boy. Cortana was one of our last exclusives. Im still hurt.

Doesn't really make any sense. Also, this article is about games coming out...which is what the comments should be about.

I'm not sure what you're saying here. Are you asking when the Xbox would allow people to run Android on it instead of Windows? Because, besides being technically almost impossible (could they even make it so Xbox OS can run on top of Android???), and besides the fact that it would cripple functionality (I love snapping apps), that would also fragment the market place and stop the flow of apps. I mean, it's not even logical to do what you're suggesting. At least putting Cortana on other platforms makes sense. You're just spouting nonsense.

Fruit Ninja Kinect 2 is very tempting, but I feel like this is a likely title to become GWG down the road. I'll just have to wait and see.

Now that Kinect has been unbundled from the console, it's unlikely any Kinect title will ever be a Games with Gold game :(

That white controller looks good.

I want a cyan controller.

It's "four-play multiplayer", not "four play multiplayer." (Or, rather, "four-player multiplayer", unless you meant "foreplay multiplayer", which may be illegal in some countries). Anway, that's awesome that Kinect 2 can handle 4-person multiplayer. I'll be grabbing Fruit Ninja Kinect 2. Microsoft should've done a promotion with them where, if you pre-ordered Fruit Ninja Kinect 2 for Xbox One, then you automatically got the Windows Phone version for free.

That made me lol. Thanks for pointing it out mate!

Been looking forward to Fruit Ninja Kinect 2. Will definitely be picking that one up.

Fruit Ninja Kinect 2, a game that should've been a day one title for the new Kinect. Don Mattrick bungled that launch so badly.

At least the weasel is out now. If only Phil Spencer had been in charge then.

I can't seem to find fruit ninja 2. Are you sure it is supposed to be released? It wasn't in their 'Coming Soon' section.

Nevermind, looks like it's a Wednesday release....