This is Outlook for Android's upcoming new dark mode
Months after Microsoft announced it was in the works, renders showcasing Outlook's new dark mode on Android have been leaked.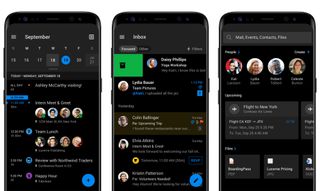 Microsoft announced last year that Outlook for both Android and iOS would eventually be getting a dark mode to match the other versions of Outlook available on Windows 10 and online. It's been quite a while since that announcement was made, but it appears the wait might almost be over. Windows Central has received official renders that reveal the new dark mode on Android, showcasing the mail, calendar, and search UI with dark mode enabled.
I can confirm the legitimacy of these renders, which are similar for both Android and iOS. Users will be able to enable the dark theme via a quick access button in the hamburger menu, or in a new dedicated "Theme" area in the apps' settings. On Android, users will have the option to automatically turn on the dark mode when the battery is low, or turn on the dark mode manually. Dark mode for Outlook on Android and iOS will be the last platforms to receive such treatment, as Outlook on Windows 10, including the full Office app and the lightweight Windows 10 Mail client, already have a dark mode, as does Outlook on the web.
Both Google and Apple are building system-wide dark modes into Android and iOS this year, along with APIs that will allow developers to tap into the system theme and automatically set their apps too whatever the user has set for the system. Perhaps Microsoft has been waiting for both Android and iOS to support dark mode officially before implementing dark mode in Outlook, which would explain why it has taken so long to appear. Either way, now that it's showing up in renders, it shouldn't be long before it's here officially.
What are your thoughts on the upcoming dark mode for Outlook on Android and iOS? Let us know in the comments.
Zac Bowden is a Senior Editor at Windows Central. Bringing you exclusive coverage into the world of Windows 10 on PCs, tablets, phones, and more. Also an avid collector of rare Microsoft prototype devices! Keep in touch on Twitter: @zacbowden.
About time! I have to use overlays on Android to be able to use Outlook without going blind. Also, this dark theme is way better designed than the crap they have on the desktop app. They should fire the desktop design team and put the mobile one in charge of Dark Theme on the entire Windows 10 experience.

Agree about the desktop version's pathetic design. This absolutely kills Gmail on Android for me.

Hopefully they also fixed bug with opening new emails and them not being updated. So frustrating. My Microsoft email account will continue to be checked through Gmail until they fix it. Don't care about dark mode at all. It feels old and claustrophobic to me.

Wow, i actually find myself in agreement with one of DJCBS's posts for once. Seriously. It's about time. And this looks like a very solid improvement. I hope it's legit.

Sweet now had do I make the Outlook calander the default one and I'll switch back to this as it dose not sync with my tic watch Pro on my note 8

OMG !! Finally its here...

Looks awesome! I'll be going dark as soon as this update rolls out

I'm happy this is finally coming a long. Looks good to me. I've always preferred dark mode for apps, though it's important it's implemented well, and this looks well-implemented.

Finally! Also, is it just me or does anyone else have problems with opening an email from the notification center only to find that email nowhere for a few minutes? If this is a bug, then it needs to be fixed asap!

Looking forward to this being released for us to use. I enjoyed the dark mode in Windows Mobile and was disappointed that iOS/Android didn't have that option.

really one thing. window mobile was better than iOS/Android.

It would be nice if we could actually use Outlook by storing and managing contacts rather than turning this information over to Google by using their contacts application.

Depending on your Android phone, the built in Samsung apps actually work better for Outlook and Exchange accounts than Microsoft's Outlook App -- access to all the contact fields including notes (and ability to edit), proper calendar invites and response (just like Desktop Outlook), and even proper mail signatures with graphics if needed. None of those work in Microsoft's Outlook for Android in my last check about 2 months ago. They worked great in Outlook for Windows Phone, but alas, the Android version of Outlook just isn't at the same level. Another reason to miss Windows Phone...

Pleased to see dark theme support is coming. Big improvement over the white background currently used. Not a big fan of the black background - it reminds of Android Edge browser. I personally like the Outlook app and the web version. And dark mode on OneNote, while very dark grey, looks great to me. So I guess I'll wait and see how it looks, nevertheless, its a welcome change.
Windows Central Newsletter
Thank you for signing up to Windows Central. You will receive a verification email shortly.
There was a problem. Please refresh the page and try again.