Outlook Mail and Calendar snags week view for mobile devices and more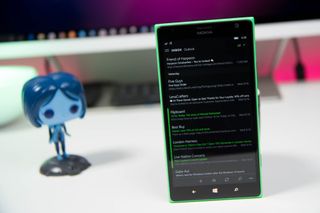 Outlook Mail and Calendar has nabbed a fairly nice update this evening, bumping the version number up from 6430 to 6506 and bringing a new week view style in Calendar for mobile devices, full screen reading for phablets, and more. Here's the rundown of what's new in the latest Mail and Calendar update:
Added portrait week view for mobile devices
Added context menu quick actions for calendar events on mobile devices
Added full screen reading for phablets
Fixed bugs and top crashes
It's not the most feature-packed update ever, but it's certainly nothing to scoff at either — especially if you're doing all of your emailing and calendar work on a large-screen Lumia. As always, if you'd like to grab the latest Outlook Mail and Calendar update, simply hit up the link to the Windows Store below.
We should note that this update may only be for those on the Insider program as we are not seeing it for our non-Insider PC. Let us know if you find anything else!
Thanks for the tips, Ronald H. and PmhGeneral!
Download Outlook Mail and Calendar from the Windows Store (opens in new tab)
Dan Thorp-Lancaster is the former Editor-in-Chief of Windows Central. He began working with Windows Central, Android Central, and iMore as a news writer in 2014 and is obsessed with tech of all sorts. You can follow Dan on Twitter @DthorpL and Instagram @heyitsdtl.
Have to update.still that calendar view is not perfect..sometimes will show month view.sometimes overlapped

And if you place the dpi to it's lowest in a 5.7 in device it looks awful. Hope they fix that. I'd like to see month view.

The month view is also pretty useless. In 8.1, you could look at the month view and see which days had events, which was very handy.

Date in live tile is not working :(

On the latest Insider build and in month view there is a little circle highlight under each day with events. Click on the day and the events show. Very neat :)

Yep, month view looks great on my L930 :) - Agree it may not be the same as 8.1, but what would be the point of that, it needs to be different, progress/innovation is what I want, and for that you must have change !!!

There is the option to select Month view from ... or tap the > down symbol next to the month at the top. Cool to have options :)

When did the weather start to show up in the calendar again? I just noticed it.

A couple updates ago.. WC mentioned it.

Except the weather icons should link to the weather app and not to the weather website.

I think they added color to the weather icons for this release which causes them to jump out. I just noticed this too.

Glad to see them refine it. Still really miss having seperate inboxes and live tiles. Not to mentioon seperate notifications per inbox. I have 6 e-mail accounts on my phone and it was nice to be able to hear a chime and know if it was work or something else. Hopefully at least the notifications will come back. Aparently the android version of Outlook mail does this. O.o // Jason

Umm separate inboxes functionality still exists. The ability to customize notification sound per inbox still doesn't.

You can have separate live tiles. Go into a mailbox, press the 3 dots at the bottom right, select accounts, and then long press each account and select "Pin to Start". Voila! Separate live tiles. And last time I looked, in the account options you could enable alerts for each different account, but I haven't checked that option for a while.

This doesn't seem to work for me. ☹

Try to use hamburger menu, select account, than go to menu again, long tap on Inbox folder and than "Pin to start".

Hey thanks all! I now have seperate live tiles for my various e-mail boxen! I used the hamberger menu as suggested. Easy breezy. Been missing this feature since I started using Win 10 Mobile. Now if we could just get seperate notifications! :D // Jason

I'm still on 8.1 on my 930 because a lot of these apps doesn't seem to be completely finished.

The idea is that they're constantly improving - so, never "finished." In my opinion the new apps are already better

+930 - W10 is awesome. Yes, it's improving weekly but no issues so far on the latest build.

Just restoring features previously available in earlier versions of your OS isn't what I would call "constantly improving"......

The mail app on 8 is much worse than the one on 10.

Portrait week view has been available for a few releases now, so I'm guessing that Microsoft just didn't update the changelog again.

Sloppy from WC not to compare the change logs....

Yeah, I've been using week view long time ago. The last update did bring back the Unified Inbox and that's basically it. Anyways, they really need to bring Alias and Categories. Its a bummer that I have to use the web app just to take advantage of those features.

Seems more polished and the UI is quick and smooth.

I have had the week view for a long time. I am confused.

Hopefully Microsoft adds the functionality to show multiple appointments/reminders on the wide live tile. I've been using Cal just because of this.

"as always... ...simply hit up the link" Unless your using the neglected mobile app of course, in which case your SOL.

Coming soon - WC W10 Universal App?

im confused I've had this on the 950 since I picked it up Friday could it be some non-insiders had this before?

Seems they fixed the calendar selecting the right date.

Live tile still broken.
**** it MS!

This changelog is from the previous update. Have been using that week view since days.

Why Microsoft is not adding day,month and year view in its calendar app. It is basic necessity of any calendar. This feature is there in 8.1

Why not actually use the app before before making false assumptions.

I use it daily, only Day, Week and Agenda are available for my 950 XL.

I have to be honest that the new 950 is not doing it for me. The battery life is not great, random restarts, and the app gap is taking its toll on me. Been doing the windows phone thing for a long time, but I feel like I care more for Microsoft than they do for me.

No one cares.
Go get a rose gold iPhone.

Thanks. You are the kind of people that will drive me to that iPhone.

I think even an iPhone user could stay on topic, though.

They wouldn't even need to be here because their app is finished.

I feel you, I'm thinking about getting the new Moto G and flashing CyanogenMod on it and using that as my daily driver, I'll return once the app gap is fixed, but since I'm also heavily invested in the Android Ecosystem also I probably won't be too affected switching. Posted via the Windows Central App on my Moto G or Lumia 640

Windows Central, you guys need a format for posting app updates... Something that notes the platform and version number that the update applies to. For example, start each headline with WM10- Mail & Calendar updated....

Mail app crashes after update, cant even open it. Anyone else experiencing this?

Outlook Calendar event reminder Snooze issue fixed yet? This is pretty much my only issue with W10M so far on my L830.

Next update: Show different inbox names in the notification center please!!

I know! Try Wunderlist as Microsoft bought it and links with other apps. I no longer use tasks as replaced with Wunderlist.

I guess it still will not sync to Exchange or Outlook?

I use the free option and not sure what the paid option does. I can sync it with the live tile and email for reminders. I don't use Office365 Desktop Outlook as the mail/calendar apps with Wunderlist works across all devices.

they will probably bring that feature back like it's something new, just like the week view

I hope so. A separate first party app would be fine too.

The mail app is now showing images instead of all the broken links. This was a problem on the new phones

Yes! I'm glad I waited for the first app update to see if this would be fixed instead on resetting my whole phone.

Yes, that was the first thing I checked. I'm so glad they got that fixed.

To fix the calendar and mail apps I'd simply port the iPhone version of Sunrise and Outlook, problem solved. So I'd be able to subscribe to my favourite sports and other interesting calendars. And I'd no longer be impatiently waiting for the improvement that's coming soon forever

I'm getting it and I'm not enrolled in the insider program. Hopefully they fixed the images not showing up.

I am not sure MS will release W10M this month.

Last week I found out that Outlook switches to a completely different week view (also when in day or month view) when your phone is held in landscape. Allowing you to show either work week or entire week. On a Lumia-520-size screen this view is very pointless, but maybe nice on 5" or bigger?

I just downloaded the update. So far so good but the big improvement is now Outlook displays email images.

Unfortunately, the email client still can't render my emails properly.

As someone who codes HTML newsletters, I couldn't agree more. The MS Word HTML engine in Outlook for Windows is absolutely useless. The joke is, that newsletters in Outlook for Android and iOS look great, since they use Webkit to render. Why they just don't use the Edge engine for Windows is beyond me.

Always gives error while syncing manually while battery is less than 20%. Also gives an error inspite of wifi being on. It asks for data connection to be on as well...strange

Finally with that update I have images in mails!

Downloading Gmail attachments sucks in the Outlook App for W10 - both PC & Mobile.
Whereas it works perfectly fine and fast on my friends Android & IPhones.....seems MS doesn't give a sh*t for their own apps for Windows 10 users.....Pathetic!

I'm also getting this on the L950 which hasn't got insider builds yet :)

They need to update that tile, it is to sad to have a calendar that showes you nothing.

That changelog is ancient. I wish the writers of some of these articles would actually check what they're writing. Week view has been available for ages and reported on this site over a month ago: http://www.windowscentral.com/outlook-mail-and-calendar-app-week-view

Week view had been there in previous update. Not new. Been using it since

I wish they could make an option to see event details in month view. I love True Calendar 8 but its still not optimized for W10M.

In Month view tap on a date with a circle underneath and the events appear.

Life tiles now have different icons for different types of accounts (like 8.1). Also shows on lock screen. Hooray!

Just wish they add all sunrise calendar features and allow you to change the font and size

They changed the Linked Inbox icon also.

Can someone please confirm the latest version/build number? I haven't received an update so I would like to know if I'm on the latest version.
Thanks!
Windows Central Newsletter
Thank you for signing up to Windows Central. You will receive a verification email shortly.
There was a problem. Please refresh the page and try again.