Outlook Premium may be offered for free to Office 365 subscribers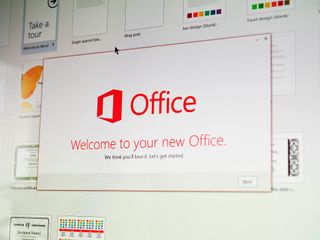 (Image credit: Windows Central)
Earlier this month, it was revealed that Microsoft was testing a new service called Outlook Premium. Now it appears this version of the company's email service could be made available for free to subscribers of Office 365.
The reveal comes via a leaked screenshot posted by "WalkingCat" on Twitter. The image indicates that Outlook Premium offers up to five personalized email address and will be ad-free. It also shows that it will offer better ways to share calendars, contacts and documents. There's no word if Microsoft will offer Outlook Premium as a separate paid service for non-Office 365 subscribers.
Keep in mind that Microsoft is currently conducting closed testing for the service with a limited number of users. There's no word on when, or even if, it will go live to the public.
Source: WalkingCat (Twitter); Via: Petri
Awesome, Microsoft is doing a lot of good things. Plus windows central app is getting better and better, notifications working finally in last 2 updates.

Why is this considered good? All Outlook Premium does is remove ads and account expiration. You fix that by using your email account (who doesn't?), and using uBlock or Adblock Plus in your browser. Confused.

well, can you upload more than 25MB of attachments in one email? on Office 365, you can do more than that: 150MB of attachments in one email. that's a pretty good thing to most Enterprise users...

150MB email attachments are not good for e-mail infrastructure. That's what cloud storage, portals, and shared drives are for.

Glass half empty type of guy?

Maybe, but the fact that you can do it...

What "email infrastructure"?

The server hardware that keeps your email in transit and stored in place.

Yes, obviously (although I'm not sure what you mean by keeping email in transit, transmission is not a server's task), but my point is, how exactly is 150 MB email attachments going to be a bigger strain on servers meant for mail than on servers meant for cloud storage, video streaming etc.? What makes the "email infrastructure" different on this regard?

With cloud storage, or portals (like Sharepoint), you have one central location for file sharing and collaborating. The legacy way of 'replying to all' with the latest Powerpoint changes to an e-mail distro clogges up unnecessary bandwidth. For example, executive assistant makes a change to a 100MB Powerpoint slide. He/She then replies to a large distro. If that distro has 10-20 people, your infrastructure has to support that 100MB attachment times 10-20. Now scale that example to an entire enterprise of people. That is inefficient, even though many people still do this. With modern solutions, you keep things simple and bandwidth friendly.

actually it is worse mime encoding increases the file attachment size by approximately 50%. Modern Exchange servers do at least use only one pointer to the file if it is to everyone on the same exchange server but not all email servers do this. so that 100MB with mime encoding (email was for text and to trasfer a binary attachment it is encoded as a special headered text file) would actually be about 150 MB encoded. I am sure every blackberry and mobile user would love it. Now if you add any type of encryption overhead say pgp or a pki you increase it again more. This is why large files should stored on a fileserver if at all possible. It is only needed to account for the storage 1 time (and if you use deduplication on the server perhaps even a couple of copies still only use the basic 100mb) Sending a Link to the file is inherently more efficient for the email server and allows for auditing of access (in most file systems), better revision control, and minimizes accidently sending the file to a mail exchanger that doesn't support that size.

I think they're referring to the ability to use custom domain name email address via outlook.com. This is a new service that they've been using, which would replace similar functionality we lost with Microsoft custom domains closing down. Unless I'm misunderstanding... admittedly the article isn't super clear and I'm in a bit of a rush right now to research further.

Custom domain name looks like a good feature. I just did not see it on the Outlook Premium webpage. It only shows "no account expiration" and "ad-free". http://windows.microsoft.com/en-us/outlook/ad-free-outlook?woldogcb=0

That isn't the outlook premium webpage- outlook premium is not an announced service and is only in testing. It is not avaliable for consumers.

The custom domain inbox is the biggest feature. Some people have custom domains, and instead of using some cheap free inbox software, they can now use the power of Outlook.com inbox to handle their emails, saving space on their personal web servers, while getting all the benefits and features of Outlook.com.

a decided lack of perspective, eh? Extra value for Office 365 subscribers should be easily seen as good. And as for the idea that as you use uBlock or Adblock and so can't apparently see the potential value of ad free outlook, congratulations on your decision. The strange thing about life is that people have all sorts of criteria for what they'd prefer, and I can imagine that ad free outlook may just be what some people might appreciate, and if they're gonna get it for free because of something they already have (in my case also for free due to my 950), it's not hard to see that as extra value. But hey, personally I don't necessarily present my decisions as the prescriptive archetype of human behavior, and occasionally peer above the parapet walls to actually see what other people are doing.

Oh great. A buthurt response followed by a life lesson in the comments section. How rare.

The initial trial it's US only ;/ "*Personal domain names subject to availability and included for the first year of Outlook.com Premium subscription only. Offer valid only for original recipients of the email from Microsoft about this offer who subscribe to Outlook.com Premium between January 21, 2016 and April 30, 2016 via the link in the offer email. Personal domain names provided by GoDaddy and subject toGoDaddy's terms . Payment instrument required and will be automatically charged at the end of your subscription term at the then current price unless you cancel your subscription at www.office.com/myaccount. Offer must be redeemed online through the Microsoft Store. Limit: one offer redemption per Microsoft account. May not be redeemed by or transferred to another customer, or combined with other offers. Offer does not include taxes, shipping or other fees. Offer valid only in the United States. Not valid on prior orders or purchases; may not be redeemed for cash or gift cards. Microsoft reserves the right to modify or discontinue the offer at any time. Use of Outlook.com is subject to the Microsoft Services Agreement "

If they add this 365 Home and it works for personal domains I'm in

I subscribe to Office 365. I vote it should be free ;)

I hope they wont revert back like they did with OneDrive unlimited storage.

That's my concern. I've had a personal domain for years on fastmail. I dont want to move it, just to have it cancelled in a year when MS changes its mind...

So, it's basically a taste of Office365 business?

I just want a replacement for my Small Business Server that won't break my bank. I can't even run Outlook 2016 because my exchange server is too old.

That would be awesome. My wife and I's small business uses Office 365 and Exchange Online for email. Would be nice to dump that extra few bucks a month and move email domain back to Outlook.com

No way I'm entrusting my domain management to them, but it's cool they would offer it that way.

I'd rather they let you use your registrar of choice. Very happy with the one I have. Incidentally, one thing Microsoft needs to do is work with WordPress to get feature parity with Google's services within WordPress-based sites.

They won't manage your domain... you use your own domain (from GoDaddy or a registrar of your choice) and they handle the inbox portion. Pretty awesome!

Why would you entrust them your domain management? Usually for this kind of service all you need to do is set MX dns record for your domain to point to microsoft server and that's it..

Exactly. I dont think MS really wants to deal with managing your domain. They will just let you point it to your outlook.com account.

It's how Outlook works, really.

Outlook is Office mail client used mainly by corporations. Outlook Premium is mail service for consumers. Makes perfect nadella-sense.

What are you even talking about? Outlook is the suite of apps/services for everything mail & calendar (for both consumers and businesses). Outlook.com / Outlook.com Premium are the online services for consumers and small businesses. Same with Office 365 Home and Personal. Office 365 Enterprise is targeted to corporations and large businesses.

He's just talking about Microsoft's inept ability to name things appropriately.

There is a serious problem with the brand names : Outlook (program), Outlook.com, Outlook (email provider), Outlook (app), Outlook premium .........
I'm not sure that the people understands very well the offer.

It's actually pretty simple: Outlook is the master brand for everything Mail/Calendar related
Outlook 2016 for Windows/Mac is the desktop app
Outlook Mail & Calendar are the mobile apps
Outlook.com / Outlook.com Premium are the consumer online services (also via Office 365 Home/Personal)
Outlook on the web (via Office 365 Business plans) is for businesses.<br />

Right. But let's ask an average person. Not a blog commenter. You will not get the same answer as yours.

This is probably a pretty dumb question, but what is a "personalized email"? Do they mean personalized domain email?

Yup. username@yourdomain.com in your outlook.com inbox. Obviously it would be subject to domain availability.

So it was incredibly easy to get an invite to this test. I just followed the link, signed up for the wait list and got an invite right away. The thing is though that you can't bring your own current domain right now. It will only let you register a new one right now. I did that so I could play with it and am now waiting for the configuration to finish. Says it takes a day or so to migrate. We'll see how it goes..

Good deal...will keep a 'keen eye' on this possible development, as I just received my Office 365 Personal 1 yr subscribtion via the Lumia Offers app after purchasing my Lumia 950!

Haha, Outlook Premium - a piece of ****. Only NEW DOMAINS, which ones regs by GoDaddy. You are already have domain? You cant use Outlook Premium.

I already have an Office 365 Home subscription with my current Microsoft account. Can I qualify for Outlook Premium?
Windows Central Newsletter
Get the best of Windows Central in in your inbox, every day!
Thank you for signing up to Windows Central. You will receive a verification email shortly.
There was a problem. Please refresh the page and try again.