Outlook.com announces support for IMAP email and new partnerships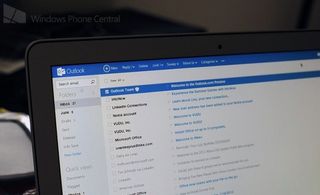 The Outlook.com team is doing another Reddit 'Ask me anything' (AMA) and one of the top questions was regarding IMAP support. In a clever announcement, the team notified the person asking the question that Outlook now supports the popular email protocol and even provided the settings.
Many potential customers have wanted to switch to Outlook.com from the likes of Gmail and other services, but the lack of IMAP support was hindering their transition. This was especially true for those who used Mac Mail and Thunderbird on a Mac.
In the previous AMA, the team noted that IMAP was being worked on but they had nothing firm to announce. Just a few months later and it is clear that IMAP became a priority as it is now live for customers in addition to new partnerships to hook into the popular email service from Microsoft.
Settings for IMAP are listed below for Outlook.com
Incoming IMAP mail server: imap-mail.outlook.com
Incoming IMAP mail server port: 993
Encryption: SSL
SMTP
Outgoing SMTP mail server: smtp-mail.outlook.com
Outgoing SMTP mail server port: 587
Encryption: TLS
In addition, support for OAuth has also been announced, meaning third-party apps and services can now hook into Outlook.com. In fact, Microsoft and the Outlook.com team are announcing partnerships with TripIt, Sift, Slice, motley*bunch, Unroll.me, OtherInbox, and Context.IO to work with the email service directly. Users will be able to plugin and get a more unified experience using the various services. More information can be found on the Outlook Blog.
Source: Outlook Blog (opens in new tab), Reddit
Daniel Rubino is the Executive Editor of Windows Central, head reviewer, podcast co-host, and analyst. He has been covering Microsoft here since 2007, back when this site was called WMExperts (and later Windows Phone Central). His interests include Windows, Microsoft Surface, laptops, next-gen computing, and arguing with people on the internet.
Awesome service keeps getting better

Wow..they have to especially with imap. Which idiot decided to release it without imap

agreed. Also they should include fucking rule synching OR enable rich rules in their web-app.

indeed. A great service.

I started with Hotmail years ago. The new Outlook.com is amazing. I love how i can quickly jump to/from my SkyDrive, Calendar, and People hubs. An excellent web app experience.

just like on hotmail.. great. despite the restriction in functionality that came with the move from hotmail to outlook.. but hey. rome wasnt build in one day either

But when will they support IMAP *in*? I would use Outlook.com to consolidate my old Yahoo! mail if they would bring it in using IMAP and not just POP.

I dont think anyone does IMAP *in*

"Internet message access protocol (IMAP) is a protocol for e-mail retrieval."
- Wikipedia

I used Mac Mail and immediately copied my folders over to Outlook. I am officially done with Gmail.

Attaboy. It saddens me to see the huge popularity of Gmail. I don't think that most Gmail users know that Google spies on their email and sells their information to 3rd parties. Google outright admits they do that. Microsoft says they don't, which is just words and should be taken with some amount of skepticism, but thats better than Google. "Don't be evil"? pshhh what a bunch of damn hypocrites.

I use and will continue to use Google stuff, I have an Android tablet as well. But yeah I agree, I don´t really trust them. So they have been downgraded to Social Network status a la Facebook. It is disconcerting to have one company track my every move, be as social as they are, and still have all my emails, contacts and documents.
I already use Skype and I have an Office 365 account, so I think it is time to consolidate my serious stuff to MSFT. Email, Skydrive, Skype, Office, Contacts, Calendar, etc.

Didn't you just say it's disconcerting trusting one company with too many things ?
Personally I hope there'll be better options to spread personal stuff across bunch of services, ideally smaller and less known, because these top ones are primary target of agencies etc.

True but I am less worried about MSFT due to their business model and lack of a proper social network. They are only in control of my email and documents. I do agree with you though.

you won't regret it. i have consolidated my outlook.com, skype, office 2013 9.95 a month but for me worth it.
contacts calendar. and to steal a saying it just works. WP8 to windows 8 computer syncs perfect.
even outlook2013 is good.

I'm kind of where you're at... The more I think about the way our technology is heading the more it seems like there will be (at least) three large ecosystems for managing all our electronic data. Apple will undoubtedly be anal about it. Google will be cheap in the front end and cash in on the back-end. Microsoft will milk your money up front. If you mix services then you'll wind up losing on the best integration. I have chosen to side with Microsoft. The biggest reason being that I do not plan on replacing my desktop PC with an Apple or Google variant anytime soon, and am now very happy with my Lumia 928.

Awesome. On my way there...except that I'm grandfathered into my Zune pass with a Gmail account, but that's it...just a login for me.

how did you set it up? it automatically sets it up as POP3.


Put in an erroneous password and it will send you to advanced settings, and from there you can choose IMAP, and configure accordingly.

Thanks! Wish I could ser up calendar and contacts in "Calendar and "Address Book"

Baby steps... This i one big step in the right direction. Let´s hope it better sorted out in the next update of OSX.

Signed up for outlook on day one!

Me too, well transitioned from Hotmail. I love it and it's by far my favorite email service. I used Gmail very early on too, when it was invite only. I really like it, but about a 6 months before WP7 released I switched back to Hotmail. It was a lot better than previously, but Outlook.com is amazing.

So what exactly does imap do that I'm not already getting

It allows non-EAS clients and third party apps, especially those on Mac, to use Outlook.com for email. It's really huge news because many want to switch but rely on IMAP.

Me too! This made my day!!

How does this affect the primary account on my phone?

Nothing. It's only good for 3rd party email apps.
With IMAP you can sincronize all inbox (and folders) between all apps.
With POP3, the app that downloaded the Inbox, its the only one who get the messages.

Int3nsive, does this count for multiple devices? I haven't been able to get email on my phone for weeks, but my surface rt with outlook gets them just fine. Is this because I have to tweak the pop3 settings? I have a pop3 email.

the ideal case is that all devices just access outlook.com by EAS anyways. So each time you do something in the program it will be send via intenret to outlook.com and the change will happen there. therefore on all devices that access outlook.com will see the change like a read mail or deleted or moved mails or contacts and calendar changes.

Yeah, its probably POP3 fault.
Like Adrian1338 said, use EAS. Since both devices are Windows it's the best option.

Exchange ActiveSync.
http://en.wikipedia.org/wiki/Exchange_ActiveSync

Yes! I need this feature too!

wish they just include option to merge two accounts or atleast move aliases between accounts

I think that they took so long to bring us IMAP that now nobody cares.
9 out of 10 people that I know, uses Gmail instead of Hotmail or Outlook or live. And used to be the opposite, specially when Messenger was a big success.

Not really. IMAP was a top requested feature and it's up there for top reasons why people won't switch.

Yes, but the IMAP was the big and main reason on why people switched from hotmail to Gmail.
Now whats the point switching back...? Its good indeed, better late than never but I don't think this will make people switching back to hotmail again.

I swicthed back. I used to love Gmail back in the day because it was "simple". Hotmail was busy. Now Gmail is too busy and Outlook.com is simple. I love it :)

This! I use to be a hardcore Gmail promoter, my MSN was just there for messenger really. With the new Outlook I left Gmail because Outlook is simply pretty damn awesome (right clicking ftw).

Because google has shown that show no restraint in disabling features that doesn't affect them Look at the active sync issues from earlier this year.

Beautiful. Just beautiful.

I wish AOL would improve their email with push, so that there wasn't a 15 minute delay on receiving emails.

Great, now Outlook.com is an official Gmail competitor* :)
*) as it provides EAS, it's actually even better than Google, but the lack of IMAP support might has kept everyone without Windows (Phone)/iPhone away from Outlook

Now if only they allow for pop up notifications like Gmail does, and I'm all set.

That settles it. As soon as my Luma (kickstarter cloud storage device) arrives around April, I'm moving everything from Google and having everything forwarded to Outlook. Currently I've got contacts in both places, not sure which are more up to date, and with the whole CalDav incident panicked and moved everything over to my MS ID, which is a Gmail address. As soon as my Luma arrives, all my data is getting migrated to it from Skydrive and I'm changing my MS ID (can't right now or I'll go from 25GB to 7GB). I can't wait to get all my junk into 1 place and not be afraid that it might not sync with my phone.

I recently ended Gmail...absolutely can't stand it. All my Gmail is forwarded to Outlook.com and soon I am deleting my google account completely.

Me too. Gmail looks messy. I had problem syncing emails from Gmail but now I forward all new incoming emails to my Outlook. .... The design is stunning, plus it allows me to create folders and subfolders, filter incoming emails and when I want to send an email I can choose between my Outlook or Gmail as the sender.


I did this as well. I have multiple gmail accounts all going to Outlook.com now :)

I want to use my outlook.com account with Microsoft Outlook for Mac. This wasn't possible before, but is it now? Should I look into it again? I just want everything synced in real time, I hate having to delete things and move things around on multiple devices...

Using the imap and smtp information supplied in this article, I just set up my outlook.com (actually msn.com) email address in Outlook for Mac. You have to uncheck configure automatically, or it'll try to configure the POP account. I too am moving away from the Google services right now. I've had my MSN account for years, and I love the new simple look of outlook.com as opposed to the old Hotmail look. Having the calendar, contacts, Skydrive at the top of the page is such a quick and easy way to access my Microsoft areas.

This might be a dumb question, but will imap also support mac calendar?

Not a dumb question, a very valid one, it doesn't :/

But i want superb outlook app for wp!!!!!!!

They mention Slice. I really hope they decide to make a WP app soon enough.

Great news for people who need this. I still wish I could just sync my phone, Surface Pro and Win8 machines consistently on Outlook.com
It has me completely stymied that I can delete a dozen emails on my Surface using the Windows side via web browser, then go to the Win8 built in "Mail" and those messages still exist even after I hit the sync button.
This must be a total me problem...but an annoying one I can't seem to figure out...

What about ical and address book on mac?

I cannot even get Mac OS to recognize that my outlook account offers imap for e-mails. It only allows me to set up a pop3 inbox. Does anybody know a workaround?

When you add hotmail/outlook as a new account hold down 'option' as you click continue and you can then select IMAP and enter the server information at the next step.
This has been too long coming, at last! Now I just need CalDAV.

About time too. Long overdue.

I'm stymied that Google and Apple are able to sell IMAP as some kind of upgrade. It may support more than POP3 but when Google moved away from MAPI/EAS, they weren't doing it to provide an enhanced experience for end users. I can only assume that they had to pay Microsoft license fees to use it with Gmail. Beyond that, I could be missing something but I was able to easily set up Outlook.com to manage all of my mailboxes including Comcast and Gmail. It is much more efficient than trying to manage multiple mailboxes even if it is through the same UI. When it comes to messaging and unified communications, no one even remotely compares to Exchange, MAPI, EAS, Office 365, Lync, and Skype. Outlook.com may not be Office 365 but it effortlessly manages all my personal mail with automated tagging as well. And with Windows 8, everything follows me including settings, favorites, contacts, etc... I don't get it. When I was using Gmail with my Android, it was nowhere near parity to the experience with Outlook.com, Windows 8, and Windows Phone 8. Google's services lack a real unified vision and integration that I now take for granted. Apple... Well, they are proud of their little launch pad thing on OSX if that says anything. More so, iCloud is running on Azure because its... Well... Better than what they came up with. Looking forward to even more integration through Xbox One but already love Xbox Music everywhere else. Anyway, could just be me but using IMAP in this day and age for Gmail and Apple support seems kinda sad. If people need it and it increases the adoption rate for Outlook com, that's a good thing but lets call this what it is - Outlook.com now supports a LEGACY, outdated and under-performing mail protocol that is at least 15-20 years old.

Buying a HP envy all in one touch pc soon. Very excited to get to grips with everything!

Mainly for the iOS and Android users then?

Well, i've tried with a @hotmail e-mail and it doesn't work.


About time...

Can we have CalDAV/CardDAV now? :D

Exactly! This is very much needed, generic, to be able to sync with any service out there.

Hopefully now they can focus on importing email from external sources (my domain is hosted with 1&1) via IMAP.

Finally! Now I have can use a mail client on OS X instead of the Web site.
Windows Central Newsletter
Get the best of Windows Central in in your inbox, every day!
Thank you for signing up to Windows Central. You will receive a verification email shortly.
There was a problem. Please refresh the page and try again.