Outlook.com Premium's promotional pricing extended through June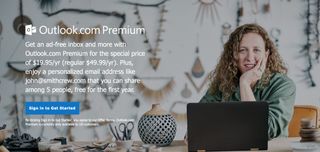 Microsoft has quietly extended the promotional price period for Outlook.com Premium through June. After the paid service launched in mid-February, the deadline to take advantage of the promotional $19.95 per year pricing was March 31. Now anyone interested in Outlook Premium will have through June 30 to sign up at the lower price (via Thurrott.com), at which point it will move up to its regular $49.95 price.
For the money, Outlook Premium offers up some advantages over the free version of the web-based email service. The main perk is a personalized email domain that you can share with up to 5 people. Anyone using the domain can also take advantage of easier sharing for calendar events, documents and contacts. Lastly, Premium removes banner ads from your Outlook.com mailbox, making for a cleaner experience.
Anyone who jumps on Premium with this promotion will be able to enjoy it for quite a while, too. According to the fine print, the auto-renewal at the end of the first year will carry the same promotional price rather than jumping up to the usual $49.95. The one downside? The custom domain is only free for the first year, so you'll have to tack an extra $10 onto that renewal fee.
Interested? If so, you can sign up at the Outlook.com Premium page now.
Windows Central Newsletter
Get the best of Windows Central in your inbox, every day!
Dan Thorp-Lancaster is the former Editor-in-Chief of Windows Central. He began working with Windows Central, Android Central, and iMore as a news writer in 2014 and is obsessed with tech of all sorts. You can follow Dan on Twitter @DthorpL and Instagram @heyitsdtl.
many options for a consumer... Outlook.com vs the app.

Cannot set up. Area code & phone number box not responding.

I have office 365 university, would this any benefit? There is not info on how many alias allowed with premium

There are five aliases allowed. Premium is alright, depending on your usage. I use it with one domain and it's fine, but my volume is low. I set it up for a client, and every single goddamn day, by around 10AM, they locked her account from sending emails because she'd gone over the daily limit (somewhere around 150 emails, though Microsoft refused to give concrete answers). Five days in a row, half the day on the phone with Microsoft's AWFUL support for this service and nobody could tell me why they kept locking her out of this paid service. No, she is not a spammer, she's a music promoter in Los Angeles. In the end, we gave up and moved to Office 365 because it was the easiest possible move from outlook.com premium since it runs on the same network. I wouldn't recommend Outlook premium to anyone but the lightest of users..

And now available is Canada!

I don't mind them charging for custom domains but honestly MS should get rid of the ads in Outlook.com. It looks terrible and I think it would stop people from using it. Even Gmail got rid of the ads and that's Google's business. At least Office365 subscribers should have an ad-free experience. I use Bing/MS Rewards points to buy the ad-free experience because it looks so bad, and I refuse to pay $20 for that on top of Office 365 subscription.

Yep. Totally agree that Office365 subscriptions should include an ad free experience when using Outlook.com. I was very disappointed to find out that wasn't the case.

I assume you mean the office 365 desktop app suite, because a) office 365 the email service doesn't use outlook.com, and b) there are no ads in the email interface for office365.com

I just went to my gmail account (first time in years), and there were 100s of messages in the "Social" and "Promotions" tabs trying to get me to buy other google services with only a handful of mail messages. I always use the Win10 app to read my Outlook/Live/Hotmail accounts so I never see ads, but I can understand if you have an O365 account not wanting ads. Maybe if they assigned the account you have for your O365 account as ad free. But a lot of people do not do that, and it would be a nightmare associating those different accounts. But if you have O365, why not just use Outlook and you wouldn't see ads in the first place? I also wouldn't think of this as Google changing their ways. Their Home device (the copy of Amazon Echo) now gives out ads when you use it. Recently when you would ask it to turn off the lights (when connected to devices like Hue) it would start playing an ad for the movie Beauty and the Beast. Google told people that it was not an ad, that it was just giving you current information. For things like when Microsoft puts an image of a featured app on the store tile, that is a gross betrayal that they need to be condemned for because they put up an "ad" on a device you paid for, but "Hey Google turn off the lights" - "Sure, and here are some movies you would want to see" then Google is free and in the clear.

Yeah. The thing is, Microsoft sells software, vs Google who mostly give it away (since they've always earned money through advertisements). That's why Google get away Scott free and Microsoft get condemned for doing the same thing. Plus and there is a double standard against Microsoft. The issue in I believe the early 2000s where they got dinged by the EU for abusing their monopoly has stuck and people are much more wary of Microsoft as a result. Not to mention Microsoft is seen as a relic that needs to die.

Agreed. I have Office 365 Home and using Outlook.com (I currently like the simplicity of the web email client over the full-blown email client) with it's reasonable advertising, but now have this update message asking me to pay for another version. It's intrusive, it takes up too much space on my screen, it can't (it seems) be switched off. And I've paid an annual subscription to MSFT for Office 365 Home so why can'y they work that out? marketing is one thing but aimless marketing is a pain in the a**e.

I noticed a little blue nag button on Outlook.com yesterday "Upgrade to Premium " I right clicked and block element.

You might want to note that you can easily avoid the $10 per year fee simply by buying your own domain name elsewhere and configuring DNS yourself. It's easy.

Ehh, you still have to pay for your domain elsewhere though. Sure, it may not be $10 elsewhere, but it's not free.

No. But at least it doesn't belong to Microsoft. As it does in the outlook premium subscription.

I may have missed something in the T&C's.. How exactly does it belong to Microsoft if you register via them (well, Godaddy)?