Outlook.com users can now access their Google Drive files and Facebook photos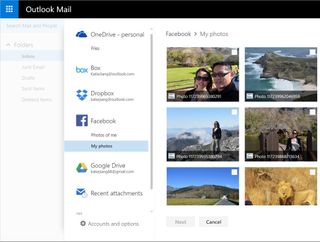 Microsoft's free web email service Outlook.com has added support for accessing files stored in Google Drive. It has also added support for accessing and attaching photos from a Facebook account.
In a blog post (opens in new tab), Microsoft says this about the new Google Drive support for Outlook.com
Here's how Outlook.com users can add their Facebook photos:
Finally, Microsoft has made finding a specific attachment easier in a long email conversation on Outlook.com:
These new features are being rolled out to all Outlook.com users over the next few weeks.
Windows Central Newsletter
Get the best of Windows Central in your inbox, every day!
... while my Outlook account is yet to be migrated.

All you'll get with the migration is loss of contact pics, i would enjoy them while you can before Microsoft comes in and blows them all away without so much as an acknolwegement.....

Really? I guess it has to do with old Facebook Connect integration that was pulled ages ago? Which seems may be the reason. Though I don't get it why it's been removed without a replacement. It doesn't make sense (well MS loves removing stuff without replacement or replaced with something inferior). Still, the new Outlook web app rolling out way too slowly. Mail app on the other hand still lacks Outlook.com features such as Alias and Categories, and now new features from new Outlook web app. What an ecosystem indeed. Posted from alternate universe

Nope. I don't use Facebook, created a couple hundred pics using the People app over the years and poof...gone.

I don't think one has anything to do with the other

Is there a way to roll back ? The way it handles the contacts is awful Posted via the Windows Central App for Android

And in typical Microsoft fashion of one step forward, two back, the upgrade nuked contact photos for many of us and no one will reply to emails asking for help or even provide an explanation. Well played, Microsoft, well played.

Because anything you love and essential is on the shortlist of being nuked at newer updates for whatever reason. Hopefully there will be enough complaints for this and they will implement equivalent solution if not better, not something inferior just for the sake of it where they can tell us "we did what we removed, this okay so deal with it!" Posted from alternate universe

Now if they just implemented this on the universal mail app

Awesome! I can't wait to take advantage of this.

How times will Google break the link?

What a classy move by Microsoft. Google could learn a thing or 2 from them

i`m on Outlook.com and can`t find any of the settings, only OneDrive

I'm still on that old crappy outlook, microsoft work and release the damn thing in the netherlands.

My brother who still use the @hotmail.com get the new ui and I, who change the @outlook.com the same day when MS tell us the new "server change" still no have the new UI I cant understand this things Posted via the Windows Central App for Android

Excellent! Greetings from Portugal

I wonder if they'll add these features to the mail app for Windows 10? I dont really want to go to the web to send email.

...or to Outlook 2016, used by most enterprise!

That's what I'm thinking. Categories and Alias are the things that is massively missing on the Mail app that for whatever logic they have, they haven't implemented those features on the app. We already got RS1 update and the Mail app is essentially same as since its first introduced in Windows 10. Its really polarizing that this is the same company that makes powerful Office Outlook and Outlook web app, while the Mail app lags behind so much in many ways. Posted from alternate universe

Let me tell you why: because even Microsoft doesn't give a **** about uwp. Posted via the Windows Central App for Android

Yet is on the Android outlook app... Which I just uninstall as it will not edit contacts... I guess you just can't win. Posted via the Windows Central App for Android

Yeah, oh well compromises everywhere it seems. Though I would understand a bit if other platform doesn't have feature parity, but to their own this shouldn't be happening. Back the Android app, I don't know why basic thing such as that kept forgetting by MS for whatever reason. It seems they never bothered thinking about essential features and more concerned about trying to be cool by introducing new stuff that sometimes we can live without.

Is it only for those lucky few who are already migrated to the new Outlook experience?

Actually most people have been migrated to the new Outlook. It is us, Windows 10 Mobile users, who are yet to be migrated, because of reasons.

Funny that. I got a mail Tuesday confirming the update and I have 3 phones running w10. What reasons?

Wow. Lucky you. I think they said people with shared calendars are being delayed. Many Windows Phone users have shared calendars because of the discontinued "Room" feature on WP8. I am guessing Vincentius Dalton has a shared calendar too.

대박, jackpot! I used to take advantage of the Room feature. I guess that's why all my family members' Outlook accounts haven't been migrated yet.

Can't access my contacts on android anymore... Posted via the Windows Central App for Android