Overwatch's first animated short centers on super-gorilla Winston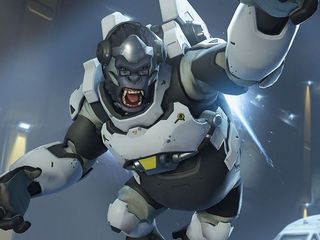 Blizzard's next major game, the multiplayer shooter Overwatch, is already offering tidbits of its fictional lore to players ahead of its May 24 release date for the Xbox One, PC and PlayStation 4. The developer has released the first in a series of CGI animated shorts that will take a closer look at several of the game's heroes.
The nearly 8-minute short, Recall, seems to take place before the events in the first Overwatch cinematic trailer. It focuses on Winston, a super-intelligent, genetically engineered gorilla, who wants to bring the discontinued Overwatch team of peacekeepers back together. He gets an excuse when a hit team, lead by Overwatch villain Reaper, break into his lab.
An open beta for Overwatch will begin on May 3 for people who pre-order the game, and those folks can invite a friend. The early access offer ends on April 29. Any Xbox One, PC and PlayStation 4 owner will be able to join the open beta on May 5, and it will end on May 9, a couple of weeks before the full game is released for $59.99 (opens in new tab). All 21 Overwatch heroes and all of the maps will be available during the open beta.
See at Amazon (opens in new tab)
We need more maps at heroes of the storm and hearthstone at Windows mobile blizzard ... Posted from my phone
Keep Calm Because P.A.O.K. You Are

CGI shorts? They couldn't make this game even more like TF2? Damn...

I wish this game was a story-driven rpg (or even x-com-like tactical game) rather than a shooter. Lot of lore and story and cool extras that I doubt will have any real significance/value in a fast paced multiplayer shooter.
Windows Central Newsletter
Get the best of Windows Central in in your inbox, every day!
Thank you for signing up to Windows Central. You will receive a verification email shortly.
There was a problem. Please refresh the page and try again.