Panasonic gets tough at CES 2014 with the Toughpad FZ-M1 Windows 8 tablet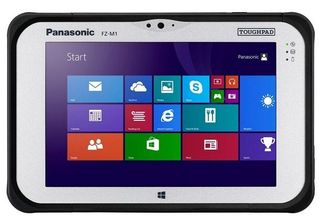 Panasonic may not be the top household name when it comes to Windows PCs, but they have certainly carved their niche into the market with their line of Toughbook and Toughpad products. Touted as the world's most rugged PCs, the Tough series gives military and law enforcement personal a laptop they can truly work with.
This year at CES 2014, Panasonic has announced a new Windows 8 tablet, dubbed the Toughpad FZ-M1, that is being described as "the world's thinnest and lightest fully-rugged 7 inch Windows tablet".
The unit itself features an Intel 4th generation Core i5 processor running at 1.6 Ghz and 8 GB of SDRAM. The processor within the Toughpad is fanless to help ensure the durability of the unit. To continue the "no moving parts" trend, you can either select from a 128 GB SSD or a 256 GB SSD.
Battery life on the unit is said to last up to 16 hours with the long life battery. The batteries themselves are not sealed in and are swappable, so you won't have to worry about running out of juice. Available along with the thicker 16 hour long life battery is a slightly smaller standard battery with up to 8 hours of power.
While the internals are an important aspect to comment on, when it comes to the Tough series - we want to know truly how tough these units are. The FZ-M1 is said to be easily able to withstand a 5 foot drop and thanks to its special case design, can handle dust and water in extremely difficult situations.
There is no price as of yet on the FZ-M1 tablet, but we are going to assume it isn't a unit you will be picking up unless you are currently stationed in a war zone. In the meantime, you can check out a less rugged, but probably the best Windows 8 tablet we have seen at CES 2014 thus far - the Lenovo ThinkPad 8.
For the latest news on CES 2014, stay tuned to WPCentral.
Source: Panasonic (opens in new tab)
Windows Central Newsletter
Get the best of Windows Central in your inbox, every day!
Wow, a lot of Windows 8 devices, this is very big... People is starting to realize who is the software king.

Somebody should fire whoever made this. An inch bigger and they would have had the ultimate consumer product. There's no doubt this will have a premium price but everything I see here is screaming buy me. It drives me crazy to see companies released products that are just short of the ultimate device. No wonder Microsoft has entered the manufacturing space. This is just another prime example.

Toughbook series is for business and will continue to be. It is possible though that adding an 1in bigger screen would have made it less durable.

Stick a Haswell and swappable battery on the Lenovo ThinkPad 8 and we'll see who cares about their durability. There's a thousand and one cases out on the market that can accomplish the same thing.

having a case is not the same thing as what these devices can put up with. I have seen toughbooks get run over by a hummer and still work. These are indeed deisgned for a warzone for the amount they get thrown around they still do an amazing job. I just wish they would actually issue these instead some of the absulte crap laptops we get when deployed.

Yeah toughbook is industry standard for fieldwork for a reason. Some of the data collected on them is worth tens of thousands of dollars, mock up ruggedness is just not worth the risk.

Laptops/Tablets built to handle tough situations do more than put rubber/plastic around the outside. They are truely built differently. BTW, most consumers want super thin. That is a lot harder to do with Haswell i-series processors and swappable batteries.

At the current thickness of devices I would be willing to give up a few mm for that. They are getting ridiculously thin. I don't want to feel like I'm holding a waffer in my hand. True these will hold up to far more abuse than a case could handle but in most cases only some protection is needed.

It's more than impacts. This tablet is also sealed against dirt/dust/water. It's made to be used in a muddy/snowy field with the occasional drop. That said, I don't personally need a milspec tablet, so I'd be interested in a non-ruggedized version with the same features for somewhat less than the $2000 price tag. In short, if you don't need a single-handed milspec-rated tablet, then this isn't for you, but if you do, then there aren't many other options with this feature set.

Hopefully it also has a super sensitive screen like a Nokia that can be used with gloves.

This IS an amazing tablet

"probably the best Windows 8 tablet we have seen at CES 2014 thus far - the Lenovo ThinkPad 8." if thats the best, then its not looking very well for Windows 8 tablets. A tablet without wacom input is nothing special.

Oh cool Panasonic its been a while they could come back if they made more hardware for windows!

First 7-inch tablet running Windows 8. How does Windows 8 work in this form factor? The size of the text, the apps layout, can you split the screen and run two apps?