Panasonic reveals its rugged Windows 10 Mobile smartphone, the Toughpad FZ-F1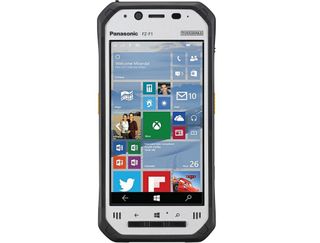 Panasonic has released many rugged Windows-based tablets and smartphones in the past, and the company will continue that trend with the launch of the Toughpad FZ-F1. Based on Windows 10 IoT Mobile Enterprise, the 4.7-inch smartphone is being announced as part of the company's Mobile World Congress plans.
The phone will have an unnamed 2.3Ghz quad-core Qualcomm Snapdragon processor, along with 2GB of RAM and 16GB of onboard storage. However, Panasonic has made this smartphone, along with the Android-based Toughpad FZ-N1, for enterprise customers who demand that their smartphones stand up to a lot of abuse:
It will be a while before the phone is available, and it will be very expensive. Panasonic will start selling the Toughpad FZ-F1 sometime this fall for the price of $1,599.
This is a needed niche.
There are a lot of jobs where a smartphone can get destroyed and there are not a lot of choices anymore

Thanks for the clarification

I work for a company that paid $1000 per iPhone 4 and more than half of them are broken. I'm talking 1700 stores with over 200,000 employees and 30 iPhones per store. What a waste all that money was!

Those things are not easy to keep intact even indoors :)

Really? I have 5 family members who use them, at the minimum. Between them, one out of probably 15 or more has gotten broken.

Are you saying that each family memeber carries 3 iphones around?

No, I'm saying they have upgraded phones for 5 years or so without breaking them, except one of my mom's.

Why am I not surprised that has happened to you? In the meantime, I don't have a single friend who hasnt cracked the display of their Iphone within 12 months.

Because you're a troll uninterested in having intelligent conversation. That I find the iPhone line ugly, slow to progress it's hardware, and brittle doesn't change reality. That reality is I haven't seen my family members breaks theirs repeatedly. I was offering a counter example to the guy's statement that they are hard to not break. If you aren't rubbing Crisco on your hands or sticking your phone in your top shirt pocket, keeping a phone from breaking isn't hard. Then there is my supervisor, whose iPhone 6 literally has scotch tape across the top because he broke it.

Yeah, but wasn't the initial comment about workplace devices? Like application where a rugged device like that Panasonic is needed?

People tend not to look after things, especially if it hasn't cost them anything.

Why were they paying that much when the phones were only $550-650? Was them some high-storage model they got, or a crazy software suite or accessory package?

Could the price have been quoted high for the purpose of tax.

Not likely. That would be a tax of 50% or more, going from $650 to $1,000. I'm guessing something else was included.

I hope the fool that made that purchasing decision was fired.

Its a shame it's still running a different version of windows

True. I held off on a smartphone for a long time and used rugged models because I'm tough on my phones. Construction, the outdoors, skilled trades - these are just a few jobs that can really reek havoc on a phone.

Ok I got it, this is for business only...not for consumers so don't mind the $1,500.

Is Windows iot any good for consumers? I find this a confusing decision, why iot?

1500€???? CAT S60 will cost 650€... I don't understand buttons on screen + buttons on phone body...

Doesn't matter. It's raining OEMs. Lol

Because MS sheeps wants to be bigger sheeps than Apple ones.

Impressed with the oems stepping up with more phones. Now Microsoft needs to step up with the os and new Facebook apps

How many Facebook apps do you want?

Just one REAL universal app, along with messenger and instagram

Just one witch is real win 10 app... Fully function like iOS or Android

Wait!
I get it, really, but iOS and android users aren't happy with their facebook app. For iOS, the best facebook app around isn't all that good we use to believe, it drains their battery and the updates each 2 or 1 week sicks them almost the same way the lack of updates we have. Why? Because when they don't fix very small and punctual bugs, they just make changes to the way the app behaves AND (this is very common for us) never post change logs, but don't forget about the data usage with every update, better than Windows? Yes but still a pain. For android, they get less updates, same features, don't drains their battery seriuosly BUT how much resources that app uses! Takes a lot of storage, always running in the background, but the real deal is when you use it in anything else away from a flagship, medium-high device. Thats not facebook faul at all, but is a dealbreaker for some people.
Facebook have a dark background everywhere with their apps, i use it every day but things going wrong with facebook goes beyond the platform you use, until now only desktop web page gets the best. This is just IMO and some facts from other users, if any more information about this i'll be glad reading about it.

But Bryant, don't you know? The grass is always greener on the other side.

Except this still sounds like their not marketing outside of pos type devices

Why the heck are people so obsessed with Facebook?? And how does a Facebook app make the OS better for businesses? Man, this is aggravating

Mobile was so much better before consumers and the iPhone ruined it with all this nonsense.

Mobile was so much better before consumers demanded higher quality, stability and functionality /s


I'm with you on that. Then again, I'm one of those rare people who have better things to do than tell the world what I had for breakfast.

Very true it gets depressing all people go on about are problems

But these OEMs are making phones for enterprises only, which will not help cure the app problem.

Thats not true - if there is a large takeup in the enterprise market the marketshare should rise and more OEM's are willing to release a Windows 10 Mobile device - the % of users increased therefore there is more incentive for developers to target the system...

Ponosphone will have similar design.

I think Panos (Surface) phone is what they were going for, and I doubt it, simple easy to hold angular edges, hopefully with a kickstand for 6' model

6 feet? That's a big phone! 6" is still larger than I would probably like. The 5.2" of my 950 is about my limit, especially with the OS change to pop-out menu buttons in the upper-left. If it weren't so hard to one-hand a phone with my right hand (like if they moved the menu button to the right side or the bottom-left), I would be OK with a 6" display.

What if I told you, you can switch to one handed mode by holding the Windows button :) it's a lot easier to reach the top left corner while holding the phone in the right hand.

I know you can. That's just a cumbersome manner of navigation. You're adding 2-3 button presses to do things, which isn't a great solution. It's not bad or anything, I'd just rather they give folks options on size. I know we have it with the 950 and 950 XL, but 5.2" is a rather large screen for the "small" device in the lineup, and going up above the largest size for the Surface Phone would be rough.

It's a knockoff Panosphone. Kind of like the vendors you see on street corners selling Addidos shoes.

Adibas or Mike shoes, lol

Or Tommy Nilfiger Shirts lol...


Man, I got the e-mail with this post, and I got REALLY nervous about some of the letter placement in there.

@Keith Wallace, lol. I was given one by a neighbour as a gift for helping them out with Windows 8 and other PC repairs. I teach the elderly for free as everything I show them they can get for free on YouTube or free magazines.

It is highly likely Surface phone project will be killed. They don't want to lose their OEMs again.

I say it is killed and the Hp elite is the successor

I don't think you know what a successor it, then. It's certainly not the product that comes BEFORE, and from a completely different group of people. Why folks call this the sky falling and the end of the Surface Phone is baffling. Microsoft's usually pretty clsoe with its OEM partners, it seems. They've seen the leaks. They likely knew about it long before they happened. As if they're REALLY going to work on the Surface Phone until a few months before its expected launch (which is when the Elite is expected), then just cancel it becuase something else is on the market. By that logic, the Surface Pro line would be dying with the upcoming copycats from other OEMs.

They are partners. Clearly successor was not the right word. mS is not building a Surface phone They cancel stuff all the time
The minis were made and on there way to stores. The McLaren was killed very late The 850 killed very late... Posted from Windows Central for Windows 10

1. We've seen several reports that Microsoft IS working on a Surface Phone. In fact, THIS SITE has stated they have done it twice, with a scrapping of a Nokia-started Surface Phone project recently to give Panos Panay and his team a free run at making it their way. In fact, didn't this site even say that there was some situation where prototypes were seen in a video coming off a line for testing? They're definitely being worked on. 2. Everyone cancels things. 3. The Surface Mini's cancelation wasn't quite eternal, though. They still would up with two dstinct hardware lines of different sizes with Surface and Surface Pro. That was probably the right call too, becuase smaller tablets don't seem to be nearly as popular as they were when iPad Minis and Nexus 7s were all the rage, and a large Surface Phone (5-6") and Continuum would do a lot to damage the usefulness of the things anyway. 4. McLaren wasn't exactly close to release, it seems. The core functionality of the UI (the 3D-based tiles) was never worked out. We have no real clue of how close the thing was to release, but it certainly didn't seem "very late," or even "late" into production. Oh, and don't forget that was a Nokia-backed project, so holding it against Microsoft is pointless. 5. The 850 had no use. The 830 sold terribly, from pretty much all accounts. Canceling it was smart because there isn't enough of a market to warrant 5-6 different sets of Windows Mobile hardware. Microsoft has fumbled hardware quality for 2 yaers now, so the 850 was probably just a 640 with a better camera, like happened between the 600 and 800 series when the 830 happened. There just wasn't (and isn't) a market for the 800 series, though if the 600 series were to die, a 700 or 800 series device with something north of the **** that is the 212 could exist (probably in the SD 400 series). All told, you're basically pinning more Nokia products with no firm direction on Microsoft, while contradicting the biggest member of this site, so I'm going to go ahead and disagree.

And the surface line was created to inspire oems

And then it became a hit product, a highly desirable brand name, and that "inspire OEMs" slipped behind the profits in importance. OEMs are all over copying the Surface and putting out nicer products (Yoga, XPS, etc.), but the Surfaces are going nowhere.

WTF Double buttons lines ?! Or just a wrongly photoshopped (Ooops) Start Screen ?

Photoshopped. Using the old wp preview image from windows website

Fairly certain it will have physical buttons.

What's the battery capacity of this phone? For its price it should have at least 5000 mAh.

I consumer priced one wouldn't be bad. My dad won't buy a phone that isn't military grade and waterproof lol

That's what am saying this is what made Nextel so popular

Image here doesnt show the gigantic camera hump on the back.

Wait. So it has both on screen keys and hardware buttons??

Add all kinds of enterprise type accessories like scanners/readers, various sensors, etc., and you have a great device for warehouses, contruction sites, etc.

I really want a Panasonic FZ-1! Better yet, I actually want an FZ-10. What a difference one letter makes.

Don't you mean number ? Posted via the Windows Central App for Android

I see capacitive buttons under onscreen buttons!

Wait till you see the same buttons on the BACK!!!

I just wonder, What are new OEM's seeing in Windows 10 Mobile which we and Tom Warren are not seeing

I think this is pc manufactures swinging back at phone manufacturers.

They are doing some smart choices

Yes and in the long haul you are going to see more and more folks that only have a phone

Reduced android patent fees,
Reduced windows licenses

- An OS that syncs flawlessly with the most commonly used PC OS worldwide - An OS that allows for productivity and is built to the core for getting things done - A currently niche OS that's major issue (app gap) is not a problem for business uses, and it's UWP concept brings hope of apps coming to WIndows in the future as developers hopefully embrance the idea - A secure OS that will be regularly updated with little fragmentation - The ability to do new things with these devices - like Continuum - A change from the sea of Android devices

Well, I guess since it doesn't have many consumer-based apps, you won't have to worry about your employees playing games or chatting on social networks on them.

@Victor Carvalho, there is no "I" in "we" :). Besides Tom and co at the Verge along with many other bloggers have their confirmation bias. Many aren't really fit to be called "Tech bloggers" rather "arm chair analysts" who pounce at every chance of click bait they can get; case in point the "Gordon Kelly" who wrote a piece based on a thread post. Which has been deleted and the account deactivated. As that thread post was substantially and widely debunked as utter load tripe :).

I still don't understand people want mobile phones to be pieces of art. It's a "mobile" phone, so it will be on the move; therefore, they should be built to handle mobility. I'm not framing and mounting my phone as wall art, nor am I hanging it from a chain and wearing it as jewelry. Why isn't durability one of the specs the public demands from manufacturers? Guaranteed obsolesce is why the manufacturers do it; why do we cooperate and allow them to dictate the terms?

Mostly because you aren't going to be able to make an alternative. They all operate this way, so there's no getting away from the market to show them you want change.

This makes me think of the Chris Rock line: "That's like Cadillac making a car that lasts for 50 years... and you know they can do it! But they ain't gonna do something that f***ing dumb! They got metal on the space shuttle that can go around the moon and withstand temperatures up to 20,000 degrees. You mean to tell me you don't think they can make an El Dorado where the f***ing bumper don't fall off." Hahaha

I agree with you, phones are not pieces of art, but I think we (the public) have done this, when you show the OEMs that Apple can make such a low Spec, not durable, non removable battery, no SD card, can't even send a picture via Bluetooth, sub standard cameras, sub standard screen phones (Software is good though) and sell them in the millions, people like Samsung take note and create the same thing, durability and future proof is the last thing they are thinking about because they are just thinking what the public are going to buy and what to keep you coming back for more, at least Nokia built phones to last, I know a lot has changed since then, technology, touch screens etc, but they always made a durable phone all the way up to the 1020, now I'm using the 950 XL, I had a thin case on it when it came out of the box, but it's still pretty good, now I'm using the Mozo Brown Leather case and chrome on the sides, it seems to be holding up pretty well, I was worried that the back cover doesn't protect the screen, but I've put a screen protector on there, hopefully Nokia will come back to the game with something durable with acceptable software and something to compete with!

Why should shirts and pants look stylish, with modern cuts?? They're just supposed to cover your body from the elements. I long for the days of stinky bear skins and burlap potato sacks!/s

Nobody is saying that durability can't look nice. Style and durability are not mutually exclusive. For instance, instead of a glass-back phone, why not use a stronger plexiglass that can withstand more punishment. There's a happy medium, but unfortunately, most current options are one extreme or the other.

So a jacket should only feel warm, shoes should be confortable, and thangs should not exist. :D

Ha. There are happy mediums. And that's what's usually good for the masses. Unlike Cinderella, I don't wear shoes made of glass. And when I've bought stylish shoes that didn't hold up well, I chose not to purchase my next shoes from that same company. Again, style and durability are not mutually exclusive.

@ChurchOfYoda. I suppose it goes back to the time where Nokia had a substantial business selling accessories for phones like the 7210 and what not. So did the accessory makers, if you want to a local stall market. You would see endless rows of keyboards, flashing keyboards, cases in various colours even flashing cases which flashed in tune with your ring tone. Predominately, it was all for Nokia phones.

Almost as expensive as the Elite X3. Posted from Windows Central for Windows 10

Ok I am buying that HP kit!!! Pr an Alienware 14

You could buy 4 mid spec Windows phones with rugged cases for that, you would really need a very harsh environment to justify the price!

Companies might be sending their workers to explore hell. You can never know.

I mean, DOOM is only 2.5 months away. Have you seen hell? It is full of giant demons and chainsaws!

LOL Posted from Windows Central for Windows 10

How do those phones do with waterproofing the phone? How successful are they in drop tests? We'll need to see a full spec comparison before making such claims.

Panasonic has always been the leader on rugged laptops so most likely very well

Coship X1 maybe Keith...and drop tests are all about physical protection. There's no magic electronic assembly that is less susceptible to physical damage, it's all in the packaging. Besides, it's not like I said this didn't have a place.

While rugged cases will make it "shock-proof" it won't make it water-proof or dust-proof. Dust-proof is very important for construction sites especially. For utility workers that have to restore power during storms, something like this would be great when climbing a power pole for repairs during a torrential downpour. There are many use-case scenarios for this. Not for the typical consumer, of course. I bought a dual-layer armor case for my phone, and I'm good. Has stayed dry and clean for over 6 months, still looks like new. Just because you or I don't need it, doesn't mean there isn't a market for it.

And then again if you need your phone in the middle of some field operation and it is broken you may not get a chance to go back and replace it with one of the other 3 cheap phones you bought and be up to speed in the needed time window. Durabile AND reliable is the key here.

Looks like a pretty nice device for the building site, I didn't expect a device like this from Panasonic, but then again it looks like they have a history of these phones, I would like to know the battery size though, it is expensive, but hopefully it will last more than the usual 2 years and can take more than two years of windows 10 updates, not forgetting it it can double as a PC with Continuum!!!!

IDK what kind of ratings rugged phone usually get, but I'm not too impressed by falling 6 feet and 3.3 feet of waterproofing. That thing about swapping batteries without turning the phone off sounds interesting, though.

Lol thought they were just in to batteries

https://en.m.wikipedia.org/wiki/Toughbook

Only 16gb of storage, that kills it there

Yeah you need tons of games and music and porn on a businness-field phone.

Seems like everyone wants to make a Windows 10 Mobile phone

Military spec. Is a whole nother level

Man I'm loving these actionable notifications

Am I seeing things right: does that phone have both on-screen and physical buttons?

Interesting. We use Toughbooks for our customers maintaining RAF Typhoons, will be good to see if we can get our software on one of these.

Looks like a great phone. Looking at the Cat S60 because of the FLIR infared camera and it toughness for around $600. The tough phones are in great demand with good specs. Just look at how big the phone case industry is. Personally I've broken plenty of phones and tablets - screens and the USB connections. I need a phone that works/play as hard I do.

Thanks for the heads up about the S60. That thing is perfect for me. I work at a dusty, muddy industrial facility and need a tough mobile.

Looks like Commander Adama's phone. Just be careful connecting it to a network :)

I'd craic a joke about cylons and random voices but at the risk of sounding like a mad hatter, I won't :P.

I used to think I needed one of these for my business (carpentry/construction) but then I realized if you are careful, any phone can work. I've had my Icon for 2 yrs. now with no case or screen protector and it looks almost brand new.

I really need a TOUGH mobile; I work at a dusty, muddy, industrial facility.

Didn't I read somewhere that the HP elite x3 has the same durability specs? Survive 30 minutes under water and 6' drops? Compare designs please.

$1,600? The Lumia 640 costs $30. Give each employee three of them, one to use, a spare, and a spare for the spare. $90 total investment.

I was given a phone earlier, I had never heard of it, the name is Honor 7 the specs are tremendous it reminds me of a Swiss army knife it's not for me, as it's android lollypop

All rugged devices are and thats ok, because they need to be protected from falls, etc...

Intersting, but only till you dont know about the HP elite X3. That too is IP 65 as well as MIL-STD 810G certifications. Plus it has got virtually all that you could ask for and more. Not to forget that it has a much bigger screen, dual authentication options for harsh conditions, one of the biggest batteries plus will work with a lot of third party accesories through those 'pogo sticks' annd last but not the least, run full suite of enterprise applications. It even has continuum, which this phone should also have, but X3 just looks pretty polished and good looking too. Finally, going by HP 'hints' on pricing, I won't be surprised, if it is priced at about half that of this phone
Windows Central Newsletter
Get the best of Windows Central in in your inbox, every day!
Thank you for signing up to Windows Central. You will receive a verification email shortly.
There was a problem. Please refresh the page and try again.