Panasonic to update 20-inch Toughpad 4K Windows 8.1 tablet with lower $2,999 price tag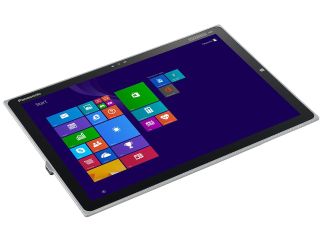 Panasonic plans to launch a new version of its standard 20-inch Toughpad 4K tablet, running on Windows 8.1 sometime in July. It will contain some hardware improvements and a price tag of "just" $2,999, which is half the cost of the current $5,999 version.
The tablet will still have the same impressive 3840x2560 LCD display in a 15:10 aspect ratio, but it will also add an HDMI 2.0 input port for the first time, allowing users to hook it up to a wider range of devices and peripherals for use in jobs like video production and more. It will also have a fifth generation Intel Core i5 vPro processor inside; the previous version had the older fourth generation chip.
Panasonic says:
Panasonic will also sell an optional desktop cradle for the new Toughpad 4K tablet, which offers some more ports along with a stand that lets the tablet be used as a desktop PC.
Source: Panasonic
Oh cone on...just dig around in the cushions and underneath the seats in your Bentley.

So, you dont say "wen in india?"

...Wait so the cheaper one is gonna be better than its $6K version?
* scratches head*

These screens are cheaper now, as simple as that.

How come a "tablet" becomes 20-inch?!

That's when such OEMs don't have brains that producing such things is waste of time and money.

This is not a consumer tablet but an enterprise one
This have specific uses for some companies, is not a tablet to see Facebook

But 20inch is a joke. If your saying enterprises tablet for multiple users then surface hub is there. For individuals sp3 is there.

Let them have alternatives.. Also, those are more AIO PC s than tablets anyway.

Surface hub will be a lot more than this. This is a small team collaborative device. We would use it in my office for sure.

Surface hub is not there yet, anyway the more alternatives the better

This is the stupidest thing I have ever heard TBH :D

Pre-ordered, this tablet is faster!

They make a better tablet for a lower price.. Man, whoever bought the $6000 tablet must be one pissed off customer on a revenge mission..

Or not. If you or are willing to pay this much in the first place.

Who makes a better tablet of that size at that price? And remember, this isn't your average tablet, it's a toughpad and that's what you're paying the extra for. It's not like this is a new product either, they've been making these for a long time now and they've always been very expensive. But then they're not for the general public, these are enterprise devices for users with specific needs. It's not only the military that need military grade hardware, hardened components are needed in a whole range of situations. I'm certain Panasonic will sell enough of them to warrent continuing the line and i'm sure anyone who gets one of these will be incredibly pleased with it too.

Ha, well for a business with a collaborative effort this makes since but why not make a hybrid laptop like a surface

Went to the link...no mention of ram size or hdd size. Gotta be at least 8gb/256 but better would be 16gb/1tb.

Wat. This isn't 2004 Panny. Sheesh louise that price!

Whomever downvoted me cannot afford and isn't buying this device. Truth.

Way too expensive. I just paid less than that for my Aorus X7 with 32GB ram, 1.75 TB storage and 2 3Gb gtx 970 gpus.

A lot of people missing the point.

This is actually a very fair price. You guys are always comparing prices of consumer machines against specialized professional machines. For instance, the 22" Wacom Cintiq DTH2200 is $2000 but it is nothing more than a monitor with a pen digitizer built in, with no computer at all. This is a full fledged all in one portable computer, and it conforms to Milspec standards and can be dropped many times with no ill effects. I would venture to say that $3000 is CHEAP for such a device.

15x10? Wouldn't it be easier to say 3x2?
Windows Central Newsletter
Thank you for signing up to Windows Central. You will receive a verification email shortly.
There was a problem. Please refresh the page and try again.