Pancake Panic - stacking the flapjacks with this Windows Phone arcade game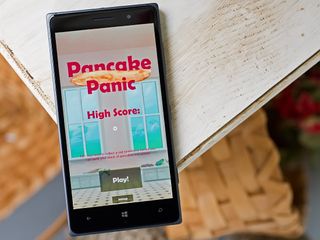 Pancake Panic is an interesting Windows Phone game in many respects. The game was developed in one week as a way to help teach primary school students, ages 9-11, in the UK how to code. The developers, Chaos Created, provided these workshops for students in hopes of possibly inspiring them to pursue these skills further.
The goal of Pancake Panic is rather simple, catch as many falling pancakes as possible before time runs out. There are also bonus items available to collect that will improve your chances of bettering your score. Available for low-memory Windows Phones and Windows 8 devices, Pancake Panic comes across as a fun game to pass short bits of time with.
The layout and design of Pancake Panic isn't very complicated. The main menu will display your high score with options to play the game and view the settings. Currently the only option available in the settings is to mute the audio.
The gaming screen shares the simple layout with your chef positioned at the bottom of the screen with an empty platter. Pancakes will begin falling from the top of the screen and you will need to move the chef left or right to catch the pancakes.
You move the chef by tapping the left or right side of the screen. Movement is a little on the sluggish side and Pancake Panic is not a game where you need to try to predict where the next pancake will fall. I found the most success in constantly moving your chef around and catching pancakes of opportunity. On the plus side, if you fail to catch a pancake there is no penalty.
There is a bank button in the lower right corner that will bank any pancakes you have collected. Only the banked pancakes will be added to your gaming score. You have a limited number of banking button opportunities so you will need to choose wisely when you clear your platter.
You will want to bank your pancakes with regularity. The higher the stack is on your platter, the more unstable it can get. If a pancake falls off your platter, it is lost forever. Speaking of which, the physics of the game allow you to slide pancakes on the platter by using the sides of the gaming screen. This will give you a chance of making the stacks a little more stable.
Again, the goal is to bank as many pancakes as possible within the 90 second gaming timer. Along with the pancakes falling from the top of the screen, Pancake Panic will also drop a few bonus items to help you boost your score. These items include:
Clock: This will add five seconds to your game timer
Strawberry: This will add a bank opportunity to the round
Rainbow Strawberry: This strawberry will launch a pancake frenzy where the pancakes falls at a crazy pace
Golden Strawberry: This strawberry will double your stack score when you bank pancakes and has a ten second duration
As you might guess, you will need to catch these bonus items with your platter to collect them.
Overall Impression
Pancake Panic is a fun Windows Phone game to pass short bits of time with and a nice gaming foundation to build upon. The developers are still working with various primary schools to find ways to improve the game such as more power-ups, new animations and other ideas the students come up with.
The game will challenge your skills at timing and balance to see how high you can get your stack of pancakes. In playing the game over the weekend, I have to admit that Pancake Panic has a slight addictive quality. The sluggish movement does get a little frustrating but you learn to adapt.
It will interesting to see how this game progresses as the developers work with the primary school students. As is, I do not know if Pancake Panic has the strength to be a "go to" game but it is a solid game to have in your library to pick up from time to time.
George is the Reviews Editor at Windows Central, concentrating on Windows 10 PC and Mobile apps. He's been a supporter of the platform since the days of Windows CE and uses his current Windows 10 Mobile phone daily to keep up with life and enjoy a game during down time.
Ha your fuckin mouth is stinky

It will interesting.... it will be interesting.

Is not available here in Brazil....

This is getting part of the trending: "Usa only" and "when in India"

Windowscentral should create a banner informing availability in Brazil! Similar to RAM support

Yeah, sorry about that. Some countries require extra certification steps, which we are working on. Basically, we need to get the game rated (for age/content) and submit extra certificates. We're working on this now, and we hope to be in all markets, including Brazil, within the next week. Sorry for the delay!

I know about that. I already helped hundreds of developers to get their games available here.
You can upload PEGI or ESRB certificates in the place of the Brazilian one and select Brazil and the game will be available here. :)
Any doubt about the process you can ask me.

So there is no more saying 'wp has very less no.s of app'.

Hey. I'm Ali, the developer on the game. First up, thanks so much for the review, and for highlighting the work we do with UK primary schools. We worked with a Year 6 class (ages 10-11) yesterday, in Springwell, where we developed a new power-up, improved the responsiveness of the chef, and added in a first-time tutorial. These updates should be live in the next day or two (just doing some final testing). Also, we're working on getting ratings certificates for the markets we're currently not avialable in, including Brazil. We should be live everywhere in the next few days :). Sorry for the delay, but we're almost there! Finally, we are working on a much bigger Windows Phone exclusive called Bad Day for a Balloon Ride. If you head over to our developer site, or follow us on Facebook or Twitter, we should have beta links open really soon.
Windows Central Newsletter
Thank you for signing up to Windows Central. You will receive a verification email shortly.
There was a problem. Please refresh the page and try again.