Patch Tuesday brings new cumulative updates for Windows 10 PC and Mobile
By Zac Bowden last updated
A new cumulative update for Windows 10 PC and Mobile is now rolling out!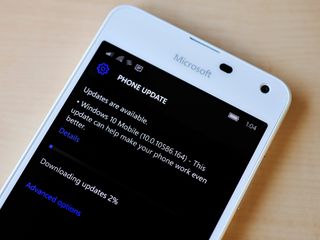 Microsoft is rolling out a brand new cumulative update (opens in new tab) for Windows 10 on PC and Mobile today, that brings a bunch of new security updates and under the hood improvements and fixes. These updates are rolling out with Patch Tuesday as build 15063.540 on both PC and Mobile.
Build 15063.540 changelog
Addressed issue where the policies provisioned using Mobile Device Management (MDM) should take precedence over policies set by provisioning packages.
Addressed issue where the Site to Zone Assignment List group policy (GPO) was not set on machines when it was enabled.
Addressed issue where the AppLocker rules wizard crashes when selecting accounts.
Addressed issue where the primary computer relationship is not determined when you have a disjoint NetBIOS domain name for your DNS Name. This prevents folder redirection and roaming profiles from successfully blocking your profile or redirects folders to a non-primary computer.
Addressed issue where an access violation in the Mobile Device Manager Enterprise feature causes stop errors.
Security updates to Microsoft Edge, Microsoft Windows Search Component, Microsoft Scripting Engine, Microsoft Windows PDF Library, Windows Hyper-V, Windows Server, Windows kernel-mode drivers, Windows Subsystem for Linux, Windows shell, Common Log File System Driver, Internet Explorer, and the Microsoft JET Database Engine.
Microsoft provides one known issue for the cumulative update rolling out today: Installing this KB (4034674) may change Czech and Arabic languages to English for Microsoft Edge and other applications.
The update is rolling out to everyone on the stable version of the Windows 10 Creators Update (including Insider Release Preview) right now under the name KB4034674. Users on the Anniversary Update, November Update and original Windows 10 release are also receiving cumulative updates today too.
Zac Bowden is a Senior Editor at Windows Central. Bringing you exclusive coverage into the world of Windows 10 on PCs, tablets, phones, and more. Also an avid collector of rare Microsoft prototype devices! Keep in touch on Twitter: @zacbowden.
spotted a typo, build 10563.540? should be 15063.540

This update appears to have fixed the W10M issue that prevented apps to install/update to SD card. That problem cropped up after last month's update.

It sure did. Two apps that had not been updating for me on my microSD card just updated without a problem on my 950.

Not able to post comments in windowscentral app, mobile & PC. No fix in sight?

Yup, accessing comments and being able to post throught the app sure would be nice.

Can post from Android app but not PC app

Isn't it aronic that a "Windows" site have their "Android" app working better than their "Windows" app :-)

🙁 Thanks MS for supporting their platform.

TH1 is still getting updated? Lmao

Is tha language issue a permanent bug or can the user still change the language settings after the fact?

This is the best mobile update yet! Thanks Microsoft!!!!!!

Not!!!!!!! Hahhahhahhahhahhhahahahaha

yea right. The best update would be when they open ports so i can download android on my lumia950xl

And you call yourself a windows user ?. get educated or leave foolish. If you want android then get android, don't bring that cr@p here.

I wouldn't want to replace W10M with Android, but having Android libraries to be able to run Android apps on W10M would be great.

Did the update, my sd card is no longer accessible.

mine update ok have you tried remove it than place back in should fix it

Hopefully it didn't damage my content.

hope they will open the port on the lumia 950 and 950l so we can download android roms. Microsoft is just ******* around

Stop being a dumba$$ troll. If you want droid OS, go buy a new phone.

This latest cumulative when downloaded to my wife's Lumia 950 basically hung when it was doing the final restart. I wish Microsoft would do better QA on these updates. The phone is back working again luckily. Microsoft must really get their act together. This update also seems to have broken the Windows Central app on Windows 10 and Windows 10 Mobile. Can't post comments on either. Had to put this comment up via the web page. Infinidim

This is a normal feature for me. I have had that issue since day 1. Every single update requires me to do a soft reset to get the phone working.

with all patches, we get stuff fixed and more is broken. I have experienced this with Windows, android, apple, and all software updates (just my opinion). I just hope the techs doing QA on our phones are the same techs doing QA on airplane computers... 😂

correction, are NOT the same techs.

The phone only looks hung after final reboot. IDK what setup was doing behind that blue logo, but eventually the progress screen appeared. Overall time to install the update seemed about the same as before. As for the app issue, the OS update did not cause that. The Windows Central app on Windows PC and phone has been broken since an update or two ago. You must have been lucky enough to not have gotten the app update until now.

I always feel hopeful with these updates, maybe because it makes you feel like your OS is not abandoned. :p But this one just ruined my Quick Actions drop-down feature. I can now only pull down the menu from the lock screen, not from any screen like I used to! anyone else getting the same issue?

Not that I want to burst your bubble, but every new feature lately is non-Windows-Mobile only. I think MS has pretty much abandoned its mobile OS. My drop-down feature still works though, maybe another reboot?

Quick Actions pulls down fine for me, although I noticed with the previous update I can no longer delete an email from the notifications area. I can only move or archive. Used to LOVE that delete feature.

You should be able to change that in the mail settings. I had that come up before, when archive was the default for swiping one direction... I don't archive much, but I delete quite a bit. I put in feedback to give us a larger font/text size. My phone is at 300%, which is recommended...and that's the top of the scale!? Some of us wear glasses, and would like a little font boost.

I had this problem during the previous update.
It will go away after a few restarts.
Don't worry.

Pulldown started working again. :p

The only positive side for this update is that all my tiles were not grayed out and I did not have to wait for some license to be updated for each app.

Successfully connected my Nokia 360 Bluetooth speakers. Let's hope that continues to work...

The previous cumulative update wouldn't install on one of my machines but I ran the Windows Update troubleshooter a couple of time with restarts afterwards and this one installed without further issue.

What's with this, both laptop and phone (Lumia Icon) have latest updates, laptop will do Hey Cortana phone will not?

I had a problem on one of my machines with the Adobe Flash Player update (it's an update from Microsoft for the built-in Flash player that's a part of Edge and Internet Explorer.) Downloading the Cumulative update from the Catalog site and installing that first solved the problem.

Yep, I'm having a strange mixture of Czech and English even in the Settings. Funny enough...

Hell Tuesday as I call it... it's the day when I have to have FIGHT with the end users to get out of their apps so I can reboot the Windows servers.... A few times a month I need to do this with the billion other things I got going on.. Life was so much easier back in WIndows 95 and NT 3.5.1 days....sigh...

the gps in maps is messed up.

Anyone experiencing excessive battery drain and overheating with this build? I'm experiencing this on my Lumia 950XL. Frustrating... 😭

I do not receive any missed call notifications since this update. Nothing on the phone tile or on the glance screen, only shows missed call in the call history. Anyone else have this issue?

Greetings to all enthusiasts of windy phone 10.
I've been able to use 1 week iPhone 7s. Great chaos.
1. complicated login to icloud and iTunes the same passwords.
2.I use my phone (Lumia 950xl), working with sensitive information of my clients.
I have all these data stored on the SD card. I can browse through all files on both my phone and SD.
THIS IS NOT ON THE iPhone 7
3. So the iPhone flew out of the house. This is a pretty toy for anyone who wants to show off and I can not play. Let's encourage enthusiasts trying to keep Windows Phone.
(Excuse me in English, I'm in the Czech Republic, I teach my language. Tesa

This patch made the device (Lumia 650 )warm up and more power used ,the battery is death so quickly (discharge very fast) so I move to insider preview. Build 15240 and the device stable. And working fine
Windows Central Newsletter
Get the best of Windows Central in in your inbox, every day!
Thank you for signing up to Windows Central. You will receive a verification email shortly.
There was a problem. Please refresh the page and try again.